Donald Trump's competitors on Saturday seized upon an inflammatory remark the Republican presidential hopeful made about Fox News anchor Megyn Kelly, while internally, his campaign appeared to be in disarray.
Backlash over the comments have apparently cost Trump his top political operative, Roger Stone.
It was unclear whether Trump fired Stone or if Stone resigned; the campaign said in a statement that the veteran strategist was fired after he "wanted to use the campaign for his own personal publicity."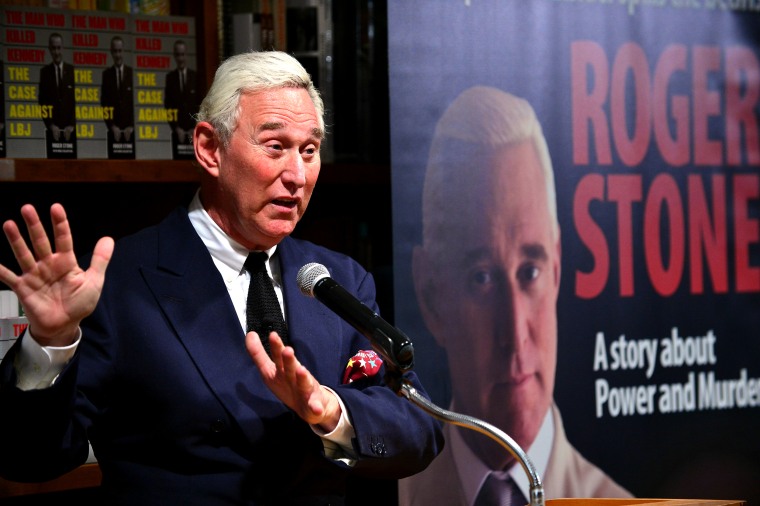 But Stone — who has had a relationship with Trump since the 1980s and served as a political consultant during elections for Republican presidents starting with Richard Nixon — passed along an email to NBC News which purportedly showed him submitting a letter of resignation.
"Unfortunately, the current controversies involving personalities and provocative media fights have reached such a high volume that it has distracted attention from your platform and overwhelmed your core message. With this current direction of the candidacy, I no longer can remain involved in your campaign," it said.
The internal uproar comes after Trump said Friday that Kelly, who moderated Thursday's GOP debate and asked Trump about derogatory comments he has made in the past about women, had "blood coming out of her eyes, blood coming out of her wherever."
That shocked many, who felt it was sexist and inappropriate.
RELATED: Republican Debate Shatters Fox News Rating Record
His campaign said Saturday that Trump was referring to her nose when he said "wherever," but the attempt at a clarification did little to quell the criticism.
First, RedState.com editor Erick Erickson uninvited Trump from the RedState Gathering conservative event this weekend.
"I just don't want someone on stage who gets a hostile question from a lady and his first inclination is to imply it was hormonal. It just was wrong," Erickson said on his website.
RELATED: Conservative Gathering Disinvites Trump After Megyn Kelly Quips
Others agree. Trump, known for controversial comments, is being pummeled by his competitors, who feel he went too far with his attack on one of conservatives' favorite news anchors.
"Donald Trump has proven once again that he doesn't have the temperament to hold our nation's highest office. Attacking veterans, Hispanics and women demonstrates a serious lack of character and basic decency, and his comments distract from the serious issues facing our country," fellow Republican candidate Gov. Rick Perry of Texas said in a statement.
"Mr. Trump: There. Is. No. Excuse," tweeted Carly Fiorina, former Hewlett-Packard CEO. "I stand with @megynkelly,"
"There's no excuse for Trump's comments. Stand with @MegynKelly," tweeted Scott Walker of Wisconsin.
"@RealDonaldTrump comments are not worthy of the office he is seeking nor consistent w/the leadership we should expect from POTUS," tweeted Lindsey Graham of South Carolina.
And former Florida Gov. Jeb Bush, who has trailed Trump in the polls, has also called on the real state mogul to apologize.
"What Donald Trump said is wrong. That is not how we win elections and worse yet, that is not how you bring people together to solve problems," he said at the RedState Gathering.
The Republican National Committee spokesman Sean Spicer told TODAY on Saturday that Trump needs to clarify what he said and must "understand that he is seeking the presidency of the United States now and that words do matter."
RedState.com's Erickson has bumped heads with Kelly himself over his own comments about women. In May 2013, she questioned him after he said that the increase in female breadwinners in the U.S. goes against biology.
"Who died and made you scientist-in-chief?" Kelly asked him.