Allies of Donald Trump celebrated campaign manager Corey Lewandowski's firing, hoping it would clear the way for a more professional operation and remove a voice that encouraged the candidate's worst instincts.
But the damage from Trump's failure to mount a complete campaign — and his erratic message since securing the nomination in May — is severe and the latest fundraising numbers look downright catastrophic.
Hillary Clinton's victory fund announced Monday it had raised $28 million in May and ended the month with $42 million cash on hand. Priorities USA, the top pro-Clinton super PAC, raised another $12 million with $52 million in the bank. Meanwhile, the RNC and a Trump victory fund raised $11 million — down from the $34 million it raised with Romney in May 2012.
As for Trump's campaign? It raised just $3.2 million to finish the month with $1.3 million cash on hand. Trump also charged his campaign for use of his properties, airline, and food and beverages at Trump-owned hotels and golf courses.
The campaign still has to build a credible operation and organize a convention for a divided party — and there's no guarantee the candidate can change his style. Polls show Trump's support collapsing into the high-30s on average, worse than Mitt Romney or John McCain at any point in their losing campaigns.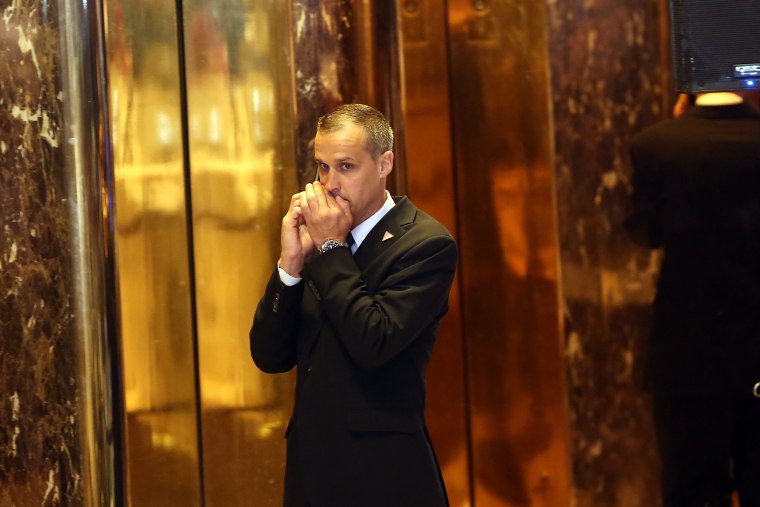 In the immediate term, however, campaign allies see Lewandowski's firing as a critical prerequisite to righting the ship.
The decision to drop Lewandowski came after consultations over the weekend with RNC chairman Reince Priebus about the increasingly embattled campaign, according to sources who asked for anonymity in order to speak freely. Trump's children, who long ago concluded Lewandowski was undermining their efforts, confronted their father Monday morning urging him to finalize the manager's termination.
According to one source with knowledge of the situation, the disdain was felt particularly strongly by Ivanka Trump, who had already been vocal about her concerns–especially after Lewandowski was accused of assaulting reporter Michelle Fields.
His ouster was a slow burn, but one of the final flare-ups came after the family became suspicious he had attempted to trade information on Trump's upcoming VP pick in exchange for positive coverage about his campaign role, according to two sources.
Trump did not fire Lewandowski face-to-face, a source said, instead delegating the task and then speaking to him on the phone later. He was removed from Trump Tower escorted by security.
Lewandowski did not immediately respond to a request seeking comment on details leading up to his departure. In an interview with NBC News earlier Monday, he said he was "honored" to work with Trump and said that he had no regrets about his time on the campaign. He denied any friction with Ivanka Trump over his role.
Trump's backers hope that the campaign is finally free of the civil war between Lewandowski and the now-undisputed top strategist Paul Manafort, which had ground the campaign to a halt.
"It's like trying to win a baseball game without putting anyone on the field"
In the short term, sources close to the candidate believe Lewandowksi's exit will allow them to start hiring key positions — including senior communications staff beyond press secretary Hope Hicks — normalizing procedures and smoothing relations with the Republican National Committee.
Allies at the RNC found it difficult to tell whether Lewandowski or Manafort was in charge at times, a task made harder after the resignation of Trump aide Rick Wiley, who had served as a go-between.
Lewandowski's physical proximity to Trump — he had his ear at all times — made it difficult to relay messages that went against his advice.
"Working closely with the Republican National Committee is going to be important," Lewandowski told NBC News Monday after his exit from the campaign. "And that's something that we've begun doing very well."
But ending the standoff is only one step to addressing the campaign's deep problems. The most pressing issue: fundraising.
The current situation is dire. Clinton's campaign and her allies are currently in the middle of a $23 million advertising blitz targeting a range of battleground states. Trump and his allies are spending no money, allowing Democrats to bomb their planes on the runway until Republicans can come up with cash for reinforcements.
Despite the disparity, Hicks insisted that the campaign was on track to meet its goals.
"There are no concerns," she said in a statement. "The money is pouring in for the party. In fact, we just returned from a tremendously successful swing through Texas, Nevada and Arizona. Mr. Trump will continue to do everything he can to defeat Hillary Clinton in November."
The first test of whether Trump can close the gap is this week's high-profile, high-dollar Manhattan fundraisers, cohosted by Trump national finance chair Steven Mnuchin and Jets co-owner Woody Johnson — who Trump used to bash as a special interest donor when he was supporting Jeb Bush in the primaries.
Tuesday will see an "intimate dinner" attended by approximately 75 donors at $50,000 per plate, per an invitation obtained by a source. A $250,000-per-couple donation nets a spot on the host committee, which includes a photo op and reception dinner.
Wednesday morning's event, a smaller-dollar function at Cipriani, is likely to involve up to 200 people. A source with direct knowledge of the week's events predicts the fundraisers will hit their goal of at least $6 million raised.
Some involved in Trump's fundraising efforts have privately expressed frustration at the lack of a coordinated strategy for raising money.
One campaign source acknowledged some donors are still sitting on the sidelines, characterizing them as a smaller group of mostly former Jeb Bush or Mitt Romney backers, but downplayed the significance — insisting Trump will need to raise less money than his Republican predecessors.
"This is probably the first election where a huge component will be social media and free TV," the source said, echoing the argument Trump has made publicly about why he needs less cash than his Democratic rival. "If you look at the amount of airtime that Donald has, you don't need traditional advertising."
One wrinkle: Trump's apparent reluctance to make the personal pitch for campaign cash.
"I don't ask for money," the candidate told NBC News this weekend, insisting donors are the ones opening their wallets of their own accord.
"They come to me!" Trump argued, citing his efforts for the RNC and state parties for the party as the biggest reason behind his fundraising efforts.
"If this were just about himself, he may not be doing this," agreed the campaign source. "This is about the party, which obviously has benefits to him," pointing to field operations as an area where the RNC and the campaign can work together.
Money is only one problem, though. The campaign still needs to recruit an effective organization to complement the RNC's efforts.
One GOP operative working with the party described a total lack of organization in New Hampshire, a swing state that served as a key launching pad for Trump's primary campaign.
"It's like trying to win a baseball game without putting anyone on the field," the operative complained.
Then there's Trump himself, who is ultimately responsible for launching a damaging campaign against Judge Gonzalo Curiel over his "Mexican heritage" and for his self-congratulatory response to the Orlando shooting, both of which drew strong condemnation from Republicans.
"The campaign is changing; Trump isn't going to change," a senior party strategist said, adding they hoped Manafort might be able to "moderate [Trump] a little."
If there was any moderation coming, it wasn't visible in the run-up to Lewandowski's ouster. On Sunday, Trump suggested to CBS News that American officials consider racial profiling to screen for possible terrorists. On Monday, he told Fox's Bill O'Reilly that he planned to continue his attacks on Senator Elizabeth Warren over her dispute claims of Native American heritage.
"I do regret calling her Pocahontas because I think it's a tremendous insult to Pocahontas," Trump told O'Reilly. "So, to Pocahontas, I would like to apologize to you."
There's also the possibility that Trump, who has a history of pushing confidants out and letting them back into the fold later, might chafe at his new regime and seek encouragement elsewhere. Trump fired Sam Nunberg for authorizing a 2014 Buzzfeed profile that irked the candidate, only to bring him back into the fold later and then fire him yet again over racist social media posts last year. Roger Stone, another longtime aide, left the campaign last year as well but still serves as an outside adviser.
Lewandowski, who lavished praise on Trump in a series of interviews, hinted at the possibility he might come back in from the cold.
"If I can play a role in this campaign, whether it's formal or informal, that'd be an honor for me to have," he told NBC News.