Donald Trump on Sunday tried to square how he can now attack Democratic front-runner Hillary Clinton for the American-led coalition's intervention in Libya that led to the fall of dictator Moammar Gadhafi while previously expressing support for the intervention on a humanitarian basis.
In doing so, however, Trump contradicted the position he'd taken throughout the primaries. While he insisted throughout the year that Libya would be better off with Gadhafi still in power, Trump flipped on Sunday and said he would have endorsed Gadhafi's removal with "surgical" American strikes.
Trump's muddled new position came in an interview on CBS' "Face the Nation," in which host John Dickerson played a clip of a video blog from 2011 in which Trump said, "Now we should go in. We should stop [Gadhafi], which would be very easy and very quick. We could do it surgically, stop him from doing it, and save these lives." Dickerson asked how he could reconcile the quote with his prior claims that he would not have intervened in Libya had he been president.
"That's a big difference from what we're talking about," Trump said.
Trump then pivoted to an anecdote about how he "made a lot of money with Gadhafi" when "he came to the country, and he had to make a deal with me because he needed a place to stay."
Dickerson pressed him, asking, "But you were for intervention, just to clear that up? I'm confused —"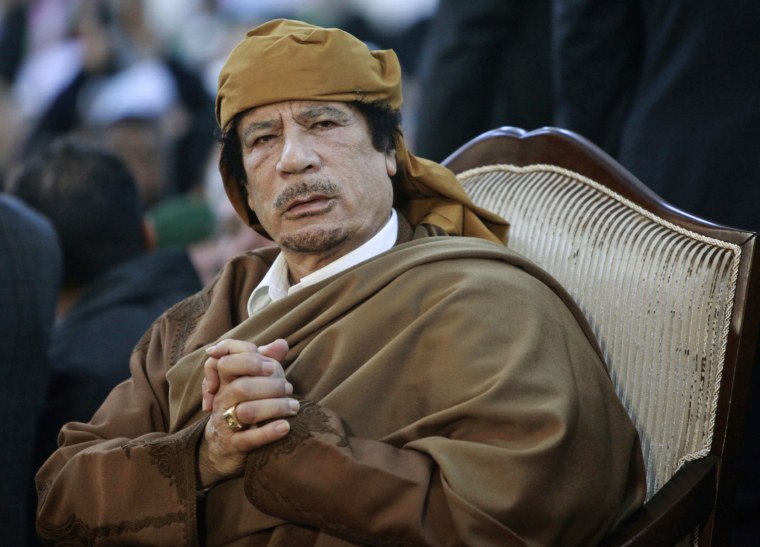 "I was for something, but I wasn't for what we have right now," Trump said.
In aninterview on October 4, 2015, with NBC's Chuck Todd on "Meet the Press," he said that the Middle East would be better off today if Gadhafi and Saddam Hussein, the deposed leader of Iraq who was executed for crimes against humanity three years after a U.S.-led coalition invaded the country at the start of the Iraq War, were still in power.
Related: A Full List of Donald Trump's Rapidly Changing Policy Positions
"Well, let me button this up," Todd said. "If Saddam and Gadhafi [were still in power], you think things would be more stable?
"Of course it would be. You wouldn't have had your Benghazi situation, which is one thing which was just a terrible situation," Trump said. "But of course, it would. Libya is — is not even — nobody even knows what's goin' on over there. It's not even a country anymore."
Trump told CNN's Jake Tapper the same thing in an interview on October 25, 2015. When asked again if he believed the world would better if Hussein and Gadhafi were still in power, Trump replied, "100 percent."
"I mean, look at Libya. Look at Iraq. Iraq used to be no terrorists. [Hussein] would kill the terrorists immediately, which is like now it's the Harvard of terrorism," Trump said. "If you look at Iraq from years ago, I'm not saying he was a nice guy, he was a horrible guy, but it was a lot better than it is right now. Right now, Iraq is a training ground for terrorists. Right now, Libya, nobody even knows Libya – frankly, there is no Iraq and there is no Libya. It's all broken up. They have no control. Nobody knows what's going on."
During a Republican presidential primary debate in Houston in February, former candidate Sen. Ted Cruz brought up Trump's 2011 support for the Libya intervention. Trump denied it and reiterated that Gadhafi shouldn't have been ousted.
"He said I was in favor in Libya," Trump said. "I never discussed that subject. I was in favor of Libya? We would be so much better off if Gadhafi would be in charge right now."
Now, Trump's position is different. He told Dickerson Sunday that he was for "surgical" intervention, never "strong intervention."
"I didn't mind surgical. And I said surgical. You do a surgical shot, and you take him out. But I wasn't for what happened. Look at the way – I mean, look at with Benghazi and with all of the problems that we've had. It was handled horribly," Trump said.
"I think since then you've said you were never for intervention, so it's confusing," Dickerson said.
"I was never for strong intervention. I could have seen surgical where you take out Gadhafi and his group," Trump said.
This position contradicts not just his 2011 comments, but the arguments he's made against the Libya intervention throughout the primary race. Trump has argued that Gadhafi should have stayed in power because his leadership benefited American interests — not that the methods to depose him were wrong.