When Jimmy Carter was elected president, a famous Newsweek cover story proclaimed 1976 to be "the year of the evangelical."
Almost exactly 40 years later, many Americans are struggling to understand how twice-divorced casino owner Donald Trump could end up as the evangelical of the year.
Nearly two-thirds of likely evangelical voters, 65 percent, said they support Trump in a nationwide survey released Tuesday by the nonprofit Public Religion Research Institute — this after the airing of an 11-year-old video in which he was recorded lewdly bragging about having made sexually inappropriate advances to married women.
Likewise, a survey released Monday by the religious polling group Barna reported that Trump leads Hillary Clinton by 55 percent to 2 percent among likely evangelical voters in next month's general election.
Such support has been remarkably consistent since Trump emerged as the Republican nominee — hitting a high of 78 percent in a July survey by the nonprofit Pew Research Center's Project on Religion & Public Life.
And widely known evangelical leaders remain committed to Trump, including:
James Dobson, founder of Family Talk Radio and the advocacy group Focus on the Family
Tony Perkins, president of the Christian conservative Family Research Council
Ralph Reed, chairman of the Faith and Freedom Coalition and former executive director of evangelist Pat Robertson's Christian Coalition
Jerry Falwell Jr., president of Liberty University in Lynchburg, Va., and son of Jerry Falwell Sr., co-founder of the Moral Majority
You might ask, "How can that be?"
But in the context of how modern candidates, operatives and pollsters define evangelical Christianity as a political constituency, a better question might be: "How could it be otherwise?"
From June: At Critical Moment, Trump Courts Skeptical Evangelicals
Take a closer look at the polls.
Historically, major polling organizations have categorized Christian respondents' faith into a few main groups: Catholics, mainline Protestants, white evangelicals, African-American Protestants and those with no religious identity.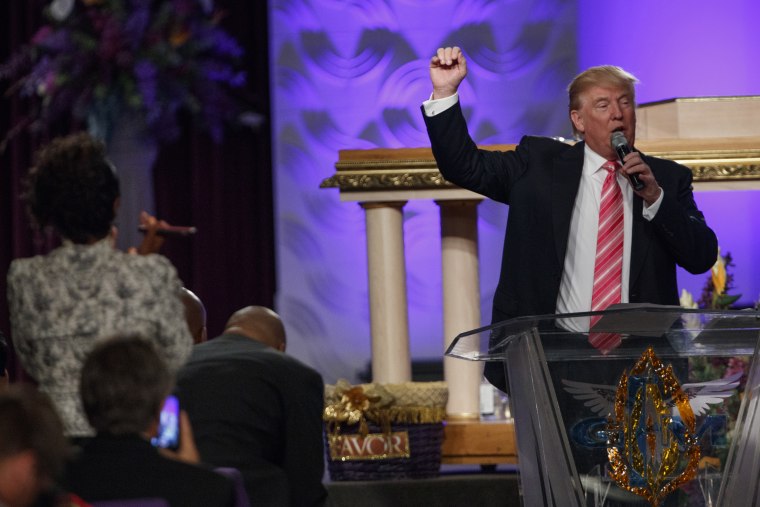 Notice the subset "white evangelicals."
Where are all the non-white evangelicals?
"Watch the 2016 election. When they talk about evangelicals again, they won't go to Bible-believing black evangelicals. They're going to talk to white people."
Almost three-quarters of non-Catholic African-American worshipers could be classified as evangelicals, according to Pew's massive 2015 U.S. Religious Landscape Study — but they're lumped in with the rest of the African-American Protestants.
Pollsters say there's a good reason for that: The influence of the black church is so potent and so consistently Democratic that to measure black voters as a whole is a better predictor of election results than to examine them by their differences in religious beliefs.
But there's a big down side: "You never hear about black evangelicals," Anthea Butler, graduate chairwoman of the Department of Religious Studies at the University of Pennsylvania, said in a lecture last year at Fuller Theological Seminary in Pasadena, Calif.
"Watch the 2016 election," she predicted. "When they talk about evangelicals again, they won't go to Bible-believing black evangelicals. They're going to talk to white people."
And that's particularly problematic depending on how "evangelical" is defined — and who's doing the defining.
Historically, pollsters asked people about their religious beliefs, including whether they considered themselves to be evangelical. But "asking for religious self-identification isn't enough," according to Leith Anderson, president of the National Association of Evangelicals, and Ed Stetzer, the new executive director of the Billy Graham Center for Evangelism at Wheaton College in Illinois.
"Many Christians hold evangelical beliefs but don't call themselves evangelical; many Christians call themselves evangelical yet don't hold evangelical beliefs," Anderson and Stetzer wrote in a March essay for Christianity Today, a leading publication in the evangelical community.
LifeWay Christian Services, a religious research institution in Nashville, Tenn., found last year (PDF) that only 25 percent of African Americans who hold clearly evangelical beliefs actually self-identify as evangelicals — compared to 62 percent of whites who hold such beliefs and 79 percent of similarly thinking Hispanic Americans.
As a result, Anderson and Stetzer said, "many pollsters and journalists assume that evangelicals are white, suburban, American, Southern and Republican, when millions of self-identifying evangelicals fit none of these descriptions."
And if you define evangelicals that way, many of them are going to support Trump — more or less grudgingly — for one simple reason: He is not Hillary Clinton, said religious historian R. Albert Mohler, president of the Southern Baptist Theological Seminary in Louisville, Ky.
Mohler said in an interview with NBC News that if you're a religious, older, white, Southern Republican, you're likely to consider Clinton "an absolute disaster," regardless of whether you're an evangelical.
Now, many scholars and polling organizations are coming around to a different way to identify evangelical voters, Mohler said — not by what they believe they are, but by what they actually believe.
Most lay people — including many who would define themselves as evangelicals — regard evangelicalism as a set of positions, a set that happens to align closely with conservative Republicanism, LifeWay's research found.
But Mohler said evangelicalism is actually about "conversion" — that is, undergoing a spiritual transformation through the love of Jesus.
"That's the distinguishing point," he stressed.
Conversion is one of the four criteria many religious scholars and the National Association of Evangelicals use to define evangelicals theologically.
The three others are: activism (spreading the Gospel and serving the community), biblicism (regarding the Bible as the ultimate authority) and crucicentrism (recognizing Jesus' sacrifice on the cross as the only road to humanity's redemption).
And those beliefs and experiences not only recognize no racial, gender or political barriers, but they also recognize no age barrier, Mohler said.
While many surveys might indicate almost monolithic backing for Trump, the reality is that "evangelical support for Donald Trump is amazingly generational," Mohler said, adding that these evangelicals "tend to be very much representative of an older generation of evangelical leaders."
"The younger generation have repudiated Donald Trump or been absent in their support," he said.
But they're generally not the evangelical ministers and leaders who go on television or take part in rallies.
"What the younger evangelicals tend to do is speak to each other," he said. "They're not forming political action committees, nor are they joining them. They do want to make a difference in the culture. They just don't see a way to do that in politics or even, indeed, in the voting booth."
Go back and look at that list of evangelical leaders steadfastly standing behind Trump. All of them are 53 or older (Dobson is 80). None of them is a preacher — by trade, Dobson is a psychologist, Perkins is a former journalist and cop, Reed is a historian and Falwell is a lawyer.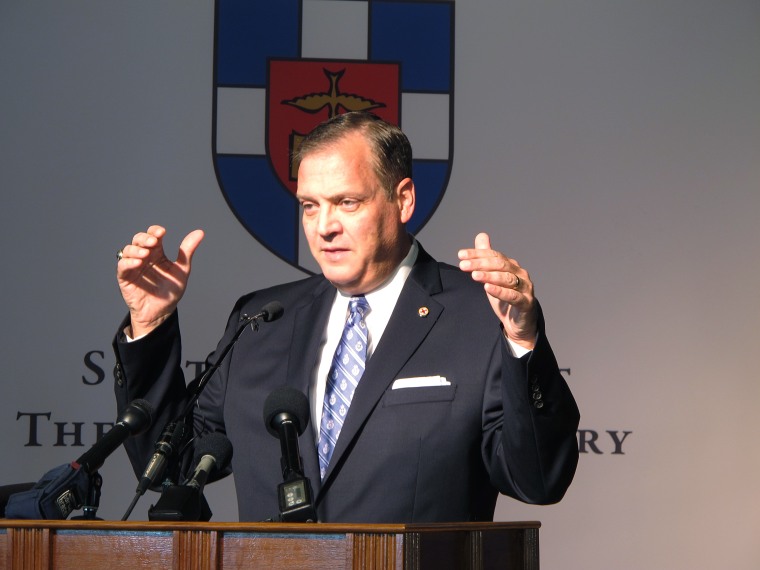 Mohler himself is white, Southern and conservative, and he turns 57 this week. But — perhaps illustrating the perils of lumping all evangelicals together — he is also a teacher of preachers, widely respected as a theologian, and he made it abundantly clear that he opposes Trump.
Mohler told NBC News that his position is "Never Trump." Much of his time over the past week has been spent fielding interview requests stemming from his widely quoted op-ed Oct. 9 in The Washington Post, in which he wrote: "Donald Trump is not just disqualified from being a Sunday school teacher. Honest evangelicals would not want him as a next-door neighbor."
But when he puts on his scholar's hat, Mohler said, he can understand how some evangelicals — repulsed by Clinton's support for abortion rights and the likelihood that she would appoint Supreme Court justices considered antithetical to conservative religious principles — might be able to vote for Trump.
"It's a binary choice," he said, explaining the argument made by many evangelicals.
For Franklin Graham, president of the Billy Graham Evangelistic Association and son of the famous evangelist, "this election isn't about Donald Trump's behavior from 11 years ago or Hillary Clinton's recent missing emails, lies and false statements."
"This election is about the Supreme Court and the justices that the next president will nominate," Graham said in a statement this weekend. "Evangelicals are going to have to decide which candidate they trust to nominate men and women to the court who will defend the constitution and support religious freedoms."
David Brody, senior national correspondent for the Christian Broadcasting Network, agreed that many of those voters are going to stick with Trump.
"For the most part, they're saying they're going to have to hold their nose much tighter after these Trump tapes," Brody told NBC News. "The reality is that Hillary Clinton, for them, is just the worst option.
"If they've got two immoral candidates, they'll go with the immoral candidate that will advance their public policy positions," he said.
Mohler said such evangelicals began voting for Republicans during the 1970s and 1980s, when the Moral Majority was all but synonymous with conservative Republicanism.
For them, he said, "it's a deeply ingrained evangelical habit."
But "what I can't respect is evangelicals' destroying the moral integrity of evangelicalism by making arguments that are morally indefensible," he said — meaning political activists who explain away Trump's behavior by invoking Christian forgiveness of sins he has apologized for. That's an argument Trump's vice presidential running mate, Indiana Gov. Mike Pence, made Wednesday.
And it's a divide that could end up shattering the Republican Party's historically reliable evangelical base, Mohler said.
"Personal integrity is very important," especially for minority and younger evangelicals, he said. "The Republican Party can no longer count on the habit of evangelicals' voting for the party's nominee for president.
"It's going to have to be earned, and it's going to have to be earned through character."