Falling largely below the radar, political attacks on candidates who defend the criminally accused have become a staple of Republican advertisements this election cycle.
One ad from the Republican Senatorial Committee, using a line since seized on by Republican presidential nominee Donald Trump, claims Hillary Clinton "defended an accused child rapist, then laughed about his lenient sentence."
Another ad, this time from the Republican National Committee, claims Clinton's running-mate Tim Kaine "consistently protected" the "worst kinds of people."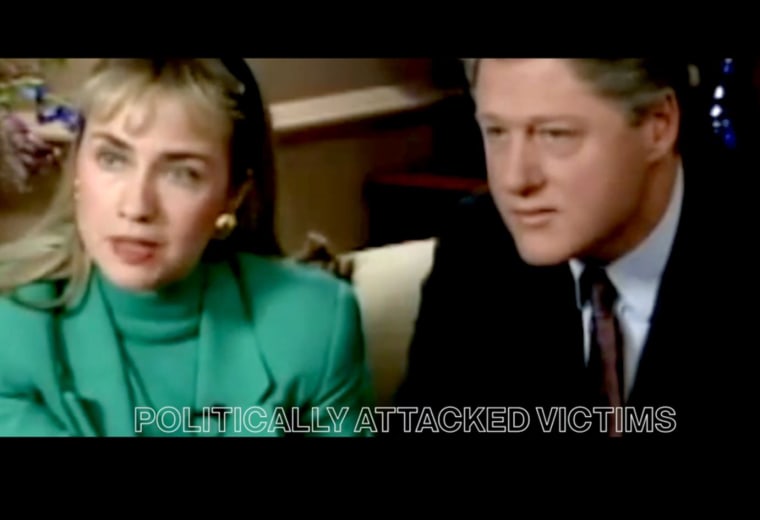 An ad from North Carolina Republican Sen. Richard Burr on his Democratic opponent, Deborah Ross, features a survivor of sexual assault. "She wants to protect sexual predators over victims," the woman says. "When they choose to rape, they don't get those rights back."
Under the U.S. Constitution, however, even people accused and convicted of heinous crimes have rights — including a Sixth Amendment right to an attorney.
Criminal defense attorneys and advocates for criminal justice reform said they are used to being vilified, but that doesn't mean they aren't concerned.
"Unfortunately, during this election cycle, we've seen the Sixth Amendment thrown under the bus for political expediency," Udi Ofer, deputy national political director of the American Civil Liberties Union and director of the group's Smart Justice Campaign, told NBC News. "It's particularly troubling when candidates for office who are sworn to protect the Constitution are attacking other candidates for performing their Constitution."
As a young lawyer, Clinton was appointed by a judge to represent a man accused of raping a 12-year-old. Citing his Catholic faith, Kaine took on death penalty cases, including ones involving rape. And before Ross was a state legislator, she was the executive director of the North Carolina American Civil Liberties Union, where she wrote a brief arguing a 13-year-old accused of rape and assault should not be tried as an adult and a memo opposing the sex offender registry. Ross has since said that as a lawmaker, she supported the registry and wanted to strengthen it.
Related: RNC Official Praises 'Willie Horton-Style' Ad Against Kaine
From a Republican perspective, these tactics are tried and true, but they take on new resonance in this election. Four years after losing a Missouri Senate seat with a candidate who infamously used the phrase "legitimate rape," the party's presidential candidate now stands accused of sexual misconduct by about a dozen women.
Not only has Trump denied the accusations, he has sought to change the subject to Bill Clinton's behavior — and Clinton's legal representation of the man accused of rape, who ultimately pleaded to a lesser charge. Trump went so far as to invite the victim in the case to the second presidential debate.
But in an era where criminal justice reform and mass incarceration have become relatively bipartisan issues, such attacks seem to hearken back to an earlier time of mass panic over violent crime and objectively higher crime rates. Indeed, the official GOP Twitter account tweeted a headline referring to their Kaine digital video as a "Willie Horton ad," which was then swiftly deleted. That infamous ad, which its creator has since apologized for as racist, was from the 1988 presidential campaign.
Still, criminal defense as political football is hardly an artifact of the past — not with those ads or Trump's refrain of "law and order" — and in the past it has been a bipartisan phenomenon.
No one knows that better than Debo Adegbile, whose nomination to be deputy attorney general for civil rights in the Obama administration was scuttled in 2014. As an attorney at the NAACP Legal Defense Fund, Adegbile successfully convinced a federal court not to reinstate the death penalty for Mumia Abu-Jamal, who was convicted of killing a white police officer. With Adegbile deemed a "cop killer coddler" by Fox News and opposed by the Fraternal Order of Police, seven Democrats joined Republicans to block his confirmation.
Related: Watch Six Political Ads That Changed the Game
"The idea that we would in the modern day draw an equivalency between a lawyer and the conduct alleged or otherwise of their client is foolish stuff," Adegbile, now a partner at Wilmer Hale, told NBC News. "It's just not consistent with our theory of what law stands for, of what justice stands for."
He added, "Without people willing to stand up and defend people on the margin of society, the system doesn't work."
Obama eventually appointed, in an interim capacity that didn't require Senate confirmation, former ACLU deputy legal director Vanita Gupta. Coincidentally, this week, Gupta spoke at the Right to Counsel National Consortium meeting.
"The right to counsel embodies a core truth of our justice system," she said. "It makes real the notion of fairness under the law. And it affirms the ideal that all people — regardless of wealth or poverty, status or stature, color or creed — deserve equal treatment and equal protection."
Such full-throated defenses of the constitutional duty of attorneys are common in the legal profession, but candidates may find them harder to translate to the public.
Barry Pollack, president of the National Association of Criminal Defense Lawyers, told NBC News he is disappointed at the candidates' relatively lukewarm pushback to attacks on their public defense and advocacy records.
"I've been disappointed at not just the fact that those attacks have been made but at the lack of a response to those attacks," Pollack said. "I don't think any candidate should be ashamed of the fact that at some point in their career they protected an individual's constitutional rights."
For example, he said, Clinton "has gone out of her way to point out that she was required to take that case, that it was done over her protestation. I don't view that as a strong response."
Ross' campaign and allies in North Carolina, meanwhile, have taken pains to portray her as tough on crime, including her subsequent support for the sex offender list and for minimum sentencing for sex crimes.
The longer-term question is whether the attacks will work, and what they bode for the fragile coalition supporting criminal justice reform.
Ofer dismissed the worry. "We're in a silly season right now of politics, but I'm very confident that Republicans and Democrats will work together after the 2016 election to reform our criminal justice system," he said.
"I don't think these attacks have a lot of resonance," said Pollack. "I think the public is much smarter and much more sophisticated than many political consultants tend to believe. When Ben Carson was running for president, no one was running through his list of patients and saying, you performed surgery on this person who was not a likable person or who committed a crime. The public understands that a surgeon is there to provide a medical service to a patient."
Even so, advocates are concerned that the continued vilification of criminal defenders will deter young and promising people from taking it up, whether they hope to run for office or serve as judges.
"It is very disturbing to see attacks on those who have performed this constitutionally mandated function in service of partisan objectives," said Caroline Fredrickson, president of the American Constitution Society. "Judge Jane Kelly, who was named as a possible nominee to the Supreme Court after Justice Scalia's passing, was similarly maligned for having served as a public defender. We should be praising, not defaming, those who take on this difficult task."
No Supreme Court justice spent time as a criminal defense attorney, although Chief Justice John Roberts did pro-bono work for a criminal defendant.
Adegbile said he still gets asked about it by young attorneys who are spooked by his experience. He tells them to go ahead and work in a principled way on cases they care about.
"The great danger," he said, "is that we leave these positions to people who, through their careful management of their life choices, are not prepared to make the hard decisions when they come to occupy these positions."