Can you hardly contain your excitement for some handball this Olympics? If the answer's yes, chances are you're a Democrat.
But if you're gunning to get in front of a TV for Greco-Roman wrestling, you're probably a member of the GOP.
That's according to a new survey from Deep Root Analytics, a Republican data firm focused on television-ad buying. The study is meant to help campaigns make more efficient ad buys during the Olympics, when the cost of air time can be sky high to advertise to a large and diverse audience.
"It's one of the biggest TV events in the world and we wanted to understand the partisan landscape of the Olympics because it's very costly to advertise," said Alex Lundry, chief data scientists at Deep Root Analytics.
More than 217 million Americans watched the 2012 games in London, making it the most viewed television event in history. Five of the top ten markets for Olympic viewership were in swing states.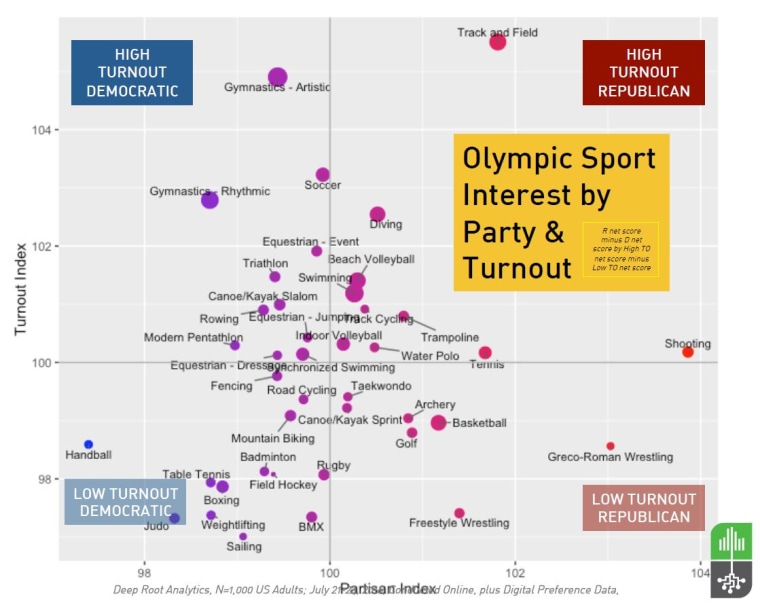 The group's online survey of 1,000 adults found 54 percent of Republicans and 46 percent of Democrats said they plan to watch either a "great deal" or "fair amount" of the upcoming games in Rio, which kick off at the Opening Ceremony on Friday on NBC.
The two-week event presents a unique challenge to both presidential and Congressional campaigns trying to get through to voters amid all the attention given to the games and the cost of advertising to the huge audiences. But it can also be a chance to strategically get a message in front of the exact audience a campaign is trying to reach.
Deep Root Analytics attempted to gather the party preferences of fans of Olympic sports, as well as their likelihood to show up at the polls on Election Day.
Based on the survey, Republicans may consider advertising during tennis, a sport favored by the GOP and whose fans may need some encouragement to get to the polls.
Democrats may prefer trying to reach out to fencing fans who identify with the party but can be flaky when it comes to showing up on Election Day.
"Most of the opportunity comes at the local level, because there are local markets and swing markets where Olympic viewership is very high and it's cheaper to advertise there," Lundry said.
Iowa, a swing state, was hit particularly hard during the Olympics four years ago. Three of the top four most advertised in markets were in the Hawkeye State.
Track and field and gymnastics have the highest voter turnout for Republicans and Democrats, respectively.
But there may not be much benefit for any campaign to target sailing, BMX or freestyle wrestling fans -- they don't vote much, according to the survey.