Policy is so 2012.
In Donald Trump's view of the election, it's all about which candidate should be trusted with the nuclear codes and which should be thrown in jail.
Trump's character assaults on Hillary Clinton may be his only speed when campaigning, but for Clinton and her allies, the decision is more strategic.
Zeroing in on Trump's temperament, as Clinton has done, not only polls well but makes it easier for Democrats to play in the ideological center without compromising on policy.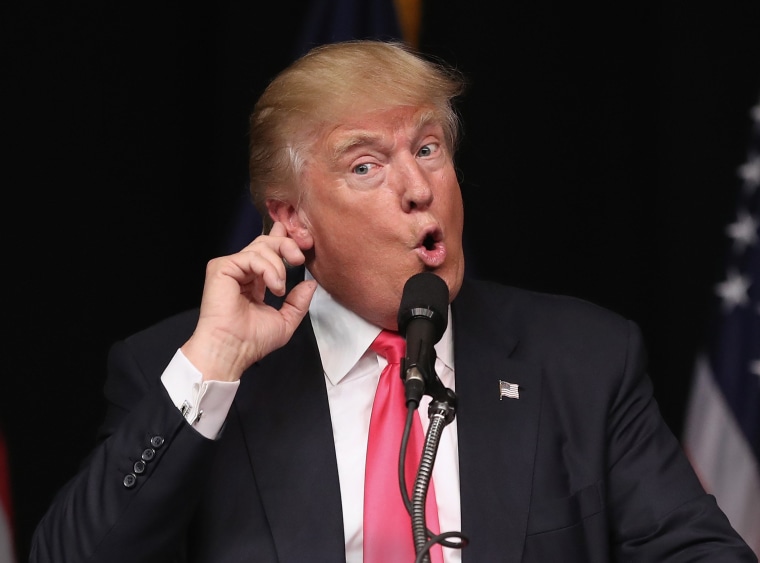 Guy Cecil, the top strategist for the pro-Clinton super PAC Priorities USA, said that "at its core, this election is about character and temperament."
"Yes, tax policy is important. Infrastructure is important," Cecil said. "But this election is about whether we want an aspirational, forward-looking candidate who seeks to bring people together or a divisive, mean-spirited, out-of-control candidate trying to return us to a past that never existed."
Related: Trump's Mental State Is Becoming a Campaign Talking Point
That's a departure from the traditional notion that candidates should convince voters their plans -- and ideology -- are superior.
But Trump not a traditional candidate, and Democrats are recalibrating to seize an opportunity they would not have if another candidate had won the Republican primary.
"The truth is, at the end of the day, people don't vote for platforms, they vote for people," said Democratic pollster Mark Mellman. "So when you have a chance to make a crucial contrast on character, it's frankly much more powerful than when you make a contrast on policy."
An operative involved in electing down-ballot Democrats said a Priorities USA ad showing Trump's mockery of disabled reporter was by far the most effective commercial tested this election cycle from any group.
Meanwhile, Democrats say, building a campaign message around Trump's policy positions is like wrestling jello since his stances are difficult to pin down and change constantly.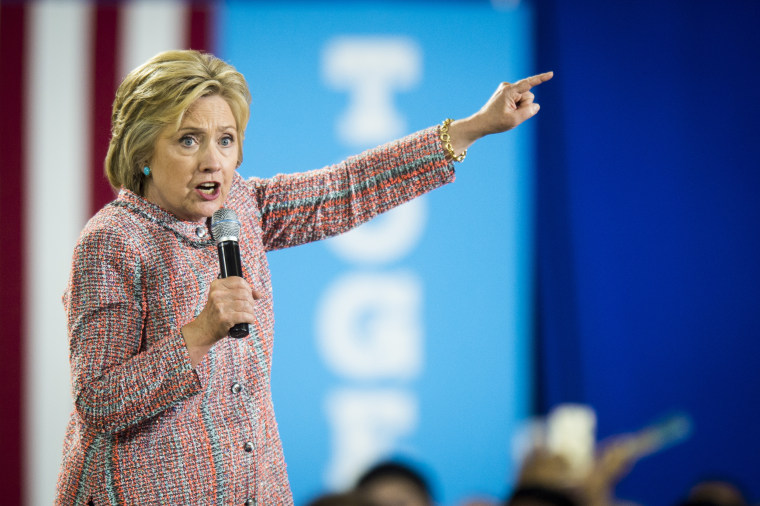 "A race that only focused on the policy differences between the candidates would be a disservice to voters as it would let Donald Trump off the hook for a temperament that is wholly unsuited for the presidency," said Brad Woodhouse, who runs the pro-Clinton rapid response group Correct the Record.
Setting aside political ideology allows Clinton to continue running on what is widely regarded as the most progressive platform in Democratic Party history, while also making room for independents and moderate Republicans to find a home in her coalition, a source close to the campaign explained.
There's an added benefit for Team Clinton: By highlighting the Republicans who abandon Trump, Clinton's campaign is creating what Obama strategist David Plouffe called "permission structures" to make people who might not agree with Clinton on taxes or the minimum wage feel comfortable supporting her.
On Tuesday, Republican Rep. Richard Hanna used the exact same language as President Obama to describe Trump — "unfit to serve" — when announcing his support for Clinton.
Obama pressed the case by calling on Republicans to withdraw their support from their party's nominee, saying that while he disagreed with former rivals John McCain and Mitt Romney, "I never thought that they couldn't do the job."
During her speech accepting the Democratic nomination, Clinton's only mention of Republicans was to either to invite them to join her or to lament how far Trump has taken the party from Ronald Reagan — instead of criticizing the GOP the way Obama did in his 2012 convention speech.
This wasn't always Democrats' plan, as some insiders initially wanted to run a more traditional general election playbook similar to 2012's. Still, Clinton campaign manager Robby Mook told outside allies during a small briefing in New York City in March that he had a hunch the campaign would end up on temperament if Trump became the GOP nominee.
Trump has responded to Clinton's attacks with his own in kind. "She doesn't have the temperament, or, as Bernie Sanders said, the judgment, to be president," Trump said during a speech in New York City in late June, when Clinton started stepping up her attacks on Trump's character.
But calling Trump an aberration from Republican values has the unintended consequences of normalizing other members of the party, which is a problem for Democrats tasked with defeating those Republicans.
In an internal hacked email, former Democratic National Committee communications director Luis Miranda complained to former DNC CEO Amy Dacey that Clinton's campaign wanted them to "disaggregate Trump from down ballot Republicans."
"We would basically have to throw out our entire frame that the GOP made Trump through years of divisive and ugly politics. We would have to say that Republicans are reasonable and that the good ones will shun Trump. It just doesn't work from the Party side," Miranda wrote in May.
"[T]hat strategy would ALSO put us at odds with...basically all of our Congressional Democrats," Miranda added.
In the four months since he wrote that email, Democrats say say they've since found ways to reconcile both messages.
They've started by, for the most part, giving up on trying to convince voters that Republicans are the same as Trump. Instead, they argue Republicans should know better than to support Trump, and so those who do are choosing their party over their country.
And for Republican candidates who do distance themselves from Trump, Democrats will argue their rivals are "close than you think" to Trump, as the narrator of new ad from Democrat LuAnn Bennett says in Virginia's heated 10th Congressional race.
On some issues where Trump is relative moderate for a Republican, like an abortion, Democrats can even say their GOP opponent wants to go further than Trump.