He isn't a politician, but many are hoping the father of a slain Muslim-American war hero will become one after his powerful Democratic National Convention speech.
Leading the effort to get Khizr Khan to consider a run for elected office is Vietnam veteran and Democratic activist Tom Keefe, who launched a fundraiser on Wednesday called "Yes We Khan." The campaign, which aims to get Khan in the Virginia House of Delegates, raised more than $11,000 in just 24 hours.
Keefe, who also attended the DNC and was on stage with other veterans during Gen. John Allen's speech, told NBC News he met Khan at the convention and was struck by the emotional force of his speech. Speaking with his wife Ghazala by his side, Khan lambasted Republican presidential nominee Donald Trump's call to ban Muslims from entering the U.S.
"I just thought, this guy might be somebody who could really turn things around for us," Keefe, 67, told NBC News.
He posted the fundraiser on Crowdpac.com, a nonpartisan site that helps citizens find and support local candidates, to encourage Khan to run — but also as a way to take a stand against Trump.
"It's not only about Mr. Khan. It's really my deep dislike for Mr. Trump and some of the things he has done to veterans over the years," he said, citing Trump's attack on Sen. John McCain's military service and his casual remark earlier this week that he "always wanted" a Purple Heart.
Khan's son, U.S. Army Captain Humayun Khan, died in 2004 in the Iraq war. In his DNC address, Khan aimed his words at the real estate mogul: "Let me ask you, have you even read the United States Constitution? I will gladly lend you my copy."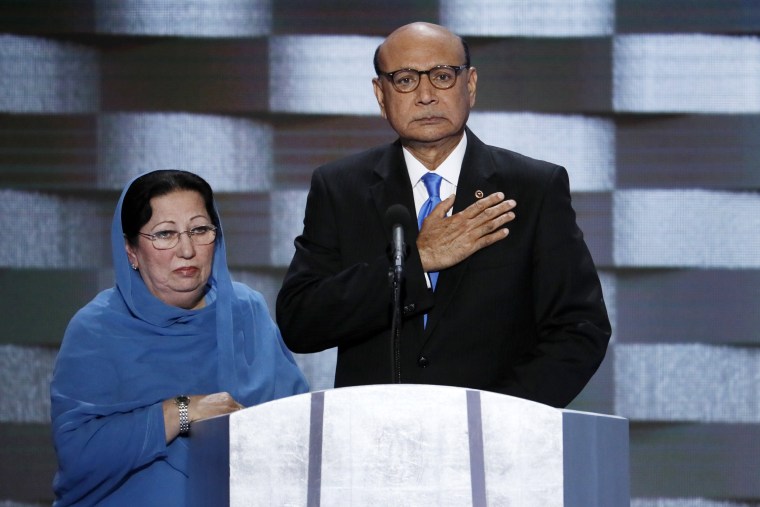 "You have sacrificed nothing," Khan then told the candidate.
Related: Khizr Khan Pleads to McConnell, Ryan to Take Moral Stand Against Trump
The stirring speech has become one of the most memorable endorsements of Democratic nominee Hillary Clinton. In a follow-up interview with MSNBC's Lawrence O'Donnell last Friday, Khan turned his focus to top Republicans Senate Majority Leader Mitch McConnell and House Speaker Paul Ryan, asking, "Isn't it time to repudiate Trump?"
Contributors to the "Yes We Khan" campaign praised Khan, a lawyer based in Charlottesville, Virginia, as representative of what "America really stands for."
"He has inspired a nation with his grace and eloquence. He has made the nation proud. We need to continue his voice," one wrote.
Keefe, who did veteran outreach for the Clinton administration, is currently based in Loudon, Tennessee, but lived in Virginia for 20 years and volunteered in various political causes there. He said he hasn't heard from Khan since he started the campaign, but he's been pleasantly surprised by how much steam it has picked up since he started it only a day ago.
The state delegate seat in the 58th district in Virginia is currently held by Rep. Robert B. Bell, R-Albemarle.