LONDON — Sighs of relief rippled through capitals of longtime U.S. allies around the world after Joe Biden became president-elect on Saturday.
Many leaders have been battered by four years of the convention-smashing President Donald Trump and see in Biden a counterpart who will try and return America onto a path of multilateralism and international cooperation.
Canadian Prime Minister Justin Trudeau, who had a fraught relationship with Trump, was among the first world leaders to issue a statement congratulating Biden and his running mate, Kamala Harris.
"Our two countries are close friends, partners, and allies. We share a relationship that's unique on the world stage," Trudeau wrote soon after news emerged that Biden had won the pivotal state of Pennsylvania, according to NBC News projections. "I'm really looking forward to working together and building on that with you both."
Paris Mayor Anne Hidalgo was less diplomatic.
"Welcome back America!" she wrote on Twitter. "Congratulations to Joe Biden and Kamala Harris for their election!"
Messages from foreign leadersand officials are common when a new U.S. president is elected. Less common, however, is the number this time around who have been referring to the previous administration — perhaps tacitly signposting their relief that it's over — when delivering their congratulations.
There were many mentions of the challenges the new White House faced.
Swedish Prime Minister Stefan Löfven congratulated Biden and mentioned the need for "multilateralism" — something the Trump administration has explicitly shunned.
New Zealand Prime Minster Jacinda Ardern — lauded for her response to the coronavirus pandemic and the March 2019 Christchurch mosque attacks that killed 51 people — celebrated Biden's victory before saying there were "so many issues facing the international community."
French President Emmanuel Macron also noted the international challenges piling up on the president-elect's desk.
The rush of congratulations from many Europeans made sense given Biden's long track record as a supporter of strong trans-Atlantic ties.
"Biden will be more diplomatic toward allies across the board, but particularly toward Europeans," Hans Kundnani, a senior research fellow focusing on Europe and trans-Atlantic relations at the U.K.-based think tank Chatham House, said before the election. "Europeans will be extremely relieved."
German Chancellor Angela Merkel, whom Trump has publicly criticized, congratulated Biden after he was named president-elect Saturday. On Monday, she spoke warmly of the former vice president in a speech.
"I sincerely congratulate Joe Biden to his election as the 46th President of the United States of America. Joe Biden brings the experience of decades in domestic and foreign policy with him. He knows Germany and Europe well. I fondly remember meetings and conversations with him," she said.
Germany's foreign minister, Heiko Maas, welcomed the "clear figures" that propelled Biden to victory.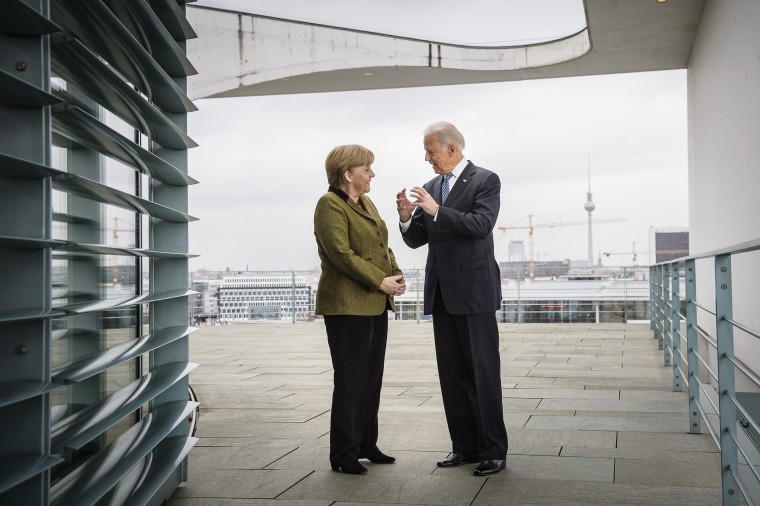 Relations with the European Union, NATO and, in particular, Germany were strained under Trump.
"I know Joe Biden as a strong supporter of our alliance," NATO Secretary General Jens Stoltenberg wrote. "A strong NATO is good for both North America and Europe."
Minutes after NBC News and others projected Biden's victory, Ireland's prime minister, Micheál Martin, offered his congratulations via Twitter. Biden is one of the 30 million Americans who identify as Irish — his great-great grandfather emigrated from County Mayo to the U.S. in 1850.
On the campaign trail Biden warned the United Kingdom not to allow Brexit to risk the safety of the Good Friday Agreement, a 1998 peace deal between rival Irish factions that put an end to the sectarian conflict known as the Troubles.
To that end, while U.K. Prime Minister 's Boris Johnson also quickly issued a congratulatory message, referring to the U.S. as Britain's "most important ally," his message was not as enthusiastic as those of some of his counterparts.
Biden has spoken against Britain's exit from Europe, a cause championed by Johnson, and in December he referred to Johnson as the "physical and emotional clone" of Trump, according to The Hill.
On the other side of the globe, Australia, an important U.S. ally and a partner in managing its relations with China, welcomed Biden's win.
"I particularly look forward to this with President-elect Biden because he comes to this relationship with a deep experience and a deep history," Prime Minister Scott Morrison told reporters Sunday.
Elsewhere, India's Prime Minister Narendra Modi focused on vice-president-elect Kamala Harris, who is of South Asian American descent. He called Harris' success "pathbreaking" and "a matter of immense pride" for all Indian-Americans.
However, not everyone may be overjoyed at the prospect of a Biden presidency.
Download the NBC News app for breaking news and politics
A sense of unease is likely coursing through parts of the Middle East, where Trump's White House has had especially close relationships with the leaders of longtime U.S. partners Saudi Arabia, the United Arab Emirates, Israel and Egypt.
"They are going to try to coexist with Biden and make the best of a bad situation from their point of view," said Fawaz Gerges, a professor of international relations at the London School of Economics. "They put most of their eggs in Trump's basket — he's been good to them."
Israeli Prime Minister Benjamin Netanayhu, one of Trump's closest international allies, took until Sunday to tweet his congratulations to Biden, calling the president-elect "a great friend of Israel."
But he also thanked Trump for "the friendship you have shown the state of Israel and me personally" as well as for recognizing Jerusalem as Israel's capital and standing up to Iran.
Trump is very popular in Israel, where 71 percent of people expressed confidence in him to do the right thing regarding world affairs in a 2019 Pew Research Center poll.
However, Palestinian President Mahmoud Abbas said in a statement Sunday he hoped to work with Biden to strengthen the Palestinian-American relations. Palestinians have been holding out for a change of U.S. president for three years after being largely ostracized by Trump.
Iran's president Hassan Rouhani called on Biden to "compensate for past mistakes" and return the U.S. to Tehran's 2015 nuclear deal with world powers, a state-run news agency reported Sunday. The Trump administration withdrew the U.S. from the deal and placed crippling sanctions on the country.
Meanwhile, though Russian President Vladimir Putin has said Moscow will work with any U.S. leader, Biden's win will be perceived as a net negative for Russia, Vladimir Frolov, a Moscow-based political analyst, said before the election.
There has been no official comment from Russia about Biden's win. But opposition leader, Alexei Navalny, who was recently poisoned with a military-grade nerve agent, congratulated Biden and Americans for "defining the new leadership in a free and fair election," something he called "a privilege which is not available to all countries."
Biden called Russia the biggest threat to U.S. national security last month — an assessment the Kremlin said encouraged hatred of Russia.
"Moscow is paying close attention to this and does not like what it sees," Frolov said.
China, which has been in a bitter dispute with Trump over trade, technology, Hong Kong, Beijing's handling of the pandemic and many other issues, have remained quiet on Biden's win so far.
Meanwhile Tedros Adhanom Ghebreyesus, director-general of the World Health Organization, welcomed Biden's victory and said he looked forward to working with the new administration.
Trump took the unprecedented step in May of pulling the U.S. out of the WHO — a decision Biden promised to reverse "on day one" if elected.
Tedros said in a speech Monday that since Trump signaled he would pull out of the 2015 Paris Accord on climate change, "the creeping guidance of nationalism and isolationism have eroded our sense of common purpose" in scientific progress.
"In that spirit, we congratulate president elect Joe Biden and VP elect Kamala Harris and we look forward to working with this administration very closely," he said.