DES MOINES, Iowa — Former Rep. Beto O'Rourke dropped out of the 2020 presidential race Friday after a disappointing campaign that failed to build off the momentum generated from his longshot Texas Senate run.
"Though today we are suspending this campaign, let us each continue our commitment to the country in whatever capacity we can," he wrote in an email to supporters. "Though it is difficult to accept, it is clear to me now that this campaign does not have the means to move forward successfully."
Lagging in the polls and with fundraising, O'Rourke had yet to qualify for the Nov. 20 Democratic debate sponsored by MSNBC and The Washington Post.
O'Rourke ended his campaign the same way he began it — with a surprise announcement in Iowa, a state he had never visited until launching his presidential campaign back in March, but one where many initially believed his unique man-in-a-van campaign style would play well.
Since then, he took a queasy ride on the fickleness of public opinion, going from the candidate of Oprah and Obamaworld, to something approaching a joke or afterthought, unlikely to qualify for the next debate.
O'Rourke's Iowa state director Norm Strzenbach told NBC News he did not know the campaign would be ending Friday, and in fact, the campaign had just announced a big push in the first-in-the-nation voting state. Rumors, however, had been swirling in the 24 hours leading up to the announcement, leaving staff at headquarters on edge and unsure of how to respond with little direction from above, especially when the campaign manager didn't come to the office as usual.
"This is a campaign on life support," said one person involved in the campaign who spoke on condition of anonymity Thursday.
On Friday, on a cold and gloomy Iowa fall afternoon, O'Rourke addressed supporters for the final time as a candidate in a soggy riverside park near the arena where he was supposed to address the biggest gathering of Iowa Democrats before next year's caucuses.
Tears flowed from volunteers, some of whom had been standing in the rain since 5 a.m. to support him. He gave them long hugs and urged them to keep up the fight against President Donald Trump, keeping his Robert F. Kennedy-smile shining in their ashen faces throughout.
"This is a campaign that has prided itself on seeing things clearly," he said, standing on a folding chair for the last time. "We do not have the means to pursue this campaign successfully."
President Donald Trump quickly mocked O'Rourke on Twitter.
Trump's reference was in regard to a cover story in Vanity Fair magazine as he jumped into the presidential race earlier this year that he was "just born to be in it."
O'Rourke said he made the decision "so recently and so reluctantly" that his wife, Amy, was not able to make it to Iowa, and that she had just texted him to say she wished she could.
He stayed to thank supporters individually as the sky darkened and the rest of his former rivals and 13,000 Democrats filed into the arena to begin the festivities of the Liberty and Justice Dinner.
When he saw a friend who came all the way from Texas to be here, he recalled seeing her the first time she showed up in Iowa unannounced. "It was a little crazy," she said, sheepishly.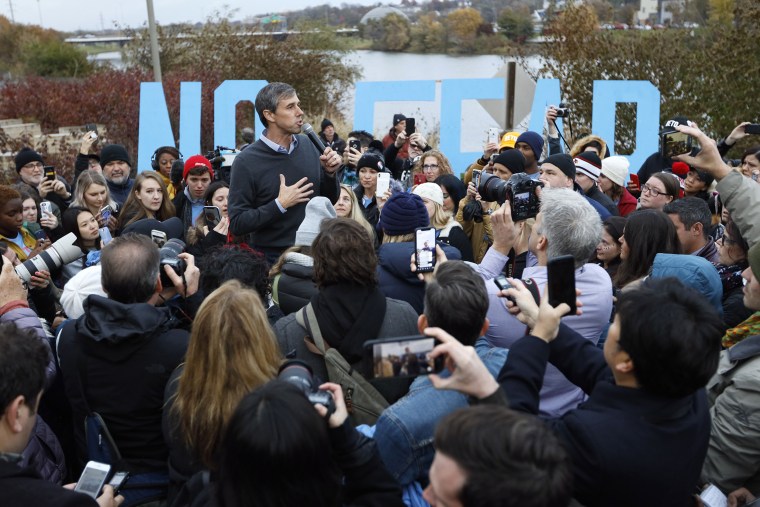 O'Rourke, who represented El Paso in Congress, entered the race as one of the most talked-about candidates following his narrow loss to Sen. Ted Cruz in deeply conservative Texas in 2018. After that defeat, Democratic activists in states that hold early presidential voting contests, including Iowa, Nevada and South Carolina, formed "Draft Beto" groups, which raised money and tried to line up supporters for a potential 2020 bid.
Despite the initial jolt of interest from voters and the media, his campaign failed to find footing following debate performances that were highly critiqued and consistent struggles to crack double digits in polls.
O'Rourke repeatedly rejected pleas — including from The Houston Chronicle's editorial board — for him to drop out of the presidential race and run again for the Senate in Texas against Sen. John Cornyn. The campaign said in a statement Friday night that he does not intend to run for the Senate.
O'Rourke's campaign ran on an urgent need to fight climate change and corporations and overhauling the American health care system — though he stopped short of endorsing Medicare for All. He supported legalizing marijuana and received plaudits for the ways in which he discussed racial disparities in America.
O'Rourke shifted his focus toward gun control following an August mass shooting in El Paso, going farther than most other Democratic candidates in supporting not just background checks and an assault weapons ban but a mandatory gun buyback program.
"Hell yes, we're going to take your AR-15, your AK-47," he said during September's Democratic debate in what would become something of a campaign slogan for him. "We're not going to allow it to be used against our fellow Americans anymore."
He mentioned gun control in a series of tweets after he dropped out Friday.
O'Rourke's support for a buyback plan drew criticism from some fellow Democrats as going to far and playing into the hands of gun rights advocates who claims that liberals want to confiscate their firearms.