WASHINGTON — Los Angeles Mayor Eric Garcetti is one of the most sought-after 2020 Democratic endorsements, presiding over the largest city in the most-populous state, which is positioned for major influence over the nomination now that its primary is on Super Tuesday.
So when presidential candidates come calling, he knows exactly what he wants from them.
"It's definitely homelessness and housing," Garcetti said. "The first person to jump on that will resonate in California."
In Los Angeles and other major cities, rising housing costs and a lack of new low-income housing have contributed to a spike in homelessness.But it's not only the poor who are feeling the pinch — or just California. Affordability concerns are filtering upward to middle class and even relatively affluent families, who complain they're being shut out of job-rich metropolitan areas.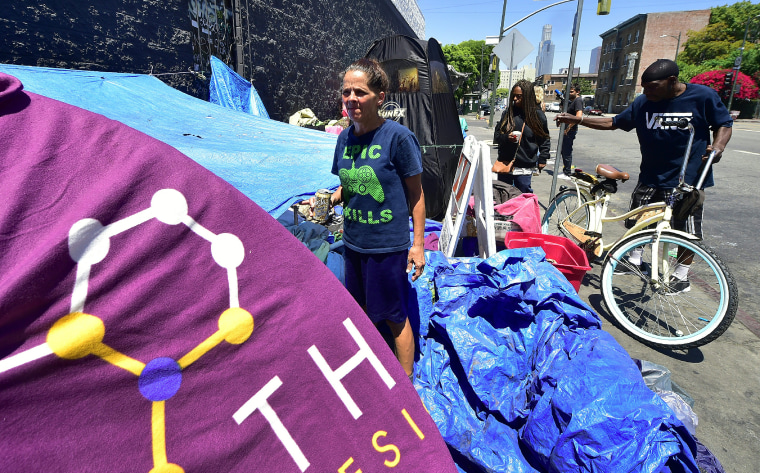 "With any kind of major issue in our country, it's when it hits the middle class that policymakers start paying attention," Diane Yentel, president of the National Low Income Housing Coalition, told NBC News. "That's certainly the case now."
The 2020 field has taken notice. Top-tier contenders, including Sens. Elizabeth Warren of Massachusetts, Kamala Harris of California, Cory Booker of New Jersey and former Housing Secretary Julián Castro, have released detailed plans promising to provide new aid to renters and encourage more housing development.
The issue still hasn't quite had its breakout moment nationally; it came up only in passing during the first two Democratic debates. But with a rise in activism already pushing candidates to get ahead of the issue, its time in the spotlight seems inevitable.
The rise of renters
The last time housing emerged as a major campaign issue was during the real estate crash of 2008.Property values have rebounded, but many Americans still can't buy a home, leaving a bulge of cash-strapped renters whom Democrats see as a potential constituency.
"In a lot of parts in this country, the recession unhinged people's personal economic reality, but the price of housing kept going up anyway," New York City Mayor Bill de Blasio, another 2020 candidate who's working on a national plan to boost federal investment in housing, told NBC News.
The number of Americans renting a home — nearly 37 percent — reached a 50-year high in 2016, and nearly half of renters are "cost-burdened," meaning they spend more than 30 percent of their income on housing. The percentage of cost-burdened renters has improved slightly since the recession, but it's nearly 10 points higherthan it was in 2000, and it's worse in many large cities.
Harris and Booker have put out bills that would give tax credits to cost-burdened renters, and Castro has a similar proposal to expand rental aid.
Other 2020 contenders, like Sens. Amy Klobuchar, D-Minn., and Bernie Sanders, I-Vt., have also called for expanding Section 8 housing vouchers, adding new tenant protections, and funding assistance to families at risk of homelessness.
Some of the plans call for boosting federal tax credits and grant programs to help repair and build developments earmarked for low-income residents. Warren's plan would commit $500 billion to these projects and sets a goal of building 3.2 million housing units.
Data for Progress, a liberal think tank and advocacy group, has been tracking 2020 candidates' positions on affordable housing and publishing polling to try to convince Democrats that major investments in housing is a winning issue.
"There is some realpolitik to wanting to speak to the needs of renters," said Henry Kraemer, who researches housing for the group. "Democrats are just much, much, much more likely to be renters than Republicans."
But some worry that while middle-class struggles have helped to draw attention to housing issues, some of the poorest residents might be left behind in the policy conversation.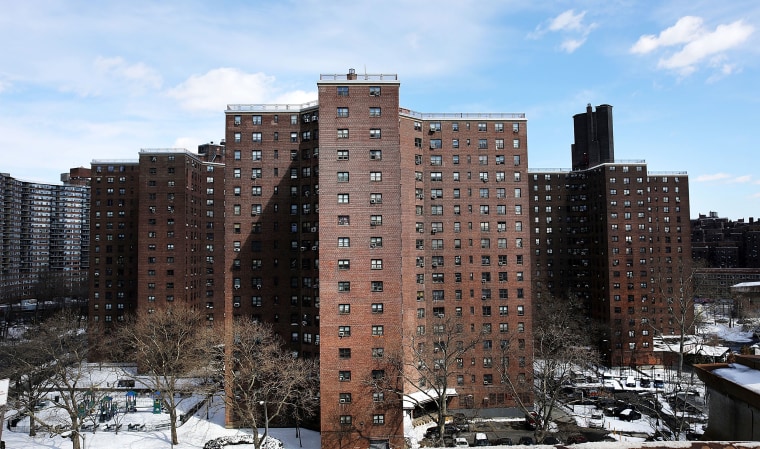 In New York City, Council Member Ritchie Torres is running for retiring Rep. José Serrano's congressional seat on an affordable housing platform after shining a spotlight on unsafe conditions in public housing.
Torres says he's concerned the city's 400,000 public housing residents — the largest concentration in the country — are being left out of the discussion despite official estimates that their homes require $32 billion in maintenance. While Warren's plan includes some money for public housing repairs and Sanders has talked about the need for more funding, the candidate proposals mostly focus on alternative housing approaches.
"Poor people of color in public housing are fundamentally forgotten by the presidential candidates," Torres told NBC News.
The YIMBY movement
Aid to renters could help them pay the bills, but experts have warned the added cash could prompt landlords to raise rents, especially if the housing supply remains the same.
Such proposals also wouldn't directly address complaints from upwardly mobile workers who would make too much to qualify for aid, but are still struggling to find an affordable home in areas with high costs of living. Median home values were more than $1 million in almost 200 cities last year, and the number of metros expected to hit that mark is growing, according to an analysis by the real estate website Zillow.
This supply crunch is a focus of the fast-growing activist movement known as "YIMBY," or "yes in my backyard." Activists seek to relax zoning laws to encourage more construction, describing themselves as a rejoinder to the "not in my backyard" concerns that communities often raise about proposed developments.
"If there's one major theme to YIMBY-ism across the country, it's that we're trying to legalize apartment buildings," Matthew Lewis, communications director for California YIMBY, told NBC News. "The way we talk about it is that there's plenty of room in our neighborhood for more neighbors."
In line with these concerns, several 2020 candidates are looking to prod local and state governments to rezone their communities to make it easier to build cheaper multifamily housing.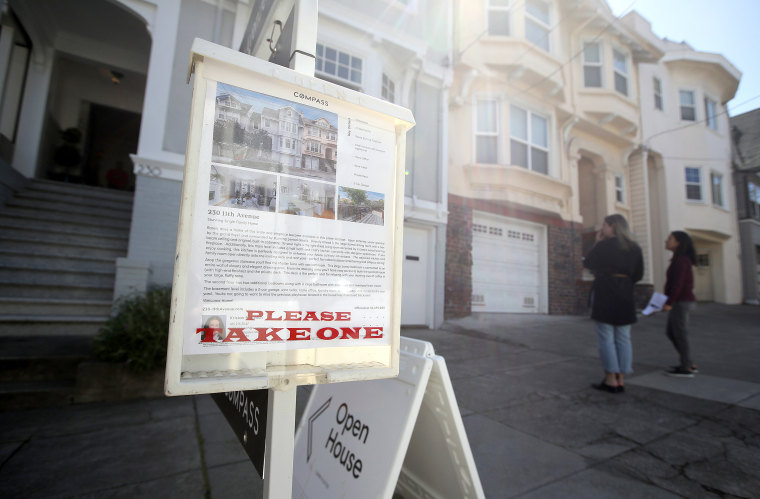 Warren's plan includes a new $10 billion grant program that local governments would compete to use, but only if they reformed their zoning and construction rules. Booker and Castro would tie existing block grants to reform requirements, and Klobuchar's plan would seek to spur similar changes. Harris' plan does not address zoning.
The politics of the issue don't cut neatly along traditional party lines. Many of the biggest YIMBY fronts are in blue states and blue cities along with purple-trending suburbs that were key to Democratic victories in 2018. If the housing issue comes to a head nationally, it could pit different parts of the Democratic coalition against one another.
"There's sort of a clash between younger renters who feel the system doesn't work and older homeowners who have profited very well," Jenny Schuetz, a David M. Rubenstein Fellow in the Metropolitan Policy Program at the Brookings Institution, told NBC News.
In California, housing advocates rallied around SB 50, a bill that would rezone areas near mass transit and businesses to make it easier to build larger developments. The measure saw a high-profile campaign by supportive lawmakers and advocates, who warned of an estimated shortfall of 3.5 million homes statewide. But the Democratic Legislature has set the legislation aside for now amid pushback from critics, who complain it would pre-empt local control and change the look and feel of neighborhoods.
A legacy of discrimination
Housing debates can get ugly, especially when confronting divides over race and segregation.
Efforts to build affordable housing sometimes prompt public complaints that lower-income residents will drag down property values or make schools less competitive, which in turn spur accusations that residents are using euphemisms to keep out minorities. In many cases, neighborhoods were originally zoned with that exact purpose in mind.
But the accusations fly both ways, with some activists in minority communities worried that opening up more development in their neighborhoods will usher in gentrification that leaves them priced out. Rick Hall, president of the anti-SB 50 coalition Livable California, told NBC News that these concerns cut against the caricature of opponents of the bill as wealthy elitists in walled-off enclaves.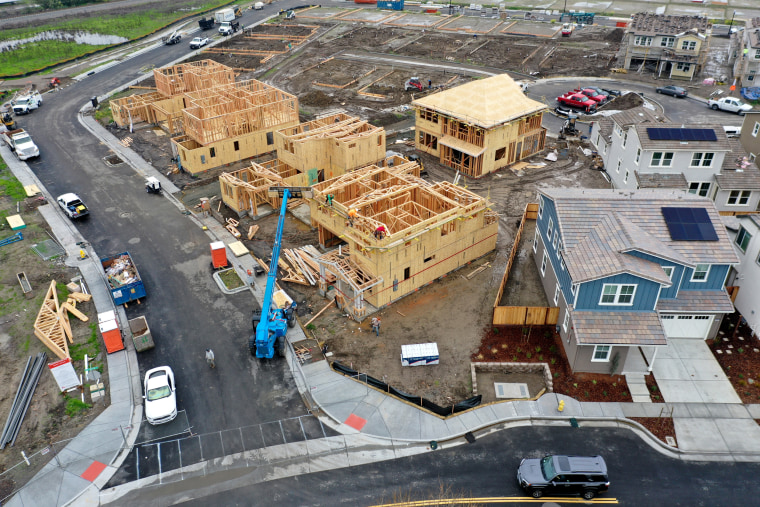 "We get a lot of bad press about being white suburbanites, but I'm an anti-gentrification activist who lives in an urban San Francisco area," Hall said.
Some of the 2020 candidates have put out plans to address housing discrimination by trying to provide additional help to neighborhoods starved of resources by racist "redlining" policies that excluded minorities from housing benefits.
Warren's plan would help fund down payments for low-income residents in once-redlined neighborhoods. Harris, meanwhile, put out a $100 billion proposal last month to boost black homeownership in similarly affected communities, offering up to $25,000 in aid to as many as 4 million qualifying buyers. More recently, South Bend, Indiana, Mayor Pete Buttigieg released a plan to buy abandoned homes in redlined communities and transfer them to locals to rehabilitate.
But some liberal activists, while glad to see candidates's various proposals, are worried that the housing movement still needs one catchy "big idea" it can unite behind and demand politicians adopt.
"What we've learned from health care and the 'Green New Deal' is we have to articulate a demand that sounds crazy right now, but helps us to awaken that political imagination," Tara Raghuveer, housing campaign director for the community organizing group People's Action, said.