The Democratic National Convention kicked off Monday in what is shaping up to be a nominating convention unlike any other.
The first night of the almost all-virtual event featured keynote speaker Michelle Obama, as well as former Democratic presidential contenders Sens. Bernie Sanders, the independent from Vermont, and Amy Klobuchar of Minnesota and Govs. Gretchen Whitmer of Michigan and Andrew Cuomo of New York.
Presumptive nominee Joe Biden's pick for vice president, Sen. Kamala Harris of California, is expected to speak Wednesday night along with former President Barack Obama.
Jill Biden, Bill and Hillary Clinton, House Speaker Nancy Pelosi of California, Sen. Elizabeth Warren of Massachusetts, Rep. Alexandria Ocasio-Cortez of New York and other high-wattage headliners will round out the programming in days leading up to Biden's acceptance speech on Thursday.
NBC News will air a special report from 10 to 11 p.m. ET each night, and MSNBC will have convention coverage from 7 p.m. to 2 a.m., with special coverage beginning at 9 p.m. NBC News Now will livestream the convention each day, with special coverage starting at 8 p.m. And follow us here on NBCNews.com for breaking news, analysis and fact checks.
Download the NBC News app for full coverage and alerts on the latest news.
This live coverage has now ended. Continue reading DNC news from August 18, 2020.
Former GOP House Speaker John Boehner won't be endorsing Biden, spox informs
Former GOP Speaker of the House John Boehner won't be backing Joe Biden, his spokesperson said, dousing speculation that an endorsement could be afoot.
"I think he'd rather set himself on fire than get involved in the election," the spokesperson said.
Boehner's spox made clear the former Ohio politician was not speaking at the convention after a growing slate of prominent Republicans have announced their support for Biden and are set to take the virtual stage Monday evening.
Since leaving Congress, Boehner has worked for tobacco and cannabis companies. 
Republican John Kasich takes swipe at AOC ahead of his DNC speech
Former Ohio governor and 2016 GOP presidential candidate John Kasich criticized Rep. Alexandra Ocasio-Cortez, D-N.Y., ahead of his Monday night speech at the DNC.
Kasich, who will be speaking out against Trump, his former 2016 primary opponent, told Buzzfeed News that he thinks "this country is moderate" and those on the "extreme" get too much attention.
"You know, I listen to people all the time make these statements, and because AOC gets outsized publicity doesn't mean she represents the Democratic Party," Kasich said. "She's just a part, just some member of it."
A CBS News poll released over the weekend said only 38 percent of Democrats would like to hear from Kasich at the convention. Sixty-three percent said they'd like to hear from Ocasio-Cortez, who will reportedly have just 60 seconds to speak. 
Democratic National Convention: 5 things to watch for on Night 1
WASHINGTON — No one has ever done this before.
Democrats will be guinea pigs in their own experiment Monday night as they kick off the first of four nights of an all-virtual Democratic National Convention.
Because of the coronavirus crisis, Democrats scrapped the podiums and packed arenas for two hours of programming each night that will look more like a TV special than a traditional convention. (In fact, the event is being produced by an executive producer of the Super Bowl halftime show and the Tony Awards).
That means shorter speaking slots and fewer of them, more opportunity for alternative formats and backdrops — and also more ways for something to go wrong. Meanwhile, much remains a mystery about what President Donald Trump plans for his Republican National Convention, which starts next Monday.
Biden remains ahead of Trump nationally on eve of conventions in NBC News/WSJ poll
WASHINGTON — President Donald Trump continues to trail Democratic challenger Joe Biden nationally as more than 60 percent of voters say America's response to the coronavirus has been unsuccessful and just one-in-five believe the U.S. economy is on solid footing.
Those are the major findings from the latest national NBC News/Wall Street Journal poll, which was conducted during the pandemic that has killed more than 170,000 Americans and as the presidential race enters a new phase, with the party conventions beginning on Monday just days after Biden's selection of Sen. Kamala Harris, D-Calif., as his running mate.
According to the survey, Biden leads Trump nationally by 9 points among registered voters, 50 percent to 41 percent, and the former vice president holds double-digit advantages over Trump on the coronavirus, immigration, health care, race relations and uniting the country. What's more, the poll shows Harris with a higher net personal rating than either Trump or Biden.
Kasich, several other prominent Republicans to speak at convention tonight
In addition to former Ohio Gov. John Kasich, several other Republicans, including former elected officials, are expected to endorse Joe Biden in speeches Monday night at the convention during a segment called "We the People, Putting Country Over Party."
Former New Jersey Gov. Christine Todd Whitman will be the first Republican to speak, according to a schedule released Monday morning. She served as governor from 1994 until January 2001 and soon after became the administrator of the Environmental Protection Agency under President George W. Bush. Whitman endorsed former Massachusetts Gov. Bill Weld during the 2020 Republican primaries. 
Meg Whitman, the former CEO of Hewlett Packard who ran for governor of California as a Republican in 2010, will be the next to speak. Whitman, who currently serves as the CEO of short-form streaming platform Quibi, was a senior member on Sen. Mitt Romney's, R-Utah, presidential campaigns in 2008 and 2012. Whitman, however, supported Hillary Clinton in the 2016 presidential election. 
And former Rep. Susan Molinari, R-N.Y., is scheduled to speak before Kasich. She served as the vice chairwoman of the House Republican Conference from 1995 to 1997 and served in the House from 1990 to 1997.
PLAN YOUR VOTE: A state-by-state guide to voting by mail and early in-person voting
When is the deadline to register to vote? Can I vote by mail without an excuse?
Plan Your Vote is a new, interactive tool from NBC News and MSNBC, which encourages Americans to plan when and how they will vote, taking into account each state's coronavirus pandemic restrictions, mail-in ballot rules, early in-person voting and more.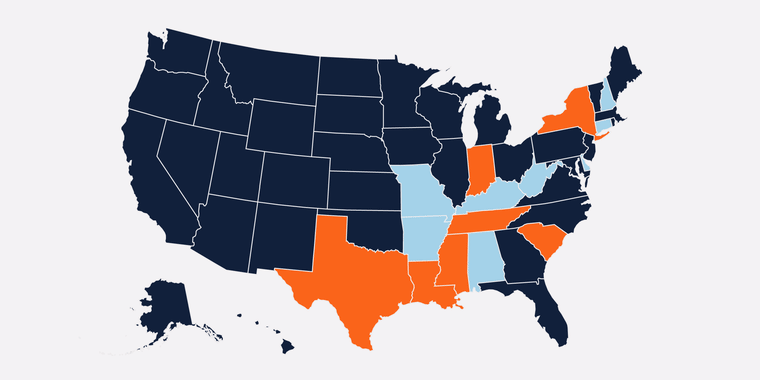 This comprehensive, state-by-state guide includes the most up-to-date information for voters across the country. It's everything you need to know about casting a ballot in the 2020 election, wherever you live. And we'll be updating it as rules change — which could happen right up until Election Day.
Try the tool here. 
Dems' hunger to break the old political system grows ahead of election
WASHINGTON — As they kick off an all-virtual convention this week, Democrats aren't just pursuing more progressive policies than they have in generations: Party leaders are also warming up to changing the rules of a system many of their voters decry as undemocratic.
Former Senate Democratic leader Harry Reid has called for abolishing the rule that effectively requires 60 votes to pass legislation in the Senate. Top Democratic senators say they want to abolish the Electoral College and pick presidents by popular vote. The House voted in June to grant statehood to Washington, D.C. And Democrats are eyeing language in the platform calling for "structural" change to the Supreme Court.
"There's a youth revolution going on in the party," said Howard Dean, who was chairman of the Democratic National Committee. "You're going to see a real reform movement — not just in Congress, which will resist for institutional reasons, but you'll see it in the country. And that's what you're going to see at this convention."
ANALYSIS: On convention eve, Democrats are apprehensive
WASHINGTON — On the eve of a nominating convention unlike any other, many Democratic insiders are deeply apprehensive about the November election.
They've seen standard-bearers seize leads in the summer only to swoon in the fall. They've watched President Donald Trump pull an Electoral College rabbit out of a red "MAGA" hat. And now, they are looking on in real-time horror, seemingly powerless, as Trump discredits and guts a Postal Service necessary for mail-in balloting.
That admixture all contributes to concern that mid-August polling — an NBC News/Wall Street Journal survey released Sunday showed Democrat Joe Biden with a 9-point lead over Trump — doesn't reflect the reality of where the race will stand come November.
Longoria, other entertainment activists to emcee DNC
Democrats have lined up a group of influential actresses and activists to headline each night of the Democratic National Convention this week, former Vice President Joe Biden's campaign confirmed.
Eva Longoria, Kerry Washington, former "Veep" star Julia Louis-Dreyfus, and Tracee Ellis Ross will each emcee a night of the convention, with Longoria on Monday, Ross  on Tuesday, Washington on Wednesday and Louis-Dreyfus on the convention's final day on Thursday.
Three of the four are minorities: Longoria co-founded the Latino Victory Fund and held a "Presidente Finance  Council" fundraiser for Biden recently as she continues to bring Hispanic voters into the party. Washington and Ross are both Black American women who have devoted their work to numerous causes uplifting their communities' voices.
DNC Chair Perez says party's focus this week will be that Trump is 'chronically incompetent'
Tom Perez, the chairman of the Democratic National Committee, said Monday that the party will focus at the convention this week on casting President Donald Trump as "chronically incompetent." 
On MSNBC's "Morning Joe," Perez said that coronavirus fatalities have surpassed 170,000, a grim death toll that he said was preventable.
"This is why we need leadership that is competent — that is Joe Biden," he said. 
Perez also said the Trump administration's actions regarding the Postal Service have boosted Democrats' case for expanding mail-in ballots this election, which he said will help them in ongoing litigation. In Wisconsin, for example, a judge has to "make a really important switch in the deadline" for ballots, he said.
"In April, we were able to persuade the judge that as long as the ballots were postmarked by Election Day, as opposed to received by Election Day, they would count," he said. "That enfranchised over 90,000 voters. Every day that this administration does what it does by playing politics with the Postal Service, they are making our record for us."
Democrats tap an array of faith leaders to speak at convention
The Episcopal bishop of Washington, D.C., who criticized President Donald Trump after he held a Bible aloft at a photo op at a historic church in her diocese, is among the diverse group of faith leaders selected by Democrats to speak at their presidential nominating convention.
Bishop Mariann Budde will deliver the benediction on Tuesday, the second night of the convention, according to a list shared with The Associated Press. The convention will be almost entirely virtual, with online video addresses. Other faith leaders scheduled to speak include the Rev. Gabriel Salguero, the Florida-based pastor who founded the National Latino Evangelical Coalition; Jerry Young of the Mississippi-based New Hope Baptist Church; Archbishop Elpidophoros, leader of the Greek Orthodox Archdiocese of America; and Rabbi Lauren Berkun, vice president of the Shalom Hartman Institute of North America.
Berkun is one of four faith leaders from three religious traditions who are scheduled to speak on Thursday, the convention's final day. Also set to speak on Thursday are Sister Simone Campbell, executive director of the advocacy group NETWORK Lobby for Catholic Social Justice and a longtime Biden ally dating to the push to pass President Barack Obama's health care plan; the Rev. James Martin, a Jesuit priest and editor at large of the Jesuit magazine America; and Imam Al-Hajj Talib 'Abdur-Rashid, a Muslim social justice activist who leads the New York-based Mosque of Islamic Brotherhood.
2020 Democratic National Convention: 'Virtually' everything you need to know
The Democratic National Convention is set to kick off next week — and thanks to coronavirus precautions, it will look much different than the traditional quadrennial four-day presidential nominating event.
The large crowds of political boosters originally planned to swarm into swing state Wisconsin aren't coming, and even the presumptive Democratic nominee won't be in Milwaukee — Joe Biden will accept the nomination virtually.