Corey Ingram, a resident of Spring Grove, Pennsylvania, felt good about voting for Donald Trump in 2016 — but the president's handling of the coronavirus pandemic has already made his choice in November clear.
"How he's doing with this doesn't give me any confidence," Ingram, 42, an inspector at a military equipment manufacturer, told NBC News. "The rejection of science, the constant disagreeing with his experts."
"After this," he added, "anyone but Trump."
Like many voters across the United States, Ingram, a political independent who twice cast a ballot for Barack Obama, has seen the pandemic emerge as a main concern as the country slides quietly into a general election campaign eclipsed by the ongoing public health crisis.
How Trump has responded to the outbreak — from a public health and an economic standpoint, as well as a crisis management challenge — will pave a path to victory (or defeat) that largely goes through battleground states. And nowhere are his challenges clearer than in the swing state of Pennsylvania.
As of Wednesday night, the state had the fifth-most confirmed cases of COVID-19 and the fifth-most deaths from the virus in the U.S.
The economic toll has been even more striking. Since March 14, about 1.3 million Pennsylvanians (or nearly 1 in 5 workers in the state) have lost their jobs — the second-highest number during that period in the country, behind only California.
In interviews, voters, former lawmakers, political strategists and union leaders all said the political fallout for Trump in Pennsylvania is already significant — and is likely to remain stark unless the public health and economic situations improve dramatically before Nov. 3. But that doesn't mean former Vice President Joe Biden is sure to capitalize, they said, due to his struggle to stay visible and break through during the so-called "virtual campaign" that he and Trump have been forced to engage in during the pandemic.
Trump's challenge: maintain his margin of victory against economic headwinds
Even before the health crisis, Pennsylvania — with its 20 electoral votes — was shaping up to be one of the most critical battlegrounds in the 2020 race. Trump edged Hillary Clinton in the state in 2016 by just over 44,00 votes, turning it red for the first time since 1988. Doubling down on his criticism of free trade deals and exploiting broad dislike for Clinton, Trump dominated in the largely rural and industrial central, south and western parts of the state, while also turning, or nearly turning, red counties containing the smaller cities of Wilkes-Barre, Scranton and Erie, all of which went blue in 2012.
Trump's challenge, sources said, will be to keep his razor-thin margin of victory alive amid a once-in-a-century public health disaster.
"Trump won here in 2016 because he ran as a disruptor. But in a crisis like this, even if he were performing strongly, people are going to want a stabilizer in the White House," Phil English, a former Republican congressman from Erie, said.
"The stakes have changed," added English, whose hometown of Erie County went to Trump in 2016 by just 1,957 votes. "Pennsylvania has been put into a much more challenging position, or at least demands a totally different strategy, for the president to keep it in his column."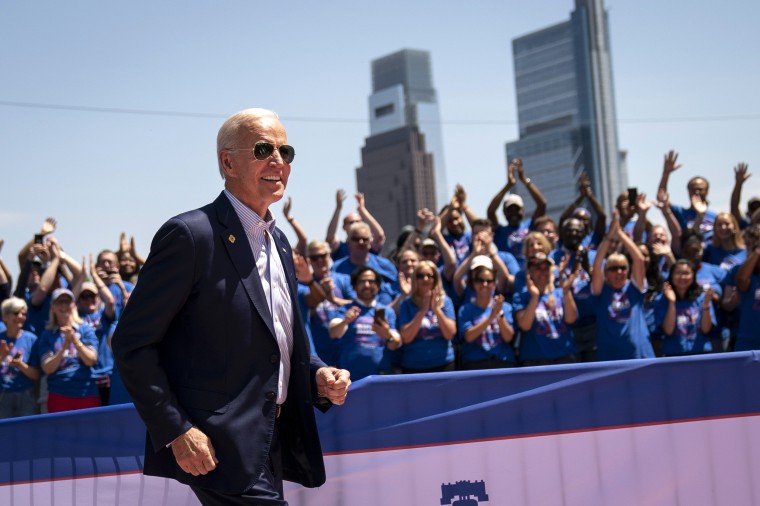 Mark Harris, a Pittsburgh-based GOP strategist who ran Republican Sen. Pat Toomey's successful campaigns in the state in 2010 and 2016, warned that "even if Trump navigates the public health waters with a best case outcome, we're still looking at a major economic upheaval, certainly in Pennsylvania, that promises to be the defining discussion of the fall campaign."
"He'll be judged on what the economy looks like here in November," Harris said.
While much will change during the more than six months before Election Day, current polling suggests Trump has a problem in Pennsylvania.
A Public Policy Polling survey released April 1 showed that 49 percent of voters in the state said they disapproved of Trump's handling of the pandemic. Forty-six percent said they approved of his handling. (By comparison, 62 percent of respondents said they approved of the job Gov. Tom Wolf, a Democrat, was doing in responding to the crisis, compared to just 20 percent who said they disapproved.) The latest RealClearPolitics average of recent polling shows that Trump would lose Pennsylvania to Biden in a head-to-head matchup, 47.8 percent to 43.2 percent.
Despite those numbers, Biden's path to victory in Pennsylvania is anything but assured, English and others warned. While Biden has released myriad plans and statements about what he'd do differently than Trump to combat the pandemic, his virtual campaign appears to be struggling to reach voters.
"I have not really seen too much of what Joe has had to say," said Mike Strausbaugh, 46, a worker at a ball bearing manufacturer in heavily Republican Adams County. Strausbaugh, a self-described registered Republican and a local union official, nonetheless said he intends to vote for Biden in the fall, citing the former vice president's close ties to unions.
Former GOP congressman English, for his part, said he thinks Biden's efforts to attract progressive voters who had supported Sen. Bernie Sanders, I-Vt., "has forced him to move far enough to the left that he risks losing credibility with working class voters" outside of the Philadelphia area.
Other Pennsylvania politics watchers, however, raised the possibility that Biden may benefit from a quieter presence during the crisis, at least in these early stages of the general election campaign.
Nick Field, the former managing editor of PoliticsPA.com, a website devoted to state politics, recalled that Biden, during the Democratic primary, benefitted largely from his reputation, managing to rally in South Carolina and in Super Tuesday states without a robust campaign or fundraising apparatus.
"How many states did he win where he didn't even campaign, where he just relied heavily on his reputation," Field said. "Simply being known as a moderate, stable presence during a chaotic time like this could do a lot for him."
Former Pennsylvania Democratic Gov. Ed Rendell, meanwhile, praised Biden for taking care, during his virtual events, to repeatedly say that Trump is not to blame for the pandemic itself, but should be held responsible for his administration's response.
"The one thing people don't want during a national emergency is political backbiting," Rendell said. "Whether it's a war or a pandemic, they don't want to hear the political blame game. I think Biden has done a very good job in laying out the differences in what he would be doing versus what Trump is doing."
He also said the new virus-shaped political landscape helps Biden because it strips Trump of many of the attacks he'd relied on before the outbreak, such as pushing evidence-free claims about wrongdoing by Biden's son Hunter.
"People don't want to hear about Hunter Biden right now. They don't want to hear what Trump has to say about Joe's energy level. They just want one thing: 'How will you get us out of this disaster,'" Rendell said.
Trying to reach voters, virtually
Despite the restrictions the pandemic has put on the ability of Trump's and Biden's campaigns to reach people, both teams said they're still connecting with voters in Pennsylvania.
Trump Victory, the joint operation between the Trump re-election campaign and the Republican National Committee, said that despite the outbreak, it has made "well over one million" voter contacts in the state and that in the weeks since the campaign went all-digital, it made 600,000 phone calls and held over 260 virtual training sessions with 1,700 volunteers.
The Biden campaign, meanwhile, pointed to several Pennsylvania-specific efforts it has made during the virtual campaign. Earlier this month, Biden attended the Pennsylvania AFL-CIO virtual convention. And weeks earlier, he hosted a "virtual happy hour" moderated by a Pennsylvania state representative.
His campaign also noted the candidate's strong ties to Pennsylvania — he was born in Scranton, launched and based his campaign in Philadelphia, and remains especially active in the Pennsylvania local media markets — as an asset.
Meanwhile, super PACs supporting both candidates have put virus-related attack ads on the air in the state.
Priorities USA, a pro-Biden group, has pummeled Trump's COVID-19 response with millions of dollars in ads in four battleground states, including Pennsylvania. Pro-Trump super PAC America First Action also recently released two television ads hitting Biden as part of the group's multimillion-dollar ad buy in Pennsylvania, Michigan and Wisconsin.
Download the NBC News app for full coverage of the coronavirus outbreak
Field, the former PoliticsPA.com editor, noted that the likeliest path to a narrow victory in Pennsylvania will go through two counties: Lackawanna (where Scranton is) and Luzerne (where Wilkes-Barre is).
Both counties have undergone recent economic revitalizations that would be likely be destroyed by a bad recession — which, he and others argued, would hurt Trump more than it would hurt Biden.
In 2012, Obama won Lackawanna by more than 26,000 votes, but in 2016, Hillary Clinton won it by just 3,600 votes — a swing of 23,000 toward Trump. Obama won Luzerne County in 2012 by about 6,000 votes, while four years later, Trump carried it by more than 26,000 votes — a swing of 32,000. That total swing exceeds the 44,000-vote margin Trump won the state with in 2016, Field explained.
"If you have a sharp recession, you'll see Trump struggling in those areas," he said.
But perhaps most importantly, Trump will also have to convince swing voters like Ingram, the military equipment inspector, that in a crisis, he's still the man for the job.
"Four years ago, I was feeling good about having a nonpolitician come in to shake things up," Ingram said. "But reality has set in, and this specific incident has made clear to me we need someone who really knows the ropes."