Fears that Election Day would be marred by widespread voting problems, hacking or intimidation at the polls mostly evaporated Tuesday as millions of Americans donned masks against the ongoing pandemic and voted.
While there were reports of malfunctioning machines at some polling sites and reports of robocalls spreading misinformation to confuse voters, election officials appeared to have learned from the disarray of the 2016 contest and primaries earlier this year and their quick fixes seemed to be working.
"At this point, this just looks like any other Election Day, and even just another Tuesday," a senior official with the Department of Homeland Security's Cybersecurity and Infrastructure Security Agency told reporters.
Despite fears of the threat of intimidation or even violence around polling places, watchdog groups like Common Cause said it had seen no major reports of either.
In the swing state of Pennsylvania, the nonpartisan Pennsylvania Election Protection Coalition said volunteers were documenting any potential threats toward voters at the polls, but "there have been no reports of intimidation."
"So far, we've seen mostly the typical minor problems that we see on every Election Day," Sara Mullen, advocacy and policy director for the ACLU of Pennsylvania, said in a statement.
Election officials said that the record number of people who voted early because of the pandemic— more than 100 million — made it easier to deal with any malfunctions.
The Pennsylvanians who headed to the polls Tuesday did so a day after health officials reported a record 4,427 new cases of Covid-19, a tally that included Sunday's figures as well, according to the latest NBC News analysis.
Voters also turned out in hotly contested Ohio, which set a new daily record for coronavirus infections Monday with 4,229, the analysis showed.
Christopher Piper, commissioner of the Virginia Department of Elections, told reporters Tuesday morning that there had been technical issues with some machines in the state, but the process was running without any major hitches. About 2.7 million Virginians voted early in some form this year.
"We've seen just an incredible number of votes cast here in Virginia already," Piper said. "I think it's going to make for a smoother day today."
All eyes were on key battleground states, such as Georgia, Ohio, and Pennsylvania, where President Donald Trump and Democratic nominee Joe Biden are vying for votes in what is largely viewed as one of the most bitterly divisive presidential elections in recent memory and coming amid a backdrop of a raging pandemic that has killed more than 232,000 in the United States.
"Thought we would be smart getting here early," Becca McCormick, 35, said in a video as she waited on a line 100 people deep just before 7 a.m. in Roxborough, a Philadelphia neighborhood. "But turns out so did everyone else."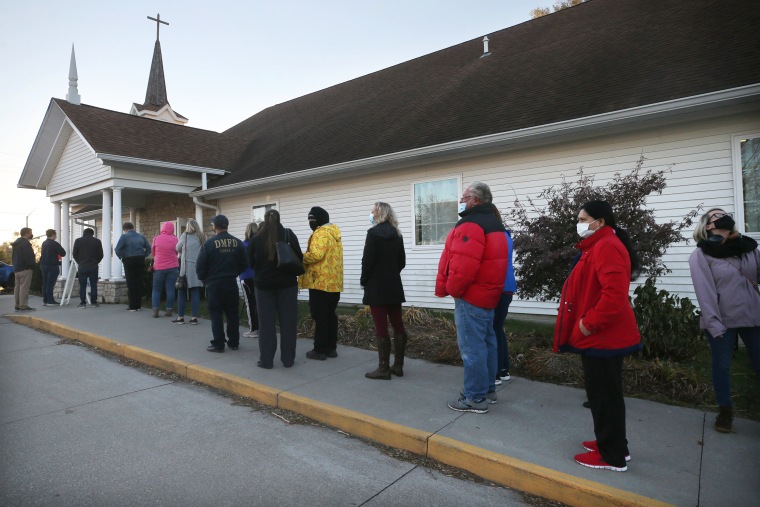 Wait times to vote stretched for two to four hours or more in parts of Alabama, Ohio, Florida and elsewhere. But at other sites, people breezed through — a possible indication of the impact that the coronavirus had on people deciding to vote early.
In Fulton County, Georgia, a Democratic stronghold that encompasses most of Atlanta, the wait by early Tuesday afternoon was no longer than about 10 minutes, and the vast majority of polling locations had no wait at all.
That was a complete reversal from the June primary, when some voters waited in lines for more than five hours.
In the swing state of North Carolina, several polling places reported technical issues when polls opened at 6:30 a.m., including a site in the capital city of Raleigh.
Voters in Franklin County, Ohio, and Spalding County, Georgia, were instructed to use paper ballots after technical glitches with machines. The issues in Spalding County were resolved later in the morning.
And in a sign of the coronavirus times, voting machines in James City County, Virginia, outside of Norfolk, rejected some ballots after liquid from a disinfectant used to wipe down the machines caused technical issues, according to county election officials.
Poll workers set up an emergency bin for voters to cast paper ballots instead, and guidance was issued to use less spray on the machines.
While there have been ongoing fears of voter intimidation as well as violence and unrest occurring at polling sites on Election Day, Trump administration officials gave assurances Tuesday that the nation's voting infrastructure was secure from hacking or other threats.
"We face a multitude of foreign interference threats against our election infrastructure," Chad Wolf, acting secretary of the Department of Homeland Security, told reporters. "We know that our foreign adversaries, including China, Iran and Russia, would like nothing more than to manipulate our democratic process for their own benefit. But let me be clear: our election infrastructure is resilient and we have no indications that a foreign actor has succeeded in compromising or affecting the actual votes cast in this election."
There were also reports Tuesday morning of misinformation directed as ballots were being cast.
In the battleground state of Michigan, Attorney General Dana Nessel tweeted Tuesday morning that her office had gotten reports of multiple robocalls going to residents of Flint that they should vote on Wednesday because of long lines. Flint is a majority-Black city.
Nessel also tweeted that voters in Dearborn, outside of Detroit, were receiving false text messages trying to trick them to believe polling sites were having ballot sensor issues.
The FBI said it was investigating mysterious robocalls that have gone to multiple states, warning voters to "stay home and stay safe."
Meanwhile, voters in Pennsylvania were inundated with online voter fraud misinformation, according to media intelligence platform Zignal Labs, which has analyzed social media, broadcast, traditional media and online conversations around the presidential election.
Conservative media influencers and Republican political operatives had reportedly targeted voters in the state, which Trump narrowly won in 2016, by sharing misleading videos and photos from polling places.