SOUTH BEND, Indiana — The public outrage over a fatal police shooting in South Bend, Indiana, has threatened to overshadow the presidential ambitions of Mayor Pete Buttigieg, who faced shout-downs, heckling and profanity at a town hall over the weekend.
But in almost 20 interviews across this small, close-knit Midwestern city this week, most locals offered more muted and even-handed criticism of their 37-year-old two-term mayor, and some applauded him for taking a break from the campaign trail to focus on the crisis back home.
In conversations, many African American residents expressed far more anger about long-standing issues of racial injustice and economic inequality in their town, including police misconduct, inner-city poverty and homelessness.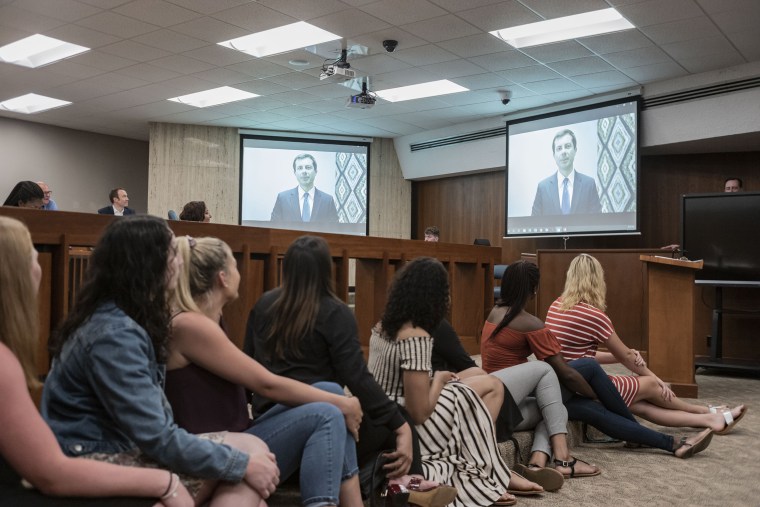 "The disconnect between the black community and the municipality under several administrations has been a festering problem in the greater South Bend area for more than 50 years," said KaRon Kirkland, 62, a retired quality control inspector who was born and raised in this city. "It didn't start with Pete."
Kirkland, who said he voted for Buttigieg when he ran for mayor in 2011 and 2015, added that he understood why the mayor was drawing some of the public's ire in the wake of the fatal shooting of Eric Jack Logan, a 54-year-old black man, by white South Bend Police Sgt. Ryan O'Neill. Kirkland, however, said he still plans to vote for Buttigieg in Indiana's Democratic presidential primary next May.
Ella Coppock, a waitress who said she backed both of Buttigieg's mayoral runs and planned to support him in the presidential primary, said she was glad to see him return to the city amid the recent drama. She added that the mayor's administration needed to take a closer look at what she described as racial bias in a police force that is 90 percent white.
At a crowded city council meeting Monday night, several activists said the animosity that boiled over at the weekend town hall was largely fueled by widespread feelings of discrimination and disenfranchisement among the African American community — feelings that predated Buttigieg's tenure but may have been exacerbated by the unequal economic gains during his time in office.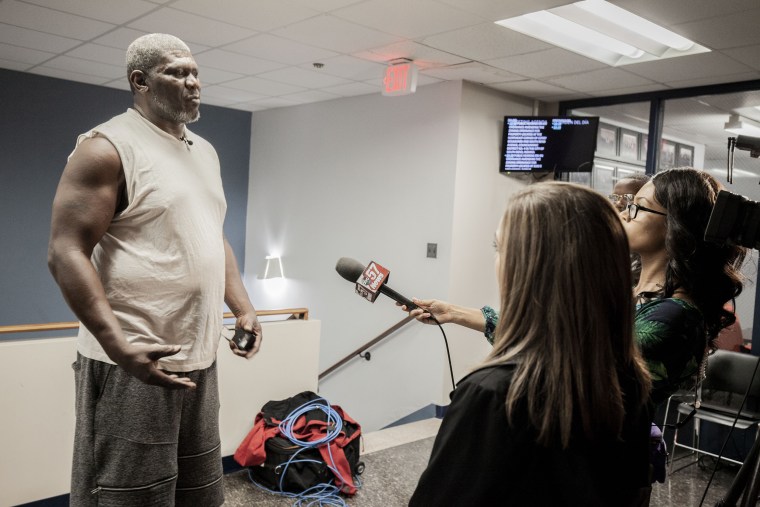 "You go into my community, and you see all the homelessness, abandoned buildings, kids and parents starving," Tyree Bonds, Logan's brother, said outside a crowded city council meeting Monday night. "They're struggling, and that's where a lot of the anger comes from."
In his eight years in the mayor's office, the even-keeled and technocratic Buttigieg has helped revitalize parts of this diverse Rust Belt city of 100,000, overseeing a $200 million investment in the downtown area and helping attract a wave of commercial development that includes new apartments, office parks, restaurants and coffee shops.
But that economic boom, according to one 2017 study, has not necessarily lifted up all of South Bend's residents and neighborhoods. The study, commissioned by the city, found that the jobless rate among African Americans, who make up about a quarter of the local population, was still almost twice as high as it was for white residents — despite a general citywide dip in unemployment.
The study also found that some 40 percent of the city's African American community still struggled with poverty.
"South Bend has pockets of success, but there is a whole culture of people in this city who just do not feel heard," said Tiana Waddell, a community activist who attended the testy town hall event Sunday night.
And yet Waddell, 40, who said she voted for Buttigieg during his first run for mayor, said she was "not angry at Pete at all." Instead, she added, "I'm looking to him to have a solution."
Antonius Northern, 36, an activist, said he felt more animosity toward the municipal government as a whole than with Buttigieg as a person. But he implored the mayor, who is gay, to approach issues of racial inequality "with the same fervor" he uses when talking about LGBTQ+ rights.
Buttigieg, for his part, has expressed concern about his municipality's relationship with people of color, saying earlier this month that "we have innumerable moments in which racial injustice came at the hands of those trusted with being instruments of justice." Buttigieg's office and a spokesman for his presidential campaign did not immediately return phone calls from NBC News requesting comment Tuesday.
He acknowledged Sunday that his administration had fallen short when it came to recruiting more minority officers to the police department and introducing body cameras across the city. Prosecutors said that the shooting was not recorded by O'Neill's body camera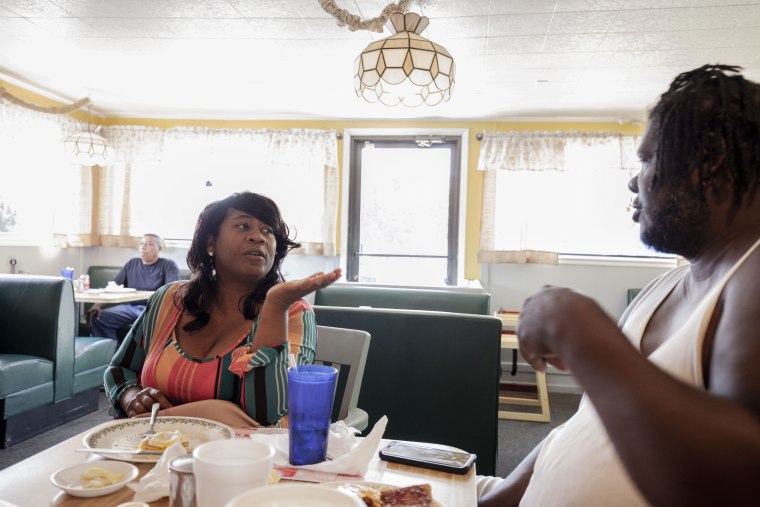 The mayor also said that he would write to the U.S. Department of Justice Civil Rights Division to request a federal probe into the shooting and that he wanted an independent investigator appointed. On Monday, St. Joseph County Prosecutor Kenneth Cotter filed a petition asking a judge to appoint a special prosecutor to investigate the June 16 incident.
Bonds, 52, said he was pleased that a special prosecutor had been requested.
"He's going to get the truth," Bonds said. "That's what we want. Wherever [the truth] goes. The truth is going to come out."
Logan's family gathered for lunch Tuesday afternoon at the Sunrise Cafe. Leh'Tika McMorris, Logan's sister, remembered her brother as a well-liked and reliable man who would be dearly missed by his children.
McMorris, who lives in Texas and works with the homeless population there, said her family was dismayed to discover graffiti vandalism at a vigil near the parking lot where her brother was shot. The graffiti said "GOOD SHOOT."
As for the ambitious politician known here and throughout much of the country as "Mayor Pete," McMorris said she does not blame him for the social and political circumstances that she believes led to her brother's death, saying the mayor, who met with her family in recent days, "came into a corrupt system."
In a statement, South Bend Police Department spokesman Ken Garcia said in part: "We believe that the overall quality of life for all residents will improve through the deterrence of criminal activity and an understanding of the diversity of cultures within this community. We also work to build and sustain community-police relationships to advance a culture of trust and inclusion."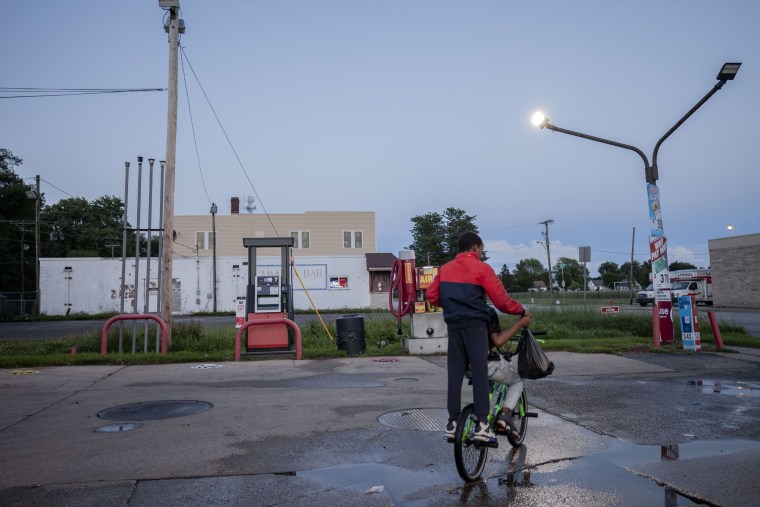 But a few locals who spoke to NBC News were more skeptical of Buttigieg, with some pointing to a controversial episode from early in his tenure that still shadows his reputation among some black activists. In 2012, he demoted the city's first black police chief, Darryl Boykins, amid a scandal over secret tapes of police officers allegedly making racist comments.
Frank Niemiec, 63, a researcher who consults on business projects and is a self-described political independent, said his "inclination from the very start was that [Buttigieg] had ambitions for higher office, that South Bend was basically a stepping stone, and that any decisions he made were going to be for the benefit of building a resume."
Vanessa Wilson, 56, a chef, said she was troubled by various police shootings in recent years, adding that she believes Buttigieg should concentrate his efforts on municipal policing before mounting a campaign for national office.
Wilson, who said she voted for Buttigieg both times he ran for mayor, said: "If he can't run a little place like South Bend, how's he going to run the whole country?" But she added that she would support his presidential bid "as long as he just cleans up his own yard."
Waddell, the activist who attended the dramatic weekend town hall, made a similar point outside city hall Monday: "I learned a really good lesson from my ex-husband: You have to clean your house before you try to clean someone else's."