WASHINGTON — Four years and two days after gliding down a golden escalator at Trump Tower to announce his candidacy, President Donald Trump will officially kick off his bid for a second term with a megawatt rally in battleground Florida on Tuesday evening.
Most of the people who played a pivotal role in launching the first campaign, with the exception of family, have either parted ways with Trump — some amicably, some not — or been embroiled in the Russia investigation for what they did to help get him elected.
In many ways, the president's closest advisers remain the same: his wife, First Lady Melania Trump, and daughter and son-in-law, Ivanka Trump and Jared Kushner.
Trump's other adult children remain involved in the re-election, but the bulk of the 2020 team is new to the operation, a sign of how much has changed since June of 2015.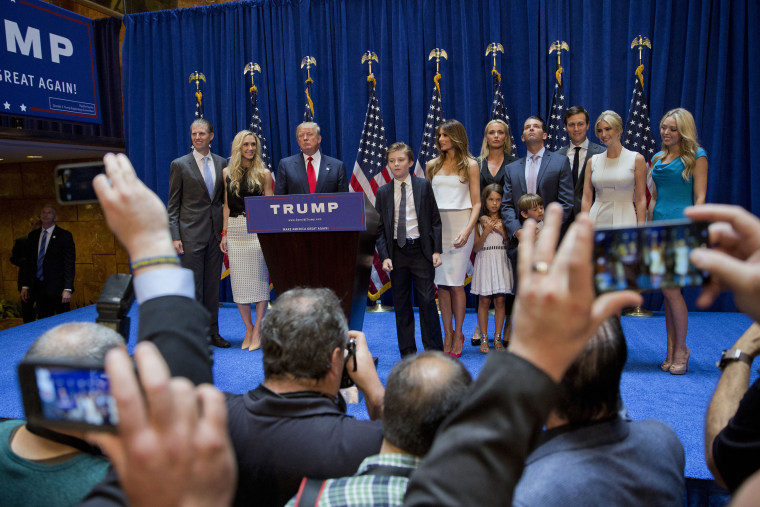 Back then, the small group of confidants who helped launch the fledgling campaign out of a drab, unfinished workspace once used for "The Apprentice" in Trump Tower took pride in their grassroots operation.
Now, the Trump campaign has at least 80 people on staff and its Virginia headquarters is located in a former hedge fund space with sprawling panoramic views and motorized standing desks, a far cry from those early days in midtown Manhattan.
The major difference this time around is simple: the re-elect effort is "bigger, better and badder," according to campaign manager Brad Parscale.
In fact, with the help of the Republican National Committee and some outside groups, the 2020 Trump team resembles a very traditional campaign model, with an obvious exception: the unprecedented candidate still at the helm.
Campaign officials often joke — though it's hardly untrue — that the president is at once the campaign manager, head of finance, communications director and social media strategist. That dynamic represents the greatest challenge, aides admit, to building a more conventional operation, but it's also an asset, according to them.
Some crucial staffers from the 2016 effort, such as campaign chairman Paul Manafort, chief executive officer Steve Bannon and final campaign manager Kellyanne Conway, joined later in the process. Former RNC chairman Reince Priebus also figured prominently toward the end of the cycle and then went on to become Trump's first chief of staff.
None are currently involved in the re-election plan, though Conway remains in her White House role as counselor to the president. Manafort, who came on board to help with the delegate process early on in 2016, is now serving more than seven years in federal prison on multiple charges of fraud, tax evasion and conspiracy.
Here's a look at the significant people in then-candidate Trump's orbit when he launched his first campaign and what they are up to now.
Trump's 2015 inner circle
Hope Hicks: Before Trump ran for president, Hicks was a spokeswoman for Ivanka Trump's lifestyle brand. A former model, the 26-year-old was tapped to do communications for the campaign, despite having no political experience. Hicks became one of the only aides to stay onboard throughout the entire election cycle.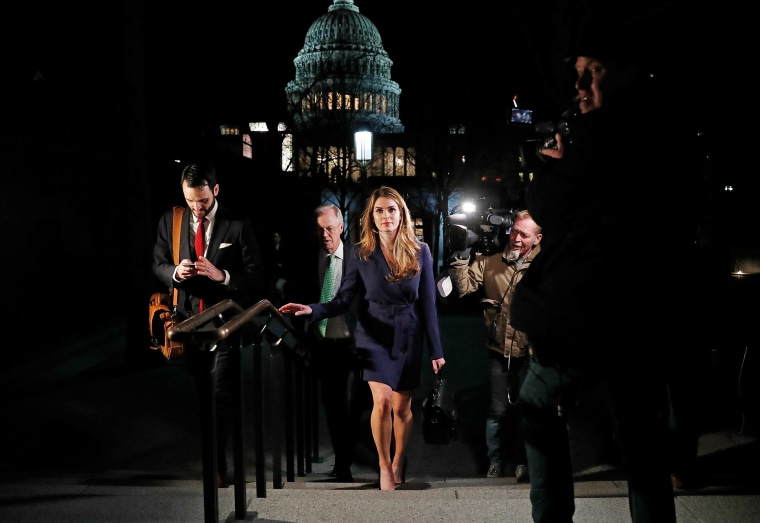 She was a key fixture and one of the president's closest advisers in the first year of the administration, until she announced she was leaving one day after testifying before the Senate Intelligence Committee in the Russia probe. She is scheduled to testify behind closed doors to the House Judiciary Committee this week to answer questions about the Russia investigation and now serves as the chief communications officer at Fox Corp. in Los Angeles.
Michael Cohen: The president's longtime personal attorney and "fixer" was by his side for much of the 2016 election, consistently putting out political fires. Cohen was later convicted of making several "hush money" payments to women who claim they had affairs with Trump years before he decided to run for office: one to porn star Stephanie Clifford, also known as Stormy Daniels, and one to Playboy Playmate Karen McDougal (Trump denies this).
Cohen is currently serving three years in prison after pleading guilty to tax evasion, making false statements and campaign finance violations. The man who once said he would "take a bullet" for Trump has since turned on his former boss, referring to him as "racist" and a "con man" during congressional testimony in connection with the Russia investigation earlier this year.
Corey Lewandowski: Trump brought Lewandowski on board as his first campaign manager and fired him six months later, eventually to be replaced by Paul Manafort. Lewandowski is perhaps best known for coining the catchphrase: "Let Trump be Trump." He remains close with the president and though he is not working officially with the Trump campaign on round two, he and David Bossie — another longtime adviser — consistently travel with Trump aboard Air Force One when traveling to various political rallies.
Roger Stone: An informal adviser for years, Stone was part of the tiny team that helped launch Trump's first bid. He was famously dismissed weeks later though, in a public feud that played out for several days after the first Republican primary debate. In 2019, Stone was charged by then-special counsel Robert Mueller of obstruction, giving false statements and witness tampering. Stone has pleaded not guilty and is awaiting trial.
Sam Nunberg: Though he was only with the campaign as an adviser for the first few months, Nunberg worked closely with Stone and Trump and was involved in several conversations that would later interest Mueller. In 2018, he went on a media blitz declaring he would not comply with a subpoena from Mueller's team but ultimately relented and sat for several hours of interviews, as well as testifying before a grand jury.
Dan Scavino: He first met Trump while working as a golf caddy back in the early 2000s and later worked for the Trump Organization. Scavino, along with Hicks, was one of the only aides to survive the entire campaign and join the president in the administration. Further still, Scavino is the only one from the original inner circle to still actually be inside it. As the current White House social media director, Scavino is not as involved in the day-to-day 2020 campaign but he will likely remain a close aide straddling both orbits.
The family: Melania Trump was famously at her husband's elbow during the now-iconic campaign launch four years ago and she has remained a steadfast presence throughout. Though she rarely speaks out publicly, she is considered one of the president's most trusted advisers, along with his daughter Ivanka and son-in-law, Jared Kushner. Though he has no White House role, Donald Trump Jr. was also heavily involved in the first campaign and was entangled by the Mueller probe for accepting a meeting with a Russian lawyer who purportedly had information damaging to Hillary Clinton.
Trump's 2019 inner circle
Brad Parscale: The current campaign manager for Trump's 2020 team was the data guru behind the president's winning digital strategy in 2016, named officially the summer before the election. Parscale was brought on board to lead the re-election effort in early 2018, far earlier than incumbents typically bring on those types of roles.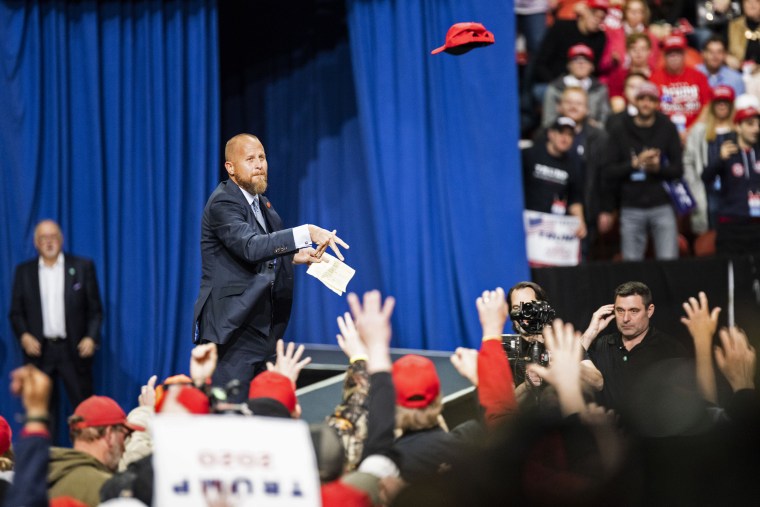 Ronna McDaniel: As the head of the RNC, McDaniel has delivered a high-functioning, well-oiled machine to fuel Trump's 2020 blitz in a much more conventional approach. With the group's help, the campaign has hit record fundraising numbers and is expected to largely resemble George Bush's 2004 re-elect effort
The family: In Trump world, loyalty is king and family is paramount. Kushner, who is close with Parscale, is a key conduit between the White House and the Trump 2020 campaign. They speak most days, sometimes multiple times, according to aides. Eric Trump's wife, Lara, is a senior adviser to the campaign. First Lady Melania Trump, Ivanka Trump and Trump Jr. are also expected to continue to play pivotal roles in the months ahead.