WASHINGTON -- Donald Trump's approval rating has ticked up during the coronavirus crisis, but not as much as governors' and other world leaders', suggesting Americans are less confident in the president's management of the pandemic than the numbers initially suggest.
For a president who has seen little movement in his public approval in prior crises, from nuclear standoffs with North Korea to his impeachment, the recent bump in poll numbers — coming in an election year — could be cause for optimism.
But pollsters warn that compared to other leaders also battling the pandemic, Trump isn't seeing the American public rallying behind him or increasingly approving of his handling of the crisis.
Trump's allies frequently point to a recent polling bump as proof he is handling the crisis well, an attempt to negate critics who say the president was slow to acknowledge the problem, reluctant to take necessary action and often flouted expert advice.
Download the NBC News app for full coverage of the coronavirus outbreak
"Americans want their president out front and leading the nation in a crisis, and that's exactly what President Trump is doing," Trump campaign manager Brad Parscale said in a statement. "Voters are responding strongly to the president's leadership."
The slight uptick in the early days of the coronavirus crisis suggested that the public might be moving to rally around him.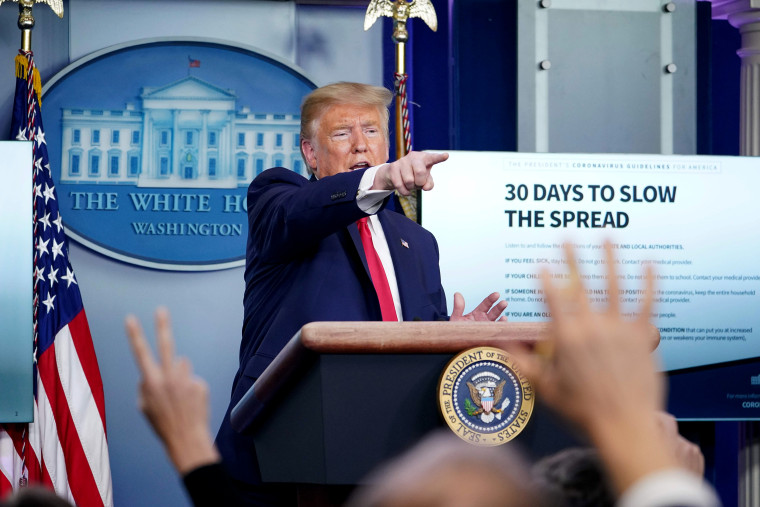 "There's nothing that's happened in the last three years that remotely approaches the significance of this event," said Whit Ayers, a Republican pollster with the firm North Star Opinion Research. "The president's clearly gotten a modest bump in his job approval as the country pulls together to try to fight this pandemic."
Politicians often enjoy unprecedented levels of support in times of crisis thanks to the rally 'round the flag effect, the tendency for anxious citizens to unite behind leaders and set aside partisan differences, for the moment at least.
But compared to past presidents and other current leaders responding to the same crisis, Trump's modest bump suggests he's actually underperforming.
"Any other leader has been able to take a crisis like this and exhibit some leadership skills that have moved the needle, at least temporarily," said Patrick Murray, who runs the well-regarded nonpartisan Monmouth University poll. "None of this has happened with Donald Trump.
"So what we have is a very minor movement that I think is basically down to people wanting to have a leader they can rally around, instead of the people really rallying to him."
Murray's most recent poll found 50 percent of Americans think Trump has done a good job responding to the outbreak, compared to 45 percent who think he's done a bad job.
But governors received far higher marks, with 72 percent saying their state's chief executive had done a good job compared to just 18 percent who said they had done a bad job.
Meanwhile, Murray noted Trump's bump in job approval has not translated into more people planning to vote for him in November, with likely Democratic nominee Joe Biden still enjoying a modest lead in Monmouth's national poll, as well other recent polls of key swing states, like Wisconsin.
"Does this mean he won't win re-election? We have no idea," Murray added, noting Trump has broken every supposed rule of politics, so his future is especially unpredictable. "He missed the opportunity to expand his base at least temporarily, there's no question about it."
Trump is reaching a large audience with near-daily briefings and millions of Americans stuck at home, eager for updates. But the briefings are frequently combative as Trump wages political battles against Democrats and the media instead of focusing on calls for unity and shared sacrifice, like more traditional leaders in the same situation.
By contrast, Gov. Mike DeWine, of Ohio, a Republican who was one of the first in the country to shut down schools, has seen his approval rating shoot up to 80 percent in a Baldwin Wallace University survey and earned praise from Democrats.
In Wisconsin, a crucial presidential election battleground, 76 percent approve of Democratic Gov. Tony Evers' handling of the COVID-19 outbreak, while just 51 said the same of Trump, according to a new Marquette University Law School poll.
In the swing state of Michigan, Gov. Gretchen Whitman, a Democrat, saw her approval rating climb from 42 percent in October to 60 percent this month, according to a recent MRG poll.
And at the center of the pandemic, New York Gov. Andrew Cuomo, also a Democrat, now has the support of a stunning 87 percent of New Yorkers -- including 70 percent of Republicans -- according to a Siena College survey.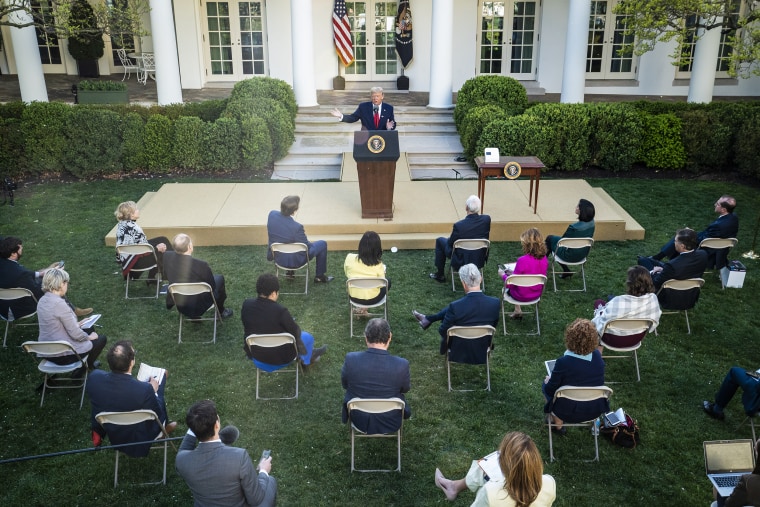 While governors tend to be less partisan figures than presidents, their ratings show it's still possible to earn broad support in today's polarized politics, said Nick Gourevitch, a Democratic pollster with the firm Global Strategy Group.
"Trump's just not been able to get that kind of crosscutting support from most voters," Gourevitch said. "If he acted in a different manner from the beginning, his numbers would be higher."
Meanwhile, Trump's fellow world leaders, many of whom were less popular than he was at the beginning of the crisis, have seen more rallying support.
Full coverage of the coronavirus outbreak
Two-thirds of Canadians approve of Prime Minister Justin Trudeau's handling of the crisis, according to a survey by the Angus Reid Institute, including a surge from 38 percent to 60 percent in conservative province of Alberta.
U.K. Prime Minister Boris Johnson's government has a positive approval rating for the first time since it came into power last year, according to YouGov.
In Germany, a month ago only 35 percent were satisfied with Chancellor Angela Merkel's government and 65 percent were unsatisfied, according to a survey conducted for German public television. But those numbers flipped at the end of March.
Confidence in Italian Prime Minister Giuseppe Conte continued to climb as his country sank deeper into the crisis, with a L'Istituto Ixè survey finding a 15 points increase, from 39 percent in February to 54 percent at the end of March.
The initial surge in support for leaders during a crisis often doesn't last long, especially if the public begins to lose confidence in the response.
Ayers, the GOP pollster, pointed to two cautionary examples from Hurricane Katrina: then-Mississippi Gov. Haley Barbour, who earned higher marks than other government officials and cruised to re-election, and Kathleen Blanco, the then-governor of neighboring Louisiana, who didn't even stand for re-election after being panned for her response.
"The way public officials handle crises are make-or-break moments for political careers," Ayers said.