Hundreds of President Donald Trump's supporters were left in the freezing cold for hours after a rally at an airfield in Omaha, Nebraska, on Tuesday night, with some walking around 3 miles to waiting buses and others being taken away in ambulances.
Seven people were taken to hospitals suffering from a variety of conditions, and a total of 30 were "contacted" for medical reasons, the Omaha Police Department said in a statement. The Omaha Airport Authority had a slightly different figure for the number taken to hospitals — it said six were "throughout the duration of the event" and added that it could not confirm that the people were taken to hospitals because of the cold.
The temperature in the area was in the mid-30s at the time but as low as 27 degrees with wind chill.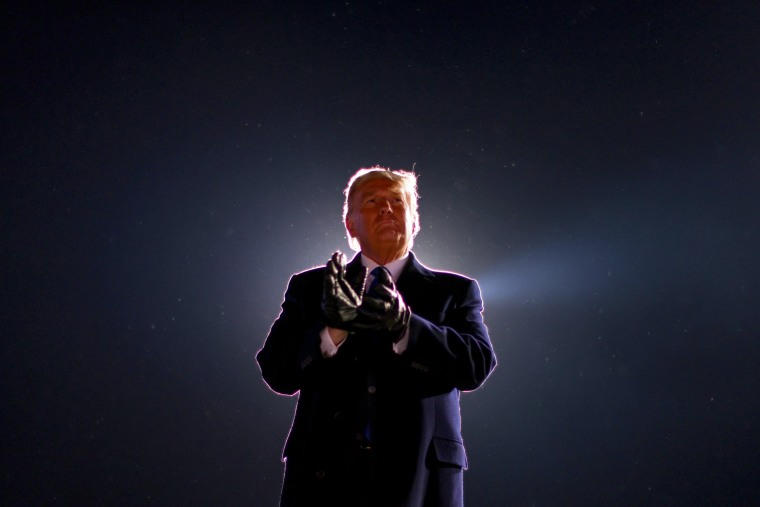 Many of those at the rally at the Eppley Airfield faced hours in long lines to get in and clogged parking lots and busy crowds to get out, hours after Air Force One departed around 9 p.m. The police said the last person was loaded onto a bus at the rally site at 11:50 p.m. — about three hours after the event had ended.
On Wednesday, Joe Biden said the incident was emblematic of "Trump's whole approach."
"Just look what happened last night in Omaha, after the Trump rally ended, hundreds of people, including older Americans and children, were stranded in subzero freezing temperatures for hours," Biden told reporters during a brief speech in Wilmington, Delaware. "Several folks ended up in the hospital. ... It's an image that captured President Trump's whole approach in this crisis. ... He makes a lot of big pronouncements, but they don't hold up."
The police department said 25,000 people had been taken to the rally site by 40 buses running from 10 a.m. until the rally began at 8 p.m.
According to police dispatches recorded by the radio communications platform Broadcastify, at least 30 people, including the elderly, an electric wheelchair user and a family with small children, were among those requiring medical attention after hours of waiting in the cold.
"Supporters of the president were brought in, but buses weren't able to get back to transport people out. It's freezing and snowy in Omaha tonight," Nebraska state Sen. Megan Hunt tweeted.
The Trump campaign, Omaha Fire/EMS and the Douglas County Sheriff's Office in Omaha did not immediately respond to requests for comment.
"There's an issue with a number of people unable to find their cars and wandering in the cold. ... See if we can't get everybody reunited with a car," the Omaha police Dispatch 1129 recording said, according to Broadcastify.
"I've got an elderly male that's down 10 blocks ... having a hard time breathing right now," audio on Omaha police Dispatch 1100 said. Another says: "Subject says he's about to pass out."
The recordings say 20 buses backed up and created jams as rallygoers had to be shuttled back to busy parking lots and exits. The dispatches also refer to patients' being taken to the Creighton University Medical Center. The hospital did not immediately reply to a request for comment.
Police said in the statement that when many people decided to walk several miles to the parking areas, the foot traffic created further delays in getting the buses to the rally site to pick up those waiting.
Download the NBC News app for the latest election news
On Wednesday, the Trump campaign said in a statement: "President Trump loves his supporters and was thrilled to visit Omaha last night. Despite the cold, tens of thousands of people showed up for his rally. Because of the sheer size of the crowd, we deployed 40 shuttle buses — double the normal allotment — but local road closures and resulting congestion caused delays. At the guest departure location, we had tents, heaters, generators, hot cocoa, and handwarmers available for guests. We always strive to provide the best guest experience at our events and we care about their safety."
Ahead of the event, police warned on Twitter that "Parking at the TRUMP rally is full."
"Is there any place you would rather be than a Trump rally on about a 10-degree evening? ... It's cold out here, but that's OK," Trump said as he arrived at Eppley Airfield wearing a heavy black coat and gloves.
Crowds cheered as he pretended to close up his coat.
Trump told the crowd that earlier Tuesday, he had been to Wisconsin and Michigan where it had also been freezing and raining, and he thanked the crowds for attending.
"I said I won't put on a hat because I'm going to show you how tough we are," he said.
"It was pouring and it was freezing. It is the coldest right here, right? It is an honor to be with you, I have to say. When we win, you win, Nebraska wins and all of America wins."
Geoff Bennett and Alexandra Bacallao reported from Omaha. Caroline Radnofsky and Adela Suliman reported from London.