NEWTON, Iowa — The moments happen all across the country. Tiny faces, peering out from behind their parents, or timidly accepting a microphone as the room falls silent. They make eye contact with a larger-than-life presidential candidate and ask: Can you keep me safe at school? Can you stop the shootings?
The questions from children have become a hallmark of the 2020 presidential campaign, with nearly every candidate facing some version of the same emotional query.
Perhaps Sen. Cory Booker was looking for a softball question when he called on 8-year-old Scout Maloney at a town-hall-event in Nashua, New Hampshire, last month. That isn't what he got.
"What do you plan to do about school shootings?" Scout asked, telling Booker, D-N.J., that she and her brother are home-schooled in part because their parents fear they could become the victims of gun violence.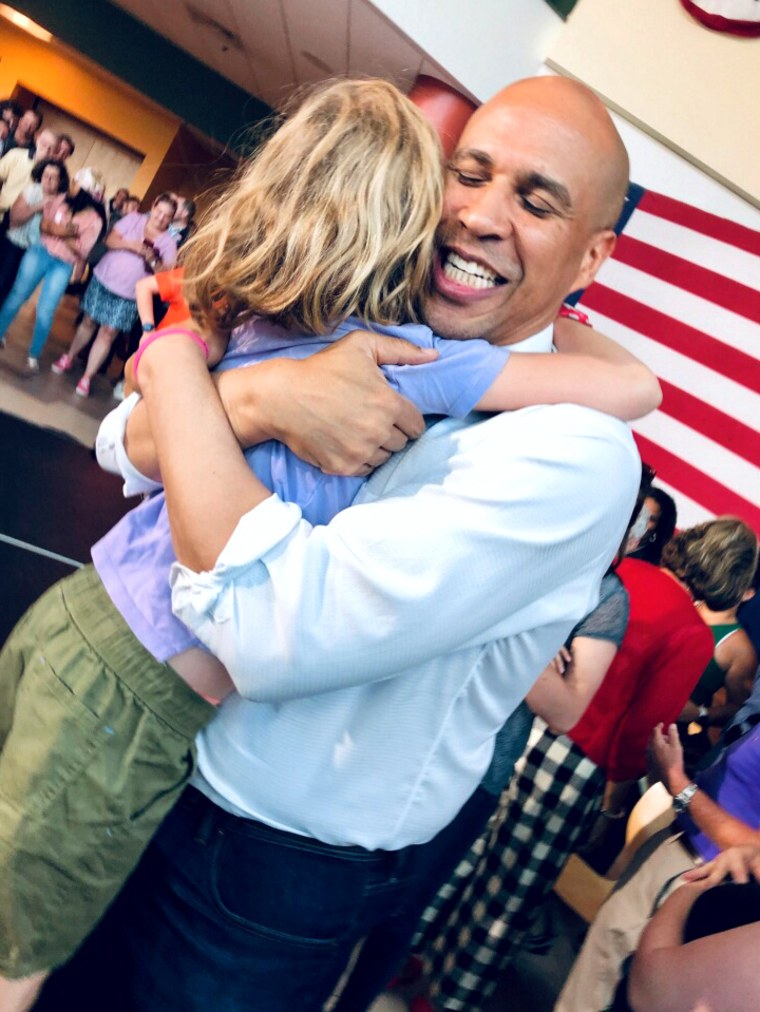 Booker told Maloney — and her parents — that he believes his is the strongest plan among the 2020 field to stop mass shootings, saying it would require national licensing and registration of firearms. He also added a personal touch.
"I get very tired, Scout, and I get angry," he said, "because I'm a person of faith, and I hear these people coming up with thoughts and prayers, but I was taught faith without works is dead."
In Scout's case, her parents also attended the event, and encouraged their daughter to ask the question. In some cases, older students are members of advocacy groups, like Every Town for Gun Safety.
In the days after a mass shooting at the University of North Carolina at Charlotte campus in April, school safety was top of mind for middle school student Milan Underberg, who broke down while questioning Beto O'Rourke when he visited her classroom here in Newton.
"I'm afraid that one day I'll go to school and I'll never come out. ... I'm sorry," she said, pausing to collect herself and then continuing through tears. "What actions will you take to protect people like me and my classmates from this happening?"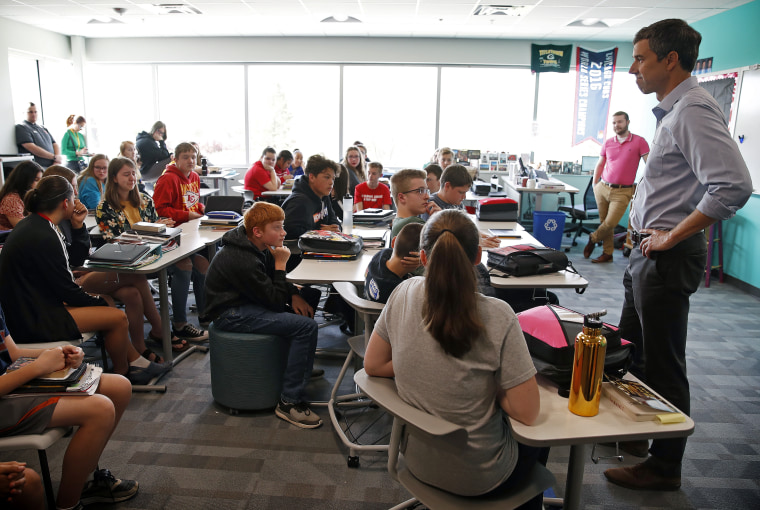 Sometimes, it is the candidates themselves who are overcome with emotion. That was the case with businessman Andrew Yang last week in Des Moines, Iowa, when a question about one twin watching another get shot on a playground caused him to think about his own young children.
"I have a 6- and 3-year-old boy," Yang said, choking up. "I was imagining it was one of them that got shot and the other saw it. I can't do it. I'm so sorry."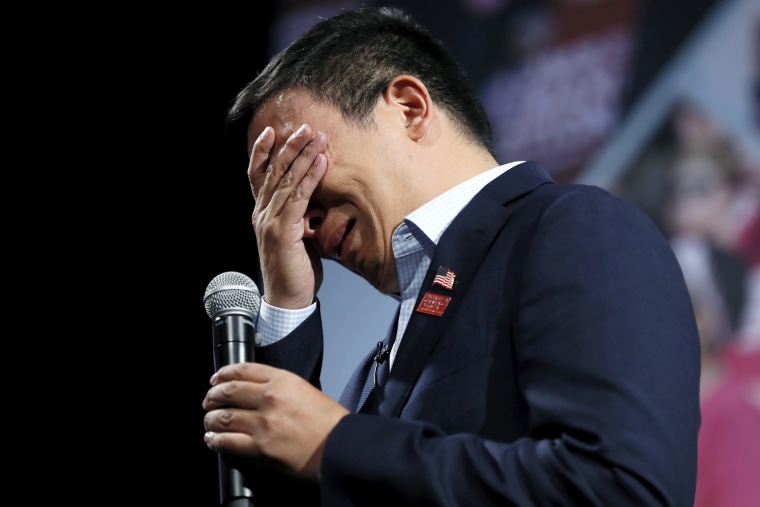 The candidates often respond to the questions with similar policy prescriptions: expanding background checks and "red flag" laws, banning the sale of assault-style weapons or proposing programs to buy them back. But the candidates also reflect much of themselves back at the questioner.
Sen. Elizabeth Warren, D-Mass., pivoted quickly to policy when children in Ohio and Michigan asked her about shootings. And former Vice President Joe Biden, who lost his first wife and their daughter in a car crash and his eldest son to brain cancer, shared his own experience with grief, and the desire it creates to fight for something better.
"I understand what it's like to lose a kid," Biden told a high school student in Iowa last week. "I've lost two of them. The fact of the matter is, your generation understands this better than anybody, and that's why it's going to change. It's going to change. You're the best educated, the most open, the most inclusive generation in American history, and you've decided no more. I promise you, I promise you it's going to change in large part because of you."