With the election just days away, Mirage Davis is both excited and anxious. For the first time, she will be casting a ballot, and she doesn't take her right to vote lightly.
Davis, 29, who lives in eastern Kentucky, is enthusiastic about Democratic Senate candidate Amy McGrath, but is still undecided in the presidential election. Seeing a woman on the ticket compelled her to vote inthis year's election, Davis said, adding that she wants to see more women run for office in the state.
But Davis, a registered independent, didn't always have a say in politics; convicted of possessing stolen property and drugs, she and tens of thousands others with felony records had been barred from voting until last year, when Kentucky's governor gave them back that most democratic of rights.
"I've gone my whole life feeling like I'm invisible — and I'm not invisible," said Davis, who is making a point to vote in person. "And it's empowering being a woman, a felon, and having the right to vote."
Nearly 5.2 million Americans are unable to cast a ballot in this year's election because of felony convictions, according to the Sentencing Project, a group that advocates for criminal justice changes. Many states automatically restore voting rights to those who complete their prison sentences, but Kentucky, along with Iowa, Florida, and Virginia, until recently had permanently disenfranchised the majority of felons.
Just after taking office last December, Gov. Andy Beshear, a Democrat, ended the state's lifetime voting ban for more than 170,000 Kentuckians who have completed their sentences for nonviolent crimes.
"I believe in the power of forgiveness, and those who have committed nonviolent, nonsexual crimes and have served their time deserve to be full participants in society," Beshear told NBC News in a recent interview. "Part of the dignity in being an American is the ability to make your voice heard through your vote."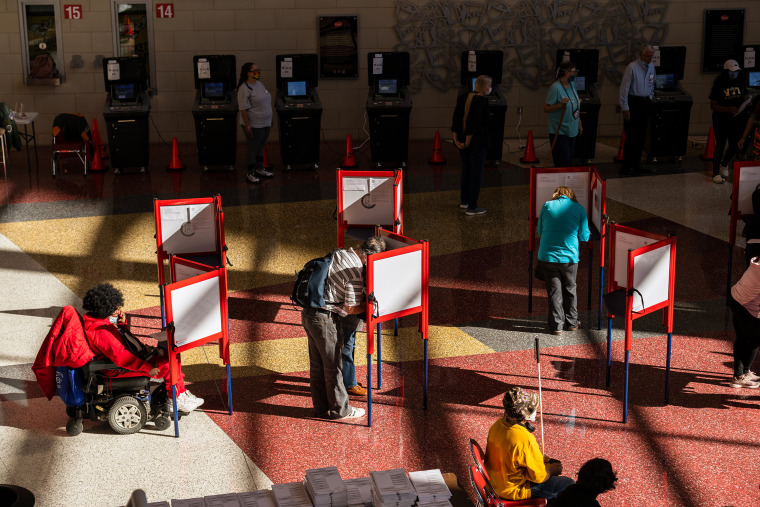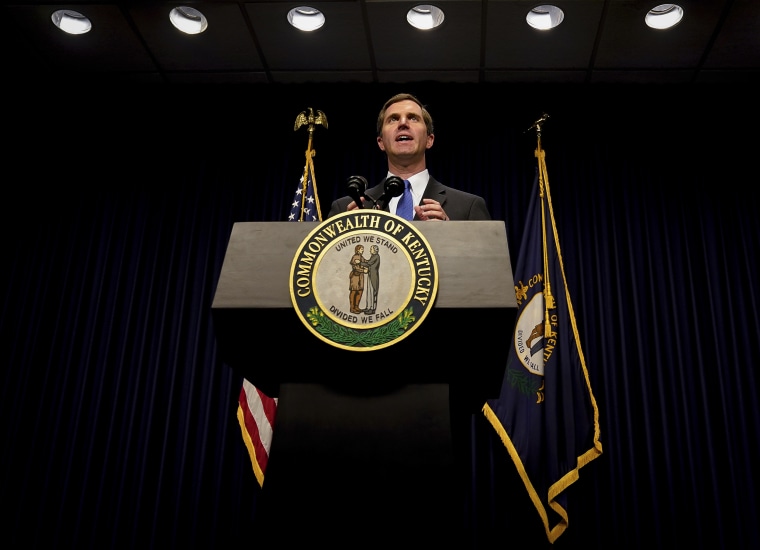 Unlike some other states, those who are re-enfranchised in Kentucky are not required to pay fines or restitution before regaining their right to vote — an issue that has become a major political conflict in the key election battleground of Florida. Before Beshear's executive order, about 9 percent of Kentuckians were ineligible because of their felony records, making the state's disenfranchisement rate the third highest in the country, according to the Sentencing Project.
Now, as a result of the order, Kentucky millennials with a felony record, like Davis, will be able to vote for the first time this year. While some have been left out of the political process for much of their adult lives, many say they are now motivated to cast their ballots for a variety of reasons — and they hope to see more people their age vote given the low turnout among the state's millennials in 2016.
"Women for centuries have been working really hard to make a change, and it would be a shame for us to stop that progression by not casting a vote," Davis said. "I want women like me to know that they have a voice in this election."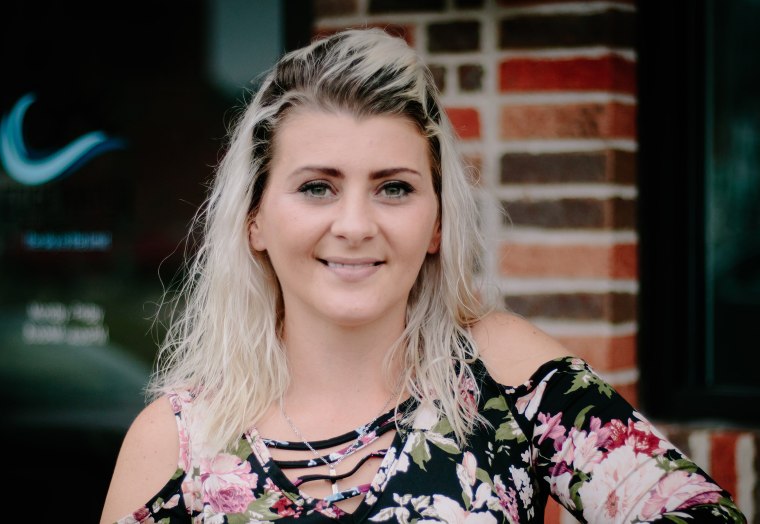 Millennial voters with felony records face a dual challenge, said Sean Morales-Doyle, deputy director of voting rights and elections at the Brennan Center for Justice at New York University Law School. Younger people often take a while to become politically involved as it is, and if they are disenfranchised early in life, it can delay or lead to less political engagement later on, he said.
"Felony disenfranchisement sends an alienating message to people with a prior conviction," Morales-Doyle said. "And if you send that message to someone who has never interacted with the political system in the first place, it can have a profound effect."
Ed Monahan, chair of the Kentucky League of Women Voters' Restoration of Voting Rights Outreach Committee, echoed the point.
"We should be tripping over ourselves to reintegrate people and invite them to fully participate in the decision-making process," Monahan said. "When people don't have an opportunity to shape democracy through their vote, they become ostracized from the community."
Brittany Vanzuiden, 28, lost her right to vote five years ago after being convicted of drug possession. Despite her struggle with addiction in her 20s, she always remained interested in who was running for office.
"I remember watching election coverage, but in the back of my mind I knew that I couldn't participate, and I felt helpless," she said. "Not all convicted felons are bad people, and we deserve a second chance."
A self-described moderate conservative, Vanzuiden said she plans to vote for President Donald Trump because of his focus on reopening the economy amid the pandemic.
"I think it's something that needs to be done, and if anybody can get it done, it would be him," she said. "Trump handles our economy and our nation as a whole very well."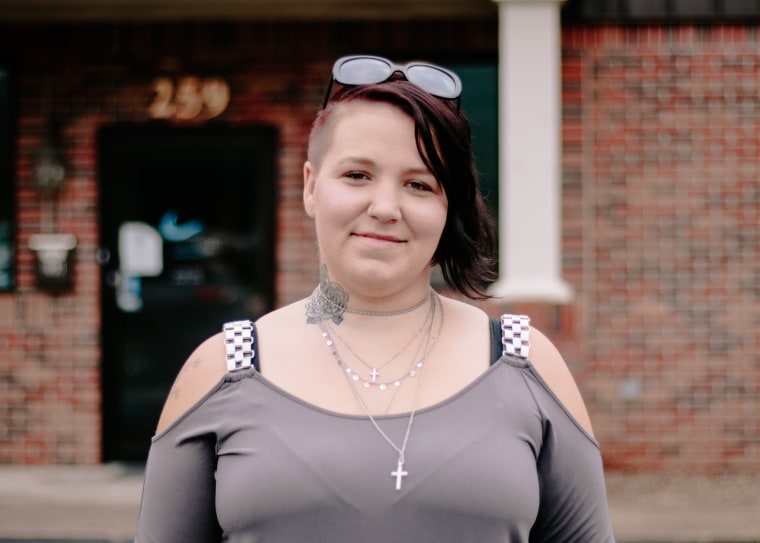 Julie Ebenstein, senior staff attorney with the American Civil Liberties Union's Voting Rights Project, said it's encouraging to see states like Kentucky expand their electorates.
"There's an increased awareness that the democratic process can't function in states where part of the voting population is left out entirely," Ebenstein said. As a result, she said, "we are seeing a significant support for restoration because people recognize that this is not always a partisan issue."
"I think we will see turnout grow as the habit of voting and the culture of voting expands," she predicted.
The Pew Research Center found in late 2018 that about 7 in 10 Americans — including majorities in both parties — supported the restoration of voting rights for those who have committed a felony and completed their sentence.
Disproportionate impact
Statistics show that the disenfranchisement of felons disproportionately affects Black Americans, who tend to lean Democratic.
As of this year, more than 6.2 percent of the Black population in the United States are disenfranchised, compared to 1.7 percent of non-Black Americans, according to the Sentencing Project. Meanwhile, more than 1 in 7 Black Kentuckians is disenfranchised, according to the organization — or more than twice the national average.
Hakeem Smith, 29, a father of two and a registered Democrat, is voting for the first time in November. The handling of the Breonna Taylor case in Louisville, Kentucky, influenced his decision to cast a ballot this year, he said.
"As a Black man in a country where so many people of color are dying at the hands of police, I am very concerned," said Smith, who became unable to vote after a theft-related felony. "This is the most important election of our time, and I am voting because I refuse to accept this injustice."
Smith added, "I want to set a good example for my children and the younger generation because growing up, I never saw anyone my age going out to vote."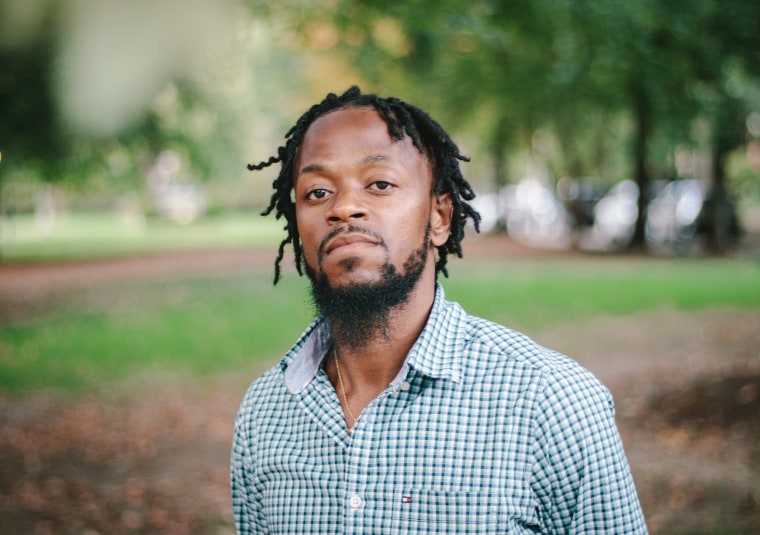 The national conversation surrounding race and police brutality will likely lead to a boost in voter turnout among Black residents, said Tayna Fogle, a staff member at Kentuckians for the Commonwealth, a grassroots advocacy group.
Fogle has dedicated years to expanding voting rights in Kentucky, but since Beshear's order, she has led voter outreach and helped many residents to register. The work is personal for Fogle, who has a felony record and spent 13 years fighting to regain her and others' right to vote.
"We've been oppressed for so long, and the movement woke up Black people and it's bringing them to the polls," Fogle said. "People are ready for change."
Activists warn, however, that Beshear's order isn't permanent, making a felon's ability to cast a ballot dependent on who is governor. In 2015, his father, then-Gov. Steve Beshear, also a Democrat, implemented a similar order at the end of his term, but it was quickly reversed when Matt Bevin, a Republican, succeeded him as governor.
"While I have been a vocal supporter of the restoration of rights, it is an issue that must be addressed through the Legislature and by the will of the people," Bevin said in a statement at the time.
For now, supporters said Beshear's move is an overdue advancement of felon voting rights and a step in the right direction.
"For so long, I felt like less of a human being because I didn't have the same privileges as a citizen," Smith said, "but now I have the power to vote."