Not that long ago, they were just a slender fraction of the party, one kept at arm's length by presidential candidates. But today, black voters have emerged as a muscular political force and one of the most intensely courted constituencies in Democratic politics.
In 2020, they are likely to account for at least one out of every four ballots cast in the party's presidential primaries, more than tripling — and perhaps even quadrupling — the share they accounted for just a few decades ago.
It's a political and demographic revolution over the course of 40 years that we are able to document here through exit polling, which major media organizations have been sponsoring on a wide scale in every Democratic presidential primary race since 1976.
But until now, much of this data has been hard to come by, unavailable online, walled off in academic archives, even discarded by the news media outlets that sponsored it.
But thanks to the assistance of William Mayer, a political scientist at Northeastern University and an expert on presidential campaigns, NBC News has assembled for the first time a publicly available state-by-state record of the black vote for each of the nine competitive national Democratic campaigns since the inception of widespread exit polling. (Read about our methodology here.)
It begins in 1976, when the Voting Rights Act was barely a decade old, all-white-candidate fields were the norm, and the ties between African Americans and the Democratic Party were strained. And it extends through the 2016 campaign, by which point that bond had strengthened and sealed, all while a broader reshuffling had pushed older and blue-collar white voters toward the GOP and left Democrats more reliant than ever on support from nonwhite voters.

In 2016, African Americans made up 24 percent of Democratic primary voters, the most ever. And that share is expected to climb in 2020, especially with the presence of two major black candidates, and could be decisive in determining the party's nominee.
In a nod to the crucial role black voters now play in the party, the Democratic National Committee has once again designated South Carolina's primary as one of four leadoff contests. In 2016, the state's Democratic primary electorate was 61 percent black.
2020, then, presents a range of questions when it comes to black voters:
Will they, as in 2016 with Hillary Clinton and '08 with Barack Obama, coalesce behind a single candidate?
To what degree will they be motivated to back a black candidate?
And if that is a significant factor, which black candidate is best positioned to benefit?
Will divisions within the black electorate emerge, based on age, gender, geography or other factors?
Will any of the nonblack candidates attract significant support from African American voters?
Could Joe Biden's decades of relationship-building with black party leaders, along with memories of his partnership with Obama, translate into endorsements and grassroots support?
The data we are presenting here is from exit polls that were conducted for various media organizations in individual state primaries. Especially in the older contests, the data was often gathered for CBS News and The New York Times, which were particularly aggressive at the dawn of the exit polling era. But ABC News and NBC News also sponsored some early exit polls, and since 1992 state primary exit polling has been organized by a consortium of media outlets.
The data picks up with the 1976 campaign. While black voters had been siding with Democratic presidential candidates since at least the days of Franklin D. Roosevelt (with their allegiance reaching new heights during Lyndon Johnson's presidency), the depth of their loyalty remained an open question.
Black politicians were winning office in larger numbers — a handful in Congress, some in big city mayoralties and more in state legislatures, particularly in the South. Many weren't sure if the Democratic Party was the right vehicle for their ambitions, and for the black community's broader aspirations. Julian Bond, a Georgia state senator and civil rights veteran, considered an independent presidential campaign in 1976. Two years later, Jesse Jackson, another product of the civil rights movement, addressed a meeting of the Republican National Committee and declared the black vote up for grabs — if the GOP would make the effort.
The '76 campaign played out as debates over busing and fair housing roiled neighborhoods in the North. The rising black constituency posed a strategic dilemma for the all-white roster of Democratic candidates, which weighed outreach against fears of a backlash from blue-collar "white ethnics." The mere act of campaigning in black areas was enough to win Jimmy Carter credit from the top-ranking black official at the Democratic National Committee, who said: "He isn't saying much, but he's going."
That wouldn't do for long, though, and the Carter presidency proved a turning point. From black leaders, Carter faced accusations of reneging on commitments and taking their support for granted. His 1979 decision to dismiss his most prominent black ally, Andrew Young, as U.N. ambassador inflamed the situation and helped convince some black leaders to back Sen. Ted Kennedy's primary challenge the next year. But Kennedy's campaign created frustrations of its own, and ended up feeding the energy that gave rise to what would prove to be a major breakthrough in black politics: Jackson's 1984 presidential campaign.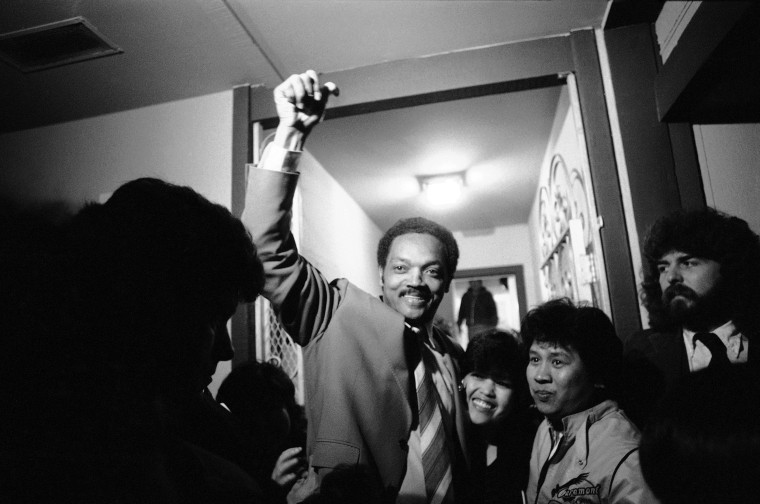 Jackson was not the first black presidential candidate; Rep. Shirley Chisholm of New York had run in 1972, gaining little traction in the Democratic primaries she contested and attracting scant support from established black leaders. (One precinct-based estimate in the 1972 Florida primary, in which Chisholm received 4 percent statewide, showed her losing the black vote to Hubert Humphrey, 4-to-1.) The old days of candidates testing their strength in a few handpicked primaries were over, though, and Jackson was running in a new era. Instead of party bosses acting as delegate brokers, most states now held primaries or caucuses, and Jackson set out to run in all of them.
His candidacy was transformative. Running without the blessing of many key black leaders, Jackson nonetheless carried majorities of the black vote in every state. As he proved his viability, his support from black voters increased.
Of equal significance, Jackson's campaign was paired with an extensive voter registration drive; the black share of the Democratic primary electorate doubled and even tripled in some states as Jackson's campaign triggered a wave of interest. His follow-up White House bid in 1988 only reinforced these trends. Taken together, his two campaigns cemented the bond between African Americans and the Democratic Party and significantly increased the size, visibility and clout of black voters within the party's coalition.
Jackson never ran for president again, but four other black candidates have since sought the Democratic nomination. Virginia Gov. Doug Wilder's campaign was brief, ending before the first primaries in 1992. (Black voters then flocked to Gov. Bill Clinton of Arkansas, providing the pivotal support that helped him put away rival Paul Tsongas, the former senator from Massachusetts, on Super Tuesday.) A dozen years later, in 2004, two black candidates stepped forward: former Sen. Carol Moseley Braun of Illinois and the civil rights activist Al Sharpton. Both faced organizational and fundraising hurdles, though Sharpton did out-duel Moseley Braun in an early contest and achieve his stated goal of breaking into double-digits in the South Carolina primary.
It was Barack Obama, though, who put it all together.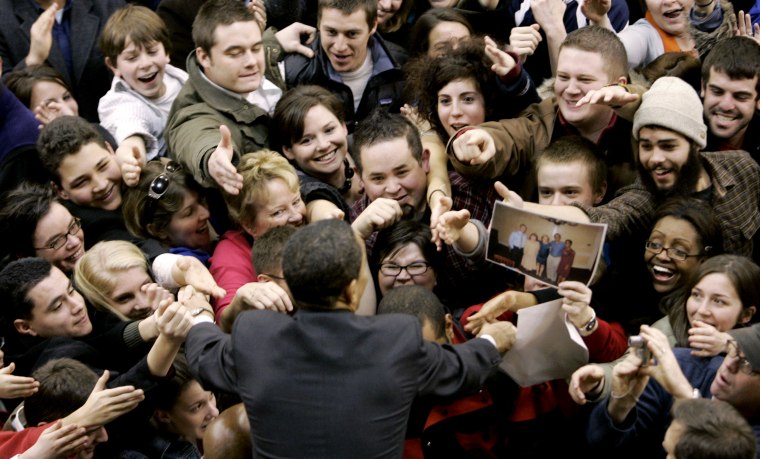 Like Jackson before him, Obama, then a senator from Illinois, secured support from the vast majority of black voters in his 2008 campaign; unlike Jackson, though, Obama coupled it with significant pockets of white support, particularly among younger and college-educated voters. The coalition was just large enough to upset Hillary Clinton and make Obama the first black presidential nominee of a major party.
The decade since that landmark Obama campaign has brought further changes to each party's demographic makeup. The divide between white voters with college degrees and those without, a phenomenon that had long been building, has in the Trump-era turned into a gaping rupture. Within the Democratic Party, this has served to expand the influence of African American voters, who could make up a larger share of the 2020 primary electorate than ever before.