The Kentucky Senate Democratic primary race to determine who takes on Senate Majority Leader Mitch McConnell in November is too close to call, NBC News projects.
Amy McGrath, a retired Marine lieutenant colonel, had a slight edge in a tougher-than-expected challenge from state Rep. Charles Booker.
With 10 percent of the vote in by Wednesday morning, McGrath led Booker, 44 percent to 39.6 percent, a margin of slightly over 2,000 votes. But that tally includes only votes cast in person at the polls on Tuesday; none of the substantial number of mail-in ballots that could determine the outcome have been counted and will not be for days.
In New York, longtime Democratic Rep. Eliot Engel was in a tough fight for reelection as he tried to fend off an aggressive primary challenge from Jamaal Bowman, a progressive candidate running in his first political campaign. The race was too early to call, according to the Associated Press.
With 99 percent of the in-person voting counted, Bowman was leading Engel roughly 63 percent to 34 percent, according to unofficial results from the city Board of Elections. Bowman declared victory, tweeting that "I can't wait to get to DC and cause problems for those maintaining the status quo."
Engel's campaign said, "any declarative statement on the outcome of this race right now is premature" given the huge surge in absentee voting in the state.
"Congressman Engel strongly believes that every absentee ballot should be counted, especially during this pandemic," the campaign statement said. Under state law, those votes won't be counted until next week.
The possibly week-long lags in determining Tuesday's primary results could be a preview of what the nation faces in the presidential contest on Nov. 3 when the outcome may not be known on election night.
The Kentucky Secretary of State said that 161,238 people voted in-person on Tuesday. And by Tuesday morning, 530,196 of the 867,842 ballots sent out before Election Day had already been returned. Any mail-in ballot postmarked by Election Day will be counted.
New York's mail ballots could account for more than half the vote. Counties have until July 1 to start releasing the results of the mail ballots.
In a neighboring congressional district to Engel's, freshman Rep. Alexandria Ocasio-Cortez won her primary, virtually guaranteeing her victory in November, while Rep. Carolyn Maloney, D-N.Y.. held a slight edge of less than 1,000 votes over challenger Suraj Patel in a rematch of their race two years ago.
And Joe Biden, the presumptive Democratic nominee, won his primaries Tuesday in New York and Kentucky. Biden has now collected 2,380 delegates compared with Sanders 1,063, according to the NBC News delegate tracker.
In Kentucky, Democratic enthusiasm for McGrath was high when she entered the race last year, and she raised $2.5 million in her first 24 hours. The fervor cooled when she said in an interview with The Courier-Journal of Louisville that "I probably would have voted" to confirm Supreme Court Justice Brett Kavanaugh, who's widely loathed by Democrats. She later tweeted that "upon further reflection and further understanding of his record, I would have voted no."
McGrath continued her fundraising prowess, and as of June 3 she had raised over $41 million, according to the most recent filings. She had to dip into that money for ads to fight off a late surge from Booker, who supports "Medicare for All," the Green New Deal and universal basic income and campaigned against inequality and racial injustice.
Booker, who entered the race only in January, joined protests over the police killing of Breonna Taylor, a Louisville woman who was shot dead in her apartment on March 13 by police executing a "no-knock" warrant, and netted endorsements from Sen. Bernie Sanders, I-Vt., and Ocasio-Cortez, among others.
He also made an issue of McGrath's failure to protest — leading her to air an ad decrying the death of George Floyd. Booker noted that she didn't mention Taylor in the ad.
Download the NBC News app for breaking news and politics
McGrath was backed by several establishment Democrats, including Senate Minority Leader Chuck Schumer of New York. "I believe that she'll give McConnell a run for his money," Schumer said last week.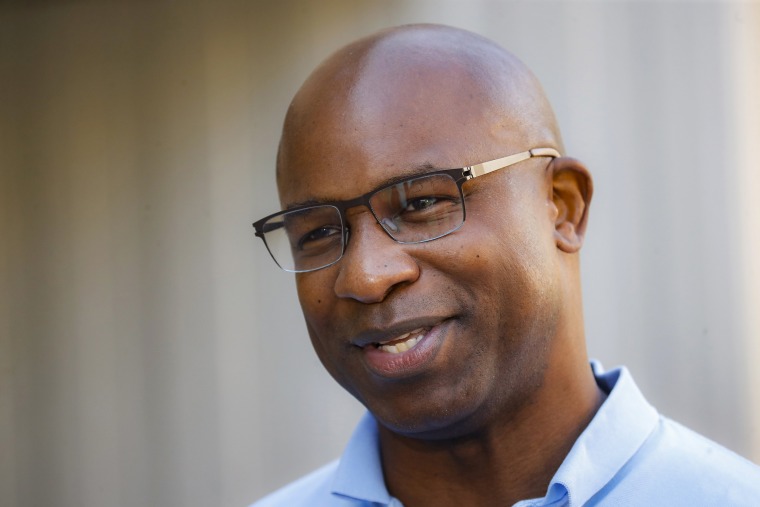 In New York, Bowman's battle with Engel in the 16th District is being compared to Ocasio-Cortez's stunning upset over longtime Rep. Joe Crowley in the 14th District in 2018.
Bowman's bid was helped by Engel, who found himself on the defensive after he was caught on a hot mic this month pleading to speak at a news event involving unrest and vandalism in his district after George Floyd's death.
"If I didn't have a primary, I wouldn't care," Engel, chair of the Foreign Affairs Committee, was heard telling Bronx borough President Ruben Diaz Jr. Ocasio-Cortez endorsed Bowman over her congressional colleague this month.
Engel, who has been in Congress since 1989, was backed by former Democratic presidential nominee Hillary Clinton, House Speaker Nancy Pelosi, D-Calif., and Gov. Andrew Cuomo.
In Virginia, Republicans have picked Daniel Gade to be their nominee and face off against incumbent Mark Warner for a Senate seat later this year. Gade won a low-key primary Tuesday against two other opponents. Gade raised by far the most money and has the highest profile of the three.