MANCHESTER, N.H. — Sen. Kirsten Gillibrand, D.-N.Y., rolled out her new mental health plan on Tuesday in Manchester, calling for developing community-based treatments, expanding delivery systems for care and ensuring parity with insurance coverage to have policies work for all communities.
The Democratic presidential candidate detailed the plan a Medium post, followed by a panel discussion on mental health in Manchester to discuss the focal points of the new proposal.
"My plan to tackle the mental health crisis in America," Gillibrand wrote, "it's all too clear that America is facing a mental health crisis, and it demands more than attention from our leaders — we need a real plan."
At this morning's event, Gillibrand stressed the need to prioritize mental health care along side other health care issues, and how her push for a "Medicare for All" style health care plan would address reforms and ideas on mental health.
Speaking to NBC News exclusively following her event, Gillibrand expanded on her mental health plan and linked it to the opioid epidemic, a key issue in New Hampshire.
"There is a correlation and a fundamental relationship between the opioid crisis and the lack of access for mental health in this state and around the country," Gillibrand said.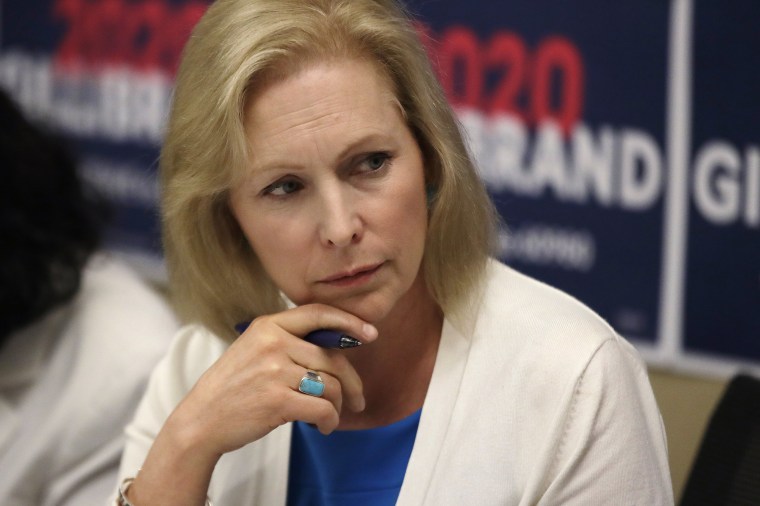 She also spoke of the connections between mental health and gun violence, such as how it relates to the recent wave of mass-shootings in the country. But she largely stressed how "access to weapons is so easy."
New Hampshire specifically is an open carry state and has no laws restricting the age at which a person may possess and carry firearms.
"One of the challenges in New Hampshire and other states, it's just the easy access to weapons," Gillibrand said. "We have to ban assault weapons, the military-style weapons and the large magazines."
In the interview, Gillibrand also addressed another unrelated topic — her decision to call for former Minnesota Sen. Al Franken's resignation last year after multiple allegations of sexual misconduct. Some of the senators who, at the time, supported that call have now suggested they made a mistake, and some Democrats have argued that Franken should have been given more time to plead his case or undergone an ethics investigation.
But Gillibrand rejected that notion and defended her decision to call for his resignation, as she's done before.
"With regard to Senator Franken, he had eight credible allegations against him that were corroborated in real time," Gillibrand told NBC News.
"Two of them were since he was a senator, since he was elected. And the last one that came to light was a congressional staffer. And I'd been working for a very long time on ending sexual violence in the military and on college campuses. Ending sexual harassment in Congress had just introduced legislation to begin to change how we deal with this process. So I just couldn't after eight allegations continue to defend him and I couldn't stay silent."
She added, "So I may seem like I stand alone. When I did call him to resign, 34 other senators followed me, some within minutes. Some were running for president. But I think it's something you have to have the courage to do. There is no prize for someone who stands up to a powerful man who's good at his day job and is popular, but we should have the courage to do it anyway. It's the right thing to do."