With just over a week to go until Election Day and millions of people, including President Donald Trump, already casting their ballots at early voting sites or by mail, the candidates are facing enormous pressure to solidify their bases and win over undecided voters.
This live coverage has ended. Continue reading election news from October 25, 2020.
Two of Pence's closest advisers test positive for Covid-19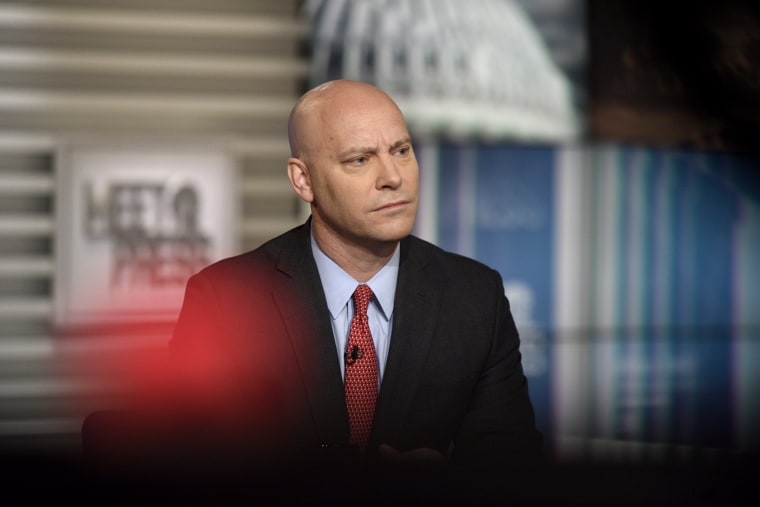 Two of Vice President Mike Pence's closest political advisers have tested positive for Covid-19.
Pence's office said in a statement Saturday night that his chief of staff, Marc Short, "began quarantine" after learning of the diagnosis and was cooperating with a contact-tracing effort.
"Vice President Pence and Mrs. Pence both tested negative for COVID-19 today, and remain in good health," vice presidential spokesman Devin O'Malley said in the statement.
"While Vice President Pence is considered a close contact with Mr. Short, in consultation with the White House Medical Unit, the Vice President will maintain his schedule in accordance with the CDC guidelines for essential personnel," he said.
Pence still plans to travel to North Carolina on Sunday, his office said.
Additionally, a source familiar with the matter told NBC News that Pence's senior political adviser, Marty Obst, also tested positive.
Obst was at the debate in Salt Lake City with Pence Oct. 7, posing maskless with him and others after the event. Obst is not a government employee.
Photo: Church and Ohio State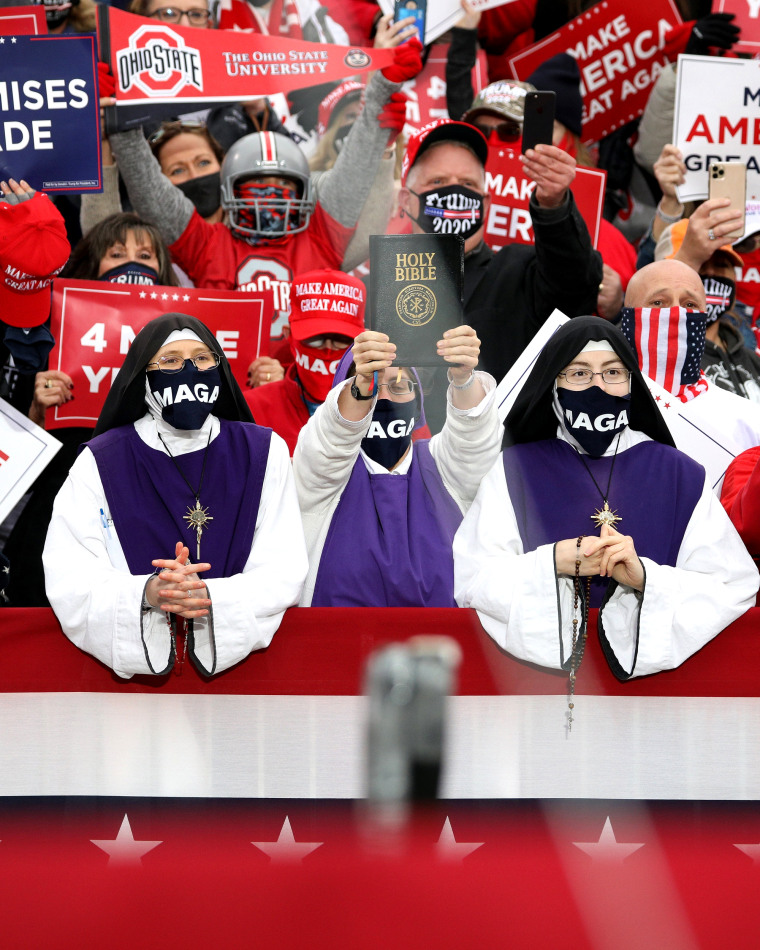 Biden hits Trump as 'weak and chaotic'
Joe Biden passionately went after President Trump, his voice booming and raising, as he called the president a bully like the ones who looked down on him and many of those gathered at the campaign event in Dallas, Pennsylvania, for living by modest means or mocking them for having to pay taxes while Trump evades them.
The Democratic nominee said that Trump sold the American people short during the pandemic, yelling as he said that Trump panicked.
"This guy doesn't get it," Biden said before calling the president "weak and chaotic."
Biden stressed how refreshing it would be to have someone like the people at his rally in the White House.
"It's about time a state school guy goes to the Oval Office," Biden said. "If I'm sitting there, you'll be sitting there with me."
Biden continued to tick through numerous examples of how Trump has rolled back a number of Obama era policies that have "ripped apart" the country. 
"Trump hasn't delivered on a damn thing he'll do," Biden said, getting to the crux of his argument about why voters should choose him. "This has to change and it will with me."
Tailgate or campaign rally?
If it's a Saturday in Ohio, that means campaign rallies are taking on a new twist.
In lieu of Trump's typically pre-rally playlist, the Ohio State-Nebraska game played on large monitors on either side of the podium. 
A graphic reading "Big 10 Football is Back" with "President Donald J. Trump" written at the bottom was displayed during commercial breaks. Trump often takes false credit for the football conference playing this season.
And the number of "OH-IO" chants rivaled the "four more years" chants.
Trump will take the stage here in Circleville shortly. 
Young Latino voters in Pennsylvania, Florida could tilt race for Trump, Biden
Obama asks voters to imagine what a 'normal' president would feel like
President Obama hit the campaign trial for Joe Biden Saturday, hosting a drive-in rally in North Miami.
Touching on Biden's key campaign themes, Obama encouraged the crowd to imagine what having a "normal" president again would feel like.
"There might be a whole day where they don't tweet some craziness," Obama said. "You'll be able to go about your lives knowing that the president's not going to suggest injecting bleach."
"A Florida man wouldn't even do this stuff," Obama joked. "Why are we accepting it from the president of the United States? It's not normal behavior."
In a sign of the times, Obama concluded his speech to a loud round of honking from supporters, who watched the event from their cars due to coronavirus concerns.
Ransomware infection leads New York county to ask absentee voters to double-check status
Parts of a New York county's computer systems have been infected with ransomware, potentially impacting voters there who had tried to register to vote by absentee ballot by email.
Chenango County was infected by ransomware the weekend of Oct. 17, John Conklin, the county's director of public information, said in a statement. The news was first reported by the local Evening Sun.
While the county's immediate election systems are unaffected, county email systems were, and some voters who had tried to register for absentee ballots by emailing the county may have not properly registered. Such voters should call the county Board of Elections to check their status, Conklin said in a phone interview.
Hall County, Georgia, is also dealing with a ransomware infection that initially slowed its absentee ballot counting, but officials say they've since worked through that backlog. Ransomware attacks on local governments are a common occurrence, and there is no indication yet that the recent ransomware infections are part of a widespread and coordinated attack on the U.S. election system.
Voter advocates hoping to stave off intimidation at polls
Voting rights advocates and state officials are on high alert over fears that U.S. polling stations could attract the same strain of partisan violence and civil unrest that erupted on American streets this year, fueled by a deadly pandemic, outrage over police brutality and one of the most contentious elections ever.
Anti-government extremists and other armed civilians have flocked to protests against racial injustice and Covid-19 lockdowns. Paramilitary group members are accused of plotting to kidnap Michigan's governor before the election. President Donald Trump encouraged one far-right extremist group to "stand back and stand by" and called for an army of "poll watchers" to keep tabs on polling places.
While gun rights advocates say fears of violence at the polls are unfounded, the toxic political atmosphere and the prospect of armed poll monitors have some worried it will keep voters from the polls and affect the election.
"Just as an American, the fact that we're having this conversation is absolutely terrifying to me," said American University professor Kurt Braddock, who researches extremist groups. "It's a testament to how far the extreme right has come with getting into this conversation and impacting the way that politics get done here."
Trump has called for an army of "poll watchers" to go to the polls and "watch carefully." Monitoring the votes at polling places is allowed in most states, but rules vary and it's not a free-for-all. States have established rules, in part, to avoid any hint that observers will harass or intimidate voters.
Some states and groups are preparing for that possibility.
Click here for the full story.
Trump continues to downplay the coronavirus as he ramps up campaign events
President Trump once again spread incorrect and misleading comments about the severity of the coronavirus at his first campaign rally of the day on Saturday, projecting a false sense of normalcy as he fights for his political life. 
"That's all I hear about now," Trump said, complaining of the amount of media attention the virus gets as he campaigned in North Carolina. "Turn on television, Covid, Covid, Covid, Covid, Covid, Covid." 
On Friday more than 85,000 new cases were reported across the country, breaking an earlier single-day record and casting a shadow on Trump's re-election efforts. 
Trump, who was infected with Covid-19, will head to Ohio next this afternoon, where cases are surging.
His campaign rally is being held at a fairgrounds that was linked to 22 cases in June.
An early voting line grows in Brooklyn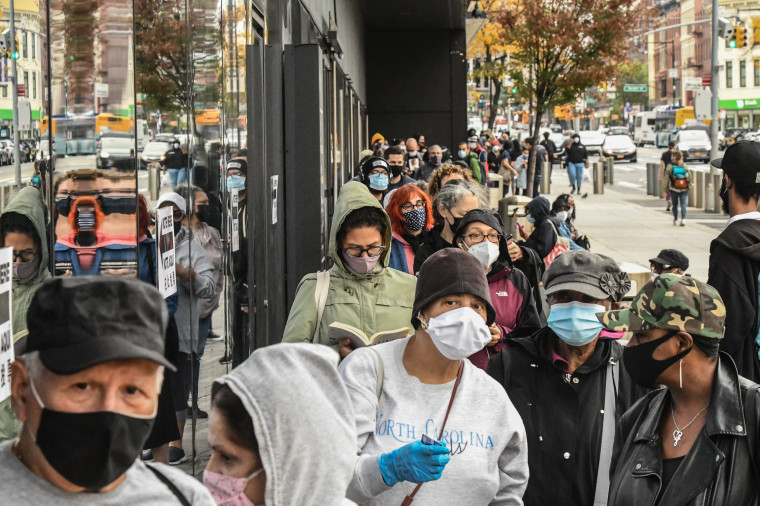 And all over New York City, like here in Queens:
And in Manhattan, where this line went as far as eight block back: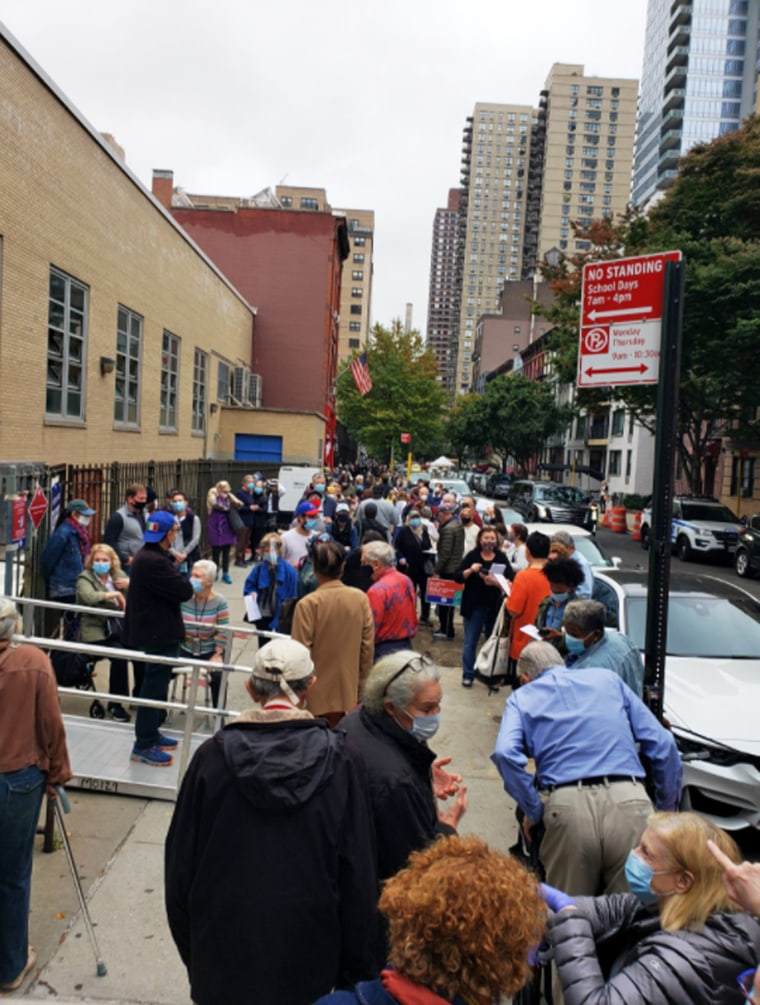 Another negative Covid-19 test for Biden
Ahead of Biden campaigning in Pennsylvania today, his team announced he "underwent PCR testing for Covid-19 today and Covid-19 was not detected."
He's now tested negative 14 times since earlier this month.
New York is an early voting groove
Trump casts in-person ballot, will hold three campaign rallies today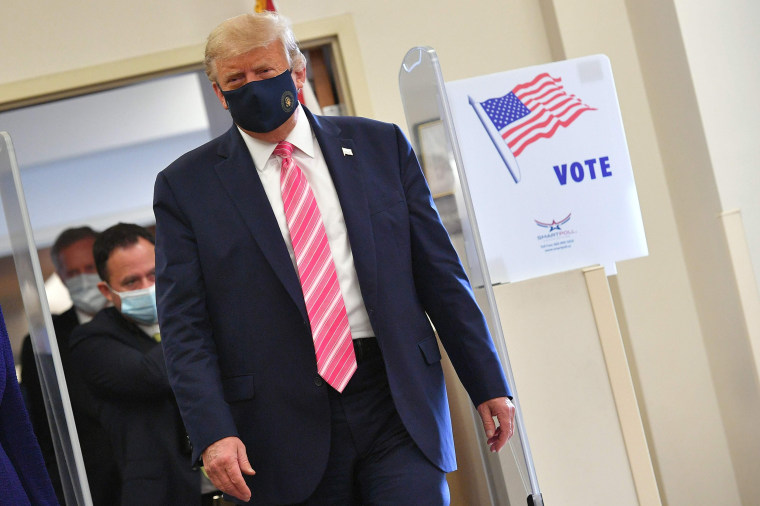 President Trump, exiting the polling location wearing a face mask, told reporters that he cast his ballot Saturday morning for "a guy named Trump." 
"It was a very secure vote, much more secure than when you send in a ballot," Trump said, repeating false claims about the security of mail-in voting.
Trump holds campaign rallies today in North Carolina, Ohio and Wisconsin.
Trump arrives at early vote location in Florida
President Trump arrived at West Palm Library on Saturday morning, where he will vote early in-person.
Reporters are not allowed inside the voting location with the president. 
Two different paths for two Republican senators
It's Joe Biden: The concert
The Biden campaign will host an eclectic star-studded virtual concert on Sunday night, with performers including A$AP Ferg, Cher, Jon Bon Jovi, Pink, Foo Fighters, Black Eyed Peas & Jennifer Hudson, Dave Matthews and Ciara.
The price of a ticket to the virtual "I Will Vote Concert" is any size donation to the campaign, according to the its website.
The event will also feature appearances by Biden, running mate Sen. Kamala Harris and their spouses, as well as an equally eclectic mix of "special guests" including Lin-Manuel Miranda, Amy Schumer, La La Anthony and Helen Mirren. It's being hosted by comedian George Lopez and Ana Navarro.
Trump wraps up second rally in Florida to (mostly) maskless crowd as U.S. sets Covid record
President Trump wrapped up his second rally of the day on Friday, speaking to a mostly maskless, tightly packed crowd as the U.S. set a daily record for coronavirus cases for the second day in a row.
Friday's 77,993 cases and counting, as tallied by NBC News, topped Thursday's 77,640. The previous high of 75,723 was set on July 29. The virus has killed more than 225,000 people in the U.S., according to the latest tally.
Trump continued to hammer rival Joe Biden over his policy agenda after Thursday's debate, seizing on the Democratic nominee's remarks about the oil industry to a crowd in Pensacola as he did earlier in the day speaking to seniors in the battleground state. 
Despite the record number of Covid-19 cases reported on Friday, Trump reiterated his claim that the country is "rounding the turn" of the pandemic "with our without" a vaccine. Trump also used the rally to do outreach to women, where polls show him trailing Biden. 
"I said one thing the other day, I said, 'Suburban women, please love me. Please. Please.' Because you see suburban women, I have saved Suburbia, I've gotten rid of the worst regulation," he said. 
The president planned to vote early today in Florida and then travel to rallies in North Carolina, Ohio and Wisconsin. 
In the home stretch, signs Trump's hard-sell seniors pitch may be falling short
FORT LAUDERDALE, Fla. — Eleven days out from the election, President Donald Trump held a last-minute campaign event in one of the most reliably red areas of Florida, whose voters have become a question mark hanging over his campaign — one that could help make or break his re-election bid.
The Villages, a sprawling retirement community home to one of the whitest and oldest populations in the country, has consistently supported Republican candidates for years, breaking for Trump by nearly 40 percentage points in 2016.
But the president's decision to campaign here came amid his struggle to hold on to older white voters, like the ones he addressed at this Friday stop, who have grown uncomfortable with his rhetoric and his response to the coronavirus pandemic.
Polling this year has shown an increasing number of seniors abandoning Trump. An October NBC News/Wall Street Journal poll showed that trend accelerating: Trump was hemorrhaging support among registered senior voters, with 62 percent supporting Biden and only 35 percent supporting the president.
Trump won the senior vote by 7 points in 2016, so even a slight drop in support among older white voters, a cornerstone of his base, could have an enormous impact on the outcome of his re-election.
Read more here.
The states Trump can't afford to lose
It will take at least 270 electoral votes to win the 2020 election. Steve Kornacki looks at the battleground polling to determine which states Donald Trump can't afford to lose.
Pop phenom Lizzo campaigns for Biden in Michigan, urges young people to vote
Pop star Lizzo hit the campaign trail for Joe Biden on Friday in her home state of Michigan, a pivotal state in the 2020 presidential election. 
"I don't think in terms of red and blue, I think in terms of right and wrong," Lizzo, a Detroit native, told community members in Harper Woods, stressing the importance of voting.  "If you don't like how things are going, you can vote that person out." 
Biden has robust support from Black Americans as a whole but is struggling in polls with younger Black voters.  
Lizzo said that she does not take voting for granted because of the sacrifices previous generations made during the Civil Rights movement. The Grammy-winning singer also said that experience of being an American in recent years has been "traumatic" for and made the case for more laws that push for equality. 
"Your vote is literally your political voice," she said. 
The South was a lost cause for Democrats. Now eight key Senate seats are in play.
Karen Ashley has walked with a handful of older Black men, residents of a low-income housing development, to the State Farm Arena each day early voting has been available in Georgia.
These strolls, which she called "wheelchairs and walkers to the polls," are the culmination of months of work, including candidate forums and debate watch parties she held at the apartment building.
As the director of resident services at Friendship Towers, Ashley, 59, said she aimed to get all 106 residents — many of whom did not complete high school and had never voted before — to cast their ballots.
"I had the thought one time when I was looking at all of the negative back and forth between this group and that," she said while accompanying some residents back to their homes. "And I said, 'They don't even consider this population.' I said, 'Guys, this is what we're gonna do. We're gonna register, we're gonna vote and your voice will be counted.'"
More women than men embracing early voting
As Americans are opting to vote early — either via in-person or mail-in ballots — at a record rate, a shift likely fueled by the pandemic, it's women who are embracing the early vote more than men. 
Of the 68.6 million early ballots requested, 52 percent were requests made by women, according to data compiled by TargetSmart. 
And women were more likely to have returned their ballots, with 54 percent of those mailed in or cast early in person coming from women.