President Donald Trump and Democratic nominee Joe Biden are in the homestretch of their campaigns with Election Day just three days away.
Both candidates spent their time in battleground states.
This live coverage has ended. Continue reading election news for Sunday, November 1, 2020.
Stories we're following today:
N.C. voter rally ends with pepper spray and 8 arrests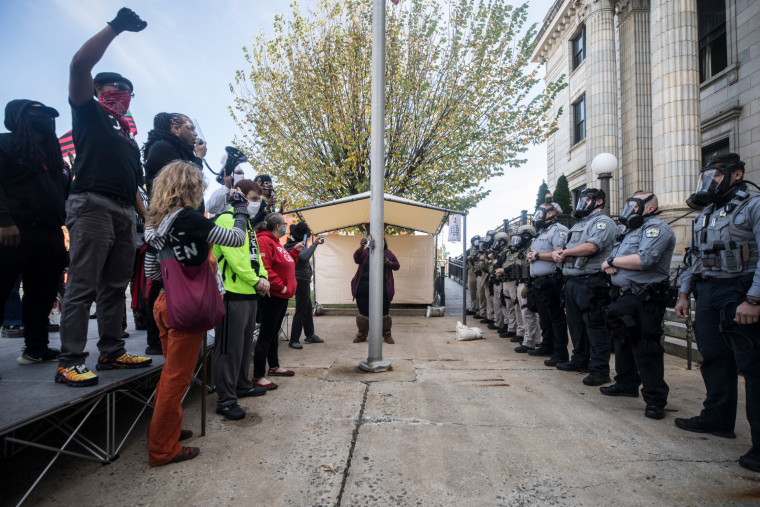 What was supposed to be a peaceful voter rally in North Carolina on Saturday ended up with eight people arrested and police pepper spraying attendees. 
The chaos unfolded after participants of the "I Am Change" rally in Graham failed to heed a 5-minute warning from police to disperse, police said. Crowds also faced off with Alamance County sheriff deputies outside the county courthouse.
Police said marchers had blocked traffic "in all directions around the court square" and refused to move. Organizers for the rally did not have a permit to block roadways, according to police. 
When the crowd did not disperse, Graham police sprayed a pepper-based vapor onto the ground.
"As a result of actions that occurred within the rally, on courthouse grounds, the assembly reached a level of conduct that led to the rally being deemed unsafe and unlawful by unified command," police said in a statement.
Trump caravan trails with Biden bus in Texas
A caravan of Trump supporters trailed a Biden campaign bus on I-35 in Central Texas on Friday, according to local officials and videos posted online — and two collided while driving close to the bus. 
One of the cars involved in the crash was a Trump supporter. 
The San Marcos Police Department received a call from the campaign bus requesting a police escort through the jurisdiction, a spokesperson for the city of San Marcos, Kristy Stark, said in an email, but officers were not able to catch up with the bus before it left the jurisdiction.
Stark said a Biden-Harris staffer later reported a car accident to police in nearby Kyle, Texas, but San Marcos department believes it occurred in their jurisdiction. 
Trump later tweeted a video of the incident, praising his supporters.
Later, during a campaign stop, Trump said: "Did anybody see the picture of their crazy bus driving down the highway, surrounded by like hundreds of cars? They're all Trump flags all over the place."
Caravans and car parades — made popular by pandemic social distancing requirements — have become a regular feature of the campaign trail, one particularly embraced by Trump supporters, but in recent weeks they've run up against early voting and other campaign activities, prompting voters to call the cops.
Fights and protests erupted when a caravan of hundreds of cars drove through New York City last weekend, according to the Associated Press. In Albuquerque, New Mexico, caravans of flag-waving Trump supporting vehicles drove near early voting locations appeared outside early voting polling locations in predominantly Latino neighborhoods, prompting cries of voter intimidation; the District Attorney's office said an individual had been issued an notice for criminal trespassing. 
NBC News affiliate KXAN in Austin reported that the Biden campaign cancelled the events after the crash.
A view of a packed Trump rally
In quest for Latino votes, Miami early voting site is who's who of Trump, Biden supporters
If there is any doubt that the stakes are high in Florida in the quest for presidential votes, a trip to one of the busiest early voting sites in Miami-Dade County on Saturday involved a scene of celebrities, grassroots luminaries, politicians running for office, a popular YouTuber, and a man dressed in military fatigues surveying the crowd.
Sunday is the last day for early voting in Florida, making Saturday one of the last opportunities for candidates to make their cases and rally voters to turn out.
At the Coral Gables Public Library voting site, the scene outside included Latin music blaring, cars with flags and banners honking, free food and drinks, as well as Halloween candy for children.
It also included quite a few local and national celebrities.
Click here for for the full story. 
Trump supporters stage rally in Beverly Hills
While President Donald Trump was campaigning through swing states on Saturday, some of his supporters on the West Coast were having a rally of their own. Beverly Hills, California, has been the site of pro-Trump gatherings during recent weekends.
'That's what I do!': Obama scores on the court between campaign stops
As former President Barak Obama made the campaign rounds Saturday in Michigan for former Vice President Joe Biden, he took a break to shoot some hoops at a high school in Flint, Michigan. After scoring a three-pointer, he smiled and walked away, saying "That's what I do!" Biden's traveling digital director tweeted the court action.
Harris predicts a 'decisive decision' on election night
Kamala Harris said Saturday while campaigning in Florida that she was confident there would be a "decisive decision" on election night.
"I really do hope that," Harris told reporters, adding that "based on what I'm feeling and seeing here and around the country" she did not think the election results would end up in front of the Supreme Court, as President Trump has suggested. 
When asked about what she and Joe Biden would do if Trump jumped the gun and declared victory before the race was called, Harris said, "I'm not going to speculate about that."
"I really do believe that the American people have a line, that they will be unwilling to cross and that line, whoever they vote for," she said, predicting that "there will be a respect for the elections and the outcome."
"They want a peaceful transfer of power and will stand for our democracy whoever they voted for," Harris concluded. 
In her last and biggest event of the day, Harris told rallygoers in Palm Beach, "Florida is gonna determine in every way who will be the next president of the United States."
Where will the candidates be on election night?
Donald Trump is expected to hold his election night celebration at his Trump International hotel in Washington, although there has been some talk of moving the festivities to the White House. 
Joe Biden will be in Delaware and plans to address the country from the Chase Center, the same location where he formally accepted his party's nomination in August. 
In Pennsylvania, small-town Trump defectors are rare — but could be decisive
It's hard to find a man like Victor Dennis in this evenly divided, deeply polarized, heavily courted corner of the county that most precisely mirrored President Donald Trump's statewide victory here in 2016.
All but a relative handful of voters in this small Northampton County town, 75 miles due west of the Statue of Liberty and 20 miles northeast of Allentown, have voted — or will vote — the same way that they did four years ago. There isn't much room for a change of heart in the town or in a county that Trump won 50 percent to 46 percent four years ago.
That's what makes voters like Dennis, 91, only a little more common than dragon-riding leprechauns. But the race is so tight here, and across the state, that just a small number of crossover voters could make the difference.
"First time in my life, I voted for a Democrat," Dennis, a longtime resident of Forks who now lives in a retirement community in nearby Nazareth, told NBC News on Friday after he finished packing groceries into his car in a strip mall parking lot. "I like a lot of the things Trump did, but I couldn't stand his bloviating."
Election experts say that the result in Pennsylvania is most likely to determine which candidate wins the presidency. This region, with its mix of bedroom communities for New York and Philadelphia, a health care economy that rivals its historical manufacturing base, and rural stretches dotted with small towns, is one of the most heavily contested in the country.
Click here for the full story
D.C. university telling students to stock up on essentials before Election Day
The George Washington University in D.C. is encouraging students to stock up on essential goods, such as food and prescription drugs, ahead of the election, warning of the potential for there to be protests and unrest around the Washington area.
Some shops around D.C. have also begun to board up their storefronts in recent days in anticipation of protests. 
While D.C. Mayor Muriel Bowser has promised that the city will remain safe regardless of who wins, multiple groups are already planning demonstrations around Election Day.
Trump knocks Biden and Obama's Flint appearance
Obama, Biden make first joint campaign appearance in Michigan
Barack Obama and Joe Biden campaigned in Flint, Michigan, on Saturday, appearing together for the first time on the trail just three days before Election Day.
Obama introduced Biden at the drive in rally, hitting similar themes that he has touched on in past campaign speeches.
"They might as well be saying 'let America get Covid,'" Obama said of Trump and the Republican Party, adding that the president was "feeding his ego" by continuing to hold mass in-person campaign rallies during the pandemic. 
The Biden campaign had special Halloween-themed signs for supporters that read "Don't Boo, Vote!," a play on a popular rallying cry Obama frequently uses.
Obama and Biden are expected to hold another drive-in event in Detroit later Saturday with Stevie Wonder.
'I used to be the president, you remember?': Obama makes cold calls for Biden votes
Seven Pennsylvania counties will wait until after Election Day to process mail-in ballots
Seven out of Pennsylvania's 67 counties will wait to count mail-in ballots until the day after the election, according to local officials, potentially delaying when media organizations will be able to project a winner in the state.
Pennsylvania allows for counties to begin processing mail-in ballots the morning of Election Day, but officials in Beaver, Cumberland, Franklin, Greene, Juniata, Mercer and Montour — all counties which voted for Donald Trump in 2016 — said that concerns over staffing and resources led them to delay when they will count mail ballots.
It is unclear what impact this could have on the timing of the results. The counties range in population size, but roughly a combined 150,000 voters in these areas have requested mail-in ballots according to state data.
Trump won Pennsylvania by a little more than 44,000 votes in 2016 and with 20 Electoral College votes, the state could determine the winner of this year's election. Polls have consistently shown Joe Biden leading Trump in the state by a few percentage points.
Click here for the full story
His Hometown: Springsteen uses classic to sing Biden's praises
Trump hails rescue of American hostage in Nigeria
An American citizen kidnapped in Niger last week was rescued in a U.S. military operation early Saturday, according to the Pentagon. 
"U.S. forces conducted a hostage rescue operation during the early hours of 31 October in Northern Nigeria to recover an American citizen held hostage by a group of armed men," said Pentagon spokesperson Jonathan Hoffman in a statement. 
"Last night, our Country's brave warriors rescued an American hostage in Nigeria," Trump tweeted. "Our Nation salutes the courageous soldiers behind the daring nighttime rescue operation and celebrates the safe return of yet another American citizen!"
Trump is expected to hold three campaign rallies on Saturday as he makes his final case for re-election. During a rally in Pennsylvania, the president praised the military for what he called a "brilliantly executed" operation.
"Last night our brave special forces rescued an American hostage," he said as the crowd cheered and chanted "USA."
"We had a mission set to a far-away land where they kidnapped an American citizen and the kidnappers wished they never done it," Trump said, adding that there were zero American casualties. "The other side suffered greatly, I can tell you that." 
There has not yet been a full briefing on events from officials on the rescue. 
Stores and businesses hire extra security, board up windows fearing Election Day unrest
After a spring of lockdowns and a summer of protests, storefront businesses across the country are girding for a potential wave of social unrest related to the election.
Ulta Beauty, whose stores were damaged in protests of George Floyd's death at the hands of police in May, told NBC News that it is boarding up stores, closing early and hiring overnight security guards in certain locations.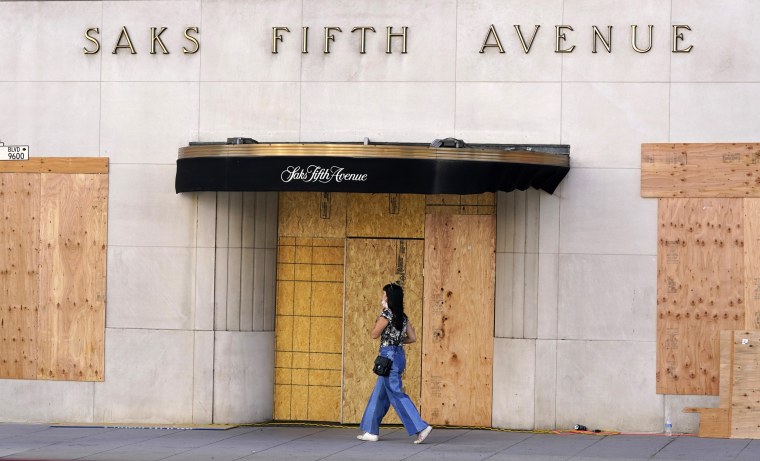 Nordstrom said it is monitoring for any activity that might threaten employee or store security, and plans to close early on Election Day. In Chicago, several businesses along the Michigan Avenue shopping district have already boarded up their windows.
Walmart, which said this week it would remove all guns and ammunition from its sales floors as a precaution, announced Friday it was reversing that decision.
Leading up to the election, President Donald Trump has repeatedly suggested that he will refuse to participate in a peaceful transition of power in the event he loses to former Vice President Joe Biden. In a Friday tweet, Trump suggested that the only way Biden could become president would be if the Supreme Court intervened to "make such a ridiculous win possible."
Trump to campaign in Pennsylvania, as poll numbers show him trailing Biden
President Donald Trump will hold three campaign rallies in Pennsylvania on Saturday, starting off the afternoon outside of Philadelphia in Reading, then making his way to the Pittsburgh area and ending the day in central Pennsylvania. 
With 20 Electoral College votes, Pennsylvania is a top target for both Trump and Joe Biden. Only California, New York, Texas and Florida have more delegates up for grabs. 
A new poll released Saturday from Morning Call/Muhlenberg College showed Biden with 49 percent of likely state voters, compared to 44 percent for Trump. That's marginally tighter than last week, when another survey showed Biden with 51 percent compared to Trump's 44 percent. 
The poll's margin of error is plus or minus 5.5 percentage points. 
Harris reflects on how election will be remembered by future generations during Texas rally
'I'm not invisible': Kentucky millennials with felony records head to the polls for first time
With the election just days away, Mirage Davis is both excited and anxious. For the first time, she will be casting a ballot, and she doesn't take her right to vote lightly.
Davis, 29, who lives in eastern Kentucky, is enthusiastic about Democratic Senate candidate Amy McGrath, but is still undecided in the presidential election. Seeing a woman on the ticket compelled her to vote in this year's election, Davis said, adding that she wants to see more women run for office in the state.
But Davis, a registered independent, didn't always have a say in politics; convicted of possessing stolen property and drugs, she and tens of thousands others with felony records had been barred from voting until last year, when Kentucky's governor gave them back that most democratic of rights.
"I've gone my whole life feeling like I'm invisible — and I'm not invisible," said Davis, who is making a point to vote in person. "And it's empowering being a woman, a felon, and having the right to vote."
Nearly 5.2 million Americans are unable to cast a ballot in this year's election because of felony convictions, according to the Sentencing Project, a group that advocates for criminal justice changes. Many states automatically restore voting rights to those who complete their prison sentences, but Kentucky, along with Iowa, Florida, and Virginia, until recently had permanently disenfranchised the majority of felons.
Click here for the full story
At Iowa drive-in rally, Biden says Trump 'has given up' on coronavirus fight
Iran targeting U.S. state voter rolls and spreading election propaganda, officials say
The FBI and the Cybersecurity and Infrastructure Security Agency both issued advisories Friday warning that Iran is spreading propaganda and targeting U.S. state websites, including election sites, in "an intentional effort to influence and interfere with the 2020 U.S. presidential election."
The FBI sent a FLASH bulletin to various states, saying an Iranian group is "creating fictitious media sites and spoofing legitimate media sites to spread anti-American propaganda and misinformation about voter suppression." It added, "This group has been linked to efforts to disseminate a propaganda video concerning voter fraud and hacking of U.S. voter information. The FBI advises this video is almost certainly intended to make U.S. voter information and the voting process appear insecure and susceptible to fraud."
The CISA advisory went further, stating that the Iranian hackers have also "successfully obtained voter registration data in at least one state." The agency did not disclose which state.
Both the FBI and CISA confirmed that "a review of the records that were copied and obtained reveals the information was used in the propaganda video."
There is no indication that any voter registration databases have been manipulated or any votes have been changed.
Click here for the full story.
Trump adviser Stephen Miller reveals aggressive second-term immigration agenda
President Donald Trump's senior adviser Stephen Miller has fleshed out plans to rev up Trump's restrictive immigration agenda if he wins re-election next week, offering a stark contrast to the platform of Democratic nominee Joe Biden.
In a 30-minute phone interview Thursday with NBC News, Miller outlined four major priorities: limiting asylum grants, punishing and outlawing so-called sanctuary cities, expanding the so-called travel ban with tougher screening for visa applicants and slapping new limits on work visas.
The objective, he said, is "raising and enhancing the standard for entry" to the United States.
Some of the plans would require legislation. Others could be achieved through executive action, which the Trump administration has relied on heavily in the absence of a major immigration bill.
Click here to read the full story.
Trump asked supporters to watch the polls. How states are countering fears of intimidation.
President Donald Trump's campaign appears to be using volunteers to try and prove voter fraud while simultaneously asking courts to OK further restrictions in the key presidential battleground of Pennsylvania where Joe Biden narrowly leads, state Attorney General Josh Shapiro's office said Thursday.
Shapiro, a Democrat, is investigating multiple "disturbances" between these Trump campaign volunteers and voters who were filmed or photographed dropping off absentee ballots, according to the communications director, Jacklin Rhoads.
She said the images have popped up in lawsuits the Trump campaign has brought to tighten voting laws, without much success, while The Philadelphia Inquirer reported that the campaign has been using such footage to pressure election officials into policy changes.
Early incidents like the ones Shapiro's office is investigating have raised alarm about "poll watchers" — the official, party-sanctioned kind, or simply people showing up to places where voting is taking place — in part because of the president's frequent and false claims of widespread voter fraud and repeated calls for his supporters to "watch the polls" and stop it.
NBC News is reporting on voting issues nationwide through a partnership with ProPublica's Electionland. You can share your voting experience by texting the word VOTE, VOTA (for Spanish) or 投票 (for Chinese) to 81380 (standard text message rates apply). You can also message us on Facebook or fill out this form, so ProPublica and partners can investigate.
Read more here.
Here's what happened when NBC News tried to report on the alleged Hunter Biden emails
The complaints from President Donald Trump and his allies have been growing louder as the election approaches: Why isn't the mainstream media covering the Hunter Biden laptop story?
Trump and his allies say there is evidence of corruption in emails and documents allegedly found on a laptop belonging to Democrat Joe Biden's son. They say those and other documents show that Hunter Biden used his father's influence to enrich himself through business deals in Ukraine and China, and that his father not only facilitated that, but may have benefited financially.
But the Wall Street Journal and Fox News — among the only news organizations that have been given access to key documents — found that the emails and other records don't make that case. Leaving aside the many questions about their provenance, the materials offered no evidence that Joe Biden played any role in his son's dealings in China, let alone profited from them, both news organizations concluded.
As to Ukraine, a single email published by the New York Post suggests Joe Biden may have had a meeting with a representative of a Ukrainian company that employed his son. Trump and his allies alleged that means Joe Biden has lied when he said he never discussed his son's business roles. The Biden campaign denies the meeting happened.
The lack of major new revelations is perhaps the biggest reason the story has not gotten traction, but not the only one. Among others: Most mainstream news organizations, including NBC News, have not been granted access to the documents. NBC News asked by email, text, phone call and certified mail, and was ultimately denied.
And, although no evidence has emerged that the documents are the product of Russian disinformation, as some experts initially suggested, many questions remain about how the materials got into the hands of Trump's lawyer, Rudy Giuliani, who has met with Russian agents in his effort to dig dirt on the Bidens.
Click here to read the full story. 
How to track your ballot after mail-in voting