This live coverage has ended. Continue reading election news from November 6, 2020.
Election Day stretched into its third day on Thursday as Americans anxiously awaited results in several key states.
Joe Biden maintained his lead over President Donald Trump, who delivered a series of false claims about the election on Thursday night and has vowed legal action in several battleground states as the Electoral College gap widened.
Stories we're following:
Pa. lieutenant governor predicts Biden will win state's 20 electoral votes
Pennsylvania Lt. Gov. John Fetterman said that his state's ballot-counting process is "drawing to a close" and believes that the outstanding ballots will deliver the state's 20 electoral votes to Joe Biden.
As of Thursday morning, Pennsylvania had about 768,000 ballots remaining that needed to be counted, which Fetterman said in an interview on MSNBC would be enough to "probably deliver our Commonwealth to the [former] vice president at this point, based on previous modeling of how those ballots have been performing with respect to, whether it's for the [former] vice president, or the president."
While Fetterman declined to predict when he believes his state would finish counting, he indicated that it was possible it would be done by Thursday evening.
"Things are drawing to a close," said Fetterman, who reiterated that the outstanding ballots in his state will be favorable to Biden's chances to carry Pennsylvania, which Trump won in 2016.
Asked about any irregularities from the election in his state, he said it's been "incredibly smooth" and suggested that the only issue has been the lawsuits the Trump campaign is mounting.
"You have the Trump campaign showing up on our corner in Philadelphia like some sad carnival barker, making outlandish claims," he said. "That's the only problem."
Democrat Mark Kelly claims victory in Arizona Senate race
Democrat Mark Kelly has claimed victory against Republican Sen. Martha McSally in Arizona, which would give Democrats a badly needed pickup in the Senate if the vote returns bear out that result.
"I am deeply honored that Arizonans have trusted me to be their next United States Senator and to serve in this seat once held by Senator John McCain," Kelly said in a series of tweets Wednesday night.
"We woke up today still facing a pandemic, a struggling economy, and deep division in our country," he wrote. "We need to slow the spread of the virus, get our economy back on track, and defend health care protections for people with pre-existing conditions. And I know that together, we can."
McSally has not conceded the race, and NBC News is characterizing the race as too early to call, with Kelly leading.
A win would give the state two Democratic senators, Kelly and Kyrsten Sinema, who was elected in 2018. Sinema congratulated Kelly in a tweeted statement Wednesday. "I am confident Mark will uphold the Arizona values of seeking common ground and putting country above party," she wrote. 
Kelly, 56, is a former NASA astronaut and the husband of former Rep. Gabby Giffords, who survived being shot in the head in 2011 at a constituent event. The couple founded the Giffords Foundation, which supports gun control laws around the country.
On bikes, in cars and on foot, 'Count Every Vote' protesters rally near White House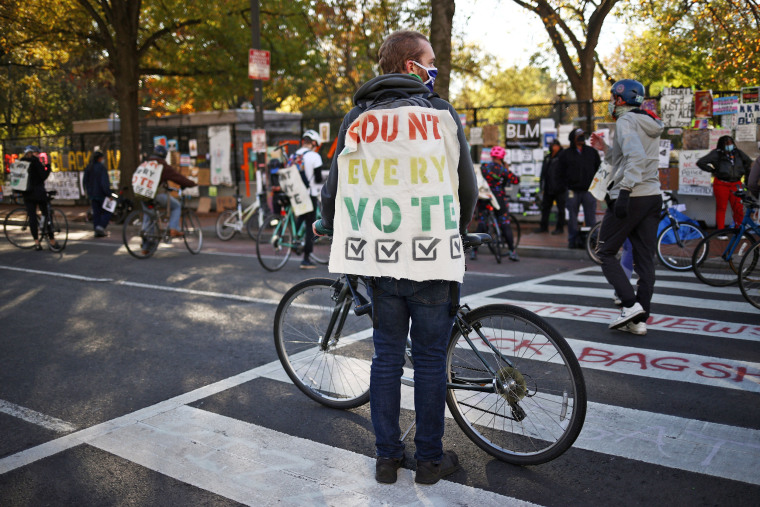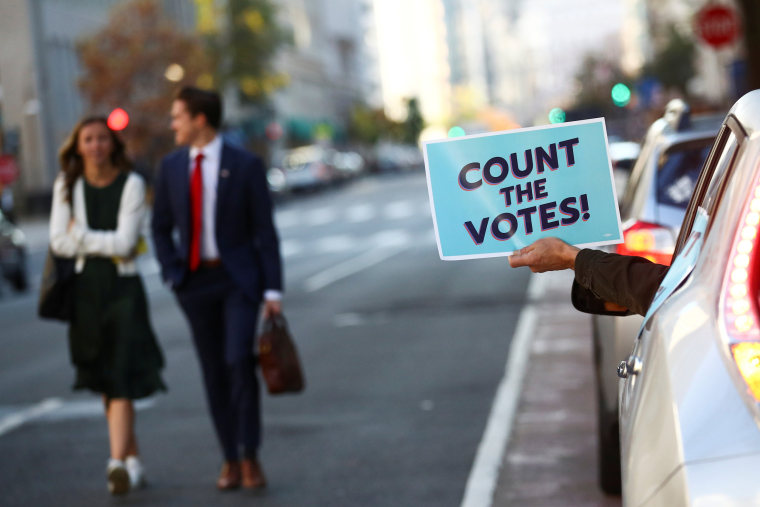 62,000 outstanding ballots in Georgia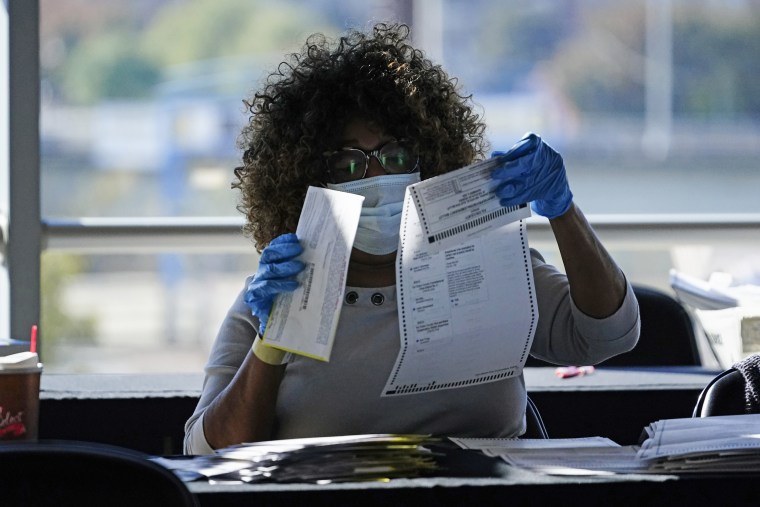 There are 62,000 outstanding votes in Georgia, the secretary of state's office told NBC News on Thursday.
Secretary of State Brad Raffensperger is holding a press conference later Thursday morning.
This race is still too close to call.
FIRST READ: Is it time to rethink how we conduct and cover our presidential contests?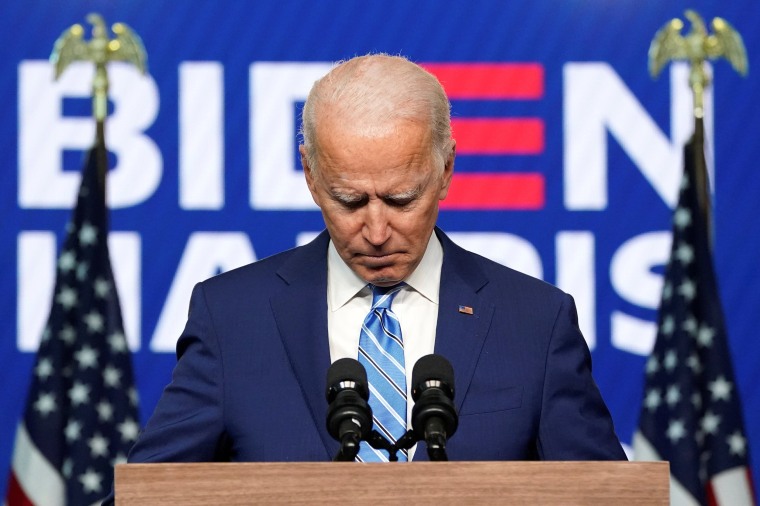 With Joe Biden on the cusp of 270 electoral votes, it's time to discuss the political institutions and instruments that the 2020 cycle broke — or demonstrated once again that they were already broken.
The Iowa caucuses. (Remember that botched count?)
The supposed importance of the first three nominating contests (Biden lost them all, but he seems headed to the White House).
The polls (especially of the state battlegrounds).
The exit polls (they again were a mess).
All of the Twitter pundits (who didn't necessarily reflect the views of Democratic primary voters), plus all of the online misinformation.
And the Commission on Presidential Debates. (Remember when Trump pulled out of the second debate?)
(There's also an Electoral College system that doesn't exactly match the popular vote, but that can only change via a constitutional amendment).
All of these institutions and instruments were created in the 20th century — except Twitter, of course — and they became essential parts to how America practices politics. But they no longer seem fit for our modern times.
With all eyes on Philadelphia, a calming livestream looks inside the process
It's coming down to the wire in Pennsylvania, with votes cast in an around Philadelphia key to the election outcome. 
So what's it like on the inside where the votes are being processed? The Philadelphia City Commissioners Office has a surprisingly zen livestream offering a look inside.
Trump's gains among Latino voters shouldn't come as a surprise. Here's why.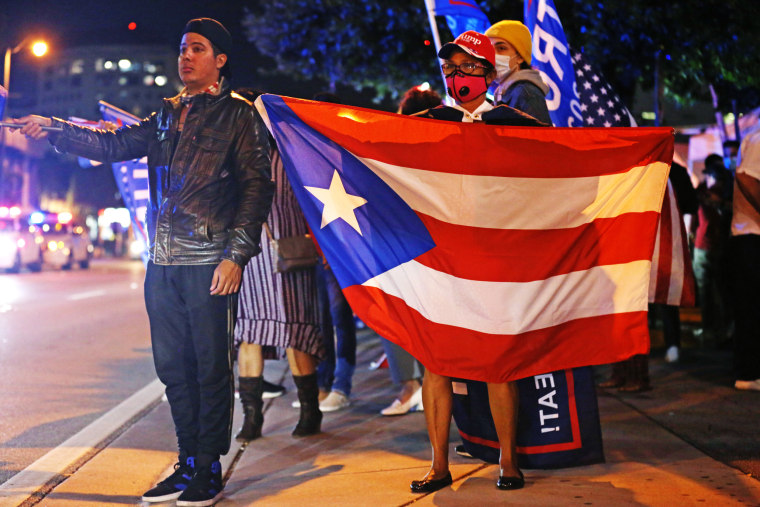 SAN ANTONIO — Robert Gonzalez hoped to help Donald Trump get to the White House by waving a large Trump-Pence flag outside a polling site Tuesday. This predominantly Latino city backed Joe Biden, but Trump won the state.
"He's not a career politician," Gonzalez said of Trump. He was saddened that businesses in the Riverwalk downtown — a heavy tourist area — had been boarded up because of the pandemic. Trump would bring economic recovery, he said.
As Americans woke up Wednesday to a still-undecided presidential race, some were stunned by Trump's gains among Latino voters in the battleground states of Texas and Florida, which he won. In Texas, 41 percent to 47 percent of voters backed Trump in several heavily Hispanic border counties in the Rio Grande Valley region, a Democratic stronghold. In Florida, Trump won 45 percent of the vote, an 11-point improvement on his 2016 performance.
But the diverse Latino electorate has a record of backing Republicans in some parts of the country, with some segments commonly identifying with Republican messages about the economy and social and political issues.
Explore the potential paths to 270 as the campaigns await final battleground tallies
The 2020 campaign is down to the last six states. The outcomes in these states will determine which candidate is elected president. Explore the potential remaining paths to the White House with our Road to 270 map. 
Use NBC News' interactive Road to 270 map to chart what paths remain to the presidency for each candidate.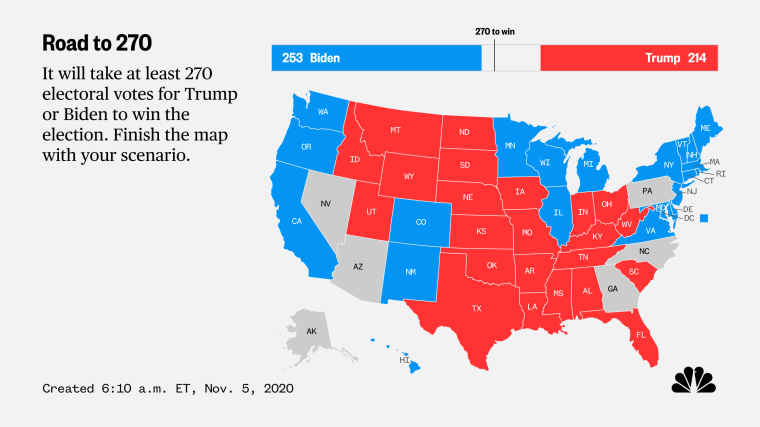 Why Texas remains a Republican stronghold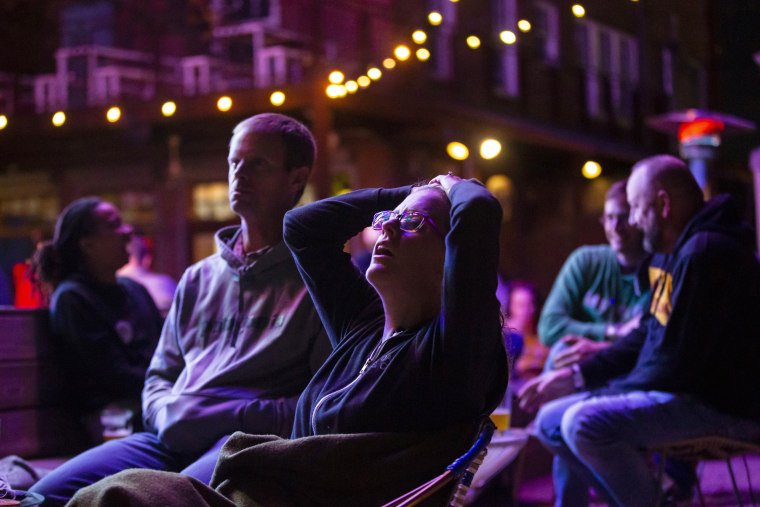 HOUSTON — As polls closed in Texas on Tuesday night, dozens of young liberals crowded onto the patio of a bar in Houston's eclectic Midtown neighborhood, hoping to see history being made.
For weeks, polls showed an unusually tight presidential race in Texas, raising the possibility that Joe Biden might become the first Democrat to win the state since 1976. At Axelrad Beer Garden, voters said they saw the record-setting turnout in left-leaning Harris County as a reason for hope.
"I'm trying not to set my expectations high, so if somehow we flip that will be an exciting surprise," Serma Malik, 36, said.
Then the results started coming in, and the hope faded.
Analysis: Trump thinks he's losing. Just listen to him.
President Trump sounds like a man who knows he's losing, even though it will take time to sort out the final vote counts in key electoral battlegrounds.
Speaking from the White House early Wednesday morning, Trump falsely declared that he was winning. And then he said the election is "a fraud on the American public" and an "embarrassment to our country." In case it wasn't obvious that he is desperately worried, he said he wants state officials to stop counting ballots midstream.
Oh, and he vowed to sue to overturn the results, despite calling himself the winner.
His speech Wednesday will surely be remembered as a low point for both the concept of democracy and the practice of republicanism. For the moment, Trump's tack represents two significant developments in the purgatory-is-hell story of the 2020 election.
Trump's high-stakes, swing-state legal blitz: Where his campaign says it's suing, and why
Trump, speaking from the White House around 2:30 a.m. ET Wednesday, made it clear he'd fight in court to aid his re-election, falsely claiming he had already won though no winner had been declared and while millions of ballots were still being counted.
Here's a breakdown of where Trump and other Republicans are suing, and to what end.