President-elect Joe Biden and Vice President-elect Kamala Harris, delivered a message of unity and healing to a divided nation during their victory speeches in Wilmington, Delaware, on Saturday night hours after the Democratic ticket was announced as winners of the 2020 presidential election — news that sparked impromptu street celebrations around the country.
Meanwhile, President Donald Trump vowed Saturday to press forward with a legal fight, pushing unfounded claims of voter fraud in response to the news that came while he was at his Virginia golf club.
This live coverage has ended. Continue reading election news from November 9, 2020.
Check here for more on the presidential results.
How Black voters in key cities helped deliver the election for Joe Biden
ATLANTA — In the way that one could on election night 2020, LaTosha Brown was making the rounds.
Between bites of food and watching election returns turn bits of the national map red or blue, Brown juggled calls, internet video sessions and texts, in each countering the conventional wisdom with journalists, political operatives and others that the election would come down to Donald Trump's mythical all-white suburbs filled with stay-at-home moms or Joe Biden's ability to convert them. Instead, it was decided in racially diverse urban centers and increasingly diverse suburbs in Pennsylvania, Michigan, Wisconsin, Nevada, Arizona and Georgia.
The Black people who make up 39 percent or more of the population in those areas chose Biden, with some exceptions. In fact, once the vote counts from Philadelphia, Detroit, Milwaukee and Atlanta started to near completion, Trump's lead in their respective states disappeared. Biden — who would not have been the Democratic presidential nominee without Black voters in South Carolina — reached 270 Electoral College votes in large part because of Black voters in these cities.
Click here for the full story. 
In first days in office, Biden to sign executive orders reversing Trump actions
WILMINGTON, Del. — A senior campaign official for President-elect Joe Biden confirmed Saturday night that Biden will make good on his longstanding promise to immediately sign a number of executive orders aimed at reversing several of President Donald Trump's unilateral actions.
The Washington Post reported Saturday on a flurry of executive actions Biden has planned for his first days in office — most already announced through various policy rollouts made during the long campaign. Those actions will include rejoining the Paris climate accords and reversing Trump's withdrawal from the World Health Organization, the Post reported, citing those close to his campaign and commitments he has made in recent months.  
Biden will officially launch his transition on Monday and will name his coronavirus task force, which he mentioned in his acceptance speech.
"Folks our work begins with getting Covid under control…on Monday I will name a group of leading scientists and experts as transition advisers to help take the Biden-Harris Covid plan and convert it into an action blueprint that will start on January 20th 2021," Biden said Saturday night.
Marianna Sotomayor, Deepa Shivaram, Amanda Golden, Molly Roecker, Elyse Perlmutter-Gumbiner, Gary Grumbach and Winston Wilde contributed to this report.  
ANALYSIS: Biden won. Now comes the unimaginably hard part.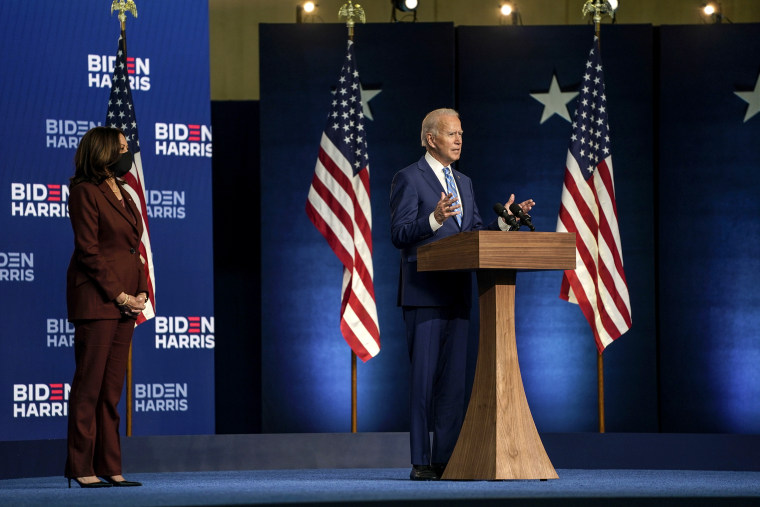 The good news for President-elect Joe Biden is that he defeated Donald Trump. The bad news is he has to preside over an angry and polarized nation, a broken Congress, and the continuing economic and public health crises posed by the coronavirus.
He has promised to unify the country, a brutal task that will require him to manage the expectations of the left wing of his own party and the anger of defeated Republicans. And to enact his legislative agenda, he will have to satisfy a Senate that may be led by Majority Leader Mitch McConnell, R-Ky., depending on the outcome of remaining races, as well as a House led by Speaker Nancy Pelosi, D-Calif. The political bases of both sides are suspicious of anything that unites them.
That's why many political insiders say Biden will only be successful if his presidency matches a campaign in which he rejected the most extreme proposals of fellow Democrats and embraced coalition-of-the-willing Republicans.
"It's going to be a difficult environment," Doug Heye, a former leadership aide on Capitol Hill who backed Biden, said. "He may be the best-suited person to get anything done."