Preparations for President-elect Joe Biden's inauguration continued Wednesday amid a heavy security presence in Washington, with the areas around the Capitol and downtown streets closed to the public and tens of thousands of National Guard troops mobilized in a massive show of force.
In a major departure from previous inaugurations, most of the events were already planned to take place virtually because of the coronavirus pandemic. In a sign of the anxiety gripping Washington following the riot at the Capitol by a pro-Trump mob earlier this month, the building was briefly on lockdown and its west front, where a rehearsal for Wednesday's inaugural ceremony was taking place, was evacuated Monday after a "small fire" under a nearby bridge prompted an announcement of a security threat.
On Tuesday evening, Biden and Vice President-elect Kamala Harris will speak at a ceremony at the Lincoln Memorial Reflecting Pool to commemorate the over 400,000 Americans who have died from Covid-19. A field of flags has been placed on the National Mall, representing those unable to attend the inauguration because of the coronavirus. The inauguration comes as the Senate prepares to try President Donald Trump on one article of impeachment for urging thousands of supporters to march on the Capitol on Jan. 6.
This live coverage has ended. Continue reading inauguration news from Wednesday, Jan. 20, 2021.
Read the highlights:
— Viewers' guide to Biden's Inauguration Day: Everything you need to know.
— Texas man who stormed Capitol accused of threat to shoot children if they turned him in.
— Trump to lift some Covid travel restrictions, a move Biden quickly rejects.
— Four years of capturing Donald Trump.
— By the numbers: A statistical look at Trump's four years in office.
Four years of capturing Donald Trump
The rampage that swept through the U.S. Capitol on Jan. 6 produced a visual record unlike anything in recent memory. 
The scenes were unreal: a congressman comforting his colleague while both took cover, a horned and shirtless man screaming in the Senate, rioters scaling the walls outside, to name a few.
Both inside and outside, photographers navigated chaos to chronicle the moment, making historic photographs along the way.
The story of Jan. 6 is an extension of the Trump presidency itself, and in its waning days, it's worth looking back at how photographers have documented his presidency and pushed the bounds of political photography.
Covid relief, economic stimulus, immigration: What to expect in Biden's first 100 days
President-elect Joe Biden's first days in office will be dominated by crisis: the coronavirus pandemic and economic emergency it caused, as well as the fallout from the deadly Capitol riot as his predecessor faces a Senate impeachment trial.
Biden frequently talks about the need to use the first 100 days, which have typically been a honeymoon period for new presidents, to make significant progress on the challenges facing the country, but the inability to find bipartisan cooperation may hamstring him before he takes the oath of office.
Biden said last week that the country is in a "crisis of deep human suffering in plain sight" when he outlined a $1.9 trillion funding bill that he has asked Congress to pass quickly.
The Senate already has a busy schedule. Lawmakers will have to find time to debate a funding bill, confirm Biden's Cabinet nominees and deal with the article of impeachment passed last week in the House. A trial could start as soon as Inauguration Day.
NBC News poll: Biden takes the helm of a polarized, pessimistic and pained nation
When Joseph Robinette Biden Jr. takes the oath of office to become the country's 46th president Wednesday, he will face an increasingly polarized, pessimistic and pained nation, according to numbers from the latest national NBC News poll.
More than 7 in 10 voters believe the country is on the wrong track, another 7 in 10 think the next four years will remain politically divided, and a majority say they are mainly worried and pessimistic about the nation's future.
Overall, voters give Biden positive marks for his handling of a transition rocked by an outgoing president who refused to concede his defeat and who falsely claimed widespread fraud and voting irregularities, by a violent attack at the U.S. Capitol in protest of the election results, by an unprecedented second impeachment of his predecessor and by the deaths of more than 170,000 people in the U.S. from Covid-19 since Election Day.
But a majority of all voters don't have high confidence in Biden's goals, policies and personal characteristics, and a plurality of Republicans aren't inclined to compromise with him.
Texas real estate agent on Capitol riot: 'I'm glad I was there'
Jenna Ryan says it all began with an invitation from a "very cute guy" on Facebook: Would she join him on a private plane to the Jan. 6 Trump rally in Washington, D.C.?
The decision was easy. Ryan, a Dallas-area real estate agent, is single, loves President Donald Trump and believes the discredited claim that the election was riddled with fraud.
But the trip didn't have a happy ending.
Within 48 hours of her return to Texas, social media posts made by Ryan, who livestreamed herself entering the U.S. Capitol with a mob of Trump supporters, were being shared with the FBI, and she would soon become the target of a federal investigation.
Biden readies sweeping rollback of Trump-era abortion crackdown
President-elect Joe Biden is poised to roll back several of the Trump administration's most restrictive sexual and reproductive health policies, including limits on abortion.
Reproductive rights advocates expect Biden to quickly overturn Trump-era rules, like banning federal funds for foreign and national health organizations that promote and provide abortion and giving employers more freedom to deny free contraceptive coverage for their workers.
"We have a ton of work to do to undo the harm over the last four years, but knowing we have champions there who understand what needs to happen in the first 100 days is tremendously exciting," said Alexis McGill Johnson, president and CEO of Planned Parenthood.
Capitol rioter plotted to sell stolen Pelosi laptop to Russian intelligence
A Pennsylvania woman accused of being one of the Capitol rioters told a former "romantic partner" she planned to steal a laptop computer from House Speaker Nancy Pelosi's office and sell it to Russian intelligence, court documents revealed Monday.
Riley June Williams was charged with disorderly conduct on Capitol grounds with the intent to disturb a session of Congress and other charges after her former flame turned her in.
William's ex, who was described in Special Agent Jonathan Lund's charging document as W 1 (witness one), called the FBI and told them she "intended to send the computer device to a friend in Russia, who then planned to sell the device to SVR, Russia's foreign intelligence service."
Off the grid, heavily armed and radicalized: He's a law enforcement nightmare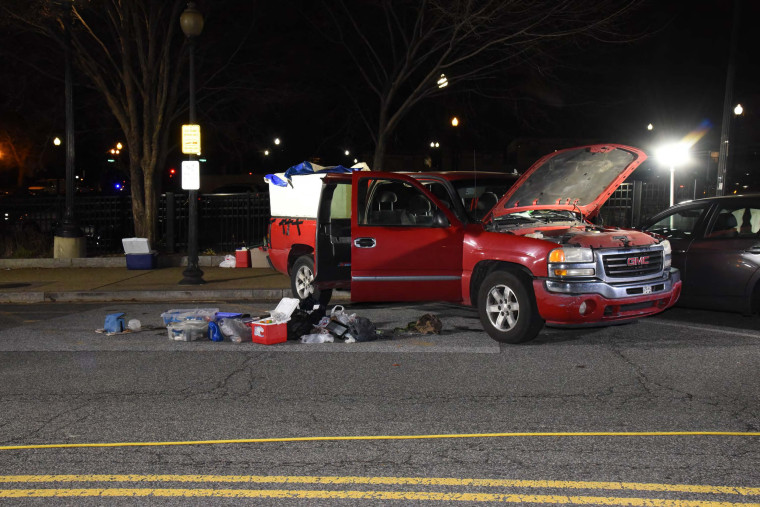 Lonnie Coffman, the man accused of driving a pickup truck filled with Molotov cocktails and other deadly weapons to the nation's capital, lives in a brick ranch house in the backwoods of Alabama.
Coffman had no criminal record. No apparent social media accounts. And no city officials or law enforcement in the area had ever come into contact with him.
"I don't know him, never heard of him and I haven't heard of anybody that did know him," said Ken Winkles, mayor of the 1,300-person town of Falkville, where Coffman's mail is delivered.
The 70-year-old Alabama man with no criminal history or known extremist ties represents the worst nightmare for law enforcement, experts say — an apparent lone wolf who operated completely under the radar.
'Small fire' prompts brief shutdown of Capitol, evacuation of inauguration rehearsal participants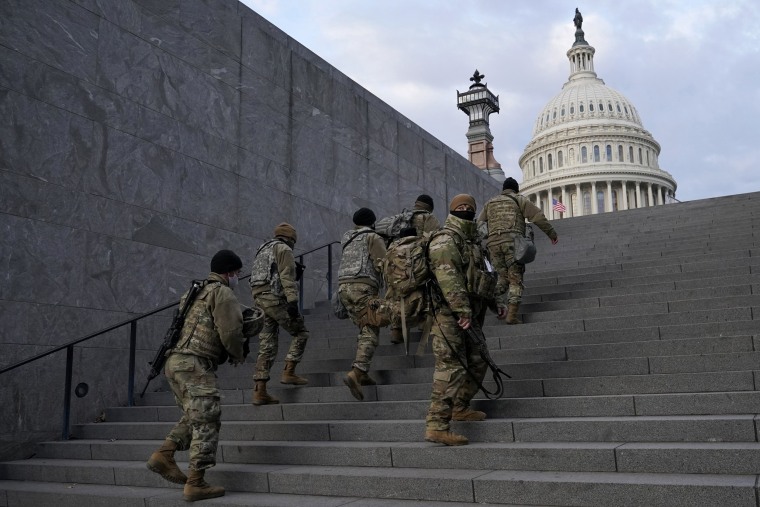 A "small fire" under a nearby bridge prompted the temporary shutdown of the U.S. Capitol complex and the evacuation of the west front of the building, where a rehearsal for Wednesday's inaugural ceremony was underway Monday.
"Public safety and law enforcement responded to a small fire in the area of 1st and F streets SE, Washington, D.C. that has been extinguished," the Secret Service tweeted. "Out of an abundance of caution the U.S. Capitol complex was temporarily shutdown. There is no threat to the public."
Yogananda Pittman, acting chief of Capitol Police, acted out of "an abundance of caution following an external security threat under the bridge on I-295 at First and F Streets," and ordered a shutdown of the Capitol complex, according to a statement from Capitol Police.