Thanks for following our live coverage of a very policy-filled evening in Miami during Night One of the Democratic debate. Our live blog will be back around 6 p.m. ET Thursday with coverage of the second group of 10 candidates on Night Two of the debate, hosted by NBC News, MSNBC and Telemundo.
Download the NBC News app for full coverage of both nights of the first Democratic debate.
Fact check: The top 1 percent control 90 percent of the wealth
This is false. The top 1 percent actually controls about 40 percent of the nation's wealth, according to a 2017 paper by economist Edward N. Wolff who used data from the federal Survey of Consumer Finances.
Ryan may have been to be trying to reference a surprising stat from that same paper: the fact that the top 1 percent of American households own more wealth than bottom 90 percent.
CORRECTION (JUNE 27, 12:34 a.m. ET): An earlier version of this article misquoted Rep. Tim Ryan in one reference to wealth, which changes the assessment of his statement from true to false. He said that the top 1 percent of American households controls 90 percent of the nation's wealth; he did not say that the top 1 percent of American households owns more wealth than the bottom 90 percent. (His statement is false, according to a 2017 paper by economist Edward N. Wolff that found that the top 1 percent controls about 40 percent of the nation's wealth.)
Top-tier candidates put economic inequality in the crosshairs
In their opening answers, top-tier contenders Elizabeth Warren, Cory Booker and Amy Klobuchar took dead aim at economic inequality and what they characterized as a financial system that favors the rich and leaves struggling working-class families behind.
Warren, who has called for the most dramatic and sweeping financial reforms, including a new tax on wealth, blasted an economic order that she says has been rigged for the wealthy and powerful.
Klobuchar, asked to respond to Warren's free college plan, said: "I do get concerned about paying for college for rich kids. I do."
Booker, for his part, lamented corporate consolidation and suggested America's biggest firms should be broken up with antitrust enforcement.
The backdrop for all this economic populism: President Trump regularly touts a strong economy, but the Democratic contenders want to put the focus on working-class Americans who they say have been forgotten.
Booker reacts to Beto speaking Spanish
Fact check: de Blasio touts progressive achievements in New York. Can he take the credit?
"We've been addressing income inequality in New York City by raising wages by raising benefits by putting money back in the hands of working people. 15 dollars minimum wage. Paid sick days. Pre-K for all. Things that we're doing are making a huge difference in working people's lives," de Blasio said.
De Blasio has certainly talked about getting a lot of progressive things done. And while he definitely has, many other key progressive policy accomplishments have come as a result of action by Albany, not City Hall. 
For example, implementing a $15 minimum wage in New York City for most businesses — while championed by de Blasio — was the product of a statewide roll-out of increased minimum wages.
On the other hand, de Blasio's signature campaign promise back in 2013 was providing universal pre-kindergarten, and funding it with a tax for the city's super-wealthy. He enacted universal pre-K — and it's wildly popular — but not with a wealth tax, which Democratic Gov. Andrew Cuomo would not sign off on. Cuomo, however, found other state funds to pay for the program, which has grown to cover 3-year-olds in recent years.
In 2014, de Blasio signed into law a bill that required employers with at least five workers to offer five paid sick days a year. And in January, de Blasio released a plan that would guarantee 10 days of paid vacation for nearly all workers in New York City and another plan that would help workers save for retirement.
What the candidates are wearing
The candidates walked out onto the stage wearing either purple (Warren's jacket, De Blasio's tie), red (Booker's tie, Klobuchar's shirt, Gabbard's jacket) or blue (ties of Ryan, Castro, Delaney, O'Rourke).
But Inslee, whose campaign is focused on climate change, is wearing a green tie.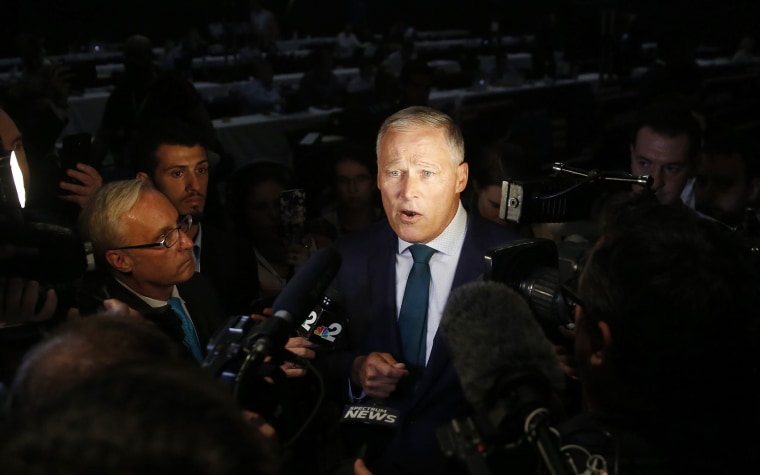 Buttigieg takes the stage tomorrow, but his city is in the news tonight
Democratic presidential candidate Pete Buttigieg, the 37-year-old two-term mayor of South Bend, Indiana, doesn't take the stage until Thursday night. But he has made headlines in recent days amid unrest in his city over the fatal shooting of a black man by a white police sergeant.
In the latest development, the family of the shooting victim — 54-year-old Eric Jack Logan — filed a lawsuit Wednesday against the police officer and the city in federal court, according to The Associated Press. The lawsuit accuses Sgt. Ryan O'Neill of using excessive deadly force when he shot Logan on June 16. The suit also names the city of South Bond as a defendant, but it does not name Buttigieg, the AP reported.
The public outrage over Logan's death has threatened to overshadow Buttigieg's presidential ambitions, potentially halting his meteoric ascent from obscure Midwestern mayor to top-tier contender. He faced shout-downs, heckling and profanity at a contentious town hall over the weekend.
But in almost 20 interviews across South Bend this week, most locals offered more muted and even-handed criticism of their mayor, and some applauded him for taking a break from the campaign trail to focus on the crisis back home. In conversations, many African American residents expressed far more anger about long-standing issues of racial injustice and economic inequality in their town.
"It didn't start with Pete," one lifelong resident of the city told NBC News.
Trump buys out the YouTube homepage ahead of debate
The president's campaign isn't taking the night off.
Ads from Donald J. Trump for President Inc., the president's official re-election committee, are showing up on the homepage for YouTube.
The Google-owned video platform is one of the most visited pages on the internet, making its homepage banner particularly valuable real estate. Earlier today, Trump railed against Google and other tech companies, claiming that they are "full of Democrats."
It's heating up in Miami
The candidates won't need to do much to warm up in Miami.
According to John Morales, chief meteorologist at WTVJ, the NBC News affiliate in Miami, the city has experienced four consecutive days of record heat.
We'll see if any candidate brings it up in reference to global warming...
Will Dems bare their FANGs?
Back in April 2016, the last time the Democrats held a presidential debate, tech companies were still on the good side of the public and most of Washington.
A little more than three years later, American tech giants are the subject of a full-on political barrage from regulators, elected officials and presidential hopefuls. Elizabeth Warren, D-Mass., led the charge with a call to break up some of the so-called FANG companies — Facebook, Amazon and Google (not so much Netflix) — and to create new rules that prevent them from using their power to hurt smaller competitors.
The Democrats have plenty to talk about, but tech policy very well could end up a talking point tonight, particularly as the debaters look to differentiate themselves on a crowded stage.
Can a meme fulfill candidates' dreams?
Amanda Carpenter, a former staffer for Sen. Ted Cruz, makes a good point — could the winner of tonight's debate be up to the internet?
And in particular, could it come down to the most meme-able moment?
We've already seen the power that the internet has in driving the media cycle and elevating its favorite candidates, especially Andrew Yang and his Yang Gang.
Inside the RNC's Democratic debate rapid response effort
RNC deputy communications director Cassie Smedile talks to NBC News about the GOP efforts during the Democratic debates.
Hoping to stand out (and stand tall), three candidates will use risers
With 10 candidates on stage Wednesday night, it may be hard for some to rise to the occasion. 
But luckily, the candidates can use risers. And three are taking advantage of that. 
NBC News took a look behind the lecterns ahead of Wednesday night's debate and spotted a large riser behind Julián Castro's spot and two smaller ones behind Tulsi Gabbard's and Amy Klobuchar's spots.
They could come in handy, especially for Castro, who will be standing next to the 6-foot-4 Tim Ryan and one more spot over from the 6-foot-5 Bill de Blasio — a trait the New York City mayor has admitted he'll use to his advantage. 
Asked earlier this month by reporters in Iowa how he planned to stand out at the debate, he replied, "Well, I'm taller than all of them, so that's the first strategy."
The candidates and the issues: A brief guide
The stage is set for night one of the debates. Here's a primer on the candidates and the issues.
Scenes from the debate
NBC News politics reporter Jon Allen checks in with some scenes outside the debate hall, complete with an array of supporters, protesters, and more.
Trump will watch first debate, but he doesn't want to
President Donald Trump plans to watch the first of the Democratic debates Wednesday night while on a plane headed for the G-20 summit in Japan — but he's not looking forward to it.
"It just seems very boring, but I'm going to watch it because I have to," he said Wednesday morning during an almost 50-minute live phone interview on Fox Business Network. "This is part of my life."
He continued to downplay the Democrats during the phone call, casting the candidates as a "very unexciting group of people."
The president stopped short of saying he planned to live-tweet during the debate, and the only challenger he mentioned by name was Biden, calling him "a lost soul."
Here are the rules for the first debate
Politicians tend to be long-winded, but brevity will be the name of the game on the crowded stage tonight. Candidates will have 60 seconds to answer questions and 30 seconds to respond to follow-ups. And there will be no opening statements, though candidates will have a chance to deliver closing remarks.
With so many candidates, there's only so much time to go around.
"It's a little bit of exaggeration calling it a debate," former Vice President Joe Biden, who hits the debate stage Thursday night, joked in Iowa earlier this month. "It's like a lightning round."
For many lesser-known candidates, the debates will their first chance to introduce themselves to a larger national audience, so they know they have to try to pack a lot into a small amount of time. And for some better-known candidates, it might mean having to defend controversial policies or parts of their records quickly in order to give them enough time to try to finish with something positive.
How candidates have been preparing: pushups, videos, brevity
They have to introduce themselves to the country, contrast themselves with the other candidates, make the case for why they should be the next leader of the free world and not make any embarrassing mistakes — and their campaigns estimate they'll each have about 10 minutes to do so.
Here's a look at how the 10 candidates participating in the first night of the Democratic debate prepared for the main event.
Julián Castro just needs to 'be himself'
Rep. Joaquín Castro, D-Texas, says the best thing his twin brother, 2020 Democratic presidential candidate Julián Castro, can do at tonight's debate is "be himself."
"People quite honestly still need to get to know him. There's still a large percentage of people who don't know who he is," Castro told NBC News ahead the first Democratic presidential debate Wednesday night. 
"He's been a leader on so many issues during his campaign: on immigration, on police reform, on housing," he said, responding to a question about how brother will differentiate himself on a stage with nine other candidates. "He's going to continue to be a candidate of great substance and continue to talk about building opportunity for all Americans."
Castro also said his brother will talk directly to Latinos watching the debates.
"This president has really targeted the Latino community and immigrants. There will be millions of Latinos watching tonight, and I think they want to hear they are fundamentally part of the country, which they are, and how this country creates opportunity for everybody," said Castro, who along with his brother is of Mexican descent. "My brother Julián is going to be talking about that."
Can Beto O'Rourke hold his ground?
Beto O'Rourke's critics say there's not much steak with his sizzle and they've bristled at the attention he got early in the campaign when women senators with longer records of accomplishment were ignored by comparison. The former Texas congressman's supporters say he can go deep on policy with anyone and point to recent proposals as evidence.
Now, standing between Elizabeth Warren and Amy Klobuchar, he'll literally be between two sharp-witted women with unquestioned command of substance.
If O'Rourke looks like he belongs, that'll be a victory of sorts for him. But there's a chance they strip the bark off him just by being themselves.
DNC chair Tom Perez addresses Gov. Steve Bullock's absence at first debate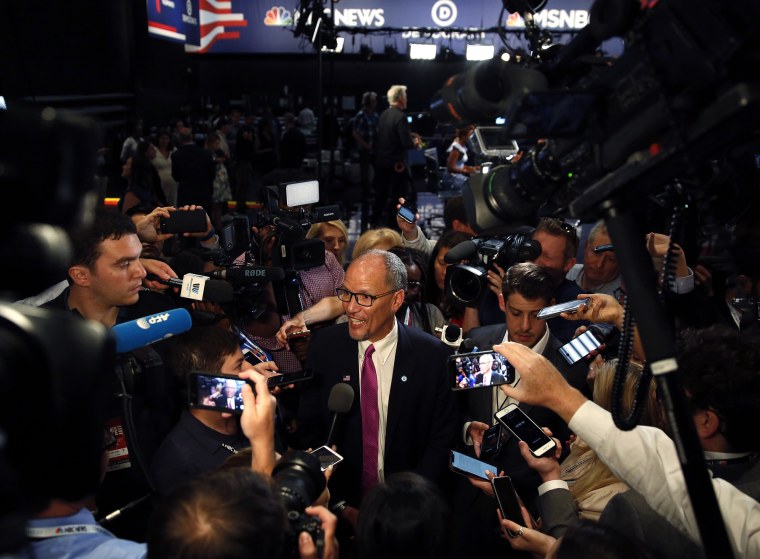 Just hours ahead of Wednesday's Democratic primary debate in Miami, Democratic National Committee chairman Tom Perez said that it "wouldn't surprise me at all" if Montana Gov. Steve Bullock qualified for the next debate but said he couldn't have changed the rules to allow the red-state governor onto the initial stage.
"Wouldn't surprise me at all if Gov. Bullock is on stage at the next debate because he's a great candidate who has a remarkable vision," Perez said. "You can't change the rules midway because I like someone. I like Gov. Bullock a lot and that's not a reason to change the rules you put forth and everybody follows."
Bullock did not qualify for the initial debate after he failed to hit either the polling or donation standard set by the DNC. He had hoped that a Washington Post/ABC poll would count toward his qualification, but the DNC said that poll would not count in its decision-making.
Instead of partaking in the debate, Bullock is holding a televised town hall in Iowa.
Perez was also asked if he was concerned about any of the Democratic candidates on Wednesday's stage going after each other in an attempt to boost their own candidacy. Perez said he expects that "everybody is going to make sure people know what they stand for.
What to watch for at tonight's debate
Ten candidates — led by Elizabeth Warren, Beto O'Rourke, Amy Klobuchar and Cory Booker — will participate tonight beginning at 9 pm ET. And the second 10 — led by Joe Biden, Bernie Sanders, Kamala Harris and Pete Buttigieg — go on Thursday.
Tonight, we'll be watching how Warren handles being the night's frontrunner. The Massachusetts senator has been moving up in the polls. And without Biden or Bernie on the stage, she's the star attraction — at least on paper. Maybe Warren's biggest task is handling the high expectations.
But who else will break through, Beto, Booker or Klobuchar? Will it be O'Rourke, who has seen his star fade since his entry in March? Or Booker, who really hasn't had a moment so far in the 2020 race? Or Klobuchar, who often stands out when she's on TV.
Six other candidates are on tonight's debate stage, and they're vying to survive the higher qualifications before September's third debate(s): Washington Gov. Jay Inslee, former HUD Secretary Julian Castro, former Rep. John Delaney, Reps. Tulsi Gabbard and Tim Ryan, and New York City Mayor Bill de Blasio.
How to watch tonight's debate
The network is offering almost as many ways to watch the debates as there are candidates.
The debates begin at 9 p.m. ET and end at 11 p.m. ET Wednesday and Thursday night, with 10 candidates on each night.  Both two-hour debates will be moderated by Savannah Guthrie of "Today," Lester Holt of "Nightly News," Jose Diaz-Balart of Telemundo and NBC, Rachel Maddow of MSNBC and Chuck Todd of "Meet the Press."
NBC News, MSNBC and Telemundo are airing the debate live, with Telemundo broadcasting it in Spanish. It will also stream online for free on NBC News' digital platforms, including NBCNews.com, MSNBC.com, the NBC News Mobile App and OTT apps on Roku, Apple TV and Amazon Fire TV, in addition to Telemundo's digital platforms; it will also stream live and in full on Facebook, Twitter and YouTube.
NBC News NOW, the new streaming news service available through NBC's OTT apps and NBCNews.com, will host an hour-long pre-show and post-show each night, featuring conversations from a student viewing party, a panel of experts, explainers and analysis.
Welcome to tonight's liveblog
Welcome to NBC News' liveblog of the first Democratic presidential debate! This is the first night of a two-night event. We'll be live-streaming the full debate here and providing recaps of all the highlights as well as fact checks, real-time reaction and analysis as the 10 candidates on stage go head-to-head tonight starting at 9 p.m. ET.