NBC News' live blog tracked the fifth Democratic primary debate of the 2020 presidential election cycle, co-hosted by MSNBC and The Washington Post.
With the impeachment inquiry into President Donald Trump taking center stage,the 2020 candidates clashed over their visions to replace him. South Bend, Indiana, Mayor Pete Buttigieg escaped unscathed after it was expected he'd draw heavy fire as the newly minted front-runner, while former Vice President Joe Biden stumbled with gaffes on women, marijuana and race.
Catch up quickly via our analysis and fact checks, and get a look at who came out swinging via our attack tracker. Or, see how the night unfolded below.
First question is about impeachment
Noting that tonight's debate comes just hours after a jampacked day of public testimony in the House Democrats' impeachment inquiry, the first question directed at the candidates, aimed at Sen. Elizabeth Warren, D-Mass., was about whether she'd try to convince her colleagues in the Senate that President Donald Trump deserves to be convicted, if the House impeaches him.
"Of course I will," she said.
Candidates arrive on stage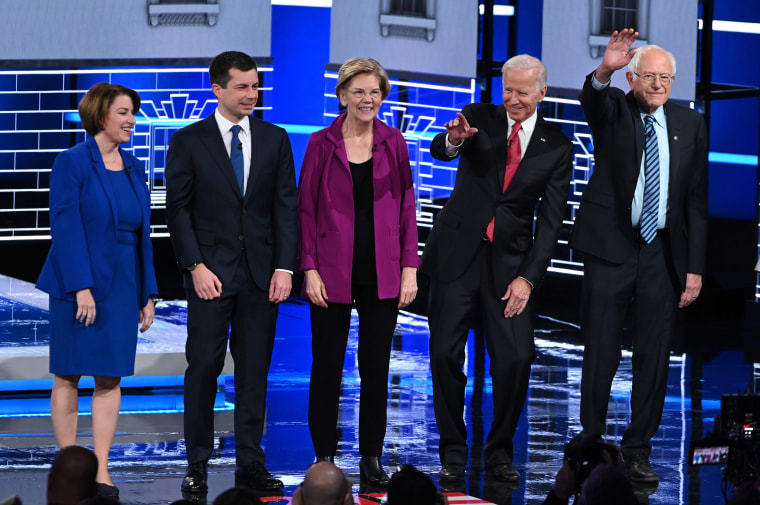 Biden says 'battle for the soul' of the nation is about more than Trump
Ahead of tonight's debate, Biden has tweeted a thread outlining exactly what he means when he says America is in a "battle for the soul of this nation."
It's a development we've seen on the campaign trail in recent weeks where Biden has said that the battle isn't just one about defeating President Donald Trump, but a personal battle for those facing economic hardships. 
In tonight's thread, he goes further saying the "soul of the nation" means improvement on different fronts and how he is the only one who can get that done — a good preview of what he's expected to say tonight. 
Ariana Grande: 'Thank u, vote'
You can add Ariana Grande to the list of celebrities "feeling the Bern."
The Sanders campaign tells NBC News that Grande and her mother, Joan, met with the senator and his wife before Grande went on stage at State Farm Arena in downtown Atlanta Tuesday night. 
The campaign says Sanders was "super impressed" with her work registering young people to vote. According to Grande's post on Twitter, her team has registered more than 20,000 young people to vote at her concerts.
Grande has been politically active all year. In July, she attended a California fundraiser for Sen. Kamala Harris at music producer Scooter Braun's house.  
Booker and Harris pause for a selfie
The student debt crisis and what Democratic candidates propose doing about it
Student debt has surged in recent years and now stands at over $1.6 trillion.
Some Democrat candidates are proposing tuition-free public college and canceling student debt, while others are offering more limited benefits. Critics say many of the initiatives would benefit disproportionately better-off Americans.
Dance dance, revolution?
Buttigieg is proving once and for all that "Boomer" isn't just a generation, it's a state of mind.
Videos have flown around the internet in recent days featuring a choreographed dance being performed by his supporters. It's set to "High Hopes" by Panic! At the Disco. 
The dance has also triggered something of a backlash on the teen-heavy TikTok, where young politicos are using it to critique Buttigieg's centrist positions.
Viewer discretion advised.
Debate-goers are submitting their Election Confessions
Ahead of the debate, people submitted their confessions about the 2020 candidates live from Atlanta. See the most recent confessions and share your own.
As the Democratic debate draws attention to Georgia, Stacey Abrams fights for voters' rights
Stacey Abrams won't be on the debate stage when the Democratic presidential candidates face off in Atlanta on Wednesday, but that doesn't mean she won't be playing a role in the 2020 elections.
Since Abrams' loss to Republican Brian Kemp in the Georgia governor's race last year, she's worked to combat voter suppression, which Abrams alleges cost her the race. Ahead of the presidential election next year, Abrams is using her political action committee, Fair Fight, to repair what she believes to be a broken voting system in her state.
"My reaction to the mismanagement and the malfeasance was to think about what could I do, not simply about my election, because that was over, but what work could I still do that would address the challenges that so many Georgians faced in that process?" Abrams told NBC News.
Yang says he misses Beto
College students join NBC News to help produce debate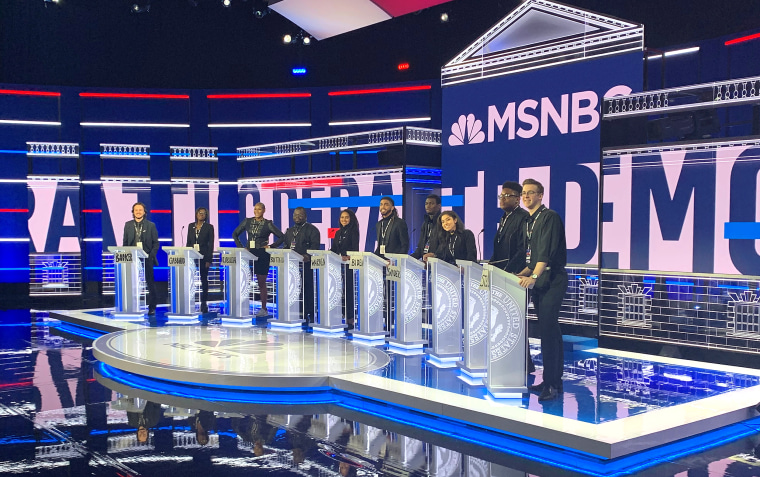 A group of 35 students from Georgia State University in Atlanta joined NBC News to help produce Wednesday night's Democratic debate.
Each student was selected by their professors to apply for the opportunity and underwent an interview process with both their professors and NBC.
The students, a mix of undergraduate and graduate students, were selected to portray candidate stand-ins during rehearsals, hand out credentials, and work behind the scenes to help NBC put on the broadcast.
David Howell, a junior journalism major and political science minor was tasked with playing Joe Biden during rehearsals. He said that he made sure to heavily prepare for the role beforehand,
"I did all sorts of research, the majority came from watching videos [of Biden in] prior debates and reading Twitter posts where he talked about policy," he said.
Kyle Smith, a graduate student working towards a master's of art and communication with a focus in digital media strategies, has been assisting with handing out credentials to members of the media. He said that he jumped at the experience due to the importance of the upcoming election.
"This is a huge election because our voice matters. We need numbers in order to make change happen in Georgia, which is primarily a red state," he said.
Noorma Ckhoul, a senior majoring in journalism with a political science minor, played one of the moderators.
She said that while "none of us really knew what we were getting into," the students ended up getting valuable public speaking and communications experience.
Ada Wood, a junior journalism major, said she was thrilled to have been selected to participate.
"I learned a lot about what it really takes to put on an event this big," she said. "All the hands and the people involved. All the technology."
Sanders shoots hoops ahead of debate
Julián Castro, ineligible for Democratic debate, stays visible in Atlanta neighborhood
ATLANTA — Even though he would not be onstage at the Democratic debate in Atlanta on Wednesday night, presidential candidate Julián Castro spent the morning in the city anyway touring a neighborhood founded by slaves whose residents are now fighting gentrification.
Castro, the former Housing and Urban Development secretary under President Barack Obama, toured the neighborhood, named Pittsburgh, that was founded in 1883, making it one of the oldest in the city and where many of the neighborhood's residents have lived for decades.
Although he joked he had gone to the neighborhood because that's where the media was, Castro said his visit was a continuation of what his campaign has been about.
"From the very beginning of this campaign, I've spoken out for the most marginalized, the people that have been forgotten, for the poor and not only the middle class, but people who are poor in this country and spoken out to make sure everyone can succeed, a country where everyone counts," Castro said. "And so we're going to go where we have the opportunity to deliver that message."
Why Buttigieg is struggling with black voters
Buttigieg may have won over many members of the mostly white political commentariat in New York and Washington, and recent polls of Iowa's overwhelmingly white electorate put him at or near the front of the crowded Democratic field there. But, at the start of October, a poll in The Charleston Post and Courier found Buttigieg had no black voter support in the state and just 4 percent support overall.
That has left two questions generating a stream of television commentary, social media memes and heated disputes. How much of Buttigieg's difficulty with black voters, and in many cases religious voters, is because of his sexuality? And, given that black voters make up about 20 percent of the Democratic Party's base nationwide, why is he still considered a serious contender for the nomination when he doesn't have black voters' support?
Single-payer activist Ady Barkan endorses Elizabeth Warren ahead of debate
Activist Ady Barkan endorsed Sen. Elizabeth Warren this morning ahead of the Democratic debate in Atlanta. Barkan shared his endorsement through an article in the Nation and on social media, saying that his choice was between Warren and Sen. Bernie Sanders.
"Elizabeth Warren is the individual who I believe would make the best president," he writes. Barkan interviewed several presidential candidates in video pieces that were highly shared on social media — his voice in the conversation on health care and activism is a powerful one.
He goes on to share his admiration for Sanders and adds that Warren's moral clarity and her funding plan for "Medicare for All" as well as her transition plan added to his decision to endorse her.
Here's more about Barkan's advocacy:
'Our bad,' Biden campaign says after sending post-debate email hours early
The Biden campaign corrected itself after blasting out a post-debate email hours early, blaming the misfire on being "so excited" for the matchup that they "accidentally hit send too soon."
"You might have just gotten an email from Joe about just getting off of the debate stage. That's our bad, team," the new email said.
The initial email blast was noted on Twitter. 
Pete Buttigieg in the crossfire at MSNBC debate
There's a new front-runner in Iowa as the Democratic presidential candidates meet in head-to-head competition for the first time in more than a month at Wednesday night's MSNBC/Washington Post debate in Atlanta — but the national nomination picture is still stable.
Mayor Pete Buttigieg of South Bend, Indiana, riding a surge powered by his last debate performance and the cash he's pumped into building field operations in early states, has a 2.2-point edge over Sen. Elizabeth Warren, D-Mass., in the Real Clear Politics average of Iowa caucus surveys, with former Vice President Joe Biden and Sen. Bernie Sanders, I-Vt., trailing both of them.
At the national level, though, the standings haven't changed much. Biden's lead has narrowed to a 6.7 percent margin over Warren — 27 percent to 20.3 percent — in the Real Clear Politics average, with Sanders at 18.8 percent and Buttigieg at 8.3 percent.
This combination of campaign inertia and the failure of any one candidate to take a commanding lead after nearly 11 months of campaigning has helped convince two new candidates to enter the race, or consider doing so, in the last couple of weeks — former Massachusetts Gov. Deval Patrick, who is in, and former New York Mayor Michael Bloomberg, who may be — although neither had enough time to qualify for Wednesday's debate.
Biden advisers preview debate focused on experience, delivering results
The Biden campaign continues to exude confidence even as Biden — who is 77 years old today — has seen his frontrunner status challenged nationally and in the early states, arguing that he remains resilient with a large bloc of supporters who believe he can beat Trump.
In a pre-debate briefing with reporters, senior campaign advisors described this time period in the election as voters "dating" the candidates, exploring their options in the field. But ultimately they're confident they'll be "marrying" Biden. 
High anxiety: Jittery Democrats fear their candidate won't beat Trump
Democrats, often prone to fretting about elections, have been increasingly worried that their large and divided presidential field, currently led by four imperfect front-runners, doesn't have what it takes to beat President Donald Trump next year.
They worry that Biden is too old and stumbling; that Buttigieg is too young and too inexperienced; and that Warren and Sanders are too far left and can't win. And they tend to write off the rest of the field, assuming that if those contenders haven't caught on yet, they never will.
That angst reached a fever pitch this week and helped push one new candidate and another potential challenger from the party's more moderate wing into the race — former Massachusetts Gov. Deval Patrick, who announced he's running, and former New York City Mayor Michael Bloomberg, who's thinking about it — just ahead of a New Hampshire filing deadline, which essentially barred the door to new candidates when it expired at 5 p.m. on Friday.
Where the candidates stand on key issues
If the past debates are any indication, Wednesday night could feature discussions about health care, immigration, gun control and foreign policy.
With 10 candidates on stage, it can be hard to keep track of where each one stands. Luckily, NBC News has you covered.
Who's on stage tonight?
Here are the 10 candidates who will be on stage tonight:
Former Vice President Joe Biden
Massachusetts Sen. Elizabeth Warren
Vermont independent Sen. Bernie Sanders
California Sen. Kamala Harris
Minnesota Sen. Amy Klobuchar
Mayor Pete Buttigieg of South Bend, Indiana
New Jersey Sen. Cory Booker
Entrepreneur Andrew Yang
Billionaire Tom Steyer
Hawaii Rep. Tulsi Gabbard
Among those absent from the debate are Housing Secretary Julián Castro, who has qualified for all the debates until now and former Texas Rep. Beto O'Rourke, who dropped out earlier this month.
The bar to qualify for the November debate, set by Democratic National Committee, was the highest thus far.
How to watch the November Democratic debate: Schedule, rules and more
The Democratic presidential primary debate on Wednesday will feature Joe Biden and Elizabeth Warren standing center stage, flanked by Bernie Sanders and a rising Pete Buttigieg — and will be missing a couple of familiar faces.
South Bend, Indiana Mayor Buttigieg will likely capture more attention from his fellow candidates after recent polling shows him leading the field in Iowa, while Warren can expect a barrage of questions about changes to her Medicare for All plan.
The field of 10 candidates expected to take the stage at Tyler Perry Studios — fewer than the 12 at October's debate — will be missing some familiar faces.