NBC News' live blog tracked the ups, downs and confrontations of the fourth Democratic primary debate of the 2020 presidential election cycle, co-hosted by CNN and The New York Times.
The largest group of candidates took the stage Tuesday night at Otterbein University in Westerville, Ohio. They included front-runners Joe Biden and Sen. Elizabeth Warren; Sen. Bernie Sanders, who returned to the campaign after having a heart attack two weeks ago; billionaire activist Tom Steyer, who appeared in his first debate of the cycle; and Hawaii Rep. Tulsi Gabbard, who missed the September go-round after failing to qualify.
For full politics coverage, download the NBC News app.
A quick look at the polls
What a difference a month and a half makes.
Sen. Elizabeth Warren comes into Tuesday's debate with the momentum, with some polls putting her ahead of former Vice President Joe Biden. 
Biden is currently leading in the Real Clear Politics national poll average, which puts together most major polls tracking the Democratic nomination. But Warren has made up a lot of ground since the last debate in mid-September, with the latest RCP average putting her only about six points behind Biden.
Warren overtook Biden in the average about a week ago, while polling close to Bernie Sanders at the time of the last debate.
As for the other nine candidates on stage, they've all remained reasonably flat, with Harris and Buttigieg trading fourth place back and forth in recent weeks.
Impeachment, Warren and what else to watch for
WASHINGTON — Warren's a target. Biden's on the defense. Impeachment. Read Jonathan Allen's take on the five things to watch as the two Democratic presidential front-runners look to cement their primacy and struggling candidates try to revive their campaigns.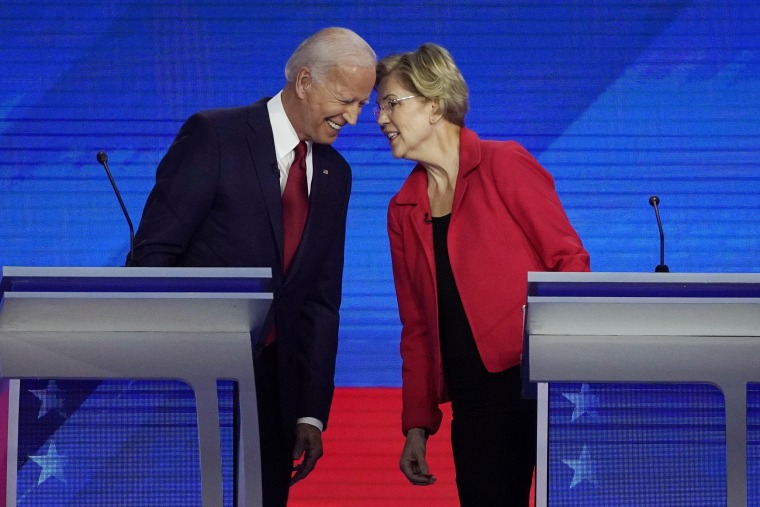 Everything you need to know about the fourth debate
The field of candidates taking the stage the largest to date, including one fresh face and another returning after an absence. Where is the debate? What time does it start?
Here's everything you need to know.