Minnesota Sen. Amy Klobuchar was forced to cancel a campaign rally in her home state on Sunday after protesters took to the stage and chanted repeatedly for over an hour calling for justice in the case of Myon Burrell, a black teenager sent to prison for life for the shooting of an 11-year-old girl in 2002 when Klobuchar was a county prosecutor.
Over 50 protesters from a number of groups, which included representatives from Burrell's family, Minneapolis NAACP and Black Lives Matter, gathered outside of the front entrance Klobuchar's campaign rally at St. Louis Park High School before heading inside the gymnasium venue and ultimately taking the stage ahead of the event's start.
They chanted sayings like, "hey hey, ho ho Klobuchar has got to go," "Black Lives Matter" and "free Myon," in reference to Burrell's case.
Protesters from a number of groups including Burrell's family and Black Lives Matter Minnesota first gathered around 7 p.m. (8 p.m. ET) at the site of the rally in St. Louis Park, a suburb west of Minneapolis. After entering into a chanting battle with Klobuchar's supporters at the rally, they took to the stage 30 minutes later. At around 8:40 p.m., an announcement came on over the loudspeaker saying the event was cancelled.
Klobuchar's campaign released a statement moments after the event was officially cancelled.
"The campaign offered a meeting with the Senator if they would leave the stage after being on stage for more than an hour," they said. "After initially agreeing, they backed out. We are canceling the event."
Klobuchar did not make an appearance at the event.
"Very disappointed about what happened tonight," Klobuchar's campaign manager Justin Buoen told reporters after the event was cancelled.
"We had a negotiation and had an agreement with the organizers of the protest to meet with the Senator on site, she was in the room ready to meet with them and then they changed the terms and decided that they didn't want to meet with her, so, disappointed that that happened tonight, really wish that we would have been able to one, do the meeting, and listen to the protestors but also have the event."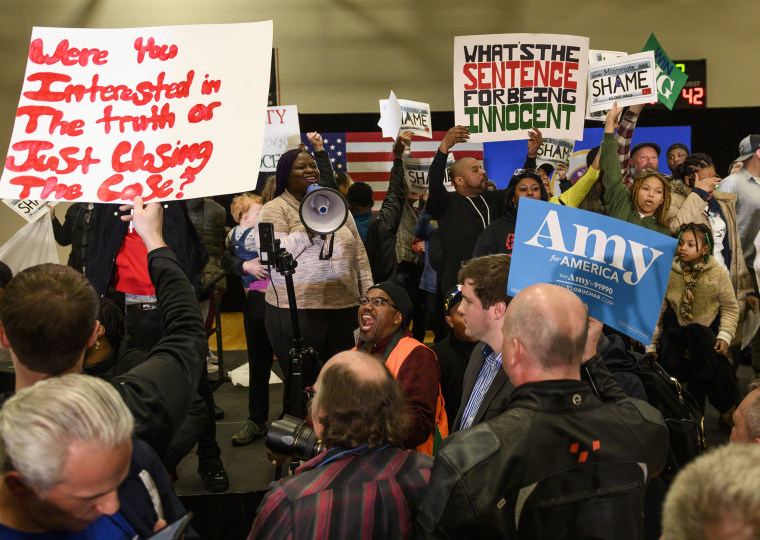 A local activist and attorney Nekima Levy Armstrong, who was with the protestors during the event, reportedly told some that it was Klobuchar's campaign that backed out of the deal to meet and speak with Klobuchar. Buoen denied it.
"Amy was in the room ready to meet with the family and with the leadership and then they changed - they changed their minds," he said. "I don't know what they wanted from us, so."
Buoen told reporters he hopes that the protesters meet with Klobuchar another time.
Klobuchar has previously said if there is new information in the case it should be considered, as well as have old evidence re-reviewed — a response that some activists have said doesn't go far enough.
Pressed by NBC News what the incident says about the campaign for this to be happening with two days until Super Tuesday and how they plan to move forward, Buoen said, "I don't think that, you know, I don't know what it says about the campaign, I mean it just says that you know, I hope we're able to meet with them in the future and I'm disappointed that they decided not to meet today."
Asked if this is emblematic of Klobuchar's inability to connect and get a broad coalition of brown and black voices and support in her campaign, something that has been ongoing, Buoen downplayed the impact of the protestors.
"I don't know that one event is emblematic of anything and again I'm just disappointed and hopeful that we're able to do a meeting in the future," he said.
The rally came just days before Minnesota's Democratic primary on Tuesday. In South Carolina, Klobuchar came in sixth, winning just 3.2 percent of the vote. Despite the poor showing, she has said that she would compete in Super Tuesday, when 14 states will vote.