This article, originally published on June 10, 2019, has been updated with a new headline and additional information about Elizabeth Warren's rally in New York City on Sept. 16.
DES MOINES, Iowa — If a voter meets a presidential candidate and no one is around to Instagram it, did it really happen?
In 2019, smartphones are so ubiquitous that they get involved even when the candidate is right there, in the flesh, IRL, which is forcing candidates to adapt and find opportunities in the constant unquenchable demand for selfies.
In only a few short years, political selfies have gone from being a curiosity to being an annoyance — "I think selfies come at a cost. Let's talk instead!" Hillary Clinton wrote in her 2016 memoir.
Most candidates have now accepted this, building plenty of extra time for photos into their tightly controlled schedules.
After an evening rally attended by thousands in New York City's Washington Square Park, Warren stayed behind for four hours following her speech, until nearly midnight, to take photos with many supporters who waited in the "selfie line."
Sen. Cory Booker, D-N.J., an early adopter of social media, sets aside time for selfies into all of his events and has his technique down pat: Grab (the person's phone), grip (it up high for optimal angle), smile, click. His staff then monitors what gets posted online.
But others are more reluctant and see only hours of wasted candidate time — any campaign's most precious resource — and an invasion of personal space. Two recent magazine profiles of Sen. Bernie Sanders, I-Vt., for instance, highlighted scenes of him waving off selfie-takers (although he takes plenty as well).
Stacey Abrams, a self-described introvert who ran for governor of Georgia, recently recalled retreating to her hotel room after being asked for a selfie during a post-campaign beach vacation.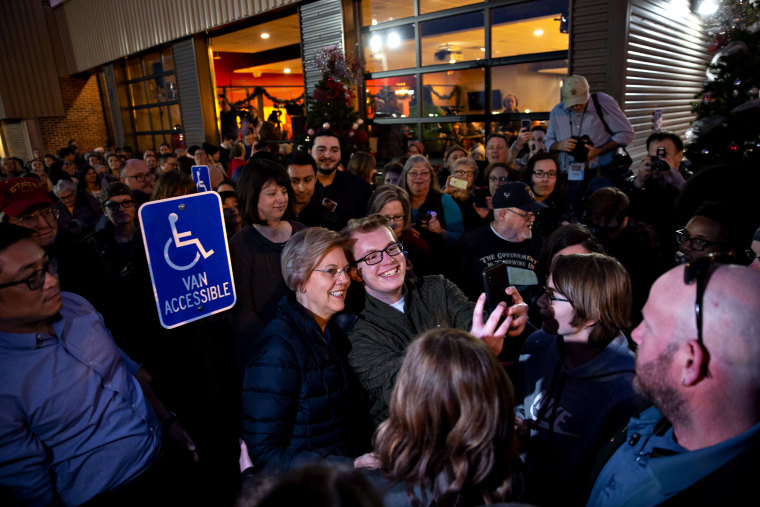 But every candidate would rather be swarmed for photos than ignored.
Selfies posted on social media are literally free advertising, since campaigns pay good money for digital ads that insert smiling photos of their candidates into voters' Instagram and Facebook feeds.
And politicians, like famous people everywhere, are keenly aware that no matter how many photos they take, rejecting even one can sometimes turn into a public relations black eye.
In the record-crowded 2020 field, candidates will do almost anything to make a personal connection with voters, and these days that often means taking a photo. It's especially true in a place like Iowa, where voters expect direct access.
"We've met, like, everybody," Ellie Miglin said, adding that her newly acquired picture with Booker would go up on her family's wall of framed politician selfies.
And how candidates take selfies often reveals something bigger about their personality.
Warren, D-Mass., and her campaign have systematized and optimized photo-taking for maximum efficiency while keeping detailed metrics of their progress.
No one has committed more than Warren (even if they're not technically selfies, since the people in the photographs are usually not the ones holding the camera). She closes almost every major event with a book-signing style "selfie line," in which people stream past her position, and staffers hold coats and cameras to keep things moving.
She's spent close to 130 hours snapping nearly 60,000 selfies, according to her campaign. It's become part of Warren's message, as she often notes she has the time to do it because she doesn't hold high-dollar fundraisers or do "call time" with major donors.
It's paid off on social media, according to an analysis performed by Zignal Labs, a media intelligence firm, at the request of NBC News.
"Elizabeth Warren is the candidate most associated with the term 'selfies' over the past month by a wide margin, and with mostly positive public sentiment around it," Zignal Labs CEO Josh Ginsberg said.
"While it would be unscientific to place a dollar amount on the value of advocates and potential voters sharing selfies of themselves with candidates on social media, they do pose a zero-cost way for candidates to extend the reach of their live events and campaign stops to a broader audience," Ginsberg added. "They also offer an opportunity to present candidates as 'approachable' and 'likable.'"
Former Vice President Joe Biden, meanwhile, has easily translated his old-school penchant for retail politicking into the 21st century via selfies, which he seems to love to take from the relative safety of a presidential-style rope line.
At an event in New Hampshire last month, he spent more than 40 minutes on the rope line, hoisting phones into the air to snap the best possible pic, even after one woman playfully joked, "You're too old to be doing selfies."
Former Colorado governor John Hickenlooper, who has since dropped out of the presidential race, was not stopped for many selfies as he explored a farmers market here last June when he was campaigning, but he finds personal fulfillment in being asked for photos.
"I didn't have a very good, positive self-image," he said of his difficult childhood and adolescence. "So if people want to take selfies with me, I think it's a compliment."
Beto O'Rourke must have taken thousands of photos as well, but his is a kinetic, improvisational style — the opposite of Warren's.
Instead of staying in one place, he dives into crowds and works his way through, one person at a time, pausing every few seconds to sign something, take a picture or chat briefly on the phone with an attendee's mother or friend.
"In the process of taking that picture, I get to know that person a little bit, and sometimes am able to answer a question and hear an idea from them," O'Rourke said. "If they post that picture on social media ... there's got to be some benefit to it."
"But primarily I do it because people ask me to do it," he said, before being whisked away by an aide — to take another photo with a woman who was waiting patiently nearby.