FRYEBURG, Maine — Susan Collins has built a brand as a moderate senator who isn't afraid to buck her party. But the Maine Republican is now facing her toughest challenge yet as she prepares to run for a fifth term in a blue state — the potential impeachment of a president she didn't vote for.
While Maine's GOP chairwoman dismissed the Ukraine scandal as "another witch hunt," Collins on Saturday called Trump's public request to investigate former Vice President Joe Biden "completely inappropriate." But Collins has said she can't take a position on impeachment because she might be asked to serve as essentially a juror during a possible trial in the Senate.
"It's inappropriate for me to reach conclusions about evidence or to comment on the proceedings in the House," she said recently.
Collins, who is one of Democrats' top targets in 2020 as they try to flip the GOP-controlled Senate, risks angering the Republican base by criticizing Trump and not defending him from the impeachment inquiry.
"She needs to not be a traitor to her own party," Jenny Foster, wearing a "Trump 2020: Make Liberals Cry Again" sweatshirt, said on Saturday outside the horse-pulling barn at a fair in Fryeburg.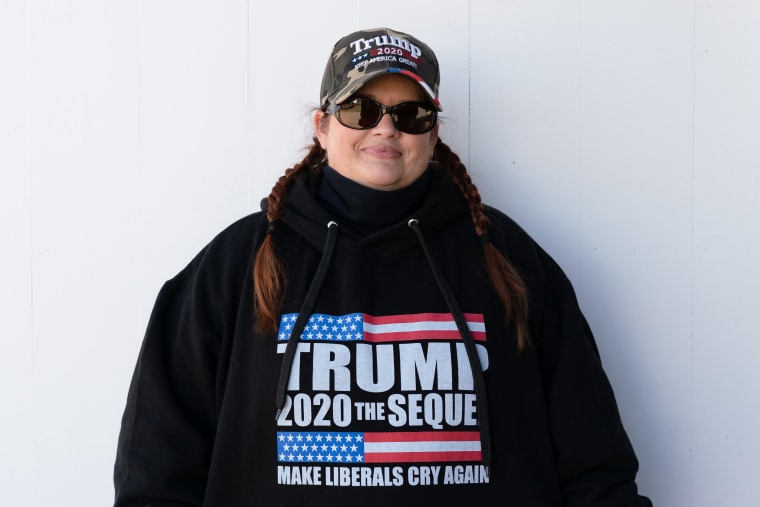 And Trump on Saturday reminded what can happen to Republican senators who step out of line when he tweeted that Utah Sen. Mitt Romney is an "ass."
Currently, Collins' chief opponent is Sara Gideon, speaker of the Maine House, and the few polls so far show Collins miles ahead of her likely Democratic rival. Collins is one of a handful of GOP senators up for re-election next year who are grappling with impeachment, including Sens. Cory Gardner of Colorado and Joni Ernst of Iowa, who was heckled at a recent town hall over the issue.
At the sprawling Fryeburg fair on Saturday, politicians pressed the flesh among the prized livestock and midway rides on a sunny autumn day, although Collins was not among them.
There was a cardboard cutout of the president giving a thumbs-up and Trump T-shirts for sale at the Republican Party's booth, but the sole Collins sign hung almost obscured.
Mike Hoyle, who was wearing a Trump 2020 hat, said he's disappointed with the senator's "namby pamby, safe, political answer" on impeachment.
"I'm kind of on the fence about Susan Collins," added Hoyle, who voted for Collins in 2014. "A lot of Republicans feel she's not really a Republican."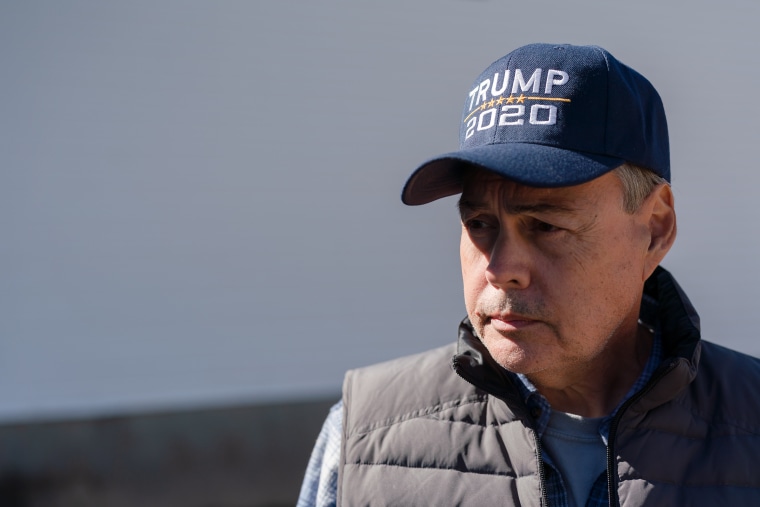 Trump's standing in Maine has declined since he was elected, surveys show, and, among all voters, he is not particularly popular in the state.
Her defenders say her position now is similar to the deliberative approach she took in 1999, when Bill Clinton was impeached by the House and faced removal by the Senate.
Collins, The Washington Post wrote at the time, was "one of the few senators who genuinely has not made up her mind" and one of the few who paid attention to the proceedings during the Senate trial, "while other senators are looking at the ceiling, at each other."
Ultimately, she sided with Democrats and voted to acquit Clinton, infuriating some Republicans.
But this time around, in a state that has become more polarized, some on both sides say Collins' approach no longer cuts it.
"Collins is clinging to a party that no longer exists," said progressive activist Marie Follayttar.
Collins has won elections by straddling both parts of Maine, which are roughly reflected in its two congressional districts: the more liberal and wealthy coast, which votes like the rest of New England, and its poorer and more conservative interior, which votes like rural areas elsewhere in the country.
But on-the-fence is an increasingly difficult position to maintain and recent polls show her once sky-high favorability ratings have fallen back to earth — and a potential vote on removing Trump would force Collins to pick a side.
"The first and second congressional districts are so divided and so culturally distinct from each other at times it's almost like we're two different states," said Eric Brakey, a Republican former state senator running in the 2nd Congressional District. "It's hard to be in Susan Collins' position trying to bridge that divide. It's going to be one of the more difficult races she's had."
Collins started the Trump era by earning plaudits from Democrats and hackles from Republicans for writing an op-ed before the 2016 election declaring that she would not vote for Trump. She then defied the new president on his first big legislative push when she voted against the repeal of the Affordable Care Act.
"I think Susan Collins is done in Maine," former GOP Gov. Paul LePage told a conservative radio host at the time. "I think her decision to go against the Maine Republicans really cooked her goose."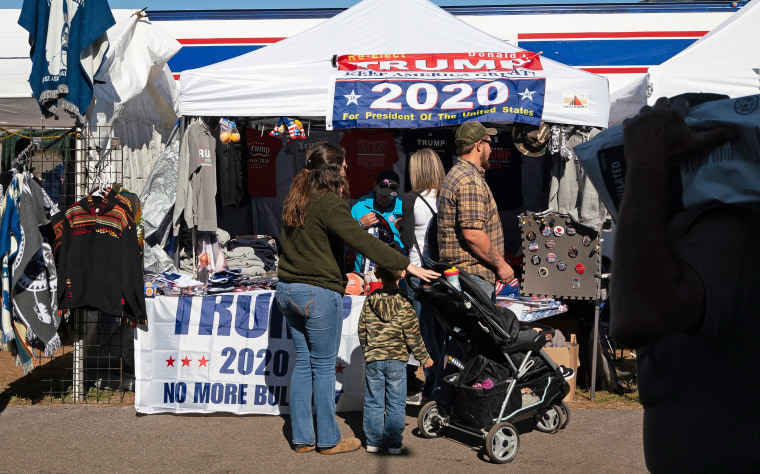 But Collins has worked to repair her standing with the GOP base, convincing some that she's the only Republican who can win statewide in Maine today. Even LePage, who says he is running for governor again in 2022, recently announced his support for her.
Collins' more recent votes, in favor of Trump's tax cuts and to confirm Supreme Court Justice Brett Kavanaugh, have endeared her to conservatives as far away as California, where she spent part of last week raising money to build her war chest and being hailed as the "hero of the Kavanaugh confirmation."
But Collins' vote for Kavanaugh also pushed some formerly Collins-tolerating Democrats and anti-Trump independents past their breaking point, and bumper stickers opposing her are now omnipresent in the state's more liberal areas.
"Right now, she's trying to coast on this image as a moderate," said Kelli Whitlock Burton, one of the leaders of the progressive group Suit Up Maine.
While acknowledging that some Democrats and independents are sticking with Collins, Whitlock Burton said she didn't think even a vote to convict Trump would win back voters on the left the senator has already lost. "I don't know that that would be enough to counteract her vote on the tax bill, her vote on judges," Whitlock Burton said.
Outside groups advocating impeachment have begun airing TV ads hitting Collins and a handful of other vulnerable Republican incumbents on the issue.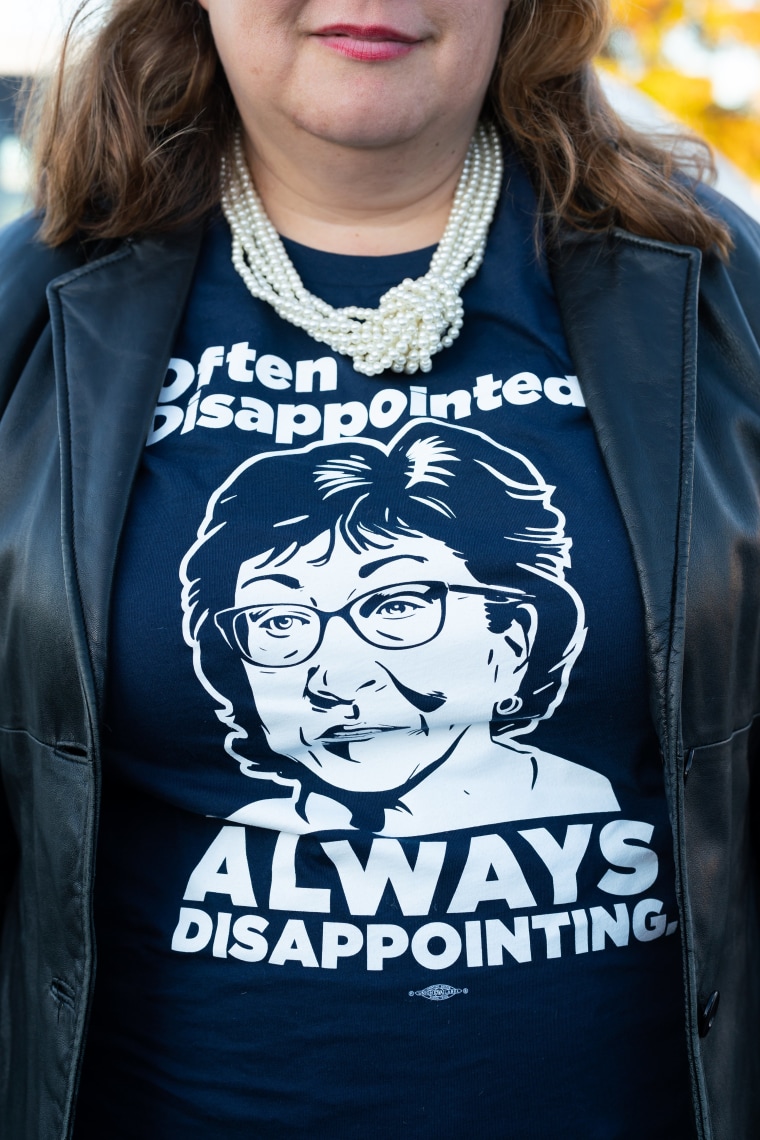 "There's no job more important for U.S. senators than standing up for the Constitution," said Nathaly Arriola, executive director of Need to Impeach, which is spending $3 million on the ads, although Democratic groups focused primarily on Senate races have yet to press the impeachment issue.
Still, while activists on the right and left view the impeachment as a black-and-white issue, others appreciate Collins' prudence.
"I do think there's peril for Republicans, generally speaking," said Kevin Raye, the former GOP president of the Maine state Senate. "But if there's any political figure who has some insulation against that, it's Senator Collins. Because she's just demonstrated time and time again that she's willing to do the right thing, regardless of what partisans say."
He added: "People are disgusted by politics. They're disgusted with Republicans and Democrats being unable to sit in the same room. We need more Susan Collins, not fewer."