WASHINGTON — Former Housing Secretary Julián Castro appeared to qualify Tuesday for the September Democratic presidential debate, increasing the possibility that the next matchup could stretch over two nights like the ones this summer did.
Castro became the 10th Democrat to seemingly reach both thresholds necessary to qualify for next month's debate thanks to a CNN poll out Tuesday.
To qualify for the September and October debates, candidates need to have at least four polls showing them at 2 percent support or greater and at least 130,00 unique donors.
The CNN survey appears to have given Castro his fourth poll, and his campaign already said he had met the donor threshold, though nothing is official until the Democratic National Committee announces it.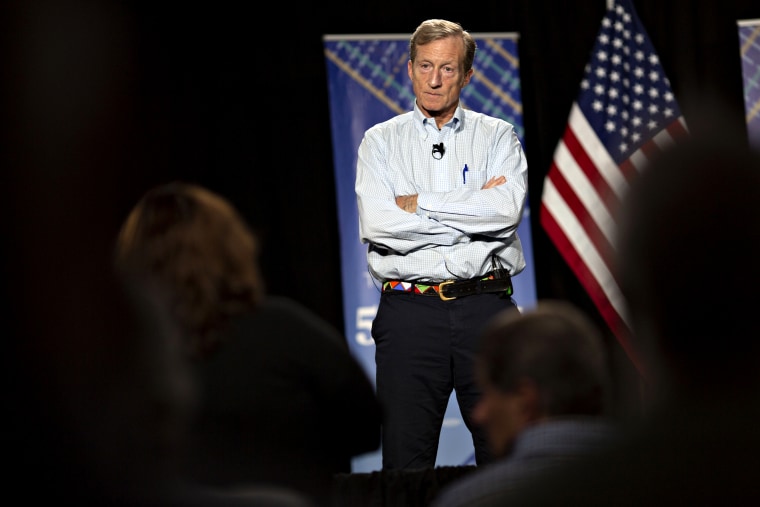 If more candidates qualify for the September debate (the deadline to do so is next week, Aug. 28), or for the October debate (deadline to be determined), then the debates could once again have to take place over to two days, since the debates in June and July had room for only 10 candidates on stage each night.
Next month's debate in Houston, hosted by ABC News and Univision, is scheduled for Sept. 12 and 13, but some Democrats have been hoping to winnow the field of candidates to fit them into one night. The bar to qualify for the earlier debates was significantly lower than for later ones.
The candidate closest to qualifying next is billionaire Tom Steyer, who says he's already hit the donor threshold and needs just one more qualifying poll.
Rep. Tulsi Gabbard, D-Hawaii, has also said she has enough donors but has only two of the four qualifying polls she needs.
Washington Gov. Jay Inslee said Monday night that he had hit the donor threshold, but has no qualifying polls so far, the same position author Marianne Williamson appears to be in.
Sen. Kirsten Gillibrand, D-N.Y., has one qualifying poll, and her campaign said recently that she's closing in on the necessary number of donors, having already surpassed 100,000.
The nine in addition to Castro who appear to have made the stage are former Vice President Joe Biden; New Jersey Sen. Cory Booker; Mayor Pete Buttigieg of South Bend, Indiana; California Sen. Kamala Harris; Minnesota Sen. Amy Klobuchar; former Texas Rep. Beto O'Rourke; Vermont Sen. Bernie Sanders; Massachusetts Sen. Elizabeth Warren; and entrepreneur Andrew Yang.
The rest of the candidates have yet to qualify in any poll and say they have not reached the donor threshold.