WASHINGTON — Tensions flared Saturday night as supporters of President Donald Trump and his unfounded claims of voter fraud clashed with counterprotesters in the streets of the nation's capital.
Thousands of Trump supporters gathered earlier in the day to protest the result of the presidential race, marching in the afternoon from Freedom Plaza to the Supreme Court, where Republican lawmakers and party leaders addressed the largely unmasked crowd.
By nightfall, local police officers were seen wearing riot gear, and at least one person was stabbed when a fight broke out between two large groups.
Officials with the District of Columbia Fire and Emergency Medical Services Department said the fight was related to the ongoing protests, NBC Washington reported. The victim was listed in critical condition.
At least 20 people were arrested throughout the day, and two police officers were injured. The extent of their injuries was not immediately known. It was unclear whether the people arrested were in favor of or against Trump.
The president appeared to follow the night's developments, encouraging local police in a tweet to "get going — do your job and don't hold back!!!"
While aides say that Trump is coming around to the reality that he lost to Joe Biden, the president's public attacks on the validity of the election results and his unwillingness to concede has allowed for conspiracy theories and misinformation to fester, particularly among his most devoted fans.
"Something doesn't feel right. If we lost fair and square, we'd take it. But it needs to be verified," said Barbara Lipponen, 54, a real estate agent from Norfolk, Virginia, adding it was important to her to show up so Trump knew "he's not fighting alone."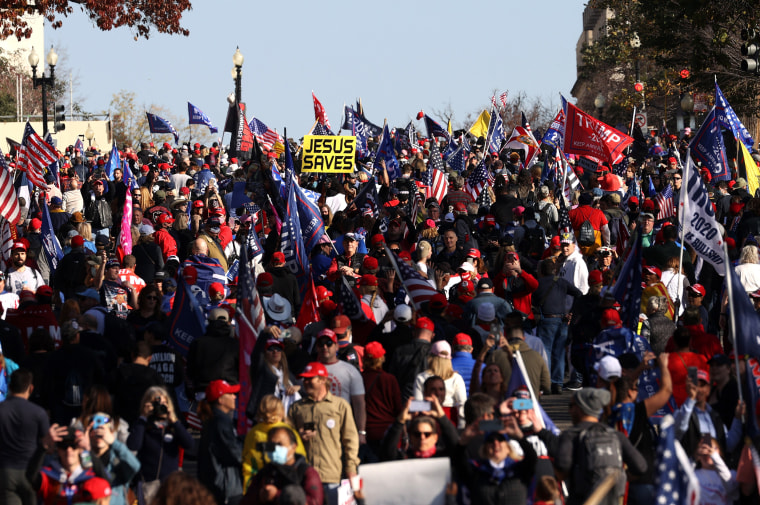 "It doesn't add up. If he lost, then we need to say 'OK, he lost.' But this is not the process I fought for," said Charmion Prince, 48, an army veteran from Tennessee. Prince, like many other Trump supporters, said she went to bed on election night thinking the president would be re-elected. She grew skeptical of the results as more ballots were counted in the following days, putting Biden ahead.
"I saw the trends. It evaporated out of thin air in Pennsylvania," said James Dozer, 47, from Alabama. "All of a sudden at four in the morning, boom, Biden's leading. Democracies are stolen in the dead of night."
Dozer said it would take a "full hand recount" in every state for him to be "convinced" that Biden won.
Top government and industry officials said in a statement on Thursday that the 2020 election was "the most secure in American history" and that there was "no evidence that any voting system deleted or lost votes, changed votes or was in any way compromised."
Still, thousands of protesters gathered in Freedom Plaza Saturday morning, just across the street from the White House and the Trump International Hotel, for the events, which were organized under various names including "Million MAGA March," "March for Trump" and "Stop the Steal."
Members of the Proud Boys, a far-right extremist group that Trump declined to denounce during the first presidential debate, endorsed the events. Neo-Nazi Andrew Anglin, one of the organizers of the deadly Charlottesville "Unite the Right" rally in 2017, also promoted the march, among other far-right figures.
The Proud Boys clashed at times with small groups of counterprotesters throughout the day and into the evening.
Trump spent the morning at his golf club in Sterling, Virginia, but tweeted some of the baseless claims as the crowds were marching. Demonstrators cheered loudly as his motorcade passed through downtown on the way back to the White House.
While news of the events were shared widely by fringe figures on social media, many attendees said they first learned of the events from Fox News.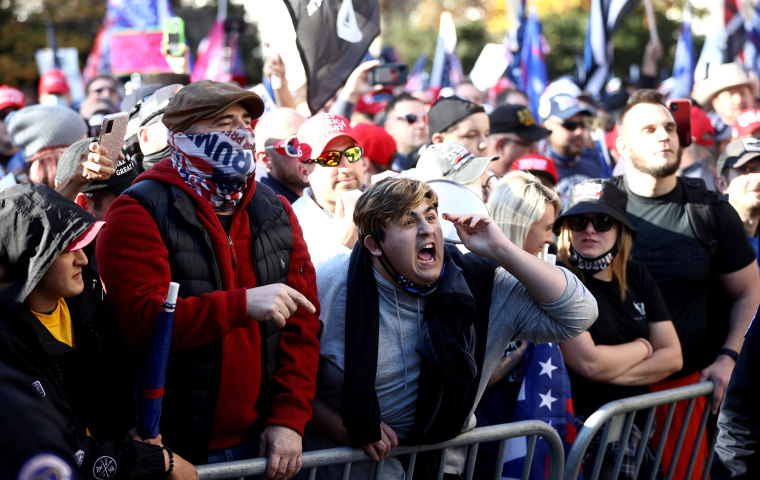 "I found out about it Wednesday night watching Fox News," said Thomas Rosamilia, 66, a retiree from Ocean County, New Jersey, who took a bus down to Washington early Saturday morning to attend his first political rally.
"I do believe every vote has to be counted," he said. "We need to come to the truthful, honest conclusion as to who the president is. Right now I feel disenfranchised. In my opinion, Democrats stole the election."
Michelle, a retiree from Maryland who declined to give her last name, said she had also heard of the event from Fox News coverage as well as the Newsmax website.
"This election was completely fraudulent," she said, listing off a number of debunked claims of voter fraud, including Dominion Voting Systems, a company that makes voting machines, "deleted" millions of Trump votes. The baseless theory has been pushed by Trump and the discredited QAnon conspiracy movement.
Republican Rep. Louie Gohmert of Texas, Congresswoman-elect Marjorie Taylor Greene, who supports QAnon, as well as Alex Jones, a discredited conspiracy theorist, spoke at the event.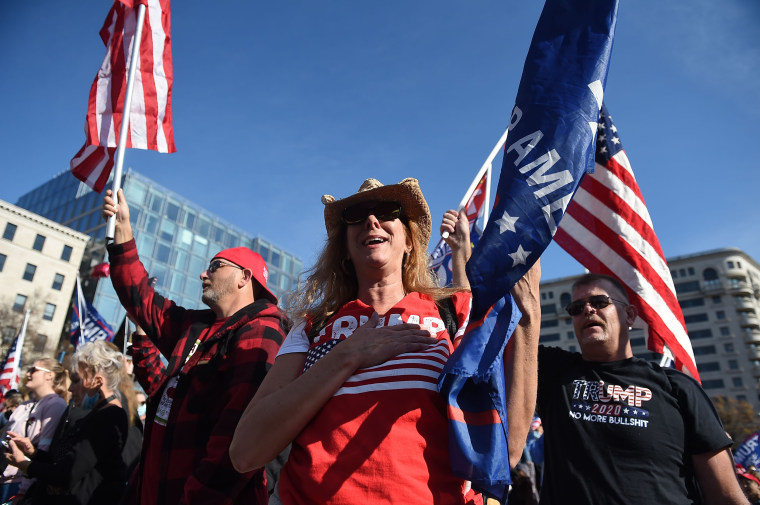 Throughout the day, Trump's aides promoted the event on social media.
White House press secretary Kayleigh McEnany tweeted from her personal account: "More than one MILLION marchers for President @realDonaldTrump descend on the swamp in support," offering a greatly exaggerated number of the crowd's size.
The demonstrations also raised serious health concerns as coronavirus cases climbed to record-high numbers this week.
Hundreds of people flew into Washington from around the country (only 5 percent of Washingtonians voted for Trump, compared to 92 percent for Biden) at a time when health experts are urging Americans to stay at home and cancel holiday plans. Many flooded into local hotels, restaurants and public transportation, often ignoring mask guidelines.
Egan reported from Washington and Lozano from Los Angeles.