WASHINGTON — The mics were off, but the gloves mostly stayed on.
The final debate between President Donald Trump and former Vice President Joe Biden was a departure from the rancorous first clash in Cleveland. Instead, the two candidates sparred over federal Covid-19 policy, health care, energy, immigration policy and race.
With polls showing Biden holding a sizable national lead — with Election Day just two weeks away and over 42 million ballots having already been cast — Trump delivered no obvious knockout blows, and Biden appeared to clear his final major hurdle with no major stumble.
Moderator Kristen Welker — aided by a new rule that muted candidates' microphones while their opponent delivered their initial responses to questions — directed the men through a fast-paced debate in Nashville, Tennessee.
Trump, who has struggled to settle on a single message against his rival, set aside the "Trojan horse for the radical left" theme from the first debate to hammer Biden as an ineffective Washington insider who is "all talk" with nothing to show for his 47 years in public life. He called Biden a "corrupt politician" and dismissed his answers as pandering.
Biden criticized Trump as a heartless and inept racist who botched the Covid-19 pandemic and locked immigrant children in cages. He painted Trump as incompetent and dishonest.
Referring to the pandemic, Biden said in the opening minutes of the debate: "220,000 deaths. If you hear nothing else I say tonight, hear this. Anyone who is responsible for that many deaths should not remain as president of the United States."
Trump said his administration had beaten projections that forecast that as many as 2 million people could have died from the coronavirus, and he noted that other parts of the world have struggled to contain the virus, too, as case numbers spike in Europe. He promised that a vaccine is now just "weeks" away.
"We're learning to live with it," Trump said. "We can't close up our nation ... or you're not going to have a nation."
Trading jabs
On what voters tell pollsters is the single most important issue in the election, Trump argued that Biden would lock down the country and push struggling bars and restaurants out of business while leaving children and parents stranded with schools closed.
"Learning to live with it? Come on," Biden fired back. "We're dying from it."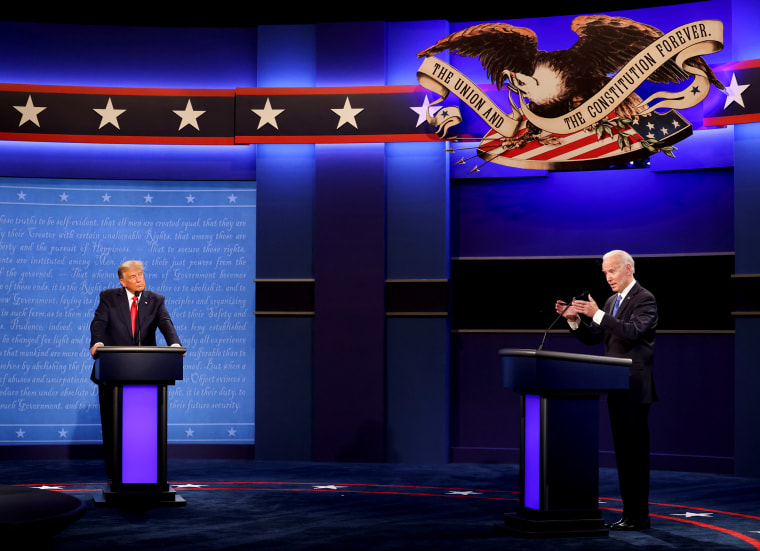 The debate included personal jabs — Trump hit Biden for "hiding" in his basement, and Biden knocked Trump for golfing instead of negotiating a relief package with Congress — but it was a more low-key clash than their first matchup.
Relatively substantive exchanges followed on other issues, like health care.
Biden promised to turn Obamacare into "Bidencare" with a government-run public health insurance option, which Trump lambasted as socialized medicine. Trump promised a "beautiful" alternative, but he has repeatedly promised to unveil a new plan and has not done so.
On energy policy, Biden said he wants to "transition from the oil industry" to renewable energies, but he also rejected Trump's insistence that he had flip-flopped over hydraulic fracturing, or "fracking," a process that taps into natural gas reserves deep below the Earth's surface, which critics say is dangerous. Trump has tried to hammer Biden on fracking, hoping to appeal to voters in Pennsylvania.
Trump said Biden supported a ban on fracking in the Democratic primaries but reversed course afterward, which is not true, according to Biden and fact-checkers. "Show the tape. Put it on your website," Biden challenged Trump.
Biden offered perhaps his sharpest criticism ever of former President Barack Obama, veiled as it was, saying their administration made a "mistake" on immigration by cracking down before reversing course.
"We made a mistake. It took too long to get it right," Biden said. "I'll be president of the United States, not vice president of the United States."
It was the first of two times Biden said he had made a "mistake" in his long career. He later said he would try to undo some parts of the landmark 1994 crime bill, which he helped draft in the Senate.
Trump said that was an empty promise. "He had eight years as vice president, and he didn't do anything," Trump said.
Trump insisted that he had done more in his four years for African Americans than any other president since Abraham Lincoln, who ended slavery in the U.S., citing a criminal justice reform law and low Black unemployment rates before the pandemic.
Biden scoffed at the brag, calling Trump "one of the most racist presidents in American history."
Trump did not wait long to brandish the weapon his campaign and allies in conservative media had been loading in the run-up to the debate: unsubstantiated allegations that Biden is part of corrupt business dealings with his son Hunter.
"He was vice president of the United States, and his son, his brother and his other brother were getting rich," Trump said. "They're like a vacuum cleaner sucking up money from foreign governments."
But Trump also did not dwell on Hunter Biden and his "laptop from hell," mentioning it on only a few fleeting occasions afterward, even though his allies had teed up what they promised to be a campaign-altering attack.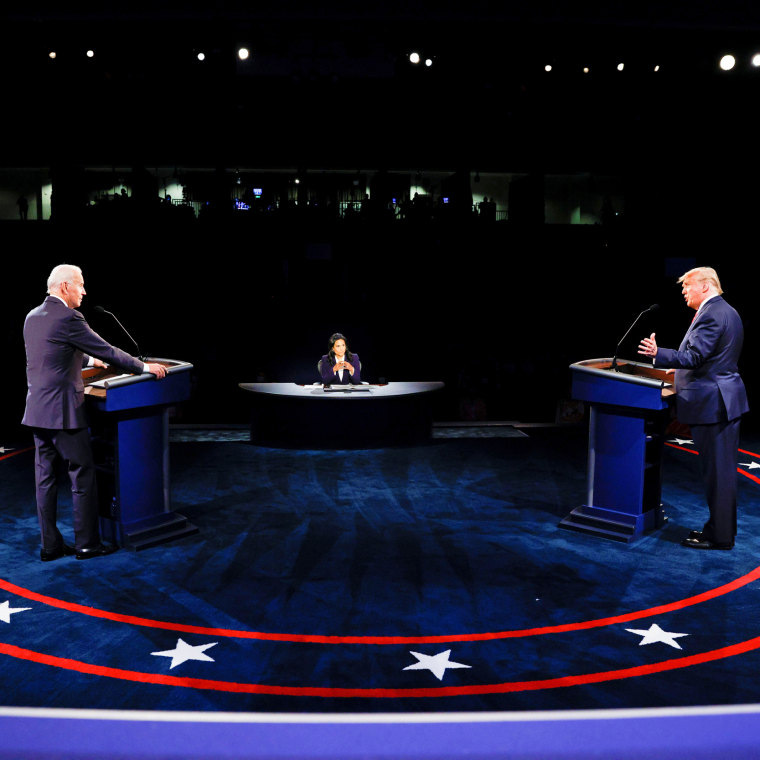 Biden called the allegations against his only living son "malarkey," saying he has released years of tax returns proving that he was not profiting, while Trump has not released his tax documents. He pointed to a recent report that the president had a secret bank account in China.
"I have not taken a penny from any foreign source in my life," Biden said. "The guy who got in trouble in Ukraine was this guy — trying to bribe the Ukrainian government to say something negative about me, which they would not do and did not do, because it never, ever, ever happened. ... The only guy that made money from China is this guy."
When the debate turned to foreign policy — the issue Trump said he was most eager to discuss heading into the debate — Trump argued that Biden would be soft on China, and he said it was good for American interests to have a leader with personal relationships with even unsavory foreign leaders.
Trump said his negotiations with North Korean leader Kim Jong Un got results on a nuclear program, and he said Kim "didn't like Obama," which prevented diplomacy.
Biden fired back: "That's like saying we had a good relationship with Hitler before he, in fact, invaded Europe. Come on!"
Campaign spin
The post-debate "spin room" was another casualty of the pandemic, but both campaigns organized conference calls and took to social media to claim their guy came out on top.
Trump's campaign touted a focus group organized by Republican pollster Frank Luntz, which found that voters were frustrated by Biden's lack of specifics. And it seized on Biden's answer about energy policy, which is likely to become a new attack line.
"Most shockingly, Joe Biden pledged to end the oil industry, which would kill millions of jobs and cripple our economy," Trump campaign communications director Tim Murtaugh told reporters on a conference call. "And you could see visibly that Joe Biden realized he had made a grave error in what he said."
Biden's campaign, meanwhile, said it was not impressed by Trump's more restrained tone, and it kept the focus on Covid-19, saying Trump once again missed a chance to lay out a comprehensive plan to fight the virus.
"Just because Donald Trump's voice was calmer doesn't mean he told the truth," senior adviser Symone Sanders told reporters on the Biden campaign's call.