DETROIT — The presidential election remained undecided Thursday morning as the nation turned its attention to a handful of battleground states that are still tabulating the crush of mail-in ballots that will decide whether President Donald Trump or Joe Biden will be victorious.
NBC News has projected the outcome in 44 states, giving Biden a narrow but growing lead over Trump in the Electoral College count. But both remain shy of the 270 electors needed to win, with many critical battleground states still too early or too close to call.
Biden is the projected winner in Michigan, picking up the state's 16 electoral votes in a state Trump carried in 2016. He is also the apparent winner in Wisconsin, NBC News projected, but the results are close enough that there could be a recount.
Trump sought to litigate the results on Twitter on Wednesday, declaring himself victorious in states that had not yet counted all of their votes. He also stated that "we hereby claim the State of Michigan," where NBC News and other news organizations projected Biden as the winner, claiming voter fraud without evidence.
Twitter quickly placed a warning on the tweet, as it had done to some of Trump's posts earlier in the day as he increasingly sought to undermine the results of the election count.
The Trump campaign turned to the courts Wednesday, ramping up its strategy to litigate the results, announcing that it would file for a recount in Wisconsin, as well as file lawsuits to stop counting ballots in Michigan and Pennsylvania. While Wisconsin allows a losing candidate to request a recount if the margin is 1 percent or less, it is unclear what legal basis the campaign has in the two other lawsuits.
Philadelphia City Commission members Lisa Deeley and Al Schmidt said the city has been transparent in its election process, which has included livestreams.
Asked about the Trump campaign's threat of legal action at a news conference Wednesday, Schmidt said, "We've had a great track record in defending the decisions we've made today."
In an apparent response to Trump's lawsuits, Biden announced that he was creating a "Fight Fund" dedicated to their "election protection" efforts, tweeting that "Trump doesn't get to decide the outcome of this election — the American people do."
NBC News also projects that Biden will receive three of Maine's electoral votes, while Trump will receive one. Maine does not use a winner-take-all system to allocate its electoral votes.
As of Wednesday afternoon, NBC News had yet to project a winner in Arizona, Georgia, Nevada, North Carolina or Pennsylvania. Biden leads in Arizona.
Trump has used his closely watched Twitter account to sound off about the race as votes are being counted. Shortly after 2 a.m. ET Wednesday, with millions of votes left to be counted, Trump falsely claimed that he had won the election.
Biden's campaign continued to signal confidence Wednesday.
"Here, the people rule. Power can't be taken or asserted. It flows from the people," Biden said at a news conference late Wednesday afternoon. "I am not here to declare that we've won, but I am here to report that when the count is finished, we believe we will be the winners."
Biden needs 17 electoral votes to reach 270, while Trump needs 56.
'Show me the ballots'
In Detroit, tabulation operations were conducted in the basement of a convention center. Hundreds of staffers worked in shifts to process an unprecedented flood of absentee ballots in Detroit
Both political parties stationed their observers there, with scores also from organizations like the American Civil Liberties Union and the Election Integrity Fund, an organization affiliated with the conservative Thomas More Society that sued the state over the summer over its absentee ballot procedures.
"There's been some aggressive conduct and sharp disputes," said Democratic challenger Ralph Simpson, a Detroit lawyer and political activist. "Things like 'show me the ballots' and 'should those be counted?'"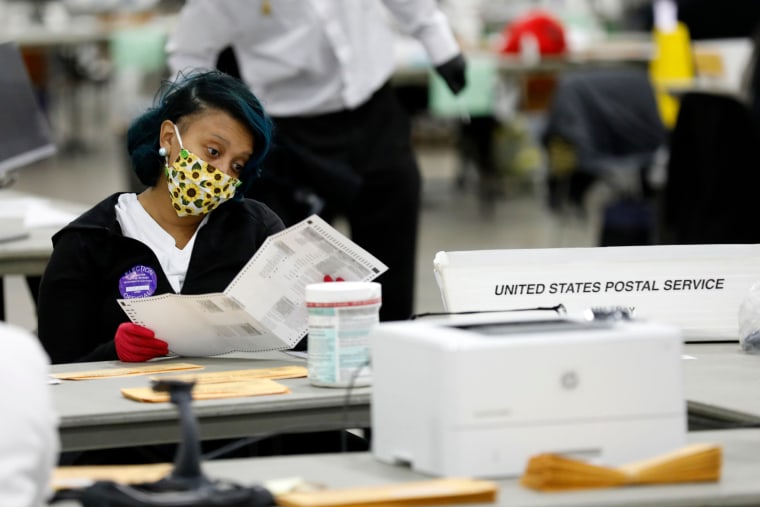 Trump campaign manager Bill Stepien said the campaign's lawsuit to halt vote-counting in Michigan claimed that the campaign had not been provided with "meaningful access to numerous counting locations to observe the opening of ballots and the counting process, as guaranteed by Michigan law."
In Arizona, where 11 electoral votes are up for grabs, Trump's campaign has sought to litigate the decision by some news organizations to declare Biden the victor. NBC News characterizes the race as too early to call.
With 86 percent of the vote in, Biden leads Trump with 51 percent of the vote, compared to Trump's 47.6 percent.
Arizona Gov. Doug Ducey, a Republican, said in a statement Wednesday afternoon that there were still "hundreds of thousands" of outstanding votes and emphasized that "it's important that we be patient before declaring any races up or down the ballot."
'Millions of ballots left'
According to NBC News, the race is too close to call in Pennsylvania, the biggest electoral prize left on the map, with 20 electoral votes. Trump leads with 52 percent to Biden's 46.8 percent, with 84 percent of the vote in.
Pennsylvania Secretary of State Kathy Boockvar urged patience at a news conference Wednesday morning, saying she expected to receive 2.5 million and 3 million mail-in ballots, 10 times the number of mail ballots cast in 2016.
"There are millions of ballots left to be counted," Boockvar said, adding that she expected "a lot of updates" throughout the day.
Although counting staffers in some parts of the state have been working round the clock since 7 a.m. Tuesday, Boockvar did no expect to be able to report full results Wednesday.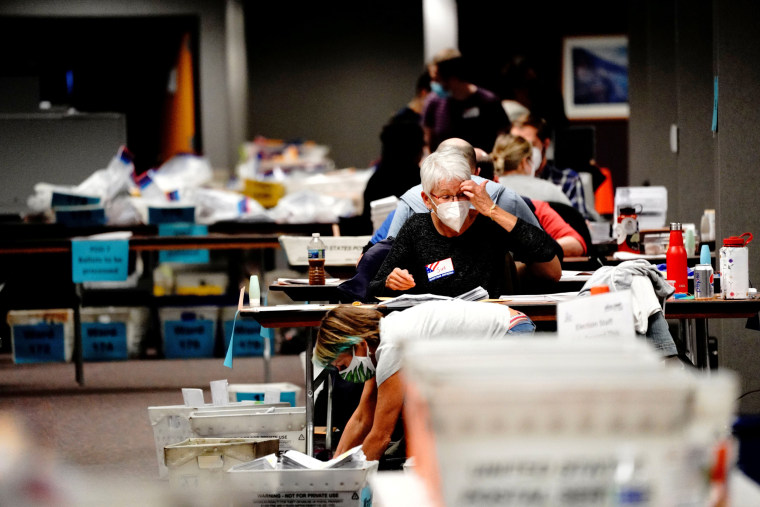 Georgia and its 16 electoral votes are still too close to call. Trump leads with 50.1 percent to Biden's 48.7 percent, with 94 percent of the vote in.
Georgia Secretary of State Brad Raffensperger urged counties Wednesday to get "all the results counted today" and said the state still had about 200,000 absentee ballots and 40,000 to 50,000 early votes left to tabulate.
In Nevada, with six electoral votes, the race is also too close to call. With 86 percent of the vote in, Biden has 49.3 percent of the vote to Trump's 48.7 percent.
Nevada election officials twice rescheduled when they would announce updated results twice Wednesday, finally settling on releasing the information Thursday at 9 a.m. local time (noon ET).
Officials with the Nevada secretary of state's Elections Division originally tweeted early Wednesday that they planned to announce updated results Thursday. However, by Wednesday afternoon, secretary of state's spokeswoman Jennifer Russell said an update would be provided later in the day given the national and statewide interest.
Russell said that the Elections Division had hoped that at least one of the state's two largest counties, Clark and Washoe, would have some updates Wednesday afternoon but that she was later told by the county election officials that they were still processing and counting ballots.
"Given that Washoe and Clark counties are not going to have updated results to provide us with till later, we decide to release an update on Thursday at 9 a.m. with all of the counties," she said.
Nevada lawmakers passed a bill over the summer to provide for a mostly mail-in vote amid Covid-19 concerns, allowing mailed ballots to be counted as long as they were postmarked by Election Day and received by officials within a week of the election. In Nevada, election results are required to be certified and reported by Nov. 16.
Nevada election officials say they have counted all in-person Election Day votes and mail-ballots that were received by Monday. However, they are still working to count ballots that were dropped off at polling sites on Election Day and those mail-in ballots that will come in throughout the week through the U.S. Postal Service.
"There are still a great deal of mail-in ballots that are being counted, processed and that are still coming in," Russell said. She added that election officials are still counting ballots from voters who registered on Election Day.
In Clark County, the state's largest jurisdiction, which leans Democratic, election officials said they will announce estimates of how many ballots are still left to be counted on Thursday morning.
More than 800,000 votes had been processed in Clark County, home to Las Vegas, as of Election Day. Of those, more than 337,000 were mail-in ballots, Clark County Registrar of Voters Joe Gloria said during a news conference Wednesday afternoon.
Ballots still left to be counted include provisional ballots, electronic ballots sent to absentee voters outside the country and ballots from disabled voters, as well as special ballots for new residents, Gloria said. In Clark County, the procedure for processing mail-ballots is a rigorous, multitier process that includes signature verification before voter selections are recorded.
"We are working feverishly to get that counted so we can make an accurate report," Gloria said, committing to daily updates.
Inside the election headquarters Wednesday afternoon, about five or six Clark County Election Department staffers worked to certify and scan votes. By midafternoon, there were no observers besides the media, who had come to watch the process at the large warehouse in North Las Vegas. Gloria said the county Election Department has a staff of 38 and an additional 300 temporary workers at two locations during elections.
Trump's campaign is also hopeful about North Carolina and its 15 electoral votes, but the race is still too close to call with 95 percent of the vote in. Trump has 50.1 percent to Biden's 48.7 percent.
North Carolina could take days to call, as state law allows absentee ballots postmarked by Nov. 3 to be counted through Nov. 12.
Erin Einhorn reported from Detroit, Anita Hassan reported from Las Vegas, and Lauren Egan reported from Washington.