WASHINGTON — Joe Biden is taking down his negative TV ads and said Friday he is praying for the president and first lady after Donald and Melania Trump tested positive for Covid-19 — a stunning development that has upended an already tumultuous campaign.
Democrats know they need to walk a fine line, but say Biden should press ahead full throttle with his campaign and prosecution of the case that Trump botched the coronavirus crisis, even as he expresses personal sympathy for the president.
"Suspending the campaign would be a disservice to the country and there is no reason to do it," said Ben LaBolt, a former aide to former president Barack Obama.
"One of the judgments voters are making is which candidate would have better managed the response to the coronavirus and who has the leadership to lead us out of this national emergency," LaBolt added. "While we should wish the president a healthy recovery, his diagnosis is a visible demonstration of a failure of leadership at every level of this White House."
Biden shared a stage with Trump in Cleveland just three days ago for one of the nastiest presidential debates in modern history, where some members of the president's entourage refused to wear facemasks despite organizers' rules and last-minute pleas from an on-site medical expert.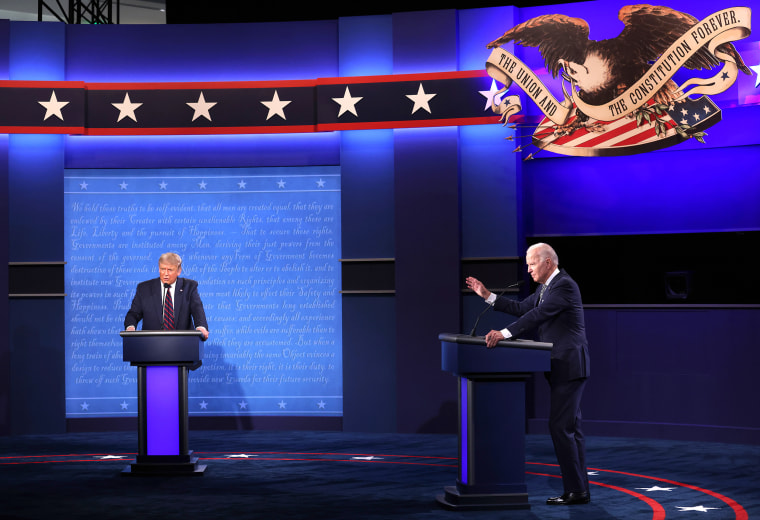 Biden, 77, and his wife, Jill were tested for the virus Friday and found to be negative, their doctor said in a statement.
With the test result in hand, Biden proceeded with plans to campaign in the battleground state of Michigan Friday, while running mate Kamala Harris, who was not at the debate, also tested negative and traveled to Las Vegas for a previously scheduled campaign stop.
A Biden campaign official confirmed to NBC News that the campaign is pulling all of its negative TV ads attacking Trump, who was set to be hospitalized Friday night at Walter Reed Medical Center for several days as a precautionary measure.
It's unclear if the next Trump-Biden debate, scheduled for Oct. 15 will proceed. "We haven't gotten that far yet," White House Press Secretary Kayleigh McEnany said on Fox News.
Trump has repeatedly mocked Biden for following health guidelines and taking strict precautions, ridiculing Biden for wearing a mask and running a largely virtual campaign from his basement until recently.
"I don't wear masks like him," Trump said at Tuesday's debate. "Every time you see him, he's got a mask. He could be speaking 200 feet away from me, and he shows up with the biggest mask I've ever seen."
Some conservatives have suggested Biden stop campaigning or halt negative TV ads while Trump is sick.
But Rep. Tim Ryan, D-Ohio, who was in the debate hall and is awaiting the results of a coronavirus test, said it's hypocritical for Republicans to demand Biden stop campaigning now after mocking his socially distanced campaign earlier.
"He tempted the gods. He made fun of Biden," Ryan said of Trump. "I don't think anybody's gloating about it. We're praying for him and his wife, but he's gotta take responsibility. He put himself a bunch of circumstances that were risky. He was reckless."
It's another unexpected turn in a campaign full of them.
"It's so unprecedented that it's really hard to predict how it impacts things," said Alex Conant, a veteran Republican strategist.
On one hand, British Prime Minister Boris Johnson saw a surge in popularity when he suffered through a coronavirus diagnosis in the spring and Trump has enjoyed a spike in positive media coverage on the news.
But on the other hand, the Trump campaign will lose their best fundraiser and messenger, as well as the chance to talk about anything other than the president's health, with critically few days left in the campaign.
"The campaign is quickly running out of time to raise Biden's negatives and win back swing voters," said Conant.
Biden has made Trump's handling of the coronavirus the central pillar of his campaign and has repeatedly argued that the president's cavalier attitude towards the virus — and outright denial of its danger on occasion — has made the situation far worse than it needed to be and led to needless deaths.
He largely suspended in-person events and door-to-door canvassing over the summer while Trump continued to hold large rallies where masks were scarce and social distancing guidelines brashly flaunted.
But Democrats know they need to tread carefully to not appear callous or gloating, even if many privately think Trump brought this on himself.
In an email to staff obtained by NBC News, Biden campaign manager Jen O'Malley Dillon urged employees to "refrain from posting about the situation on social media unless otherwise directed by your manager."
"This election isn't about Trump getting Covid, it's about America getting Covid and Trump's infection is the latest proof that it's a risk to everyone," said Democratic strategist Jesse Ferguson. "The pandemic's the most serious threat we've faced in a generation and voters want someone they believe will listen to experts, have a plan and combat the virus."
Republicans are sure to seize on any comments taking political advantage of what could be a potentially grave medical condition for the president.
Without citing any examples of people doing so, South Carolina Sen. Lindsey Graham, a staunch Trump ally, said on Twitter that he was "disgusted by those wishing ill on the President and First Lady."
"It's truly shameful," Graham added. "President Woodrow Wilson caught the Spanish Flu in 1919. I doubt the people of his time wished him ill."
The need to isolate could keep Trump off the campaign trail for critical days or weeks in the final month before the Nov. 3 election.
"All previously announced campaign events involving the president's participation are in the process of being moved to virtual events or are being temporarily postponed," Trump campaign manager Bill Stepien said in a statement. "All other campaign events will be considered on a case-by-case basis and we will make any relevant announcements in the days ahead."
Vice President Mike Pence, who tested negative, will resume campaigning and is scheduled to debate Harris next week.
Karen Finney, a veteran Democratic strategist, said Trump's only choice may be to campaign virtually, even though he's spent months scoffing at Biden for doing just that.
"Maybe, semi-ironically, he could employ a strategy similar to what the vice president has used and appear via technology," she said.
"This is a frightening moment because it's a reminder that anyone can get Covid," Finney added. "We have to be mindful of the risk and take it very seriously. And I hope that rebalances the conversation from those who were suggesting that we're not still in the middle of this."
Nse Ufot, the CEO of the New Georgia Project, a progressive group that works to engage young and minority voters, said Biden should send thoughts and prayers to the first couple and anyone else exposed, "And then he should return to 'chopping wood and carrying water'" on the campaign trail.
"There are 32 days until November 3rd and Americans in more than a dozen states have already begun casting their ballots," Ufot said.
The news comes just as Biden's campaign has begun to ramp up events.
The former vice president has been appearing in swing states more often, though with reduced crowds and press corps to comply with social distancing, and his campaign announced Thursday it will resume door-knocking after Democrats sounded alarm bells that they were getting lapped by Republicans, who say they have been knocking on 1 million doors a week.
Obama faced questions about continuing his 2008 campaign after rival John McCain decided to suspend his in the face of the financial crisis, but Obama decided he could "walk and chew gum at the same time" and went on to win in a landslide.
The late Minnesota Sen. Paul Wellstone died in a plane crash 11 days before his 2002 reelection and Republican Norm Coleman, after a brief pause, continued stumping and defeated former Vice President Walter Mondale, who had been recruited to replace Wellstone on the ticket.
Jonathan Tasini, a progressive operative and Bernie Sanders ally, said he doesn't expect Trump to get the kind of sympathy from voters that a different president in this situation might enjoy.
"In normal times, there might be a 'rally around the flag' impulse. That might have been true, say, in April. But, at this point, too many people do not trust him and he's simply underwater," Tasini said.
"It will actually somewhat freeze the current status in place, and maybe even eliminate the next debate — and Republicans can't afford to have a frozen-in-place dynamic," he said, noting Biden is ahead in most polls.