The six states voting in the primaries and caucuses Tuesday are bracing for a strong turnout after some voters in California and Texas waited hours in long lines to cast their ballots.
Election officials and experts are hoping that with less new technology, more paper-based methods and early and absentee voting options, the states — Idaho, Michigan, Mississippi, Missouri, Washington, and North Dakota — are expected to have fewer bottlenecks. But other changes may delay reporting of the results.
"We do not anticipate unusually long lines in the March 10 states, primarily due to variables such as voting methods, state sizes and the absence of major process changes such as the introduction of Vote Centers," Eddie Perez, an election administration analyst with the OSET Institute, said in an email.
NBC News has collaborated with the OSET Institute since 2016 to monitor U.S. election technology and voting issues.
Voters and local administrators have hit roadblocks with newer machines and polling technology that can sometimes result in unanticipated problems — such as the Iowa app that was confusing for precinct chairs to use and encountered a coding issue that caused it to crash and be abandoned on caucus night.
In some states this primary season, new technology or processes were implemented in locations that also saw long lines or administrative errors, highlighting the challenges of instituting cutting-edge election systems and processes and the need for election infrastructure resilience and contingency planning.
The states voting Tuesday, however, should not encounter such problems, election integrity experts say. All states except Mississippi will be using some form of hand-marked paper ballots.
In Michigan, the state with the most delegates up for grabs Tuesday, more than 800,000 ballots have already been cast under the state's policy that allows anybody to cast an absentee ballot. That should decrease lines, Jake Rollow, a spokesperson for the Michigan secretary of state's office, said. Another change allows voters to register through election day.
While both moves are designed to increase voter participation, they're likely to add delays to the results reporting Tuesday night compared to primaries past, Michigan Secretary of State Jocelyn Benson said at a news conference last week.
Washington has eliminated any chance of lines. The state votes entirely by mail and has no polling places.
While election security advocates have called for improvements to voting machines, new technology isn't a magic bullet. Hand-marked paper ballots are considered by election experts to be more efficient and less susceptible to some of the glitches seen with new ballot marking device technology and e-poll books, like connectivity issues with the central voter registration database, such as those deployed in Los Angeles County.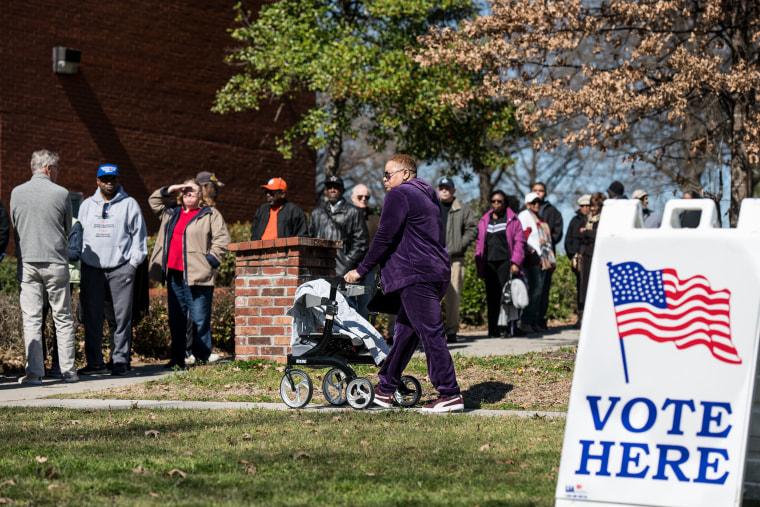 NBC News surveyed other states and territories that have already concluded primary voting on what machine and administration issues they've experienced.
Most reported "mundane" issues such as scattered paper jams, power failures, slowness with back-office systems that were fixed by adding more servers, or long lines at specific locations that experienced high turnout or were running special elections.
Some touted that their new systems had improved the voting experience. Alabama cited its new e-poll books as cutting down on check-in times. Minnesota reported an increase in voter participation of more than 175 percent over its 2016 caucuses.
But a handful of counties had issues that will require closer review. Harris County, Texas, which uses voting machines from Hart InterCivic, opened an investigation after a vote was registered as cast after polls closed and a pollworker reported security seals missing on one device the next morning. This same location, Texas State University, also experienced lines in excess of 6 hours on Super Tuesday.
Scrutiny was higher on jurisdictions using new equipment. ES&S, the dominant U.S. voting system maker, said that as of November, it has delivered nearly 35,000 new ExpressVote and ExpressVote XL universal voting machines, and over 7,500 ballot scanners and tabulation machines to more than 150 jurisdictions.
The new machines have been heavily marketed across the county for their ease of use for voters and security and accuracy for administrators. ES&S said many new customers were delighted with the new equipment and experienced no issues. But NBC News found some isolated cases of reported problems.
"Our call center was active, but typical and on par with previous elections as election officials familiarize themselves and voters with newer secure technologies," Katina Granger, an ES&S spokesperson, said in an email.
One Texas county that used new ES&S equipment is taking extra steps to review the results. A Dallas County judge ordered a recount of paper ballots from 44 new ES&S machines after thumb drives containing the ballots weren't included in final results.
One South Carolina county, Richland, replaced its election director and is looking for answers after malfunctions, frozen screens and printer jams affected at least 10 new ExpressVote machines during its Feb. 29 primary voting and forced poll workers to break security seals to fix printers.
Election board members said humidity and back-end administration issues may have played a factor, but the number of errors were excessive for the state's brand new $51 million equipment, said Duncan Buell, a board of elections member and a computer scientist who has researched voting system issues.
"That sort of failure of scanner should happen so rarely. It should be once in an entire county, not one in every four," Buell said. "This should be a big issue. We should not be breaking seals on boxes to fix it."
CORRECTION (March 10, 2020, 4:27 p.m. ET): A previous version of this article misstated when voting machine maker ES&S delivered its newest machines. They were delivered as of November, not since November. The article also misstated the number of Texas counties that used new ES&S equipment and are reviewing primary results. It is one county, not two.