WASHINGTON — Ohio Democratic Rep. Tim Ryan used to have an "A" rating from the National Rifle Association. But Thursday, he led a caravan of gun control activists to Mitch McConnell's hometown to try to hector the Senate majority leader to pass new gun laws.
"There's just an accumulation of grief that has really taken hold now," Ryan, who briefly suspended his 2020 presidential campaign after last weekend's mass shooting in his state, told NBC News.
Like several other Democrats running for president who were once more conservative on guns, Ryan said his thinking evolved as the NRA refused to budge in the wake of mass shooting after mass shooting. After the Las Vegas massacre, he counted up all the money the NRA had given him over the years and donated it to gun control organizations. He now has an "F" rating from the group.
"I'm watching this unfold in this country and my votes slowly started to change," he said.
There are now 24 Democrats running for president, each trying to stand out from the next in one way or another — but not on guns. The biggest presidential field in history is also the most united ever in favor of gun control, a major break from the past made possible by the shifting politics around guns in America, Democrats and advocates say.
"If anything, they're outmuscling each other to see who can have the most aggressive platform on gun safety," John Feinblatt, the president of Everytown for Gun Safety, said. "And that's a sign of the real changing political calculus on this issue."
"In Democratic political ads, orange hunting vests are out, and red Moms Demand Action shirts are in," Feinblatt said, referring to a sister group formed by mothers who push for stricter gun laws.
On the debate stage last month in Detroit and throughout the 2020 primary, moderates are warning that progressives will cost Democrats the election against President Donald Trump by pushing ideas that they say are too radical or politically impossible, such as Sen. Bernie Sanders' "Medicare for All" proposal.
But no one is making that case on guns.
Former Colorado Gov. John Hickenlooper, who has railed against "socialism," has also bragged about beating the NRA in Colorado after the Aurora theater shooting and vowed to do the same nationally as president.
Montana Gov. Steve Bullock, who owns guns and comes from a red state where hunting is popular, held a news conference in Washington this week to call on Congress to pass stricter gun laws.
"All of us are sick of politicians offering hopes and prayers and then burying commonsense gun safety laws before we even comforted the victims of the last mass shootings," Bullock said Wednesday. "We need to acknowledge that the NRA and other extremist groups have a stranglehold on our politics."
The entire 2020 Democratic presidential field now supports basic gun safety policies such as universal background checks, "red flag" laws that allow law enforcement to temporarily confiscate guns from people deemed a threat, and banning assault weapons. On the stump, they all preach strident and urgent opposition to the NRA.
Feinblatt, whose group threw together a presidential candidate forum on guns in Iowa this weekend in response to the string of recent mass shootings, said Democrats have stiffened their spines on guns in recent years.
National Democrats have long supported gun control laws, but in the past would typically qualify that stance with reassurances about their belief in the Second Amendment and respect for the hunting culture.
Hillary Clinton, who grew up in an upper-middle-class suburb of Chicago, for instance, would tell crowds on the 2008 campaign trail things like, "My dad took me out behind the cottage that my grandfather built on a little lake called Lake Winola outside of Scranton and taught me how to shoot when I was a little girl ... It's part of culture. It's part of a way of life."
And former President Barack Obama allowed himself to be photographed firing a shotgun during the gun control debate after the Sandy Hook shooting, explaining, "Up at Camp David, we do skeet shooting all the time."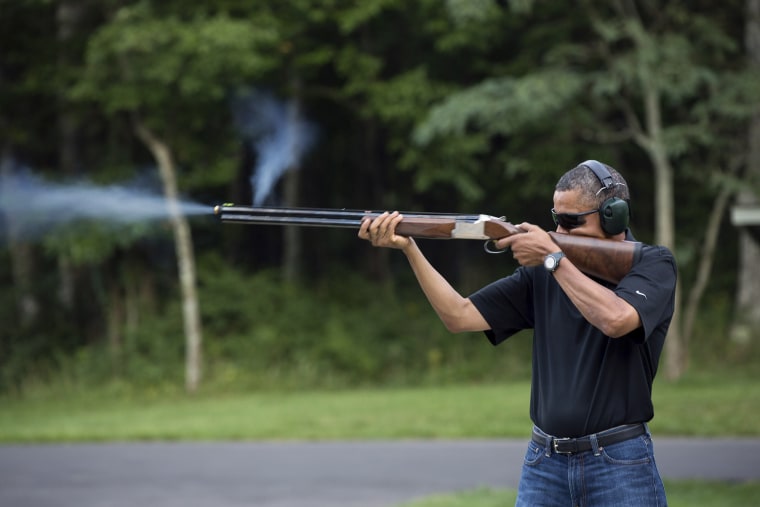 John Kerry, the 2004 Democratic presidential nominee, famously invited reporters along for a hunting trip in Ohio during which he wielded a 12-gauge shotgun and donned an orange vest over a camouflage jacket.
The former Massachusetts senator was actually an experienced hunter, but the excursion did little to change Kerry's image as an out-of-touch coastal elitist, with former Vice President Dick Cheney quipping, "The Second Amendment is more than just a photo opportunity."
"That excursion, whether it was well- or ill-advised, was at least intended to convey the message that he was not anti-hunting," said Bob Shrum, a veteran Democratic strategist and a top adviser to Kerry's campaign.
But Shrum said the political landscape has changed since then as mass shootings around the country have personally touched a growing number outside of liberal bubbles.
"I do think the earth has moved," Shrum said. "I don't think this is a coastal phenomenon anymore."
After Ohio Republican Rep. Mike Turner's daughter happened to be across the street from the Dayton shooting, he announced support for the assault weapons ban, a reversal of his earlier position.
For decades, guns were seen as a political third-rail for Democrats — a wedge inside the party and a loser outside of it.
But gun safety advocates say the balance of public opinion and electoral pressure might finally be tipping in their favor, although they've said as much before only to be disappointed by Congress.
Last year for the first time, gun control groups, with major backing from former New York City Mayor Michael Bloomberg's billions, outspent gun rights groups by almost 2-to-1 in the midterm elections. Polls and focus groups show strong support for an assault weapon ban.
Fifteen NRA "A"-rated Republicans were replaced by 15 NRA "F"-rated Democrats, including candidates like Rep. Lucy McBath, D-Ga., a gun violence victim-turned-activist who won the same suburban Atlanta congressional seat that Democrats lost in a $50 million 2017 special election.
And while Congress has been a dead-end on gun safety legislation for years, activists have had better success in the states. So far this year 17 states passed new gun safety measures, including in Republican-led Florida after the Parkland shooting.
Meanwhile, the NRA is riven by internal strife and Trump has offered some rhetorical support for policies like a red flag law -- though he's backtracked on similar comments in the past.
All of this has changed the political calculus for Democrats, as has the departure of rural whites from the Democratic Party, which increasingly draws its strength from urban and suburban areas.
All that makes it unlikely any 2020 Democrat will see an opening to get to the right of the rest of the field on gun control.
"If you want to distinguish yourself by being against these issues," Shrum said, "I suppose you could go from 2 percent to 0 percent in the polls."