LONDON — With the U.S. election still in the balance, several key allies appeared reluctant to condemn President Donald Trump's false claims of victory on Wednesday, instead vowing to retain close ties with Washington regardless of who wins the vote.
Trump incorrectly said he had won against Democratic challenger Joe Biden and made baseless allegations that his supporters were being disenfranchised. Neither NBC News nor any other major news organization has declared a winner in the 2020 presidential race, and either candidate could still win.
When pressed on Trump's statements, British Foreign Minister Dominic Raab refused to condemn them. Instead, he struck a neutral tone and said he had "full faith in the U.S. institutions, the checks and balances in the U.S. system that will produce a definitive result."
The United Kingdom's relationship with the United States was in "great shape," he added. "We're confident that it will go from strength-to-strength whichever candidate wins the election."
Prime Minister Boris Johnson also refrained from commenting on the election in general or Trump's explosive comments, in particular.
For the past four years, a lot has ridden on the U.S. relationship for Johnson, who will need to negotiate a trade deal with Washington as the U.K. completes its protracted exit from the European Union.
In Britain, one of America's closest allies where leaders cherish the so-called special U.K.-U.S. relationship, the vote garnered almost as much excitement and media coverage as some of the country's own elections have. Billboards on highways touted one radio station's live coverage of the results and many commentators stayed up all night discussing the vote counts in individual states.
In Germany, too, government spokesman Steffen Seibert struck a neutral tone, and would only say that Germany "has confidence in the democratic tradition and the constitutional institutions of the United States of America."
While Wolfgang Ischinger, Germany's former ambassador to Washington, told NBC News: "I'm afraid we will be looking at continued polarization in American politics ... That for us in Europe is not exactly good news."
Trump is deeply unpopular across much of Europe, according to polling by the Pew Research Center. And outside the corridors of power — where lawmakers and officials have refrained from criticizing the potential winner —Trump's comments have caused alarm in some quarters.
"The fact that the U.S. has been a champion of democracy and democratic institutions in the world ... actually make this very surprising and very rare," said Sofia Collignon of the London-based Democracy and Elections Centre, an academic research group, commenting on Trump's claims.
Collignon said she was surprised that other democracies hadn't yet commented but said they likely didn't "want to pick a fight" or "risk their relationships with the U.S." at this stage.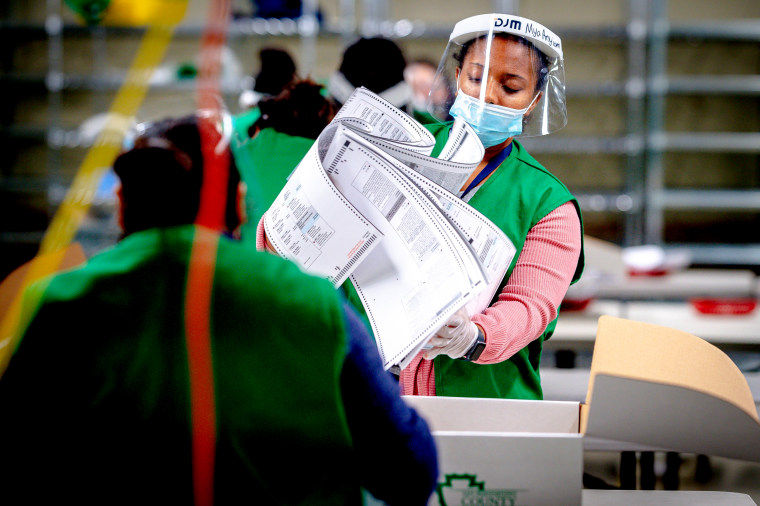 The European Union's foreign affairs representative said the 27-member bloc was committed to "building a strong transatlantic partnership, based on our shared values and history."
Trump has often lashed out at the E.U., accusing it of shortchanging the U.S. based on its trade policies.
Meanwhile in the U.K., Alastair Campbell, former British Prime Minister Tony Blair's spokesman, said by email that "American democracy is broken beyond repair unless every vote is counted."
Scotland's First Minister Nicola Sturgeon also hinted her unease at Trump's comments, tweeting that these were "crucial hours and days ahead for the integrity of U.S. democracy."
Download the NBC News app for breaking news and politics
The election has also drawn significant interest in Japan, another close American ally, with a former ambassador to the U.S. saying that Tokyo's close relationship with Washington wasn't dependent on its leader.
"If Mr. Biden comes in or Mr. Trump is re-elected, we're ready to dance with the new president," Ambassador Ichiro Fujisaki said.
The possibility of a Trump victory was cheered by some — mainly on the right.
"It's pretty clear" that American people have elected Trump for four more years, Janez Jansa, Slovenia's right- wing prime minister wrote in a tweet.
Twitter has since added a warning to his message saying, "official sources may not have called the race when this was tweeted."
First lady Melania Trump was born in Slovenia.
Rachel Elbaum, Adela Suliman and Yuliya Talmazan reported from London; Andy Eckardt reported from Germany.