When President Joe Biden promoted his infrastructure law in Pittsburgh this year, he singled out two of its congressional champions in the audience that day, thanking "Senator Casey and Senator Lamb" of Pennsylvania.
It certainly wasn't the first time the president had misspoken in acknowledging an audience member, but it was a conspicuous promotion to give Rep. Conor Lamb, particularly because Lamb was seated just feet from his main rival in the Senate Democratic primary, Lt. Gov. John Fetterman.
"I hope you enjoyed that," a Biden aide texted a Lamb adviser, sensing, like many others, that Biden had perhaps made a Freudian slip to reveal his partiality in a race in which his aides preferred he remain neutral.
Fetterman won the Democratic primary, NBC News projected Tuesday night.
The race in Pennsylvania, where Biden was born, never generated as much attention as the one on the Republican side. Lamb announced his candidacy months after Fetterman launched his campaign, and from the get-go Lamb struggled to raise the money he needed to expand support beyond his Western Pennsylvania district to compete with Fetterman, a well-known populist Democrat nearing the end of eight years in statewide office.
Lamb never expected Biden to take sides, nor did he ask him to do so, his campaign said. The White House says Biden's involvement was never in the cards, assessing that any of the three Democratic candidates — state Rep. Malcolm Kenyatta also trailed Fetterman in name ID and campaign cash — would hold up well in a general election against a Trump-aligned Republican. NBC News has yet to project a winner in the GOP primary.
Some close to Lamb still confessed their disappointment that Biden and others in his orbit didn't offer more than a verbal gaffe to give his campaign a fighting chance, especially given the close history between Biden, 79, and Lamb, 37, a Marine veteran whom Biden had compared to his late eldest son, Beau, multiple times.
Four years ago, Biden was one of the few national Democrats whom Lamb welcomed by his side as he campaigned in and won a special congressional election that was seen as an early test of President Donald Trump's standing heading into the 2018 midterm elections. When Lamb won by just 755 votes, Biden praised his campaign as offering a template for other Democrats preparing for tough races.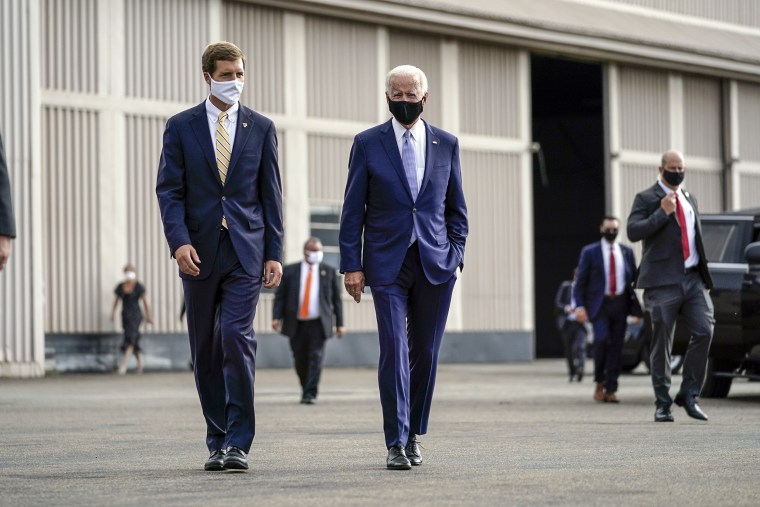 Months later, Biden began testing the waters for his eventual 2020 bid, with Lamb at his side at Pittsburgh's Labor Day parade, kicking off an eight-week sprint in support of more moderate Democrats who helped propel the party back into control of the House halfway through Trump's presidency. Lamb's congressional campaign at the time also happened to be advised by Mike Donilon, who has long been one of Biden's most trusted advisers.
A year later, Lamb endorsed Biden just weeks before the Iowa caucuses, joining him on the road during some of the most difficult days of his campaign to make the case that only Biden could lead the party to victory in November.
In 2020, both Lamb and Kenyatta were among 17 "rising stars" chosen for a montage keynote address at the Democratic National Convention. After that, Lamb would campaign for Biden as much as for himself, acting as a key campaign surrogate in critical Western Pennsylvania through Biden's election eve rally there in November.
Fetterman's history with Biden pales in comparison. He endorsed Sen. Bernie Sanders, I-Vt., in the 2016 presidential race and built his brand as an anti-establishment politician more comfortable in his trademark hoodie and gym shorts than in the expected attire of a U.S. senator. When Biden planned to travel to Pittsburgh at the beginning of this year, the headlines the day before were that Fetterman had snubbed the White House's invitation to join him.
While Fetterman ended up joining Biden that day, his campaign has otherwise focused on Democrats' struggles to implement Biden's broader agenda. In doing so, he implicitly cast Lamb as being more in league with Sen. Joe Manchin, D-W.Va., as a potential obstacle to progressive priorities.
The White House's unwillingness to wade into the Democratic primary stood in stark contrast to the role Biden played as vice president 12 years ago, when he persuaded Republican Sen. Arlen Specter to switch parties and seek re-election as a Democrat. Specter, despite the endorsements of Biden and President Barack Obama, lost the primary to Rep. Joe Sestak, who in turn lost the general election to Sen. Pat Toomey. Toomey's decision not to seek re-election opened up the critical Senate seat now.
Biden political advisers say that regardless of whatever fondness they had for Lamb, they couldn't see a path to victory. Prodigious online fundraising allowed Fetterman to drastically outspend Lamb — $14.2 million to $4.8 million as of April 27, the end of the most recent filing period. Still, a top Lamb ally said even quiet signals of support from Biden could have made an early difference and accused the White House of simply seeking to avoid a fight with the progressive base after months of grueling legislative battles.
Biden was quick to congratulate Fetterman on Tuesday night, saying in a statement that Fetterman "understands that working class families in Pennsylvania and across the country have been dealt out for far too long," and his advisers say Fetterman's recent messaging signals that he embraces Biden's agenda and would welcome him on the campaign trail this fall.
"He's run on a common-sense agenda, about bringing people together and being a senator for all of the counties in Pennsylvania, but also a reliable Democratic senator," a top adviser said.