CASPER, Wyo. — Amid a full-on political war with former President Donald Trump, it's getting trickier for Rep. Liz Cheney's allies to defend her to fellow Wyoming Republicans in a renomination bid that many folks here expect her to lose.
"There's going to be some very serious discussions going forward on what does it look like to actually campaign in Wyoming for Liz," state Rep. Landon Brown, a Republican who backs Cheney and shares her views on Trump, said in a telephone interview. "I don't know that the Republican Party wants to see that hard-core fight."
"At this point," he added, "I'm not sure it's going to be an effective strategy for her to solely go after [Trumpism]."
But Cheney has turned her national argument that Trump is a danger to the party and the country into the centerpiece of her campaign in a five-way primary Aug. 16. To some, her decision to focus on Trump looks like a political kamikaze mission that could benefit her only if a defeat can transform her into a 2024 presidential candidate — or at least give her a bigger platform outside electoral politics.
Cheney allies insist she is running to win, but not at the cost of delivering her anti-Trump message.
"She knows it's an uphill battle," said a person close to Cheney. "But she's not going to change her stance to win an election."
Trump, who won Wyoming by a larger margin than he did any other state in 2020, is happy to shift their battle to the friendliest of turf. On Saturday, he staged a rally here with a dual purpose: to tear down Cheney and to promote her most prominent rival, lawyer Harriet Hageman.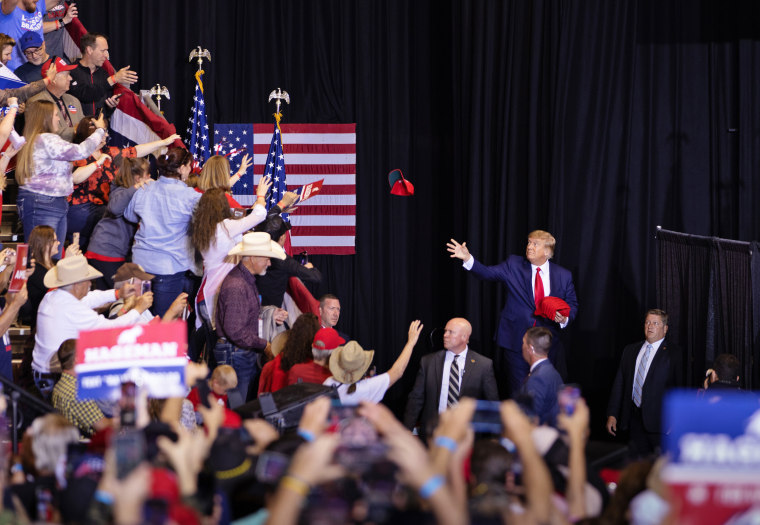 "Wyoming deserves a congresswoman who stands up for you and your values, not one who spends all of her time putting you down, going after your president in the most vicious way possible and loving endless and nonsensical wars," Trump said of Cheney, who supported U.S. invasions of Afghanistan and Iraq.
Cheney's strategy is unique among Republicans who have stood up to Trump: Many have chosen to retire rather than face brutal re-election bids; others have sought to appease his base.
In Georgia this month, Gov. Brian Kemp won renomination against Trump-backed former Sen. David Perdue by signing a flurry of conservative laws and refusing to engage in public feuding with the former president. His team said his aim — a successful one — was to create a permission structure for voters to back both Trump and Kemp.
That's not at all what Cheney is doing. She's focusing on Trump and making the case that his politics are destructive.
"If our generation does not stand for truth, the rule of law and our Constitution, if we set aside our founding principles for the politics of the moment, the miracle of our constitutional republic will slip away," Cheney said in a video last week that all but named Trump as her enemy. "I am asking you to join me to rise above the lies, to rise above the toxic politics, to defend our freedom to do what we all know is right." 
Her best hope for re-election is to cobble together a coalition of anti-Trump Republicans, some set of voters who can abide both of them and a combination of Democrats and unaffiliated voters, who are allowed to cast Republican primary ballots in Wyoming's partly "open" system.
"I will be voting for Liz Cheney, because she has common sense and she promotes democracy. And the other ones do not, and I'm just tired of it," said Patty Gardner of Cheyenne, a onetime Democrat who switched her registration to Republican last month so she could vote for Cheney. 
But Cheney is leaving little room for possible Trump-Cheney voters.
"There is no middle ground here: You are either Team Cheney or Team Harriet," said a Republican source with deep ties in the state. "Gotta think Cheney has something big up her sleeve; otherwise she's going to lose big."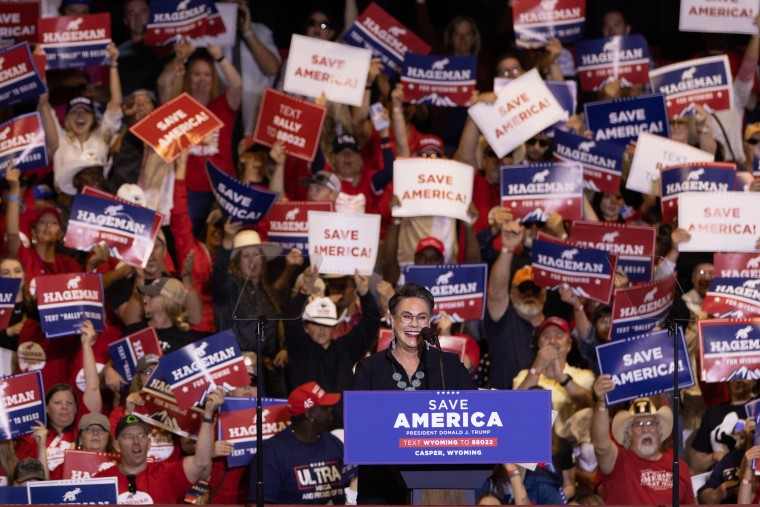 The biggest thing Cheney has going for her is a campaign treasury that had $6.7 million at last count, more than six times Hageman's count and enough that Hageman advisers wonder whether Cheney can spend it all in a state with inexpensive media markets.
It's hard to overstate the intensity with which Trump's staunchest backers hate Cheney, who voted to impeach Trump, joined the Democratic-led committee investigating his role in the Jan. 6 Capitol riot and continues to blast him publicly at every opportunity.
Debra Carson, 64, of Rock Springs, put their sentiments succinctly in an interview at Trump's rally here: "She's a traitor."
Not everyone who dislikes Cheney has made the jump to backing Hageman, who has to compete with three other candidates for the anti-Cheney vote.
"The objective is to replace her," said Brent Bien, one of several candidates trying to deny renomination to Republican Gov. Mark Gordon.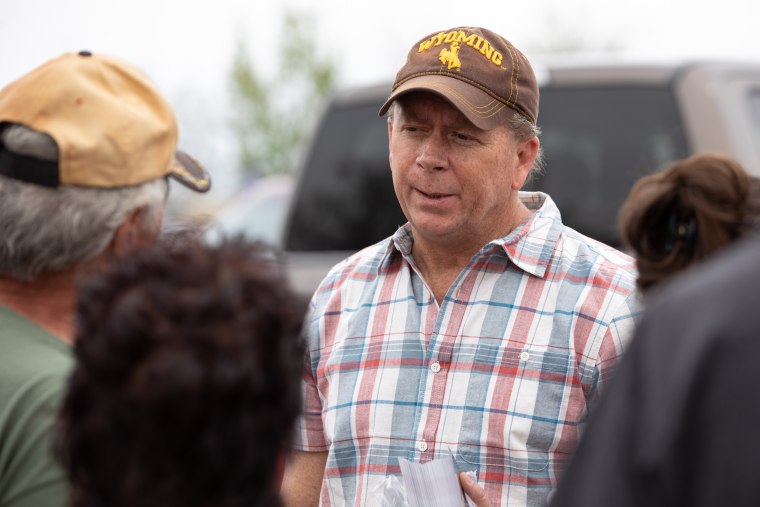 Bien, who stopped short of endorsing Hageman, said he is concerned that Cheney could win her primary if Republicans don't coalesce around one of her challengers. That group includes conservative state Sen. Anthony Bouchard, who acknowledged last year that he conceived a child with a 14-year-old girl when he was 18.
In recent primaries, some Trump-backed candidates have lost or struggled to win, often failing to crack the one-third mark with the electorate.
Ousting Cheney is the top priority for Erin Carbert, a day care worker from Ranchester, who said Hageman has "more of a chance" than the other challengers.
"Cheney needs to go," said Carbert, who wore a homemade T-shirt with the words "Ultra MAGA Deplorable" to the Trump rally. "She's more a Democrat than a Republican."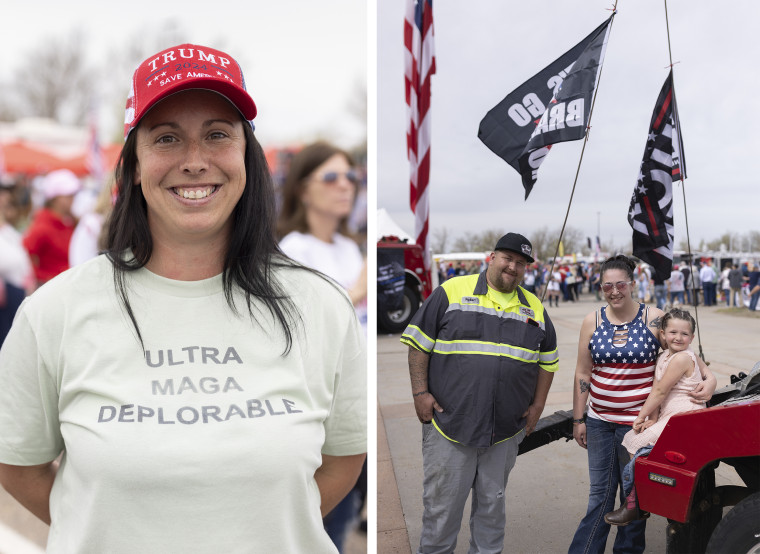 That concept is at the heart of Hageman's argument. Speaking before Trump — in remarks well-received by an audience full of voters from Wyoming and nearby states — she accused Cheney of not knowing what it means to "ride for the brand," a term used to describe ranch hands' loyalty to their employer.
For Hageman, that means Trump's GOP.
Cheney, who is also using the phrase, has a different take.
"In Wyoming, we know what it means to ride for the brand," Cheney said in her launch video. "Our brand is the United States Constitution."
Some Republicans here are proud that Cheney has risked her seat — after having already being thrown out of the House GOP leadership — to speak out against Trump after the Capitol riot and as he continues to lie that the 2020 election was stolen.
"Cheney's stand, knowing she could end her political career, that took a lot of courage," said Lorenzo Chouinard, 75, a retired educator who lives in Cheyenne. He and his wife, Mary Jo Chouinard, a retired principal, said they will vote for Cheney.
But Cheney faces unprecedented opposition from her national party, and it's not just Trump. House Minority Leader Kevin McCarthy, R-Calif., a frequent target of Cheney's criticism, and Rep. Elise Stefanik, R-N.Y., who replaced Cheney as the House GOP Conference chair last year, recorded videos endorsing Hageman that were played at Trump's rally.
When McCarthy appeared on screen, a smattering of boos could be heard in the Ford Wyoming Center arena. Stefanik got a burst of applause when she identified herself as Cheney's replacement in the GOP leadership.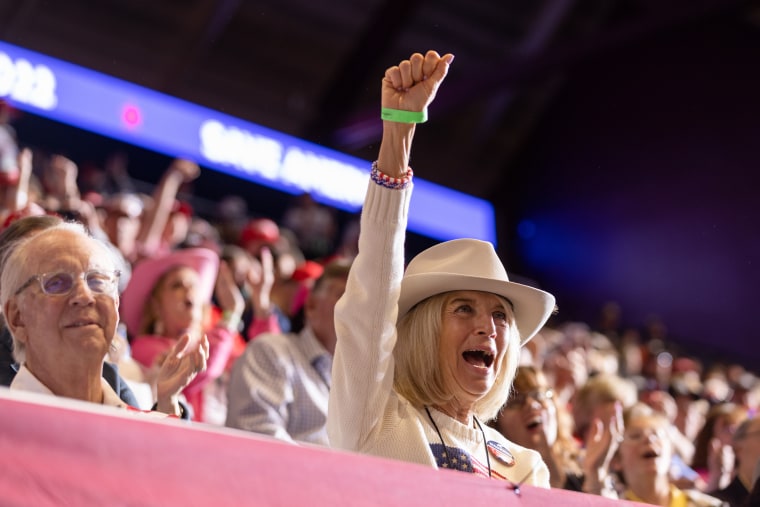 Hageman's fundraising is being supplemented by a super PAC called Wyoming Values, which is run by Donald Trump Jr.'s team, and her campaign is stocked with aides and advisers who worked for the former president.
Her challenge is to make the two-step case that Cheney should be thrown out and that she is the best alternative.
"People are fed up, and Harriet is showing who she is — a good, solid, viable replacement," a Hageman adviser said.
Cheney declined an interview request for this article; Hageman didn't respond to a question shouted to her outside the Trump rally.
It's not clear what role Cheney would play in Congress if she were to win re-election, having been alienated from her party caucus. Hageman and her allies contend that Cheney wouldn't be influential if she is returned to the House for a third term.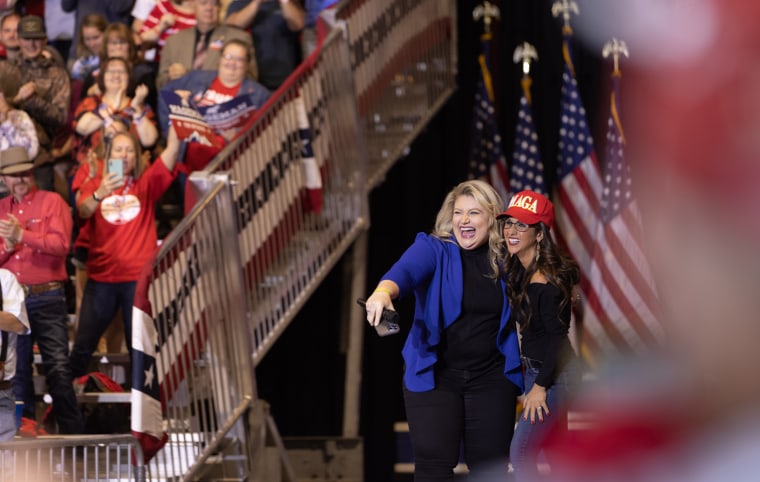 "If she comes back to Congress, she has no voice," said Rep. Ronny Jackson, R-Texas, a top Trump ally in the House who attended Saturday's rally. "It's not just about electing Republicans. ... It's about electing the right Republicans."
Brown, the state representative who supports Cheney, said he is turned off by the Trump cohort in Congress, naming Reps. Marjorie Taylor-Greene, R-Ga., and Madison Cawthorn, R-N.C., as particularly nettlesome lawmakers.
"We don't want them as the face of our party, but there's also a lot of people that don't want her as the face of our party saying that Trump is the worst person on Earth and you can't have him as president," Brown said.
"She's standing up for the rule of law. She is standing up for the Constitution. And that's what these people claim to live by and claim to honor and claim that's the backbone of their political candidacy," he said. "When the truth comes down to it, when the rubber hits the road, they're mad at her for doing that, because it was against their savior, Donald J. Trump. And it's just a crying damn shame."
As for Cheney's future, Brown said that it could be bright at the national level but that he is convinced she is focused on this race.
"Could I see her going for president? Certainly. Could I see her doing something larger than she's doing now? You bet," he said. "I just don't think that's what she's doing right now. I do think that what she is doing right now is hunkering down and bracing for the campaign of her life."