WASHINGTON — President Joe Biden made his re-election bid official Tuesday, capping months of speculation over his plans four years to the day since he announced his 2020 campaign.
In a video titled "Freedom" — which opens with a scene of the Jan. 6 attack on the Capitol, followed by an image of an abortion rights protest — Biden said that after he has spent his first term fighting for the country's democracy, "MAGA extremists are lining up" to cut the social safety net and take away personal liberties.
"Cutting Social Security that you've paid for your entire life while cutting taxes for the very wealthy. Dictating what health care decisions women can make, banning books and telling people who they can love. All while making it more difficult for you to be able to vote," he said.
He made the case that his administration still has more to do.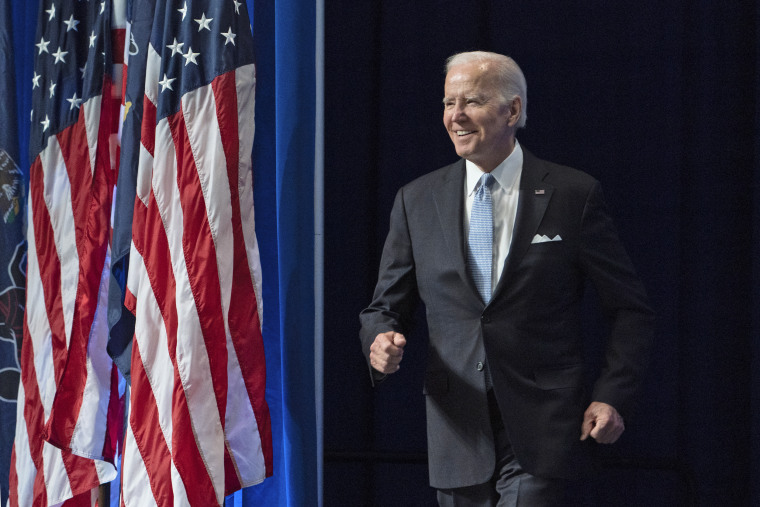 "When I ran for president four years ago, I said we are in a battle for the soul of America. And we still are. The question we are facing is whether in the years ahead we have more freedom or less freedom, more rights or fewer," he said, adding: "This is not a time to be complacent. That's why I'm running for re-election."
The launch is an effort to position Biden as the nation's best hope to defeat a Republican opponent and cement his administration's successes heading into 2024.
The symmetry of the fourth anniversary is a fitting opening for a president who has leaned into history at key moments to pitch his vision to Americans about the road ahead.
Biden launched his campaign in 2019 with a video message, as well — warning that four more years of Donald Trump would "forever and fundamentally alter the character of this nation, who we are," and highlighting the 2017 violence at a white nationalist rally in Charlottesville, Virginia. His 2024 launch video does not mention Trump by name, although the specter of a rematch and an acknowledgment of the forces of Trumpism were there. The video features an image of Rep. Marjorie Taylor Greene, R-Ga., one of Trump's staunchest supporters, and a photo of Trump standing beside Florida Gov. Ron DeSantis, who is seen as a chief rival for the Republican nomination.
In his State of the Union address in February, Biden used the words "finish the job" more than a dozen times and warned of Republicans who "want to take the economy hostage." He has again and again painted a contrast with so-called MAGA Republicans, pointing to former and potential future rival Trump and the elected GOP officials he said have "proposed huge cuts" to "programs that millions of hard-working and middle-class Americans count on."
It is part of the message that propelled him to victory in 2020 and bolstered Democratic midterm wins in 2022 to stave off a "red wave."
Ronna McDaniel, the chair of the Republican National Committee, characterized Biden as "out-of-touch."
"Biden is so out-of-touch that after creating crisis after crisis, he thinks he deserves another four years," McDaniel said in a statement Tuesday. "If voters let Biden 'finish the job,' inflation will continue to skyrocket, crime rates will rise, more fentanyl will cross our open borders, children will continue to be left behind, and American families will be worse off.
"Republicans are united to beat Biden and Americans are counting down the days until they can send Biden packing," she added.
The RNC also released a video slamming Biden's re-election bid that features clips and images generated by artificial intelligence to depict an apocalyptic future if he wins a second term.
The Trump-affiliated super PAC Make America Great Again Inc. swiftly panned Biden's presidency as a "failure" in a statement touching on global nuclear tensions, the economy and immigration.
"America is on the brink of a deadly nuclear war," MAGA Inc. CEO Taylor Budowich said. "Americans are struggling to afford groceries and gas. The border has been opened to millions of unknown illegal immigrants and tons of deadly drugs. Joe Biden does not deserve four more years to further destroy America.
"The choice will be clear for voters in 2024," Budowich added. "President Trump made America great once and he will do it again."
The timeline for Biden's announcement had been in flux. He began consulting with family members over the holidays last year, with first lady Jill Biden in December affirming that she was "all in" on another run.
Still, Biden has resisted pressure to formalize his entry into the race, often appearing to bristle at any push for greater urgency even as preparations have ramped up in recent weeks. Asked about his plans Monday, he told reporters in the Rose Garden: "I've told you, I'm planning to run. You'll know real soon."
A visit to Ireland "reinforced" his decision to run again, Biden said this month. Parts of his anticipated re-election video were recorded last weekend in Rehoboth Beach, Delaware, where he has a home, after he returned from traveling in Ireland, according to two sources familiar with the matter.
Yet even as Tuesday drew closer, some Democratic allies warned that the date could slip, citing Biden's willingness to slow-walk important decisions until the final moment.
The rollout is not unusual. In 2011, President Barack Obama and Biden, then the vice president, featured voters across the country in a video announcing their re-election campaign, titled "It Begins With Us."
Biden addressed the North American Building Trade Union in Washington later Tuesday, a nod to his vow to lead "the most pro-union administration in American history." The event mirrors the first rally of his 2020 campaign, which was held at a Pittsburgh union hall.
In a similar move, Vice President Kamala Harris, who Biden has said would run for re-election alongside him, joined Democratic allies for an abortion rights rally at her alma mater, Howard University, a historically Black university in Washington, D.C. Howard was her first stop after she announced her own 2020 presidential bid in a television appearance.
Harris said she was "proud to run for re-election" with Biden "so we can finish the job."
Other planning moves by Biden's team came in the countdown to Tuesday's early-morning announcement. NBC News reported Sunday night that Biden was set to tap Julie Chavez Rodriguez to head his 2024 campaign.
Meanwhile, NBC News reported last week that Biden's biggest financial supporters planned to gather Friday in Washington, where his top aides will prepare the Democratic Party's biggest donors and bundlers to amplify campaign messaging and ensure allies are still lined up behind him.
Two Democrats are mounting challenges to Biden: Robert F. Kennedy Jr., a scion of one of America's most prominent political families, and Marianne Williamson, the self-help author and spiritual guru whose 2020 bid fell apart before the Iowa caucuses.
Biden, who turns 82 weeks after Election Day and would leave office at age 86 if he is re-elected, has called himself a "respecter of fate" when he has been asked whether he will seek another four-year term. At 80, he is already the oldest commander-in-chief, a potential challenge for voters who have questioned his ability to handle the rigors of the job.
"The big attack against Biden will be his age and his capability," said Jeff Link, a top Iowa political strategist and veteran of Democratic presidential campaigns. "He needs to show that he is engaged and focused and working for working families. And you've got to do that continuously."
The campaign is expected to lean heavily on surrogates and digital media to boost Biden's message. Still, he has dismissed concerns about his age, responding "Watch me" when he has been asked about his fitness for office.
Biden confronts other liabilities as he enters 2024, including a sliding approval rating.
Fifty-three percent of Americans reported favorable opinions of Biden four years ago, according to Gallup, compared to 35% who disapproved. Today, 56% of Americans disapprove of the job he is doing, compared to 40% who approve.
According to a new NBC News poll, 70% of Americans, including 51% of Democrats, do not want him to run for president in 2024. Nearly half of respondents cited his age as a top reason. Just 38% of voters said they approved of his handling of the economy.
The survey shows Biden trailing a generic Republican among registered voters, 41% of whom said they were likely to vote for him, compared to 47% for the GOP candidate.
Those numbers could be an obstacle for Biden if Republicans nominate someone other than Trump, who, for now, remains the front-runner in the GOP nominating contest.
Biden's focus on personal liberties could act as a possible buffer to DeSantis, 44, who sees his "freedom blueprint" in Florida as a model that has rewarded Republicans and won over some Democrats, including in traditionally blue Miami-Dade County. After DeSantis' landslide re-election victory in the 2022 midterms, some Republicans saw his ability to sway voters outside the GOP tent there as a path to taking back the White House.
The race for campaign dollars will prove crucial to asserting Biden's power in a potential rematch.
After he announced his 2020 re-election campaign from the White House, Trump pulled in a $24.8 million fundraising haul over the next 24 hours, swamping his Democratic rivals. A similar show of strength from Biden would help assert him as a formidable incumbent against the Republican field, which is still coming into view.
Biden's opening fundraising total in 2020 surpassed the totals of his rivals at the time and was viewed as an important metric by his campaign.
Democrats and other voters continue to view Trump as a threat, another parallel to Biden's winning 2020 campaign that some expect could help bolster his case heading into 2024.
"Folks are still concerned about the threat that Trump poses," said Link, the Iowa strategist. "Having a second Biden term is critical for making sure that Trump doesn't get back in the White House."
It is an appeal Biden recognizes, Link said, and one he has the power to reinforce with Americans who fear a second Trump term, even if they disagree on other issues.
"Biden uses that line 'Don't compare me to the Almighty, compare me to the alternative,' and I think that's going to be very relevant," Link said.