WASHINGTON — Asian Americans have emerged as a coveted voting bloc in the 2024 election, with both parties recognizing their power to decide the presidency and other competitive races.
Asian American voter turnout spiked in 2020, surprising many political observers, and proved crucial to President Joe Biden's Electoral College victory. In battleground Georgia, Asian American turnout jumped by a startling 84% from the previous presidential election. Two years later, Sen. Raphael Warnock, D-Ga., sought to capitalize with an unusual move in his ultra-competitive contest: He produced ads in Mandarin, Korean and Vietnamese to mobilize Asian American voters. He carried 78% of that vote in the runoff and won.
Now, with the next campaign underway, the political power of this voting bloc has sunk in. The national committees for Democrats and Republicans say they're launching unprecedented investments to court Asian American and Pacific Islander voters.
The once-overlooked demographic has eclipsed Latinos as the fastest growing in the United States. Between 2016 and 2020, Asian American voter turnout jumped from 49% to 59%, the largest increase of any racial or ethnic group, according to Census Bureau figures. Biden won them by a blowout margin of 72% to 28%, according to the Pew Research Center. The turnout boost proved crucial in such swing states as Georgia, Arizona and Nevada, with Asian American and Pacific Islander voters propelling Biden and making Donald Trump a one-term president.
In a country where the past two elections were decided by fewer than 100,000 votes, the estimated 24 million Asian Americans could be a force for years to come — whether it's in states like Nevada, where Democrats are losing less-educated white voters, or in red-to-purple trending states like Georgia and Arizona, where Republicans are losing the suburbs.
"The increase in turnout of the AAPI community between 2016 and 2020 accounted for the margin of Biden's victory," said Tom Bonier, the CEO of the Democratic political data analysis firm TargetSmart. "People were surprised last time around. There's no excuse for being surprised this time around.
"You're going to be hearing about Asian American voters as an important voting bloc … and campaigns more openly vying for their support," Bonier said. "They are a mobilization bloc and a persuadable target."
In Nevada, which featured a hotly contested Senate race in 2022, Asian Americans made up 10% of the electorate, with 215,000 eligible voters, according to one estimate. Two-thirds of them voted Democrat while 26% voted Republican, according to a multilingual exit poll of more than 5,000 Asian American and Pacific Islander voters. Sen. Catherine Cortez Masto, D-Nev., won the race by 0.8 points — fewer than 8,000 votes.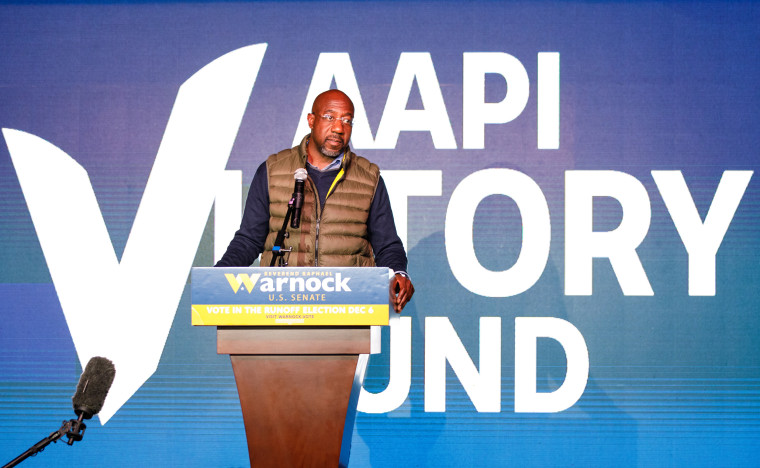 Trump 'awoke a sleeping giant'
Democrats have courted Asian American and Pacific Islander voters for years with pro-immigration and inclusive rhetoric as well as working-class appeals for economic opportunity. Varun Nikore, the founding executive director of the Democratic-aligned AAPI Victory Alliance, said Trump "awoke a sleeping giant" with his racially inflammatory language, particularly in response to Covid-19, prompting more Asian American participation. "This long tail of hate and violence that our community experienced since the racist Trump rhetoric started in 2020 is still unfolding," Nikore said in an interview.
A recent Pew Research Center study found that 62% of Asian Americans identify with the Democratic Party, while 34% identify with the GOP. Democrats hold large advantages with nearly all subgroups of Asian American and Pacific Islander voters — including those of Chinese, Indian, Filipino and Korean heritage. A notable exception is voters of Vietnamese ancestry, who prefer Republicans by a 9-point margin.
Republicans are seeking to cut into that Democratic advantage. In recent years, they've sought to highlight cultural liberal attitudes — or "woke" per slang in GOP circles — as a wedge to peel off conservative-leaning Asian American and Pacific Islander voters, who some Republicans argue are a more natural fit for their party.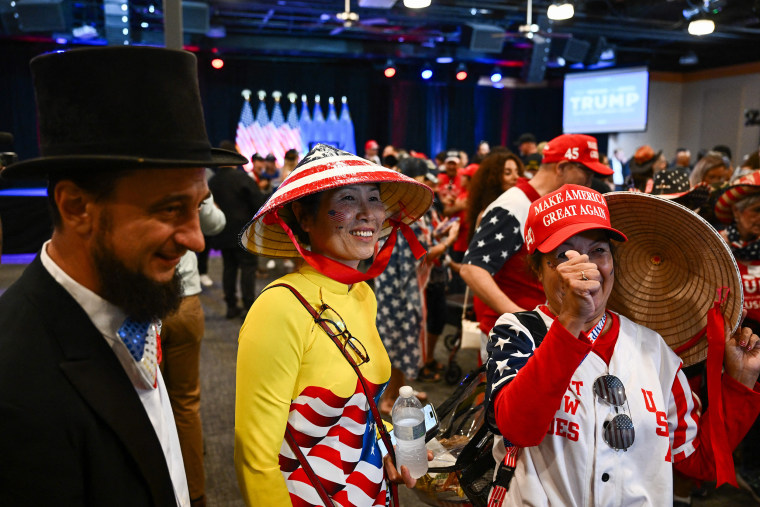 "That's a community that ought to be voting Republican," said Rep. Richard Hudson, R-N.C., the chair of the House GOP's 2024 campaign arm. "And we got to do a better job of communicating with them. I think we have done a good job in some places, like Orange County. I think you'll see us focus on that."
Republicans have courted voters of Vietnamese origin in swing districts in California's Orange County, partly with attacks on socialism. GOP Reps. Michelle Steel and Young Kim, both Korean Americans, represent competitive districts there. Nationally, in 2022, former Trump adviser Stephen Miller's group, America First Legal Foundation, sent mailers targeting Asian American and Pacific Islander voters, which portrayed Asian — and white — Americans as victims in liberals' support for considering race in college and hiring decisions.
Asked why Asian American voters still lean heavily toward the Democratic Party, Hudson said: "I just think our party has not done a good job of communicating with them."
'Decisive in battleground states'
Notably, Democrats' advantage is smaller with older and less-educated Asian American and Pacific Islander voters, the Pew Research Center found. Those under 30 lean Democratic by 77 points, while those 65 and older prefer Democrats by 5 points. College-educated and post-grad Asian American and Pacific Islander voters favor Democrats more than 2-to-1, while Asian Americans who never went to college lean Democrat by 4 points.
The Asian American community is younger than the overall electorate, with a median age in the mid-30s, Bonier said, adding that Asian Americans lack a long history of aligning with one party, making their affiliations more fluid than those of other minority groups, such as African Americans. Asian American and Pacific Islander representation in politics has jumped, from Vice President Kamala Harris to long-shot Republican presidential hopefuls Nikki Haley and Vivek Ramaswamy — all three have Indian heritage — to lawmakers in Congress and state governments.
Rep. Ro Khanna, D-Calif., a progressive surrogate for the Biden campaign, called on Asian American Democrats to keep the focus on Asian American and Pacific Islander economic concerns, and do so in "big and visible ways."
"The Asian American vote will likely be decisive in battleground states like Nevada, Michigan, Pennsylvania and Georgia, which are decided by such a small margin," Khanna said. "Democrats need to speak to the aspirations of the community, which is to have the opportunity for the American dream for themselves and their kids. It's about education and pathways to good paying jobs."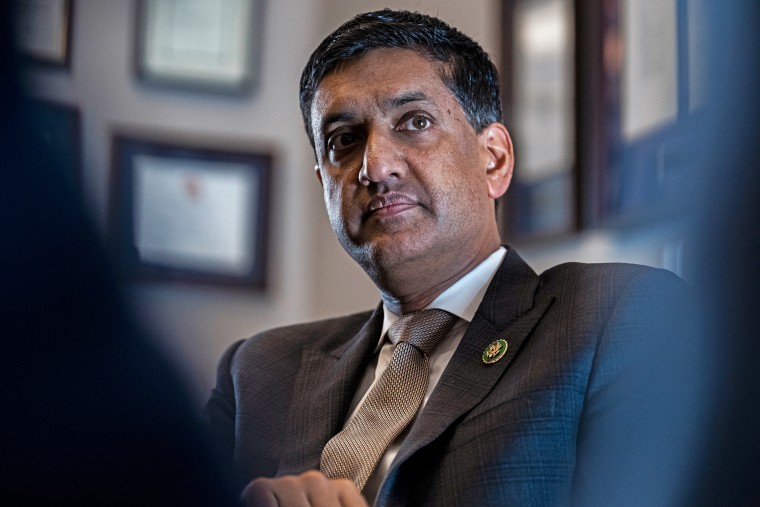 The Republican National Committee has tried to make inroads with a seven-figure investment.
"The RNC has "made a multimillion-dollar commitment to bolster our ground game in Asian Pacific American communities in key states across the country," said Republican committee spokesperson Emma Vaughn. "As Asian Americans continue to shift toward the GOP, the RNC is investing and building on our past successes to ensure Republicans continue to make inroads with minority voters to help us achieve our goal of taking back the White House and Senate in 2024."
The RNC has opened an Asian Pacific American community center in Orange County's Little Saigon, home to a substantial Vietnamese American population, and said it aimed to set up 40 of them in competitive states and districts. The committee also noted that the GOP made some gains with Asian American and Pacific Islander voters last year. An analysis by the firm Catalist found that the Democratic advantage with such voters fell by 7 points — from 66% in 2020 to 59% in 2022.
Both parties invest in Asian American outreach
The Democratic National Committee says it is taking its Asian American and Pacific Islander voter program to a new level as it seeks to help Biden win re-election in 2024. The DNC said it has already spent six figures on print and digital media ads. One of them, commemorating AANHPI Heritage Month in May, was translated into seven languages, including Japanese and Hindi.
"The DNC is taking nothing and no community for granted and will continue to work to engage and mobilize AAPI voters. Ahead of the 2022 midterms, our outreach and investment in AAPI communities began in the spring of 2021, earlier than ever before and has not stopped as we head into the next cycle," said committee spokesperson Tracy King. "As we move into the presidential election cycle, we plan to double down on our commitment and continue to share how Democrats have delivered unprecedented results for the AAPI community."
Cortez Masto offered some advice to candidates vying for Asian American votes: "Engage, get out and talk with them about the importance of the issues that matter to them, and who you are. And don't take for granted any of those voters."
Sen. Jacky Rosen, D-Nev., who faces re-election next year, has taken note of Asian American strength in her state.
"They're going to be very important," Rosen said in an interview. "My message to them is this: I'm listening. I'm listening to your concerns when it comes to child care. … They're talking to me about small businesses … seniors taking care of their parents, health care, affordable housing."
A Rosen staffer accompanying her chimed in: "Lowering costs."
"Lowering costs," Rosen echoed.
Nikore said some politicians may believe they can ignore the Asian American and Pacific Islander community "because we're not as loud and vocal" as others.
"But if you just look at the electoral math here, they're going to need our vote," he said. "They could embrace it and be proactive, or they could ignore it to their peril."