Adam Frisch, the Colorado Democrat who came surprisingly close to ousting far-right Republican Rep. Lauren Boebert in November, announced Tuesday that he's aiming for a 2024 rematch.
"You heard it here first! I am officially launching my campaign to unseat Lauren Boebert and restore dignity to #CO03 representation," Frisch said in a tweet accompanying a campaign video laying out his background and why he wants to defeat Boebert.
"She's part of the anger-tainment circus that is tearing our country apart," Frisch said. "I'll work across party lines to bring people together and get things done."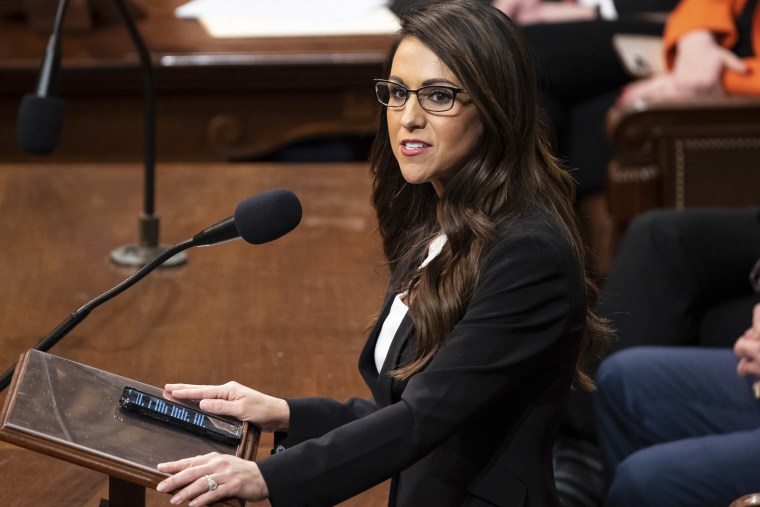 Boebert, who was endorsed by former President Donald Trump, was expected to easily win re-election last year. Frisch's stronger-than-expected showing, however, meant she won by fewer than 550 votes out of more than 325,000 cast.
"We lost by a mere 546 votes in '22 — the closest race in the country — and know we can make that up in '24," Frisch said.
In Tuesday's video, Frisch — a former Aspen City Council member who was a virtual unknown outside Colorado before the 2022 contest — said his previous campaign was hampered by a lack of resources.
Ben Stout, a spokesperson for Boebert, painted her as an effective representative for her district and noted her role in earning concessions on House rules during Rep. Kevin McCarthy's ultimately successful speakership bid early last month.
In an email statement, Stout said Boebert "helped fearlessly lead the way in making historic improvements to how Congress operates," adding, "In just a matter of weeks since then, Congresswoman Boebert has cosponsored and helped pass 6 bills and authored 4 amendments, each one passing on the House floor with bipartisan support."
"She looks forward to continuing to serve Colorado's 3rd Congressional District, regardless of whoever runs against her," Stout said.