CLEVELAND — Bernie Moreno, a self-funding businessman who abandoned a 2022 bid for Senate in Ohio after huddling with former President Donald Trump, will try again in 2024.
Moreno, 56, filed paperwork Monday with the Federal Election Commission that signals his intentions.
A source close to Moreno told NBC News that a formal announcement is expected next week.
"Today, Bernie filed paperwork with the FEC as he continues to explore a run for U.S. Senate," the source said. "Over the past few weeks, Bernie has talked with voters, business leaders, conservative activists and donors throughout the state and has received overwhelming encouragement to run."
Moreno is the second prominent GOP prospect to launch a campaign for the party's nomination to challenge Sen. Sherrod Brown, a three-term Democrat seen as one of the most vulnerable incumbents in the country. State Sen. Matt Dolan, another unsuccessful 2022 candidate, has had the field to himself since announcing his candidacy nearly three months ago.
A native of Colombia whose family emigrated to the U.S. when he was a child, Moreno is well-known in Cleveland's civic circles, where his business interests have ranged from car dealerships to blockchain technology, and he has served on several boards.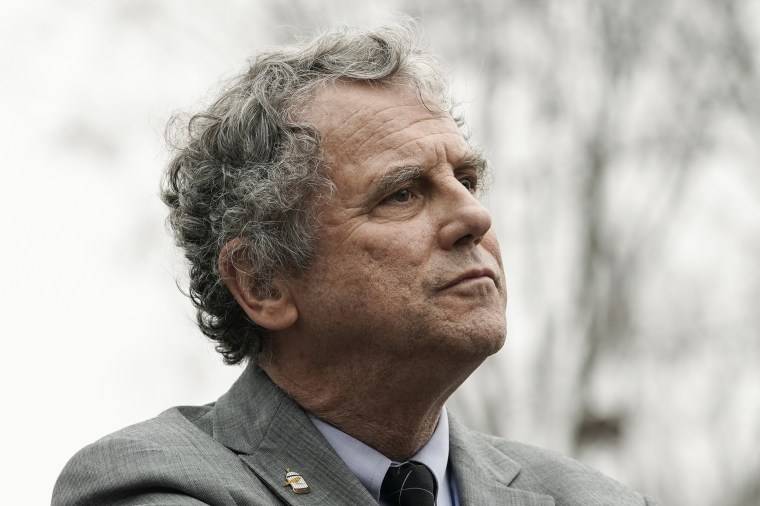 Moreno's halted 2022 bid came after a meeting with Trump, who was not planning to endorse him and wanted to prevent Dolan — the one candidate who wasn't aggressively seeking his endorsement — from winning a plurality in the crowded field. Moreno had been a Trump skeptic himself during the 2016 election, at one point hoping for a "convention miracle," according to private correspondence obtained by NBC News in 2021.
But Moreno eventually warmed to Trump and has since grown closer with the former president. Moreno's daughter worked on Trump's re-election campaign and is married to Rep. Max Miller, R-Ohio, another former Trump aide. And when now-Sen. JD Vance, the Trump-backed candidate, advanced to the general election in last year's race, Moreno played his Democratic opponent, former Rep. Tim Ryan, in debate preparations.
Other Republicans could soon join the race, most notably Ohio Secretary of State Frank LaRose. An Army veteran, LaRose has acknowledged he is considering a run and has made efforts in recent weeks to court conservative donors and defend Trump after his indictment in Manhattan.
Another possible GOP entrant is Rep. Warren Davidson, who has been encouraged by David McIntosh, head of the national conservative organization Club for Growth to run.
"The Republican primary for Ohio's Senate seat is heating up and will only get nastier from here as Republicans are forced to sling mud, burn cash and push an agenda that is deeply out of step with Ohioan's values to get ahead," said Reeves Oyster, a spokesperson for the Ohio Democratic Party. "It's clear already that whoever emerges from this primary will be bruised, battered and unpopular with the voters that will decide the general election."
The battle in Ohio is expected to be one of the messiest and most expensive of the 2024 cycle, with Brown among three Democrats — Sens. Joe Manchin of West Virginia and Jon Tester of Montana are the others — up for re-election in states twice won by Trump.