WASHINGTON — President Joe Biden expressed confidence in his chances of beating former President Donald Trump in 2024 and addressed concerns about his age Wednesday, a day after he made his re-election bid official.
Asked by reporters at a news conference with South Korean President Yoon Suk Yeol what he would say to the Americans who indicated their concerns about his age in recent polling, Biden, 80, said his age doesn't register with him.
"I can't even say I guess how old I am, I can't even say the number. It doesn't— it doesn't register with me," Biden said in the White House Rose Garden. "I took a hard look at it before I decided to run. And I feel good.
"With regard to age, you know, and polling data — I noticed the polling data I keep hearing about is that I'm between 42 and 46% favorable rating," Biden said. "Everybody running for re-election in this time has been in the same position. There's nothing new about that."
Aside from Biden, only Robert F. Kennedy Jr., 69, and self-help author Marianne Williamson, 70, have launched bids for the Democratic nomination.
Across the aisle, a slew of contenders have already entered the race for the Republican nomination, including Trump, 76; former South Carolina Gov. Nikki Haley, 51; and former Arkansas Gov. Asa Hutchinson, 72, who made his formal announcement earlier Wednesday. Florida Gov. Ron DeSantis, 44, is expected to run but has yet to launch a campaign.
Asked whether he thinks he can beat Trump, Biden noted that he has done it before, adding: "I may not be the only one, but I know him well."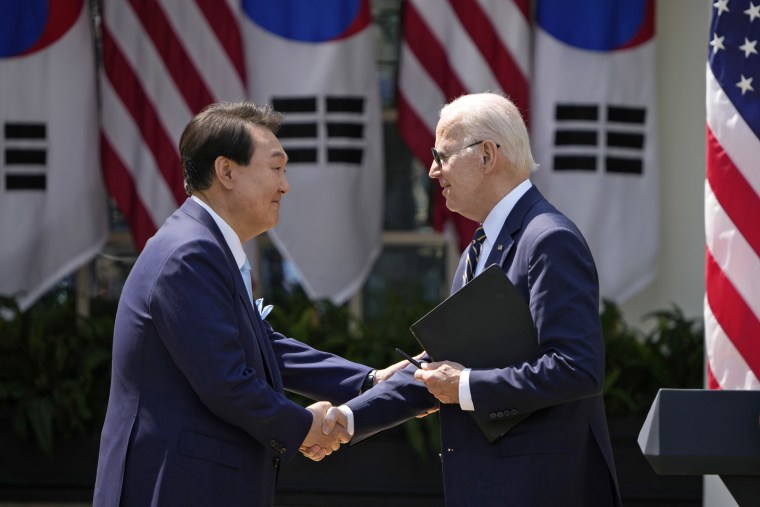 Biden officially launched his 2024 re-election bid with a video message Tuesday, ending months of speculation over his political plans.
In the video, titled "Freedom" — which opens with a scene of the Jan. 6 attack on the Capitol, followed by an image of an abortion rights protest — he said that after he has spent his first term fighting for the country's democracy, "MAGA extremists are lining up" to cut the social safety net and take away personal liberties.
In recent months, Biden had faced scrutiny about his age from political opponents and voters as he hinted he would run again. He previously dismissed those concerns, responding "watch me" when he has been asked about his fitness for office.
An NBC News poll released this month found that 70% of Americans, including 51% of Democrats, said he shouldn't run for a second term. Nearly half of those who said Biden shouldn't run cited his age as a "major" reason.
If he wins re-election next year and serves out a second term, Biden would turn 82 just weeks after Election Day and leave office at age 86.