MIAMI — The largely peaceful protests outside the federal courthouse here where former President Donald Trump was arraigned Tuesday consisted of several slow hours in sweltering heat — followed by a flurry of chaos when an opponent of Trump's took off running after his motorcade.
He didn't get anywhere near him.
Police officers tackled the man, and Trump headed to a famous Cuban restaurant called Versailles for what appeared to be a planned meeting with loyalists. 
It was a jarring end to what had been a somewhat sedate show of support for the embattled former president, as he pleaded not guilty to charges of mishandling classified documents after leaving the White House.
Police had been bracing for as many of 50,000 demonstrators to protest outside the courthouse Tuesday.
Only several hundred showed up, police told NBC News reporters at the scene. There was also a contingent of anti-Trump demonstrators, including the man who was intercepted by police near Trump's car. He was dressed in prison stripes and carrying a "Lock Him Up" poster.
Still, the noisy crowd of Trump supporters chanting "USA! USA!" and "We love Trump" were unshakeable in their belief that the former president was being railroaded by federal investigators.
"They've got the cards to put anyone in jail," Trump supporter Joe Ercolano said. "Even if they find him guilty, I will still vote for him."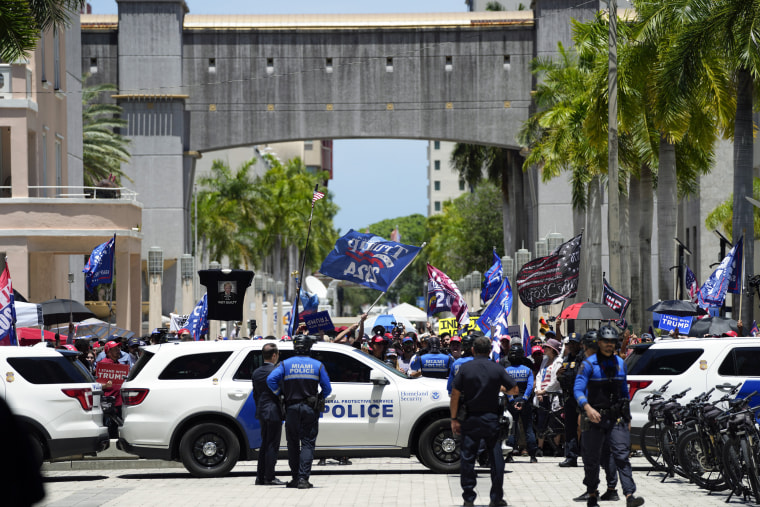 But even the most ardent Trump supporters acknowledged that the turnout was somewhat disappointing.
"A lot of people are afraid to speak up," said Trump supporter Florentina Morales, who said social media warnings about possible unrest may have dampened the turnout, not to mention the stifling Miami heat.
Maj. Thomas Buchanan of the Miami-Dade Police Department had also been bracing for bigger crowds.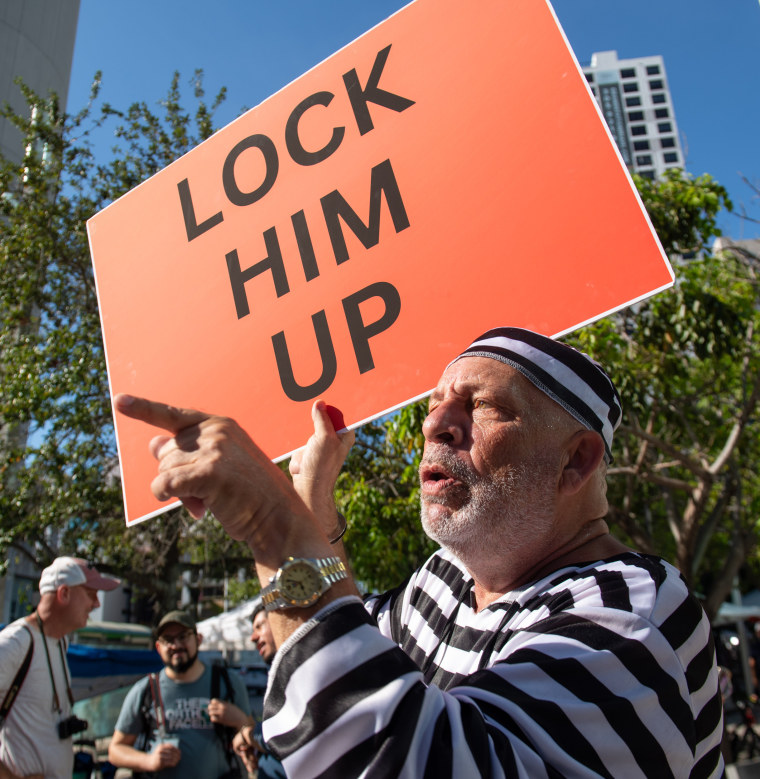 "I think there would be more people here already," he told The Miami Herald.
Still, there was a loud roar when the former president's motorcade arrived, and Trump acknowledged his supporters with a wave before he was driven inside the courthouse.
Jay Paul, who flew in from Dallas to bear witness, said he was a bit disappointed that Trump did not stop to talk with his supporters.
"I would tell him I love him and I'm praying for him," said Paul, who is 68. 
The Trump faithful, many wearing red MAGA hats and carrying Trump campaign signs, began gathering outside the courthouse hours before he arrived.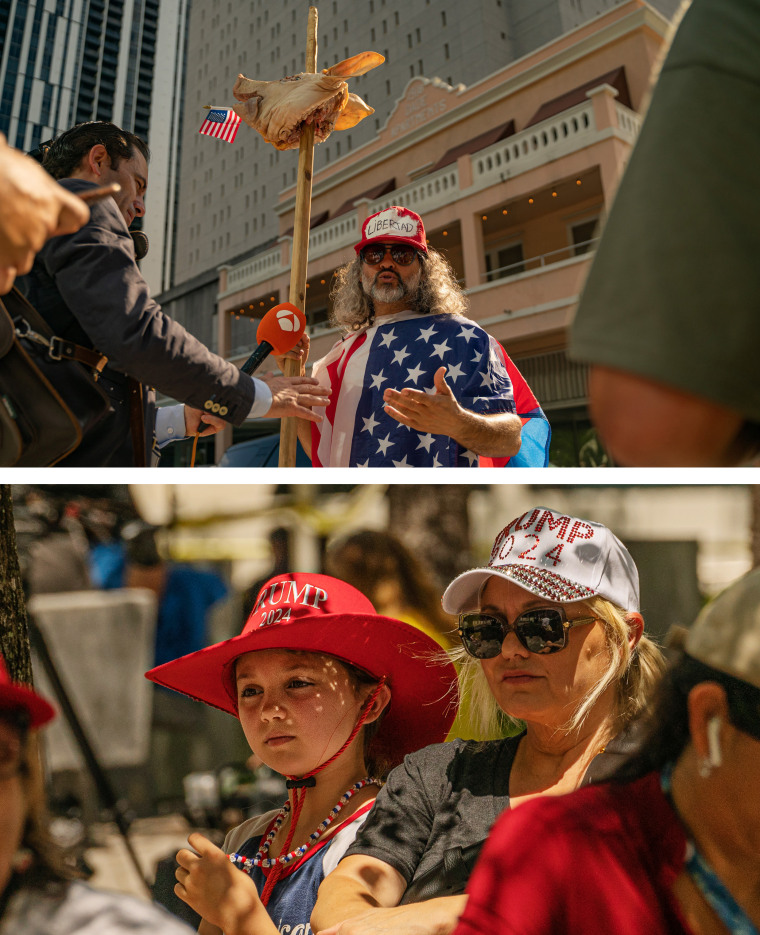 Unlike in New York City, where Trump was charged in April for illegally paying off porn star Stormy Daniels, there were no visible steel barricades to separate them from either the reporters covering the hearing or the relatively small number of anti-Trump protesters.
At times, police officers on bicycles had to intervene when arguments between the two sides got heated.
There were also several debates between Trump supporters and backers of Florida Gov. Ron DeSantis, who is the former president's chief rival for the GOP presidential nomination in 2024.
Early on, a group of 20 or so men wearing white T-shirts that read "Blacks for Trump 2020" circulated outside the courthouse and chatted with reporters, while tourists took pictures of a man dressed like Uncle Sam and several Trump impersonators.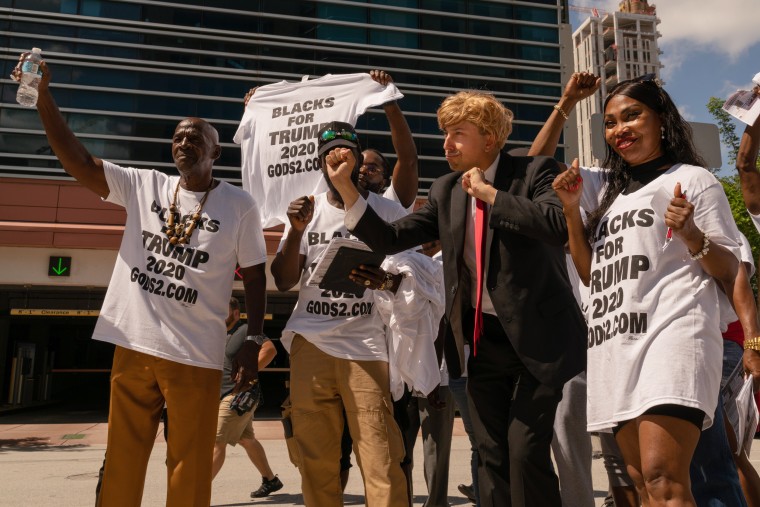 Like virtually all of the Trump supporters who spoke with NBC News, Louis Medina had not read the 37-count federal indictment that alleged the former president deliberately stashed secret documents at his Mar-a-Lago mansion, made false statements and representations, and conspired to obstruct justice.
But Medina said he didn't need to read it. "I support Trump 100%," he said.
That sentiment was echoed by a woman who identified herself only as Betty, who said she was 5 when she and her family escaped from Communist Cuba.
"He is for 'we the people of the United States of America,' and he wants his country to be a free country," Betty insisted. "So I support what he, what his foundation is, what his principles are."
Betty said she read the Trump indictment — and doesn't believe a word of it.
"You know what, there's a bunch of lies," Betty said. "There's some, there's a lot of lies going on. I have been educating myself. I'm not stupid, OK? And I've been educating myself. I listened to both sides. And this has been going on for some time."
Katherine Doyle and Sam Brock reported from Miami. Corky Siemaszko reported from New York City.